---

Sloopy is Born
September 26, 1913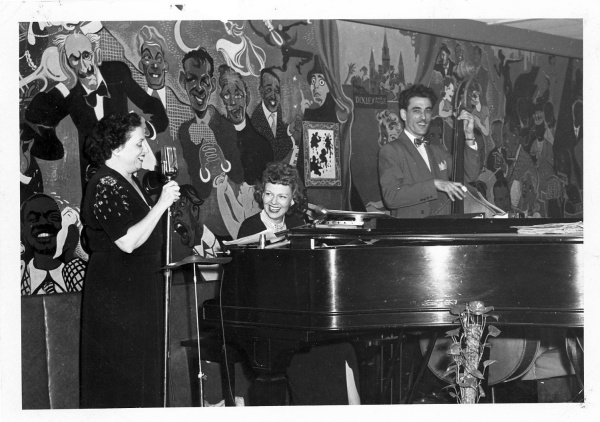 Dorothy Sloop at the piano, performing with Yvonne "Dixie" Fasnacht owner of Dixie's Bar of Music (now the Cat's Meow and formerly the Bayou Pom Pom Grocery)
Photograph by Brett Ruland
Jazz musician Dorothy Sloop (also known as Dorothy Sloop Heflick) was born in Steubenville, Ohio on September 26, 1913. During her performing years, she was best known as a pianist with a number of all (or mostly) female jazz bands in the New Orleans area, primarily from the 1930s through the 1950s. She recorded an album, Dixie and Sloopy, in 1957 with Yvonne "Dixie" Fasnacht, a jazz vocalist and clarinetist who operated Dixie's Bar of Music on Bourbon Street. Sloop retired to Florida and became a teacher. She died in Pass Christian, Mississippi at age 84 on July 28, 1998. Her name is now commonly associated with the song "Hang on Sloopy", performed by The McCoys and other artists during the 1960s, as it is alleged that Dorothy was the inspiration for the song. This song is now the official rock song of the U.S. state of Ohio, and it is performed often by the marching band of The Ohio State University and at Progressive Field where the professional baseball team the Cleveland Indians play. (Wiki)
---



---
On September 26, 2005, Algiers became the first major section of New Orleans to be reopened to residents after Hurricane Katrina. Although a number of buildings suffered wind damage from the storm, Algiers escaped the flooding which affected other areas.
Mayor Ray Nagin officially reopened the French Quarter on September 26, 2005 to business owners to inspect property and clean up.
At Michoud Assembly Facility in New Orleans East all shifts were initially canceled up to
September 26, 2005
, potentially setting back future Shuttle flights. All the buildings and the shuttle hardware within survived the hurricane without grave damage, but the roof of the main building was breached and debris damaged ET-122 stored inside; that tank was refurbished and later flew on the final flight of Space Shuttle Endeavour, STS-134 (
see also September 20
).
Wrecking Ball is the eighteenth studio album by American country artist Emmylou Harris, released on September 26, 1995 through Elektra Records. It was recorded in New Orleans and produced by Daniel Lanois. Wrecking Ball won the 1996 Grammy Award for Best Contemporary Folk Recording.
On September 26, 1944, the World War II Liberty Ship SS Katharine B. Sherwood was launched by Delta Shipbuilding Company in New Orleans East.
Eugene Charle Sykes (born September 26, 1941 in New Orleans, Louisiana) American Football League defensive back. scored a touchdown in LSU's 25–7 defeat of Colorado in the 1962 Orange Bowl. In 1963 he appeared with the LSU team in the Cotton Bowl, where they defeated Texas 13–0, and in the Hula Bowl All-Star Game. As a professional, Sykes was drafted by the American Football League's Buffalo Bills, playing for them in 1963 and for their AFL Championship teams of 1964 and 1965. He finished his Professional Football career with the AFL's Denver Broncos in 1966.
New Orleans born Henry John (Zeke) Bonura's last Major League Baseball appearance was on September 26, 1940 for the Chicago Cubs. He played for the Chicago White Sox (1934–1937), Washington Senators (1938, 1940), New York Giants (1939) and Chicago Cubs (1940).
Bert E. Rose Jr (September 26, 1919 - October 14, 2001) was named executive vice president and GM of the New Orleans Saints on July 20 1967.
Born on September 26, 1918, Fred James Cassibry received a B.A. from Tulane University in 1941 and an LL.B. from Tulane Law School in 1943. After serving in the Navy during World War II he became a field examiner for the National Labor Relations Board from 1946 to 1948. He entered private practice in New Orleans from 1948 to 1961, and was a New Orleans City Councilman from 1954 to 1961. He was a judge on the Civil District Court for Orleans Parish from 1961 to 1966. On October 11, 1966, Cassibry was nominated by President Lyndon B. Johnson to a new seat on the United States District Court for the Eastern District of Louisiana created by 80 Stat. 75. He was confirmed by the United States Senate on October 20, 1966, and received his commission on November 3, 1966. He assumed senior status on March 15, 1984, serving in that capacity until his retirement on April 3, 1987. He died on July 6, 1996.
The Cleveland Playground at Tulane and South Claiborne opened on September 26, 1909.
September 26th, 1906: A hurricane made landfall at the mouth of the Pascagoula River. Gales were experienced along the Lower Mississippi Delta. Winds gusted to 49 m.p.h. as the pressure fell to 29.15" at New Orleans. The Lake Borgne lighthouse was most likely destroyed in this storm, though Cipra dates the destruction as occurring on the 10th.
Camille D'elmar (1861 – September 26, 1902) was a stage actress and opera performer from Rochester, New York. When she was six years old D'elmar appeared with Joseph Jefferson in Rip Van Winkle at the Varieties Theater in New Orleans.
Passenger and freight services by steam locomotives began on September 26, 1835, originally without a dedicated right-of-way (it ran on public streets) although one was eventually established in the neutral ground in Carrollton. Service began as a suburban railroad, since Carrollton was at that time a separate city, while areas along the route were still mostly undeveloped.
René Auguste Chouteau born on September 7, 1749 or September 26, 1750, in New Orleans, was also known as Auguste Chouteau. He was the founder of St. Louis, Missouri, a successful fur trader and a politician. He and his partner had a monopoly for many years of fur trade with the large Osage tribe on the Missouri River. In addition, he had numerous business interests in St. Louis and was well-connected with the various rulers: French, Spanish and American. He died on February 24, 1825 in St. Louis.
St. Aloysius Opens on Chartres at Barracks Street
September 26, 1869
______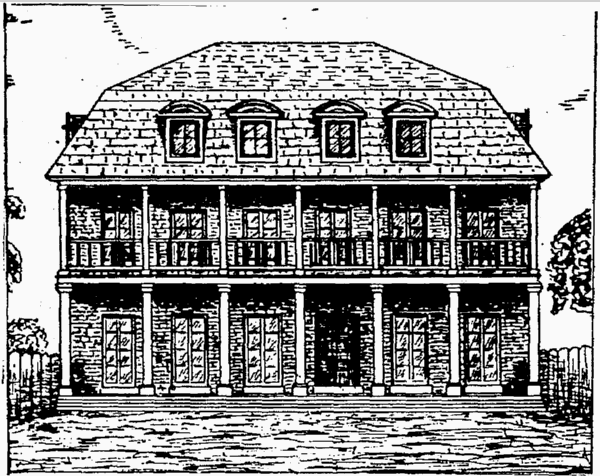 Father Andre' Coindre, founder of the Brothers of the Sacred Heart, was born in Lyons, France in 1787. Devoting his life to the restoration of the Church following the Reign of Terror at the end of the French Revolution, his chief mission became the moral, intellectual and religious development of young orphan boys left in distress by the disintegration of family life following the Revolution.
In 1821 he formed the Brothers of the Sacred Heart to further his efforts, resolving to establish a community of Brothers trained to work for the poor through the establishment of schools. Following the death of Father Coindre in 1826, the efforts of Brother Polycarp, the first Brother Superior General of the Institute, led to tremendous growth. By the time of his death in 1859, the Institute had grown to over 400 Brothers and 70 schools.
In January of 1847, five missionary Brothers of the Sacred Heart arrived in Mobile, Alabama at the request of Bishop Portier to do charitable and educational work. With their arrival in America the congregation began its transformation into a worldwide institute comprised of many nationalities.
In 1869 New Orleans Archbishop Jean-Marie Odin invited the Brothers to open a school in New Orleans. St. Aloysius opened on September 26, 1869 with three brothers and six students. By the end of the school year enrollment had climbed to 60 students. The school was located at Chartres and Barracks Streets (drawing above right), the current site of the Richelieu Hotel.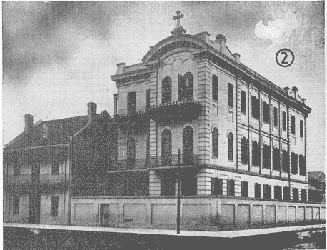 In 1892 the school was moved into a larger building on the corner of Esplanade Avenue and Rampart Street where it remained until demolished in 1925 when Rampart Street was widened. The new school building was opened at 1137 Esplanade Avenue (image 2) in a building which had been erected by the Ursuline Nuns who ran a school there. Brothers of the Sacred Heart purchased it for $75,000. The 1925 enrollment included 500 students and would ultimately grow to 980 during the next forty-four years. Over 5,000 young men graduated from St. Aloysius during its 100-year history. The September 7, 1892 Daily Picayune advertisement (on ther right) announces the (then) new location.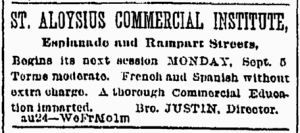 The widening of North Rampart Street required that the building be demolished. In 1925 the final St. Aloysius school site was built at the the same location -- set back further from the street.
In 1954, the order opened Cor Jesu High School with an enrollment of about 700 students. It was built on Elysian Fields Avenue. In September 1969, celebrating the 100th year of their educational commitment to the youth of the New Orleans area, the Brothers of the Sacred Heart consolidated St. Aloysius and Cor Jesu High Schools under the name Brother Martin High School. St. Aloysius closed its doors at the end of the 1969 academic school year.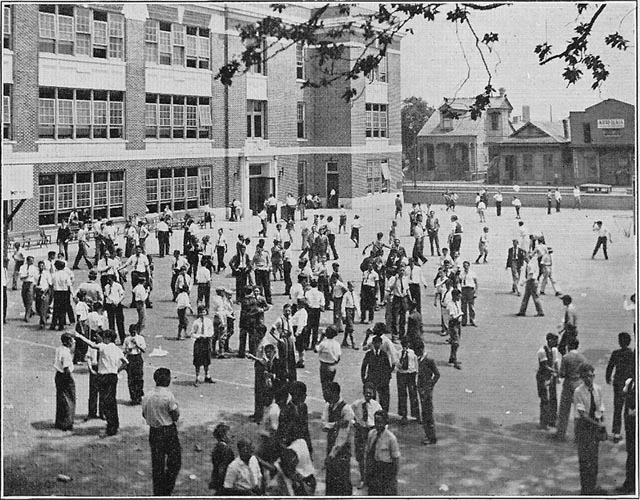 1930-31 school year -- St. Aloysius school yard. at the corner of Esplanade Avenue.
North Rampart Street can be seen to the right. The school closed at the end of the 1968-69 school year.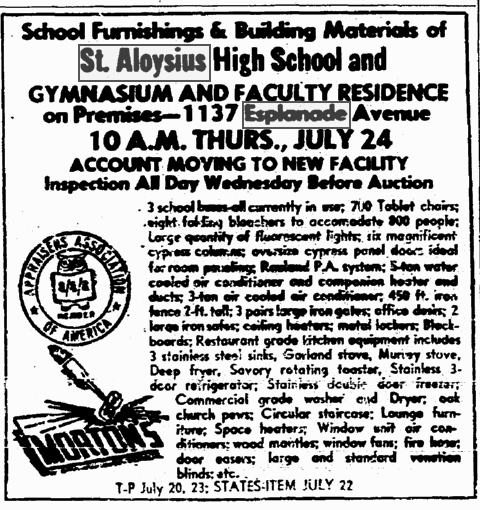 A sad day in St. Aloysius school history -- the July 23, 1969 States-Item newspaper advertisement announcing the July 24 auction of the building contents and components including "magnificent cypress columns", "oversize panel doors", a circular staircase, 450 feet of iron fencing two-feet tall, three pairs of large iron gates, two iron safes, oak church pews, wood mantels, a fire hose, three school buses, and even a kitchen sink. By February of 1971 the building was in the final stages of demolition.
The U.S. Postal Service bought the property from the brothers for $63,000 in November 1974 -- a purchase made for "anticipated future needs". In 1980, Washington, D.C. doctor Stanley A. Boucree bought the former school land along with adjoining property for $8,000,000 intending to build a 157 apartment complex. In 1987 Walgreens expressed interest in the property. Another scheme called for a 32-story condominium building to be developed by Louisiana Apartment Corporation. None of these endeavors came to fruition. Aloysius Apartments, a 49 unit four-story mixed-income housing complex developed by HRI Properties now occupies 1137 Esplanade Avenue.
Images from brothermartin.com/blog and the Times-Picayune.
Information from brothermartin.com & various sources.