---

http://nutrias.org/~nopl/exhibits/nord/106.jpg
Ida Weis Friend speaks from the stage of the NORD Traveling Theater at the April 28, 1948 dedication of new lights at the Bunny Friend Playground in the upper 9th Ward. Mrs. Friend was a civic and social leader in New Orleans, who was awarded (among other honors) the Times-Picayune Loving Cup in 1946. When her 18-year-old son, Henry ("Bunny"), died of pneumonia in 1924, she donated funding for the purchase of a playground in his memory, along with money for its initial maintenance. Once the lights went on that night, on-lookers watched an Irish musical revue by NORD's Traveling Theater troupe and a softball game between the playground team and the Sauro Stars. Mayor Morrison threw out the first pitch.
The New Orleans Four are Honored

April 28, 1983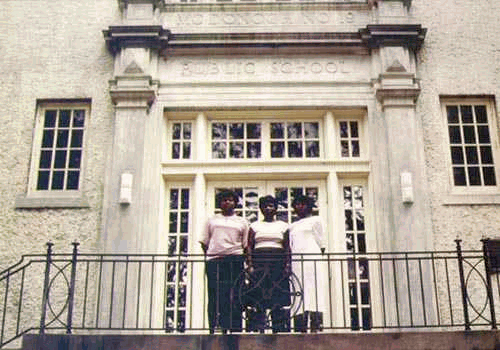 On
April 28, 1983
, Ruby Bridges, Leona Tate, Gail Etienne, and Tessie Prevost, along with their parents, were honored at City Hall by Governor John Treen and Mayor Dutch Morial on "The New Orleans Four Day" in recognition of "These children and their parents (Eula Mae and Theodile Etienne, Lucille Bridges, Charles and Prevost, and Louise Tate) who exhibited exemplary faith and courage in pursuit of equal educational opportunities for all".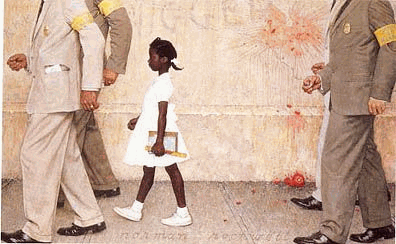 Most New Orleanians, in fact most Americans, know of Ruby Bridges who, as a six-year-old first-grader, climbed the long stairs to the entrance of William Frantz Elementary School at 3811 North Galvez Street on the day the city's schools ended racial segregation while some of its citizens displayed vehemently and cruelly some of the worst traits in human nature. Norman Rockwell captured the moment when U.S. Marshals accompanied her amid hate-filled screams of adults and children alike.
Federal agents drove her and her mother, Lucille, the nine blocks from their home to the school. Mother and daughter spent most of that day talking with school administrators and U.S. Marshals. Some teachers walked out in protest but her teacher remained. Most students were absent. At the end of that first day, the Bridges watched themselves on television, their home under 24-hour protection. Ruby Bridges later recalled that her mother made her lunch that day -- a peanut butter and jelly sandwich (which she didn't particularly like) because "The school was afraid, I learned later, that I would be poisoned".
Less well known are three girs. the same age and in the same grade who attended McDonogh 19 at 5900 St. Claude Avenue the same day, November 14, 1960. They were Leona Tate, Gail Etienne, and Tessie Prevost. Tate, Etienne, and Ruby Bridges are picture here at the school in 1981. (Photo from the New Orleans Public Library Louisiana Division Photograph Collection)
The McDonogh girls were also escorted by Federal Marshals and remembered chants of "Two, four, six, eight. We don't want to integrate" shouted while eggs were hurled at them. Etienne later said that she was "terribly afraid..If those people could get to me, they would have killed me".
During the first year all children students were not allowed to leave home along and after that were not allowed to their neighborhoods unescorted for fear that they might be harmed. All remember being the only students during the early days of desegregation.
When the McDonogh girls entered third grade, they were transferred to T. J. Semmes school, a few blocks away, where a few other black students were enrolled. Prevost remembered, "Every recess we would crouch under a tree with an overhanging branch". Etienne recalled that older students spit in their hair, knocked the down, and kicked them. Despite their suffering, all four ladies felt that their parents suffered as much, if not more.
Years later the parents agreed that despite the hate mail, threatening phone calls, and lost jobs, they would have made the same decision to allow their daughters to be among the first...Theodile Etienne said of his child, "She achieved something by being a pioneer".
---

You Can Support this Site by Clicking on & Shopping from this Amazon Link -- and it won't cost you a penny more: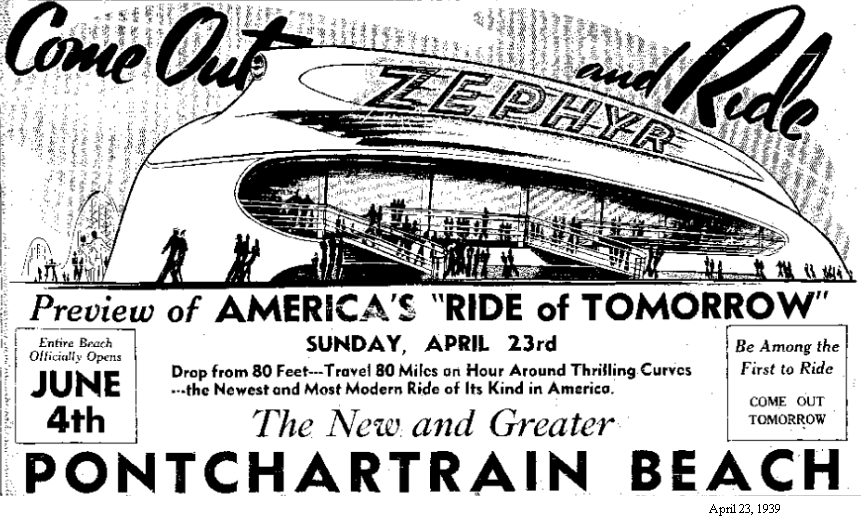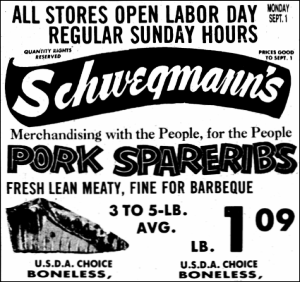 Allen Joseph Ecuyer, born in New Orleans on October 15, 1937, was a three-year starter who played guard for the Notre Dame Fighting Irish from 1956-1958 and was a first team All-American in 1957 and co-captain of the 1958 team. He played in the CFL (Canadian Football League) from 1959 to 1967 and the Edmonton Eskimos from 1959 to 1965, the Toronto Argonauts in 1966, and the Montreal Alouettes in 1967. Ecuyer won a West All-Star position at linebacker in his professional rookie season in 1959. He later became a vice president of investments with Prudential Securities. He died on April 28, 2012.
The Proposed Riverfront Expressway
April 28, 1967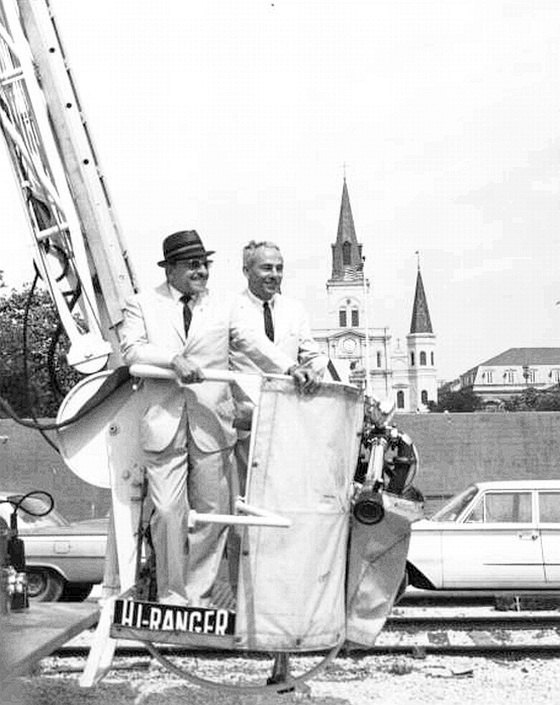 New Orleans Public Library photo by Joseph C. Davi
Caption on reverse: "Surveying proposed ill-fated expressway site at Jackson Square"
Mayor Schiro, Councilman James Moreau
April 28, 1967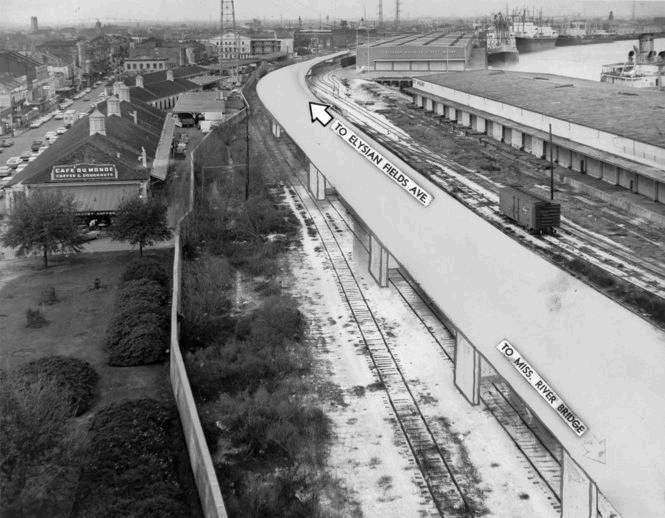 The Times-Picayune graphic of the proposed Riverfront Expressway, Feb. 15, 1965.
The Louisiana Highway Department (predecessor to the Louisiana Department of Transportation and Development) hired Robert Moses as a consultant in 1946 to examine New Orleans' traffic and propose solutions. His proposals included a 40-foot high, 108-foot wide freeway running south 3.5 miles from I-10 exit 237 near Elysian Fields Ave, following Elysian Fields at ground level to the riverfront, and continuing southwest, elevated to the US 90 Mississippi Bridge approach. There it would turn southwest and run to a point near Lafayette Street, where ramps would connect to the Greater New Orleans Bridge (U.S. Highway 90 Business). An extension, never part of the Interstate Highway System, was to continue west to meet the Earhart Expressway (Louisiana Highway 3139).It was not added to the Interstate Highway System as an urban route in the 1950s due to a lack of funding, but by 1961 it was being considered for addition. One proposal to gain the mileage was to shift Interstate 10 to the Riverfront route, but eventually, in 1964, the Interstate 420 bypass of Monroe was removed from the Interstate System and the mileage transferred to the Riverfront Expressway project. It was officially added to the Interstate Highway System on October 13, 1964, as Interstate 310. From 1964 to 1969, it remained designated as Interstate 310.
Known as the Vieux Carré Riverfront Expressway, the plan was ill-received by New Orleanians who fought to prevent its construction through the French Quarter. The voice of the people was heard and the elevated expressway was never built. The freeway was removed from the Interstate System on August 22, 1969. Its mileage was used in part for a new southern bypass of New Orleans—Interstate 410—which was itself never completed However, one component of the original plan, a six-lane tunnel, 690 feet long by 98 feet wide, under the Rivergate Convention Center (now Harrah's New Orleans Casino) was built and is presently used for valet parking.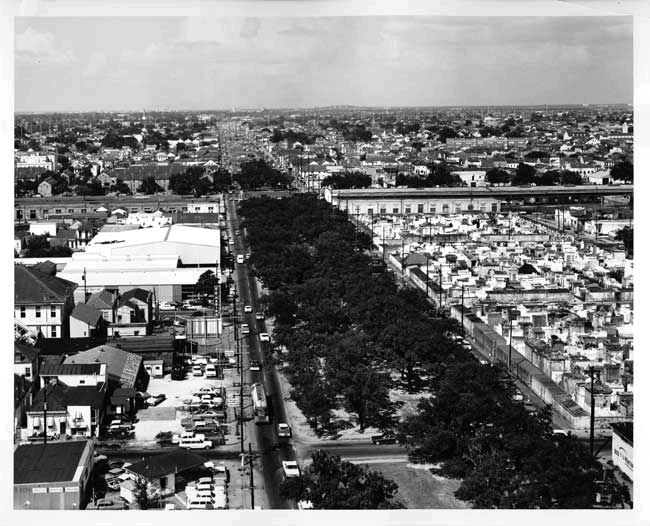 The Oaks on North Claiborne Avenue, August 29, 1968 (Photograph by Joseph C. Davi from the New Orleans Public Library)
While the French Quarter was spared from the intrusion of the interstate highway, Treme was not. The width of Claiborne Avenue provided the second most convenient route for its construction. The opposition of the largely African-American residents of Treme did not overcome the alternate route of an elevated expressway there. The lush oak trees (pictured here in August 1966 were destroyed to make way for the highway and the neighborhood was changed forever. (See also October 12).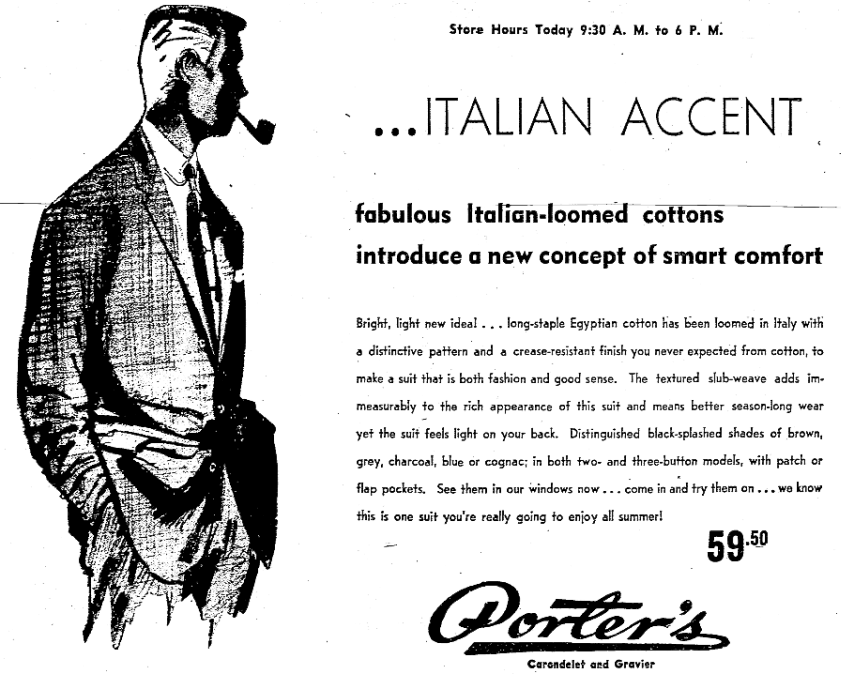 April 28, 1955 -- Times-Picayune
Porter's
Carondelet and Gravier Streets

Jacques Philippe Villere was born in St. John's Parish, Louisiana on April 28, 1760. His education was attained in France at the expense of Louis XVI. Villere served in the French Army, as first lieutenant of artillery, stationed in Saint Domingue. After returning to his native state, he served as a major general in the territorial militia and fought in the Battle of New Orleans. Villere entered politics in 1812, serving as a member of the first State Constitutional Convention. He was elected governor by a popular vote on July 1, 1816, and then confirmed by the legislature. This was the election procedure according to the 1812 State Constitution. Villere was sworn into office on December 17, 1816. During his tenure, legislation pertaining to the Black Code was sanctioned, the death penalty was imposed on anyone who killed a person in a duel, limitless immigration was banned, and negotiations between the American and Creole populations were conducted. After completing his term, Villere left office on December 18, 1820. Four years later, he ran unsuccessfully for reelection to the governor's office. He later served as a presidential elector in 1826. Governor Jacques P. Villere passed away on March 7, 1830. According to Buddy Stall, Villere, as governor, gave the shortest inauguration speech on Louisiana record. Sources: Dawson III, Joseph G. The Louisiana Governors: From Iberville to Edwards. Baton Rouge: Lousiana State University Press, 1990. From http://www.nga.org/cms/home/governors/past-governors-bios/page_louisiana/col2-content/main-content-list/title_villere_jacques.html