Lee Harvey Oswald in New Orleans
April 24, 1963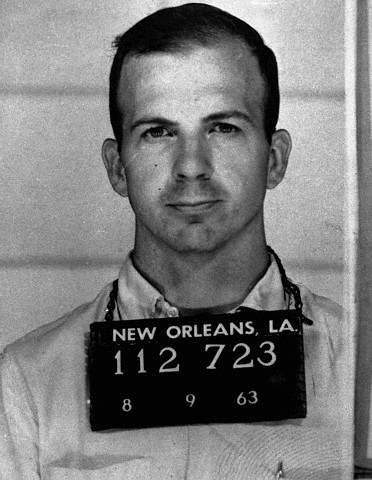 New Orleans Police Department photographic records. August 9, 1963
Lee Harvey Oswald was born in the French Hospital at 1821 Orleans Avenue in New Orleans on October 18, 1939 to Robert Edward Lee Oswald, Sr. and Marguerite Frances Claverie. Robert, Sr. died of a heart attack two months prior to Lee's birth. Oswald had two older siblings—brother Robert Edward Lee Oswald, Jr. and half-brother John Edward Pic. In 1944, Oswald's mother moved the family from New Orleans to Dallas. Oswald entered the 1st grade in 1945 and over the next half-dozen years attended several different schools in the Dallas and Fort Worth areas through the 6th grade. As a child, Oswald was described by several people who knew him as withdrawn and temperamental. In August 1952, when Oswald was 12, his mother took him to New York City where they lived for a short time with Oswald's half-brother, John Pic. Oswald and his mother were later asked to leave after an argument in which Oswald allegedly struck his mother and threatened Pic's wife with a pocket knife. Oswald attended the 7th grade in the Bronx, New York but was often truant, which led to a psychiatric assessment at a juvenile reformatory. The reformatory psychiatrist, Dr. Renatus Hartogs, described Oswald as immersed in a "vivid fantasy life, turning around the topics of omnipotence and power, through which [Oswald] tries to compensate for his present shortcomings and frustrations." Dr. Hartogs detected a "personality pattern disturbance with schizoid features and passive-aggressive tendencies" and recommended continued treatment.
In January 1954, Oswald's mother returned to New Orleans, taking Oswald with her. At the time, there was a question pending before a New York judge as to whether Oswald should be removed from the care of his mother to finish his schooling, although Oswald's behavior appeared to improve during his last months in New York. In New Orleans, Oswald attended Beauregard Jurnior High and Warren Easton High -- completing the 8th and 9th grades and entering the 10th grade in 1955 but quit school after one month. After leaving school, Oswald worked for several months as an office clerk and messenger in New Orleans. As a teenager, in 1955, Oswald attended Civil Air Patrol meetings in New Orleans. Oswald's fellow cadets recalled him attending C.A.P. meetings "three or four" times, or "10 or 12 times" over a one- or two-month period . Though the young Oswald had trouble spelling and writing coherently, he read voraciously. By age 15, he claimed to be a Marxist, writing in his diary, "I was looking for a key to my environment, and then I discovered socialist literature. I had to dig for my books in the back dusty shelves of libraries." At 16 he wrote to the Socialist Party of America for information on their Young People's Socialist League, saying he had been studying socialist principles for "well over fifteen months.' However, Edward Voebel, "whom the Warren Commission had established was Oswald's closest friend during his teenage years in New Orleans...said that reports that Oswald was already 'studying Communism' were a 'lot of baloney.' " Voebel said that "Oswald commonly read 'paperback trash.'"
In July 1956, Oswald's mother moved the family to Fort Worth, Texas and Oswald re-enrolled in the 10th grade for the September session. A few weeks later in October, Oswald quit school at age 17 to join the Marines he never received a high school diploma. By the age of 17, he had resided at 22 different locations and attended 12 different schools.
Oswald returned to New Orleans on April 24, 1963. What follows are some of his activities in the city based on W. Tracy Parnell's information: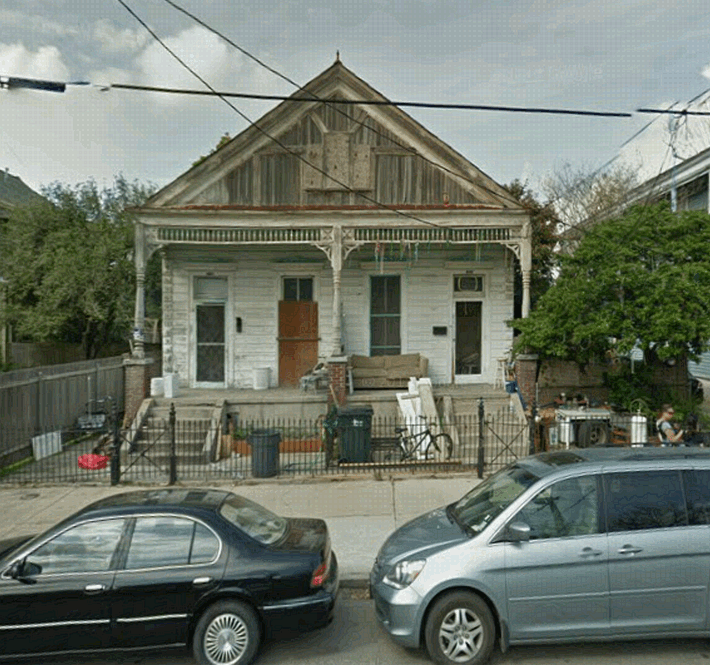 In 1963 Lee Harvey Oswald, his wife Marina, and their daughter June lived in the rear of the right half of this double at 4907 Magazine Street,
renting from landlords J. J. and Lena Garner. who lived in the same house at 4911 Magazine.
April 24, 1963: Ruth Paine, a friend of his wife Marina, drives Oswald to the Houston bus station, where he boards a bus bound for New Orleans.
April 25, 1963: He moves in with his aunt Lillian Murret at 757 French Street in Lakeview. Murret was the sister of his mother, Marguerite Oswald.
April 26, 1963: He visits the employment office in New Orleans.
April 28, 1963: He makes an effort to contact relatives on his father's side.
April 29, 1963: Files an appeal concerning his unemployment benefits.
May 9, 1963: With the help of Myrtle Evans, a long-time friend of his mother, finds work at the William B. Reily Coffee Company whose owner, William Reily, was a backer of the Crusade to Free Cuba Committee, an anti-Castro organization. Oswald worked as a machinery greaser for $1.50 per hour. He also finds an apartment.
May 10, 1963: Starts work at the William B. Reily Coffee Company and moves into an apartment which was rented for $65 per month at 4907 Magazine St. (near Upperline) owned by Mrs. J. J. Garner of 4911 Magazine. "He wouldn't speak to anyone", she said and reported that neighbors told her that he usually stayed home "sitting on the porch reading all day long".
May 11, 1963: Ruth, Marina, and June (his child) arrive at the apartment.
May 26, 1963: Oswald writes to the New York City headquarters of the pro-Castro Fair Play for Cuba Committee, proposing to rent "...a small office at my own expense for the purpose of forming a FPCC branch here in New Orleans."
May 29, 1963: The FPCC responded to Oswald's letter advising against opening a New Orleans office "at least not ... at the very beginning." In a follow-up letter, Oswald replied, "Against your advice, I have decided to take an office from the very beginning." As the sole member of the New Orleans chapter of the Fair Play for Cuba Committee, Oswald ordered the following items from Jones Printing Company, 422 Girod Street (near the Reily building): 500 application forms, 300 membership cards, and 1,000 leaflets with the heading, "Hands Off Cuba." According to Lee Oswald's wife Marina, Lee told her to sign the name "A.J. Hidell" as chapter president on his membership card.
June 3, 1963: Rents a new PO box, using A.J. Hidell as one of the people who will receive mail there.
June 8, 1963: Marina is rejected for treatment at Charity Hospital, which infuriates Oswald.
June 16, 1963: Distributes FPCC literature at the Dumaine Street wharf.
June 24, 1963: Applies for a new passport.
July 6, 1963: Is invited by his cousin Eugene Murret to speak to a group of students at the Jesuit House of Studies in Mobile, Alabama, where Eugene is studying to be a priest.
July 11, 1963: Ruth invites Marina to live with her separately from Oswald.
July 19, 1963: He is fired from the Reily Coffee Company "...because his work was not satisfactory and because he spent too much time loitering in Adrian Alba's garage next door (at 618 Magazine Street), where he read rifle and hunting magazines." .
July 22, 1963: He files a claim for unemployment benefits.
July 25, 1963: His request for a review of his undesirable discharge from the military is denied.
July 27, 1963: Speaks to the Jesuit group for 30 minutes on the subject of "Contemporary Russia and the Practice of Communism".
August 5 and 6, 1963: According to 29 year-old anti-Castro militant Carlos Bringuier, Oswald visited him at Casa Boca (107 Decatur Street at Canal St. next to the Cusom House), a store he owned. Bringuier was the New Orleans delegate for the Student Revolutionary Directorate (DRE), an anti-Castro organization. Bringuier would later tell the Warren Commission that he believed Oswald's visits were an attempt by Oswald to infiltrate his group.
August 6, 1963: Leaves his Marine Corps manual at Bringuier's store.
August 9, 1963: Oswald distrubutes pro-Castro leaflets downtown. Bringuier confronted Oswald, claiming he was tipped off about Oswald's activity by a friend. A scuffle ensued and Oswald, Bringuier, and two of Bringuier's friends were arrested in the 700 block of Canal Street for disturbing the peace. He spend the night in jail.
August 10, 1963: A friend of the Murrets bails him out late in the afternoon. Before leaving the police station, Oswald asked to speak with an FBI agent. Agent John Quigley arrived and spent over an hour talking to Oswald.
August 12, 1963: Pleads guilty to the charge of disturbing the peace and is fined $10.
August 16, 1963: Oswald passes out Fair Play for Cuba leaflets with two hired helpers in front of the International Trade Mart. The incident was filmed by WDSU—the local TV station.
August 17, 1963: Radio commentator William Stuckey from radio station WDSU visits him and asks him to appear on the program Latin Listening Post. He arrived at the station at 5:00 PM and taped a 37-minute segment, which was cut to 4 and a half minutes and broadcast at 7:30 that evening. Stuckey also invites him to take part in a radio debate with Carlos Bringuier and Bringuier's associate Edward Butler, head of the right-wing Information Council of the Americas (INCA).
August 19, 1963: Accepts Stuckey's offer to debate Bringuier and Butler on live radio.
August 21, 1963: Debates Bringuier and Butler, on the program Conversation Carte Blanche, which runs from 6:05 to 6:30 PM.
September 17, 1963: Obtains a tourist card good for one visit to Mexico City from the Mexican consulate in New Orleans.
September 20, 1963: Ruth visits the Oswalds, and it is decided that Marina will return to Irving, Texas with Ruth for the birth of their second child.
September 23, 1963: Ruth and Marina leave for Irving.
September 25, 1963: Oswald collects his unemployment check of $33. Later that day he catches a bus bound for Houston. According to his landlord, Mrs. J. J. Garner, he owed about 15 days rent and according to his landlady "All he left was an empty carton of beer cans".
A 1988 Times-Picayune article looked back at Oswald's time in New Orleans during the summer of 1963: Kerry and Diane West who then occupied the Magazine Street home the Oswald's had rented were interviewed. Diane remembered Oswald from her childhood when she lived in the same neighborhood. She described him as a reclusive figure who wore a old felt hat and a faded trenchcoat who scolded his child in Russian. She remembered that he dug in neighbors' garbage cans for discarded newspapers and magazines. She said, "He never talked to anyone. He was sneaky". Another neighbor, Catherine Schmitt said, "Most of the time he walked backwards" and "Spent most of his time looking at the sky". She said Marina was seldom seen outside.
Adrian Alba, who owned a garage near the Reily building, had somewhat befriended Oswald who spent much time playing hookie from work at his business. Oswald enjoyed reading Alba's gun and hunting magazines and discussing guns with him. Oswald had even invited Alba several times to his home to see his "gun collection" but never set a time and date. While working at Reily, Oswald, like his co-workers, often had lunch at Martin's Restaurant at 701 Tchoupitoulas, which was near the buisness, but he sat alone in a booth near the back of the restaurant.
Marina said that she and Lee went to the French Quarter but didn't have enough money to eat in any of the restaurants. The Oswalds took their daughter to Audubon Park and the zoo.
Oswald's 1963 New Orleans activities were investigated by New Orleans District Attorney Jim Garrison, as part of his prosecution of Clay Shaw in 1967-1969. Garrison was particularly interested in an associate of Guy Banister (a private detective and former/if not then current FBI agent) and David Ferrie. In 1993, the PBS television program Frontline obtained a photograph taken in 1955 (eight years before the assassination) showing Oswald and Ferrie at a Civil Air Patrol cookout with other C.A.P. cadets. (Whether Oswald's and Ferrie's association in the Civil Air Patrol in 1955 is relevant to their later possible association in 1963 is a subject of debate.) (Source: http://en.wikipedia.org/wiki/Lee_Harvey_Oswald)