---

Mayor Moon Landrieu and Family at Gallier Hall
Carnival Day, February 23, 1971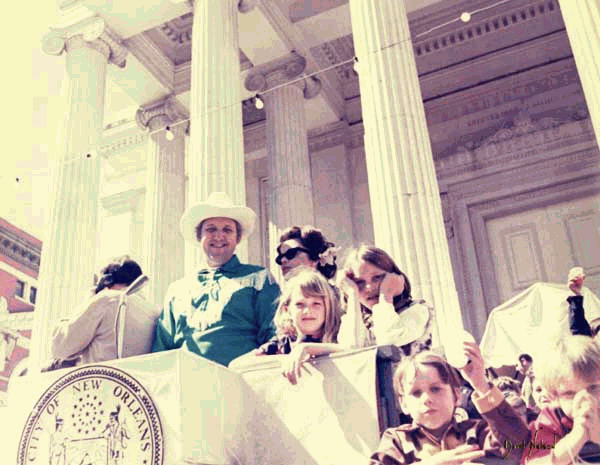 Photo from the New Orleans Public Library (photographer unknown).
Mayor Moon Landrieu at Gallier Hall on Mardi Gras Day, February 23, 1971. Mrs. Verna Landrieu is standing next to him. The Landrieu children (left to right) are Madeleine (now a judge in Civil District Court), Melanie, Martin, and Maurice.
Carnival Day was celebrated on February 23, 1971, 1982, and 1993.
---

You Can Support this Site by Clicking on & Shopping from this Amazon Link -- and it won't cost you a penny more: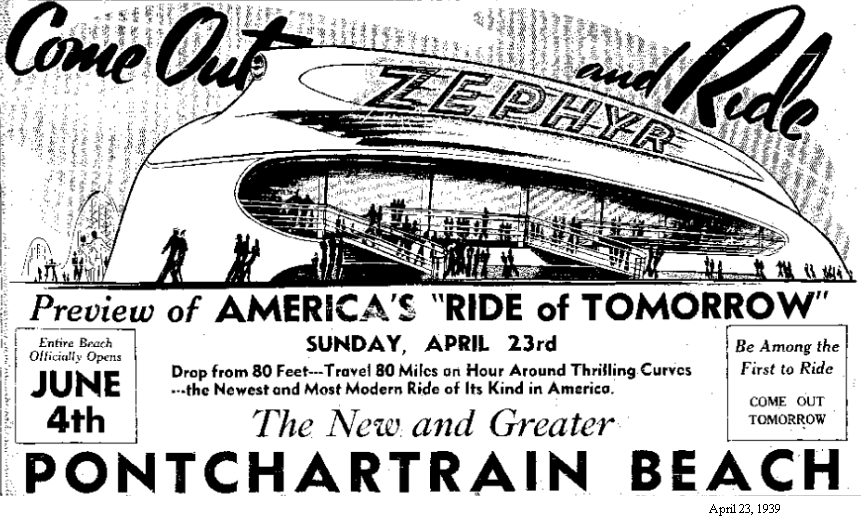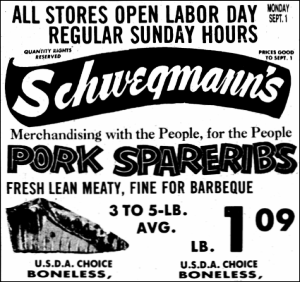 On February 23, 1934, Huey P. Long, then a Senator, former Governor and self proclaimed "King Fish" bought air time for a national radio broadcast to spread his "Share Our Wealth" ideology--to make "Everyman a King". Long was gearing up for a probable run in the 1936 presidential election.
The Poydras Homestead Association, one of thirty-six such firms listed in the 1911 Soards' New Orleans Trade Guide, had its office at 520 South Rampart Street. In 1911 its president was Salvador Bennett and Maurice F. O'Neill acted as secretary and treasurer. The firm's board meeting minutes begin on February 23, 1910 with what appears to be the firm's organizational meeting.
New Orleans first iIlluminated Carnival Bicycle Parade was held on February 23, 1887.
John T. Monroe was elected the sixteenth Mayor of New Orleans on June 4, 1880 and served until May 16, 1862, being the Mayor at the time of the outbreak of the wara between the States. He died on February 23, 1871.
Records for the Girls' House of Refuge date back at least to February 23, 1854, when municipal ordinance #1340 authorized the purchase of a building for such purposes.
The City of New Orleans absorbed the City of Lafayette via an Act of the Legislature dated February 23, 1852. This addition became the Fourth District.
Page Mercer Baker, journalist. Born, Pensacola, Fla., February 23, 1840; son of James McCutcheon Baker of Pennsylvania, a naval veteran of the War of 1812 and the Mexican War, and Ann Eliza Mercer of Baltimore. Education: local schools. Removed to New Orleans, 1858; traveling salesman for hardware firm, McCutcheon, Howell & Co. Civil War service: volunteered, 1861; served in Virginia; transferred to Washington Artillery. Spent last year of war in Confederate Navy, assigned to the ironclad Tuscaloosa. After war, returned to New Orleans and engaged in many business pursuits, including insurance. Entered the field of journalism, 1868, largely owing to influence of elder brother, Marion, then city editor of the Daily Picayune. As a reporter, became active in the struggle to free the state from Radical rule. In 1870 was one of the committee of 100 Louisianians who went to Washington, D. C., to protest to President Grant the military policy being pursued by the federal government in Louisiana. In 1872, one of several individuals who founded the New Orleans Herald, a short-lived venture. Shortly thereafter, joined with Dan Byerly to establish the New Orleans Bulletin, which is alleged to have fostered the organization of the White League, leading to the riot of September 14, 1874. Soon after, subject retired from journalism because of ill health and death of his partner. Reentered journalism, 1880, as managing editor of the New Orleans Times, and continued to serve in that capacity after consolidation of the Times and the New Orleans Democrat in 1881. Continued as editor and manager of the Times-Democrat until death, bringing the paper to the zenith of its success. Always encouraged young writers, including Lafcadio Hearn (q.v.), who dedicated his first book to subject. Originated the Doll and Toy Fund later continued by the Times-Picayune. Married (1) Constance Fell (d. 1889), of New Orleans, daughter of Peter B. Fell. Married (2) Mary Fell, sister of first wife. One child, Constance. Died, New Orleans, May 28, 1910; interred Metairie Cemetery. G.R.C. Sources: New Orleans Daily Picayune, May 29, 1910; Fayette Copeland, "The New Orleans Press and the Reconstruction," Louisiana Historical Quarterly, XXX (1947); New Orleans Times-Picayune, January 25, 1937. From http://lahistory.org/site19.php
An act of sale or transfer of rights between Bernard Marigny and the Ponchartrain Railroad Company was signed on February 23, 1830.
Jean-Baptiste Le Moyne de Bienville, French explorer, administrator, governor. Born, Montreal, Canada, February 23, 1680; eighth of eleven sons of Charles Le Moyne and Catherine Tierry (Primot). Spent youth on the family's extensive Canadian holdings, and later joined elder brother, Iberville (q.v.), in the king's service on the expedition of settlement that arrived in Louisiana in 1699. Explored the lower Mississippi and was instrumental in establishing settlements on the Gulf Coast and the Mississippi, including New Orleans. Served in Louisiana as commandant and was governor between 1701-1713, 1718-1724, and 1733-1743. These years of colonial service brought him few rewards and insurmountable problems that included: the indifference of the home government; the colony's constant drain on the French treasury; the dearth of population; the dual system of government that pitted governor against commissaire and ensnarled the colony's government; and a protracted series of Indian wars. He requested retirement in 1740 and returned to France in 1743. Died, Paris, March 7, 1768. C.E.D. Sources: Grace King, Jean-Baptiste Le Moyne, Sieur de Bienville (1892); Glenn R. Conrad, ed., Readings in Louisiana History (1978); Charles E. O'Neill, "Jean-Baptiste Le Moyne de Bienville," Dictionnaire Biographique du Canada, III; Charles E. O'Neill, "The Death of Bienville," Louisiana History, VIII From http://lahistory.org/site19.php