---

Royal Street

June 20, 1961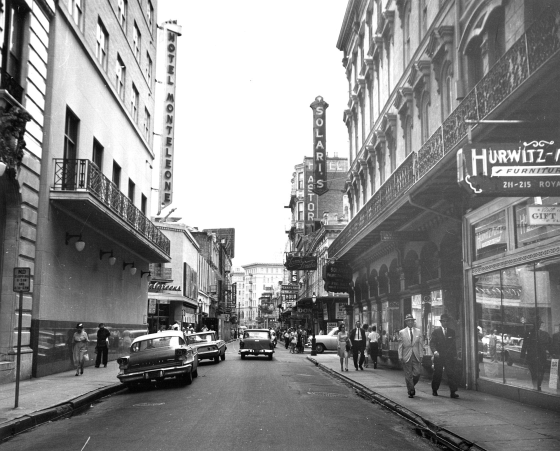 This photograph, looking up Royal Street towards the Sheraton-Charles Hotel (center), was taken by an unidentified photographer on or about June 20, 1961. The hotel, formerly the St. Charles Hotel, is no longer standing, having been demolished in 1973. Also gone is Solari's, at the corner of Royal and Iberville Streets (Mr. B's restaurant now occupies the ground floor space in the replacement building). Walgreen's, the Monteleone Hotel, and Hurwitz-Mintz are still there, but efforts to revitalize the old Astor (originally the Cosmopolitan) Hotel have thus far failed to gain government approval. Within a decade of this photograph, though, the city did permit the demolition of an even older, historic structure to make way for construction of the present-day high-rise Holiday Inn just across the street. (Text and image from the May 2012 New Orleans Public Library Images of the Month series.) Note: The Astor Hotel is now the Astor Crowne Plaza.
---

You Can Support this Site by Clicking on & Shopping from this Amazon Link -- and it won't cost you a penny more: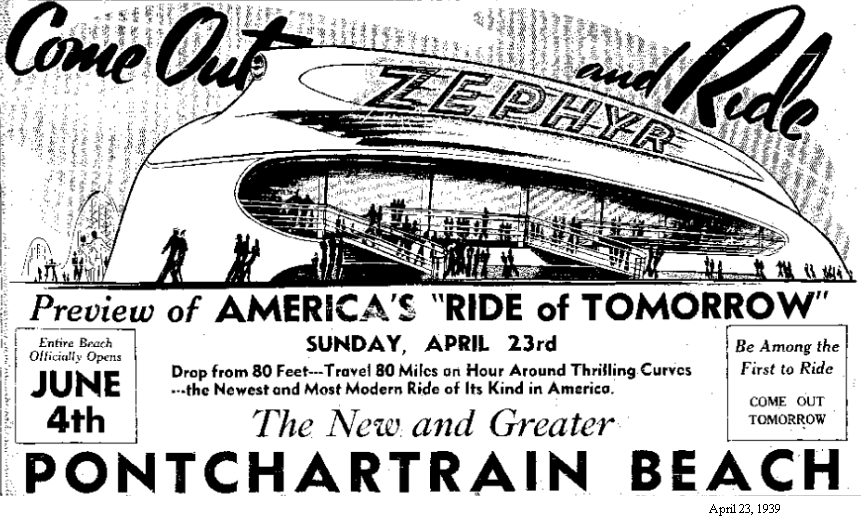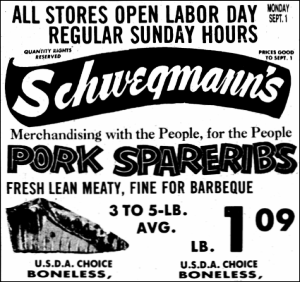 ---
Saints All-Pro quarterback Drew Brees tweeted, in regard to the ongoing New Orleans Saints bounty scandal, on June 20, 2012 stating, "If NFL fans were told there were "weapons of mass destruction" enough times, they'd believe it. But what happens when you don't find any????" Brees immediately issued another statement to clarify, "My WMD comment has nothing to do with politics or our brave military. Merely an analogy to show how media influences public perception." He went on to say, "I apologize if the WMD comment offended anyone. Especially our military. There is no one I respect more than our service men and women."
Mouseketeer Cheryl Lynn Holdridge, born Cheryl Lynn Phelps in New Orleans on June 20, 1944, was an original cast member of The Mickey Mouse Club.
Al "Carnival Time" Johnson (born June 20, 1939, in New Orleans,) is an American singer and piano player best known for the Mardi Gras song "Carnival Time".
A. Miles Pratt acted as Mayor from June 20 through July 15, 1936.
Dramatist and screenwriter Lillian Florence "Lilly" Hellman was born in New Orleans on June 20, 1905. Her mother was Julia Newhouse of Demopolis, Alabama, and her father was Max Hellman, a New Orleans shoe salesman. Julia Newhouse's parents were Sophie Marx, of a successful banking family, and Leonard Newhouse, a Demopolis liquor dealer. During most of her childhood she spent half of each year in New Orleans, in a boarding home run by her aunts, and the other half in New York City. She was blacklisted by the House Committee on Un-American Activities (HUAC) at the height of the anti-communist campaigns of 1947-52. Hellman was praised for sacrificing her career by refusing to answer questions by HUAC; but her denial that she had ever belonged to the Communist Party was easily disproved, and her veracity was doubted by many, including war correspondent Martha Gellhorn and literary critic Mary McCarthy. She adapted her semi-autobiographical play The Little Foxes into a screenplay which received an Academy Award nomination in 1942.Hellman was romantically involved with fellow left-wing writer Dashiell Hammett for thirty years until his death. She died June 30, 1984. (WIKI)
BATT, Harry J., amusement park owner, philanthropist. Born, New Orleans, June 20, 1903; son of Mary Aline Grant and John William Batt. Education: Danneel Elementary; Warren Easton High School. Married Marguerite Spraul, New Orleans, September 2, 1924. Children: Harry J., Jr., and John Batt. Career: became general manager of the firm, Playland, Inc., in 1930; directed operations of Pontchartrain Beach Amusement Park, first located near the mouth of Bayou St. John and at its present location on Elysian Fields Avenue and Lakeshore Drive; co-director of Seattle World's Fair, 1962; staged the Miss New Orleans and Miss Louisiana beauty pageants at the amusement park; directed the installation of a model railroad at St. Louis Zoo in 1963; helped organize the New Orleans Recreation Department; instrumental in establishing a burn center at Charity Hospital; active in raising funds for victims of multiple sclerosis, the Crippled Children's Hospital, and the New Orleans Council of Jewish Women; contributed to the City Parks' Storyland section. Member, International House, New Orleans Chamber of Commerce education committee, Housing Authority of New Orleans, Salvation Army, Variety Clubs International, International Association of Amusement Parks and Attractions; chairman, board of managers of Delgado Museum (now New Orleans Museum of Art); director, National American Bank; honored in 1976 by Young Men's Business Club for annual outing he sponsored for poor children at the amusement park; received Outstanding Citizen of the Year Award from the art museum in 1976; reigned as king of the Louisiana Society of the Washington Mardi Gras ball, 1972. Died, Hong Kong, November 5, 1977; interred Metairie Cemetery. J.B.C. Sources: New Orleans Times-Picayune, obituary, November 6, 1977; family research by Harry Batt, Jr. From http://lahistory.org/site19.php
BLANC, Antoine, clergyman, prelate. Born, Sury-le-Comtal, France, October 11, 1792; son of Laurent and Jeanne (Pinand) Blanc. After studies in humanities, entered Grand Seminary of St. Irenaeus, Lyons, for philosophy and theology. Ordained priest for the Diocese of Lyons, July 22, 1816, voluntering for missionary work in Louisiana, 1817. First worked in Indiana missions with headquarters at Vincennes, Ind.; was assigned to Natchez, Miss., and then to Pointe Coupée Parish, La., ministering the entire civil parish along with West Feliciana Parish. Named pastor of St. Joseph's, Baton Rouge, 1826, he was vicar-general to Bishop Leo de Neckère (q.v.) whom he succeeded, after being diocesan administrator nearly two years, as ordinary, 1835. Consecrated November 22, St. Louis Cathedral; convoked clergy of state on following day, stressing in his discourse education and evangelization. He arranged for return of Jesuits to Louisiana in 1837 when St. Charles College at Grand Coteau was established; provided for the same religious to reestablish themselves in New Orleans, 1847, when the Church and College of the Immaculate Conception on Baronne Street were founded for pastoral and educational work in the city. Opened in 1838 Seminary of the Assumption, Plattenville, La. Made rounds of entire state by river packet, pirogue, carriage, horseback and afoot, founding churches, chapels, and mission stations as resources and manpower allowed. Gravely distracted in pastoral work by Nativism and Know-Nothingism of which, as a native Frenchman, he was prime target. Founded in 1842 first diocesan paper, Le Propagateur Catholique, which, among its other editorials, defended the status of the bishop amid altercations with marguilliers or church wardens. Louisiana Supreme Court adjudicated in bishop's favor after litigation which followed series of squabbles fomented by wardens in early 1840s. Elevated to rank of archbishop, July 19, 1850, and received the pallium in ceremonies at St. Patrick's Church, New Orleans, February 16, 1851. Attended First Plenary Council of Baltimore, 1852; was present in Rome for proclamation of dogma of Immaculate Conception, December 8, 1854. Made an assistant at Pontifical throne, 1854. Convened and presided over First and Second Provincial Councils of New Orleans, 1856 and 1860. Before his death, he had seen the Louisiana clergy rise from twenty-eight to ninety-two, founded forty-seven new parishes, established two colleges in addition to seminary, nine academies, a Catholic hospital, two orphanages, a home for delinquent girls, and numerous schools staffed by men and women religious recruited from abroad. Instrumental in establishing Diocese of Natchitoches, July 2, 1853. Died, June 20, 1860; interred in crypt under sanctuary of St. Louis Cathedral. H.C.B. Sources: Roger Baudier, The Catholic Church in Louisiana (1939); Joseph Bernard Code, Dictionary of the American Hierarchy, 1789-1964 (1964); "Archdiocese of New Orleans Centennial Supplement," Catholic Action of the South, XVIII, No. 44 (October 5, 1950). From http://lahistory.org/site19.php