October 29
---


---
---

Lakeshore Drive
October 29, 1941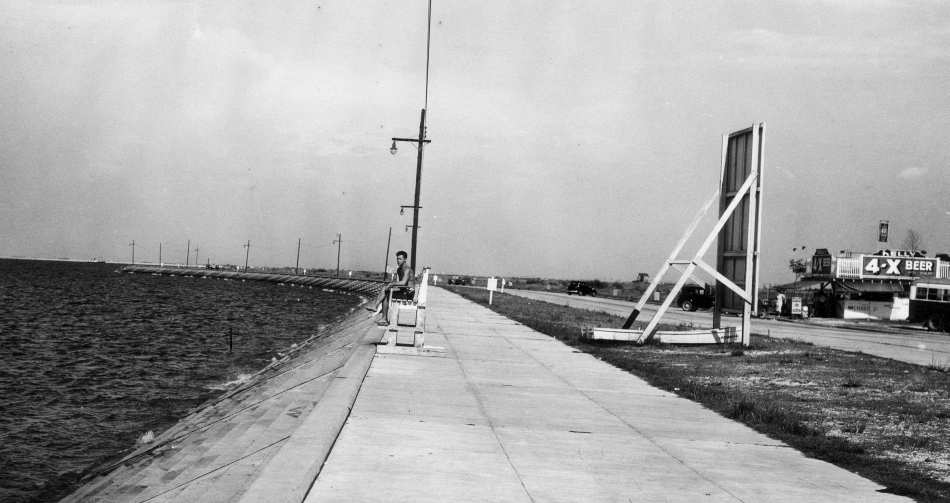 From the Charles L. Franck / Franck-Bertacci Photographers Collection, The Historic New Orleans Collection
A lone lifeguard and a few visitors to Kelly's Lakeshore Drive stand are the only visible human beings in this photograph of the newly "reclaimed" shoreline. Of interest are the 4-X Beer signs and the crabs which could be had for a mere 3 cents. 4-X Beer was produced from 1933 until 1949 by the New Orleans Brewing Company, which was established in 1890 with a six brewery merger at the site of Louisiana Brewing Company located at 418 Jackson Avenue at Tchoupitoulas Street. N.O. Brewing also bottled Eagle Beer and Double Eagle Ale.
This shot does not include other new developments along the lake in 1941. At West End, the U.S. Army base hospital and LeGarde General hospital were nearly new. At Spanish Fort, the old resort, including the original Pontchartrain Beach had been demolished and the Southern Regional Research Laboratory had been built along the new Robert E. Lee Boulevard -- which was the location of the old lakeshore and had been named Adams Avenue. At Milneburg, the Naval Reserve Aviation Training Base was under construction, the new Pontchartrain Beach amusement park had been built, and the old Milneburg Lighthouse sat -- not in the lake -- but surrounded by the park. Along Hayne Boulevard the new Lincoln Beach opened with a solitary bathouse but plans included a 10 acre park. Hundreds of humble camps had been demolished all along the shoreline during what had been touted as a beautification" project.
Changes at West End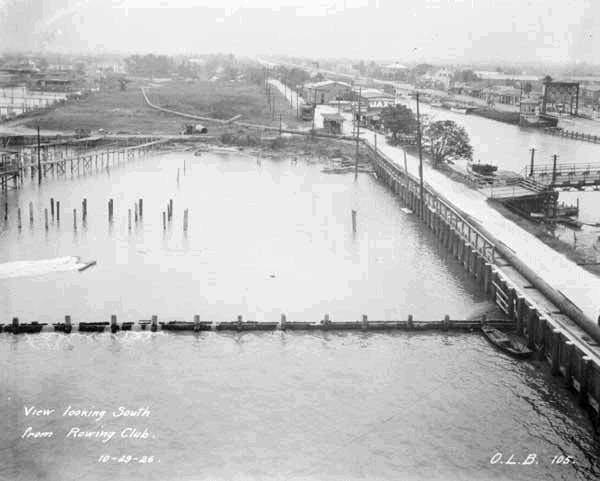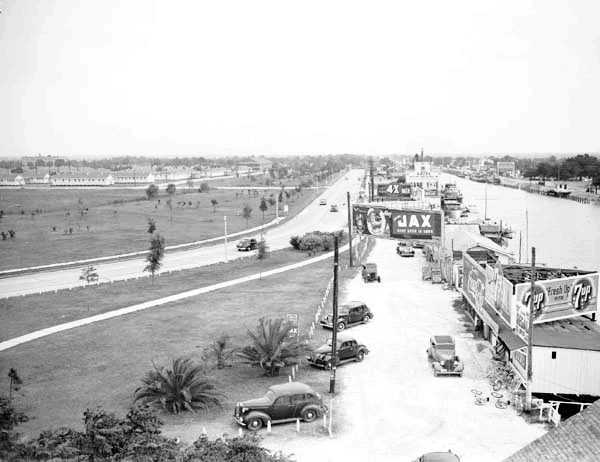 Before and after photographs from the New Orleans Public Library. Before view (October 29, 1926) looking south from the old rowing club at West End. The after view shows Lakeshore Drive at West End Boulevard (this photo was probably shot from the lighthouse), with the U.S. Army base hospital, LaGarde General Hospital, in the background. The New Basin Canal is on the right. Bart's Bar and Bicycle Club, owned by Jesse Sherwood Bart, can be seen in the lower right corner --later to become the popular Bart's Lighthouse Inn.
The massive land "reclamation" project spanned the shore from West End to Shushan Airport (later named New Orleans Lakefront Airport). It resulted in wiping the town of Milneburg off the map and the destruction of hundreds of camps lining the shore. "Progress", in this case, changed a way of life along Lake Pontchartrain.
---
---

---
Governor David Conner "Dave" Treen Sr. died at East Jefferson Hospital in Metairie on October 29, 2009. He was the first Republican Governor of Louisiana since Reconstruction and the first Republican in modern times to have served in the U.S. House of Representatives representing Louisiana. He graduated in 1945 from Alcee Fortier High School. earned a Bachelor of Arts degree in 1948 in history and political science from Tulane, served in the U.S. Air Force from 1951 to 1952, and joined the law firm of Deutsch, Kerrigan & Stiles. He was also a vice president of the Simplex Manufacturing Corporation of New Orleans from 1952–57. Treen was born in Baton Rouge on July 16, 1928.
The New Orleans Brass hockey team played the last home game in the Municipal Auditorium on October 29, 1999 before moving into the new New Orleans Arena.
The television drama, A Streetcar Named Desire, starring Alec Baldwin, Jessica Lange, John Goodman and Diane Lane was released on October 29, 1995 and aired on CBS Television stations. Jessica Lange won a 1996 Best Actress Golden Globe award for her performance and the film was nominated for four Emmy Awards.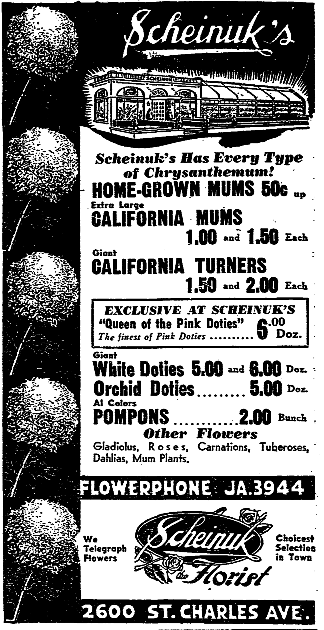 Pictured on the right, an
October 29, 1954
Times-Picayune advertisement for
Scheinuk Florist
located at 2600 St. Charles Avenue.
Married in Galviston, Texas in 1908, Max and Elise Scheinuk moved to New Orleans the same year and started the business in New Orleans in 1909. First located at 4433 Dryades Street they opened a shop at 2047 Broadway (corner of Panola) during the mid 1910s and advertised as "The Broadway Florst".

Max had served as an active member of the city Parkway Commission and as a member of the board of directors of the Jewish Children's Home, the Southern Florest Association, and the New Orleans Horticultural Society Floral Association. a native of Poland, he died in New Orleans on May 15, 1974 at the age of 88.
Elise, a native of Germany, came to the U.S. in 1906. She passed away on October 11, 1967 at the age of 80. Their business at 2600 St. Charles Avenue also served as their home. Their nursery was on Jefferson Higway near Kenner.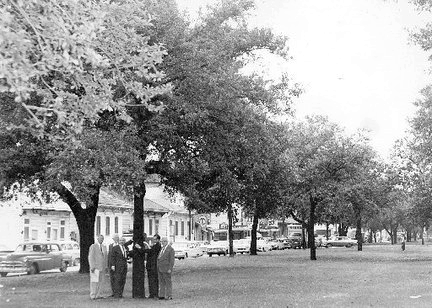 From the Times-Picayune:
The designated route of Interstate 10 through New Orleans called for it to run along North Claiborne Ave. On Nov. 14, 1961, city officials met on the avenue's neutral ground at Dumaine St. to mark its oak trees that were to be "saved." They are, from left, Herman Farley, president of Parks and Parkway Commission; Wilson S. Callender of New Orleans Floral Trail; Mayor Victor Schiro; Felix Seeger, commission superintendent, and Max Scheinuck, chairman of the ground committee.
Only 51 of the 253 trees from Canal St. to Elysian Fields Avenue were deemed salvageable in a move The Times-Picayune editorialized was "indispensable to general progress." Removal of the trees did not occur until February 1966. Many cite the destruction of this leafy boulevard and its vibrant community life as start of Treme's downward spiral. Removal of this stretch of the interstate has been suggested in several post-Hurricane Katrina plans.
The building permit for Eleanor McMain High School was approved by city engineers on October 29, 1930. J. A. Petty was the builder of the school located on South Claiborne between Joseph and Nashville streets. Construction work started in November. The 917 students' first day was Monday, February 1, when the girls gathered in the auditorium for speeches by local dignitaries followed by a flag raising ceremony with music provided by the Warren Easton band.
Residents in vicinity of Elysian Fields and Miro petitioned the city counsel for a streetlight on October 29, 1908.
Bishop Charles Pasquale Greco, born on October 29, 1894 in Rodney, Mississippi, attended St. Joseph Seminary in Covington before studying at the American College at Louvain in Belgium and the University of Fribourg in Switzerland. He was ordained to the priesthood by Archbishop John Shaw on July 25, 1918. He served as vicar general of the Archdiocese of New Orleans and pastor of Our Lady of Lourdes Church. On January 15, 1946, Greco was appointed the sixth Bishop of Alexandria. He died on January 20, 1987.
Jazz musician George Murphy "Pops" Foster (May 19, 1892 – October 29, 1969) played string bass, tuba and trumpet. Born on a plantation near McCall in Ascension Parish, his family moved to New Orleans when he was about ten years of age. His older brother, Willard Foster, began playing banjo and guitar; George started out on a cello then switched to string bass. Foster was playing professionally by 1907 and worked with Jack Carey, Kid Ory, Armand Piron, King Oliver and other prominent hot bands of the era. In 1921 he moved to St. Louis.
October 29, 1811 The first Ohio River steamboat left Pittsburgh for New Orleans.