December 21


---

Fever Therapy at the Marine Hospital
December 21, 1937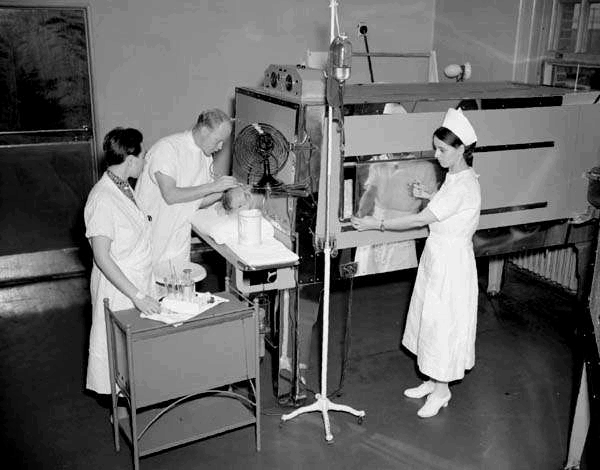 In 1927, Viennese psychiatrist Dr. Julius von Wagner-Jauregg won a Nobel Prize for his work with "fever therapy" which involved the injection of malaria-tainted blood to induce a fever which was thought to kill harmful pathogens. Ten years prior, he "cured" a patient with late-stage syphilis via this practice, which came to be considered a cure for psychotic and infectious diseases.
As more doctors used Wagner-Jauregg's methods, the recognition that patients were dying prompted the idea that the "fever" was good but the method of inducing it was not. Ultrasound became the new cure for bringing human temperature up to high levels. Full-body ultrasound machines (looking somewhat like iron lungs) were first used at the Fifth Avenue Hospital in New York City in the 1930s. According to a press release at the time, the machine "heats the blood stream and body tissue, much as does nature, killing off the alien germ."
Kettering hypertherm cabinets enclosed the patient in a supine position except for the head. Small sliding doors on the sides of the cabinet allowed access so that the physician or nurse could adjust protective blankets and measure blood pressure and temperature. After an hour's treatment, the patient's temperature was generally at the desired level of 40° to 41°C, and then the hypertherm was adjusted to maintain the body temperature at the desired level for about 5 hours. Patients were encouraged to sip iced 0.6 percent saline solution during treatment to prevent salt depletion. However, the failure to produce sustained improvement led to less use, and by the end of the 1930s fever therapy was seldom used except in occasional cases of reactive arthritis
In New Orleans this was done at the Marine Hospital on Tchoupitoulas Street between State and Henry Clay (later named the U.S. Public Health Service Hospital). Pictured here is a patient undergoing this unique form of torture/cure there on December 21, 1937.
The Marine Hospital, at Common Street and Broad (which was built by the U.S. government in 1855). The government sold the old Common Street facility to the city of New Orleans in 1896. The site is now occupied by the Criminal Courthouse and Parish Prison. The hospital relocated it to a site on Tchoupitoulas Street between State and Henry Clay. The U.S. Public Health Service provided care there until 1981 when the property was taken over by the state of Louisiana for use as New Orleans Adolescent Hospital. (NOPL)
---
---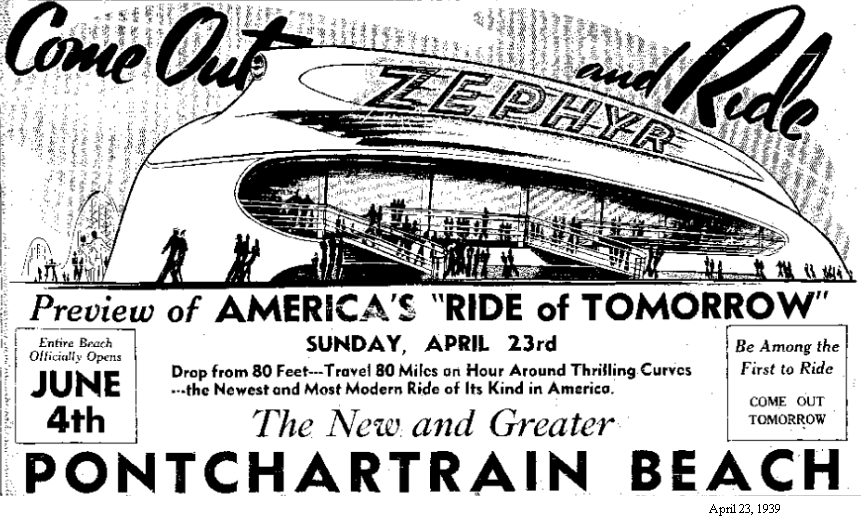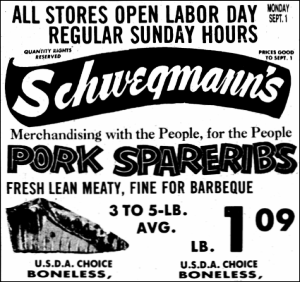 ---
On December. 21, 1970 the Saints finished the year with 2-11-1 record.
On
December 21, 1969
the Saints closed their third season with a 27-24 win over Pittsburgh to bring their record to 5-9 ... Danny Abramowicz wins NFL receiving honors with 73 catches for 1,015 yards and 7 TDs ... DE Doug Atkins retired after 17 NFL seasons. (From
neworleanssaints.com
.)
Governor James Albert Noe, born on December 21, 1890, served in World War I as a first lieutenant of the 369th Infantry in France. He was active in the Democratic party and served in the state senate from the 29th Senatorial District (Ouachita and Jackson parishes). In 1932 he was the floor leader for Huey Long's administration and was appointed lieutenant governor in 1934. He became the Governor of Louisiana, serving from January through May 1936, following the death of Gov. O. K. Allen. He later returned to the senate until 1940. Noe made unsuccessful runs for governor in 1940 and 1959. He was active in the oil and gas industry, with operations in Texas, Arkansas and Louisiana, both as producer and overriding royalty owner. He owned and operated farms in Indiana and Ouachita and Tensas parishes, most notably, the Whitehall Plantation in Monroe. In 1936 Noe founded WNOE-AM and FM radio stations in New Orleans, established Monroes KNOE-AM and FM radio stations in 1944, and KNOE-TV in 1953. In 1971 he was awarded an honorary LL. D. degree from Northeast Louisiana University. He died died in Houston on October 18, 1976. (From http://lahistory.org/site.php?pageID=31)
Sister Thérèse of the Cross (Julie Thérèse Chevrel), born in Fougères, France on October 13, 1806, entered newly established Third Order of Our Lady of Mount Carmel (later known as Sisters of St. Martin) at Tours in 1824; served as mistress of novices and superior. Among those dispersed after 1830 revolution; resided in Paris, 1831-1833. Called to Louisiana by Bishop Léo de Neckère (q.v.) to help with growing Catholic educational effort. Arrived in New Orleans, November 1, 1833, with Sister Augustin Clerc. Directed small Catholic school in Assumption Parish, La., 1834-1838; called by Bishop Antoine Blanc to staff school for young ladies of color on Bayou Road, New Orleans, 1838. Resided on this property adjoining St. Augustine Church (1841) for 50 years. Superior general of Sisters of Mount Carmel of Louisiana from 1833 to her retirement in 1885. Under her leadership, Sisters received official approval as a Louisiana Catholic religious congregation, 1859, adapted their statutes and rule to conditions in Louisiana, and grew from 2 to 78 professed Sisters by 1885. Under Sister Thérèse's leadership, the Sisters of Mount Carmel pioneered Catholic education in Lafayette (1846), Thibodaux (1855), Algiers (1857), New Iberia (1870), St. Charles (1874), St. John (1876), Paincourtville (1876), Washington (1879), and Abbeville (1885) and took charge of Mt. Carmel Orphan Asylum on Piety Street, New Orleans (1869). Authored brief "History of the Third Order of Our Lady of Mount Carmel" and a short spiritual treatise on Carmelite life (1879). Died, New Orleans, December 21, 1888; interred St. Louis Cemetery III. (Source: http://lahistory.org/site20.php)