---

Oretha Castle Haley
July 22, 1939 -- October 10, 1987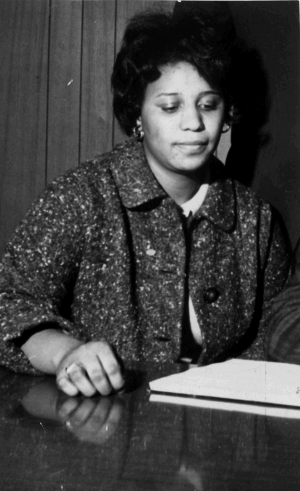 Oretha Castle was born in Oakland, Tennessee and moved to New Orleans with her parents in 1947. After graduating from Joseph S. Clark High School she enrolled at Southern University in New Orleans where she joined other students in the struggle for civil rights, eventually becoming the head of the Congress of Racial Equality (CORE) in New Orleans. In 1967, Oretha married fellow CORE member Richard Haley.
Mrs. Haley served as deputy administrator at Charity Hospital where she instituted better health care for the Black Community. While at Charity, she helped organize the New Orleans Sickle Cell Anemia Foundation. In 1972, she directed the political campaign of Dorothy Mae Taylor who became the first Black woman legislator in the state.
After a lengthy battle with cancer, Oretha Castle Haley died at the age of 48. She is buried in Providence Memorial Park. (Text from the New Orleans Public Library. Photo from the Amistad Research Center.)
Two years after her death in 1987, the city renamed Dryades Street in Central City, from Philip Street to Howard Avenue in her honor. After decades of disrepair, this area of the street is making a comeback, now hosting Cafe Reconcile, the Southern Food and Beverage Museum in the former Dryades Market, Zeitgeist Multi-Disciplinary Arts Center, and the Ashe Cultural Arts Center in the former Kaufman's department store, among others.
---



---
On July 22, 2009 — during the 16-indictments trial of Congressman William J. Jefferson, before U.S. judge T. S. Ellis III — lead prosecutor Mark Lytle presented a chart which showed money flowing from Jigawa State in Nigeria to Arkel Sugar in Baton Rouge to pay for a study of the feasibility of Arkel building a sugar plant there, to the coffers of Providence Lake, a company controlled by the congressman's brother Mose Jefferson, to BEP, another company controlled by Mose Jefferson, and on to Harvard University, where it helped pay expenses for Jelani Jefferson, one of the congressman's daughters. (Wiki)
Jazz trumpeter and bandleader Percy Gaston Humphrey was born in New Orleans on January 13, 1905. In addition to his own jazz band, Percy Humphrey and His Crescent City Joymakers, for more than thirty years he was leader of the Eureka Brass Band. He also played in the band of the pianist Sweet Emma Barrett. From its opening in the early 1960s, until shortly before his death Humphrey played regularly at Preservation Hall, traveling internationally for performances with the Preservation Hall Jazz Band and his own bands. Humphrey died on July 22, 1995 at the age of ninety. (Wiki)
Several photographs from the July 22, 1957 NORD Soap Box Derby.
Several photos of NORD baseball players, including Nick Sardegna, Ralph Richoux, Marco Tumminello, Mel Olivier, John Martinez, John Murret, Al Gruntz, Larry Duet, and Jesse Danna, July 21, 1955.
BAUER, Nicholas, educator. Born, New Orleans, July 22, 1877. Education: local schools; Tulane Univeristy, B. S., 1897; master's degree, 1899. Senior chemistry professor at Boys' High School, 1900-1908; assistant superintendent of Orleans Parish Schools, 1901-1923. Superintendent of Orleans Parish Schools, 1923-1942. Active in civic affairs; served as secretary of the Louisiana Teachers' Association, 1901-1915; president, 1915-1916. A charter member and director of Isaac Delgado Trade School. As superintendent of education, launched a ten-year expansion program (1927-1936) resulting in construction of at least nineteen new schools. Awarded the Times-Picayune Loving Cup for 1936 for outstanding civic service. Married (1) Ethel Champerlain and (2) Edna Kane. One child, Ethel, by first marriage. Died, March 4, 1946; interred Metairie Cemetery. G.R.C. Source: New Orleans Times-Picayune, March 5, 1946 From http://lahistory.org/site19.php f