---

Dr. Edward William Alton Ochsner Dies
September 24, 1981
.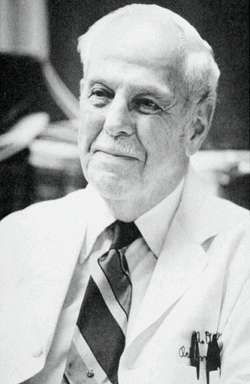 Born in Born, Kimball, South Dakota on May 4, 1896, Edward William Alton Ochsner came to New Orleans to practice as a professor of Surgery, Tulane University in 1927 -- a position he held until 1961. One of the first to identify cigarette smoking as a cause of lung cancer and heart disease, he was one of the founders (with Dr. Edgar Bruns, Guy Caldwell, Francis LeJeune, Curtis Tyrone) and director of surgery of Ochsner Clinic and Ochsner Foundation Hospital from 1942 to 1966.
He served as the president of Alton Ochsner Medical Foundation from 1944 to 1970 when he retired from surgery after more than 20,000 operations. He published six books, twenty-four sections of books, and more than five hundred articles. Dr. Ocshner taught more than 3,000 students, including Texas heart surgeon Michael DeBakey. He was a member of the American Cancer Society, American College of Surgeons, American Medical Association, International Cardiovascular Society, Pan American Medical association, Pan Pacific Surgical Association, Cordell Hull Foundation for International Education, Information Council of the Americas, and International House of New Orleans, Metropolitan Crime Commission of New Orleans.
Ochsner held numerous honorary degrees as well as civic and social awards and honors, including Times-Picayune Loving Cup ( 1945); Rex (1948); and the States-Item Man of the Century in Medicine (1977). Dr. Ochsner died in New Orleans on September 24, 1981. (Source: http://lahistory.org/site.php?pageID=3)
---



---
Cosimo Matassa's J&M Recording Studio
Recognized as an Historic Rock and Roll Landmark
September 24, 2010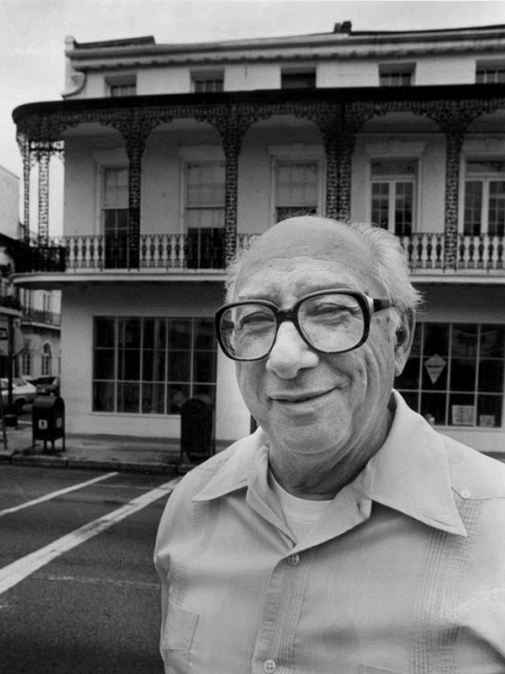 Photo from the Louisiana Endowment for the Humanities
Born in New Orleans on April 13, 1926, Cosimo Matassa is the recording engineer and studio owner responsible for nationally renowned R&B and rock and roll recordings at his New Orleans studios. Matassa described himself simply as a "sound engineer" in a July 19, 1981 Times-Picayune article written by John Pope. He went on to say that his formula for success was not complicated in any way..."Do it live or do it over again until it was done right". He did it right for hundreds of young unknown musicians including Ray Charles, Fats Domino, Mac Rebbenack (Dr. John), Mickey Gilly and so many more from 1945 through 1968 in his studio in the Quarter and later in the Central Business District. J&M recorded Alan Toussaint's first record, "The Wild Side of New Orleans" which was released by RCA Victor. He recorded Aaron Neville's "Tell it Like it Is", Robert Parker's "Barefootin'", and Little Richard's "Tutti Frutti" in 1956 -- a recording which has been acclaimed as a seminal Rock and Roll song.
Cosimo Matassa was an 18 year-old second-year chemistry major at Tulane during World War II who quit school because he thought he would be drafted into military service. But the war soon ended and he drifted into the music industry by taking a job involvling juke boxes which led to an interest in records which led to invlovement with his father's J&M Music Shop on the corner of Rampart and Dumaine which evolved into his first studio in 1945 in a back room of the store which was named for his dad, John Matassa and his partner Joe Mancuso.
In 1955, Cosimo moved to the larger Cosimo Recording Studio in the CBD. Here, as engineer and proprietor, he was crucial to the development of the R&B, rock and soul sound of the 1950s and 1960s, often working with producers Dave Bartholomew and Allen Toussaint. He recorded hits by Fats Domino's "The Fat Man" (another contender for the first rock and roll record), Little Richard's "Tutti Frutti", and records by Ray Charles, Lee Dorsey, Dr John, Smiley Lewis, Bobby Mitchell, Tommy Ridgley, the Spiders and many others. He was responsible for developing what became known as the "New Orleans Sound", with strong drums, heavy guitar and bass, heavy piano, light horn sound and a strong vocal lead. In the late 1950s and early 1960s, Matassa also managed the successful white New Orleans rock and roll performer Jimmy Clanton.
He retired from the music business in the 1980s to manage the family's food store, Matassa's Market in the French Quarter. In December 1999, J&M Recording Studio was designated as an historic landmark by the Orleans Parish Landmarks Commission. In October 2007, Matassa was honored for his contributions to Louisiana music with induction into The Louisiana Music Hall of Fame. On September 24, 2010, the Rock and Roll Hall of Fame and Museum designated Cosimo Matassa's original J&M Recording Studio as an historic Rock and Roll Landmark, one of 11 nationwide. The studio is now a laundromat.
Matassa was inducted into the Rock and Roll Hall of Fame during its 27th annual ceremony on April 14, 2012. In 2013, he was inducted to the Blues Hall of Fame.
Paul Franklin Dietzel (September 5, 1924 – September 24, 2013) was an American football player, coach, and college athletics administrator. He served as the head coach at Louisiana State University (1955–1961), the United States Military Academy (1962–1965), and the University of South Carolina (1966–1974), compiling a career record of 109–95–5. Dietzel's 1958 LSU team concluded an 11–0 season with a win over Clemson in the Sugar Bowl and was a consensus national champion. For his efforts that year, Dietzel was named the National Coach of the Year by both the American Football Coaches Association and the Football Writers Association of America. Dietzel also served as the athletic director at South Carolina (1966–1975), at Indiana University Bloomington (1977–1978), and at LSU (1978–1982).
Hurricane Rita
2005
Hurricane Rita compounded the already growing problems post-Katrina as it makes landfall just west of where Hurricane Katrina had landed. Brigador General Doug Pritt and the 41st Brigade Combat Team of Oregon were designated as the head of Joint Task Force Rita, leading the multi-state National Guard relief efforts in the aftermath of Hurricanes Katrina and Hurricane Rita. The official regionwide death toll from Hurricane Katrina was upgraded to 1,080. Mississippi still had not officially increased its death toll by much, but added 2 to the count. Thousands feared dead in Mississippi and Louisiana remain out of the official death toll. State-by-State death tolls: Louisiana 841, Mississippi 220, Florida 14, Alabama 2, Georgia 2, Tennessee 1.
On September 24, 2005, Hurricane Rita did not breach the temporary repairs in the main part of the city, but the repair on the Industrial Canal wall in the lower 9th ward was breached, allowing about 2 feet (0.61 m) of water back into the area.

---
Superdome Scheduled to Reopen Post-Katrina
2006
The NFL announced on February 5, 2006, that the Superdome would reopen for the first time post-Katrina on September 24 when the Saints hosted the Atlanta Falcons.
---
Virginia Slims of New Orleans TennisTournament
1984

The 1984 Virginia Slims of New Orleans was a tennis tournament played on indoor carpet courts in New Orleans, Louisiana in the United States that was part of the 1984 Virginia Slims World Championship Series. The tournament was held from September 24 through September 30, 1984.
---
Moon Landrieu Appointed US Secretary of Housing
1979

Maurice Edwin "Moon" Landrieu (born July 23, 1930) served as a Democratic Mayor of New Orleans from 1970–1978, a judge. a representative on the New Orleans' Twelfth Ward in the Louisiana House of Representatives (1960 to 1966) and on the New Orleans City Council as a member at-large (1966 to 1970). On September 24, 1979 he was appointed United States Secretary of Housing and Urban Development under U.S. President Jimmy Carter. He served in this position until January 20, 1981.
---
Hurricane Flossy
1956
Hurricane Flossy originated from a tropical disturbance in the eastern Pacific Ocean and moved across Central America into the Gulf of Mexico as a tropical depression on September 21, which became a tropical storm on September 22 and a hurricane on September 23. The hurricane peaked with maximum sustained winds of 90 mph before it struck the central Gulf coast as a Category 1 hurricane on September 24, and evolved into an extratropical cyclone on September 25. It was the first hurricane to affect oil refining in the Gulf of Mexico. The tropical cyclone led to flooding in New Orleans (about 2.5 square miles were flooded as portions of the seawall were overtopped) and broke a drought across the eastern United States.
Flossy completely submerged Grand Isle and caused extensive coastal erosion as it moved across the Mississippi Delta. Burrwood reported winds to 90 m.p.h. and a lowest pressure of 29.03. Rain totals reached 16.70" at Golden Meadow. Hundreds lost their homes in the storm. Cattle were drowned and citrus, sugar cane, and pecan crops were heavily damaged. A storm surge of 13 feet was seen at Ostrica Lock. The death toll was 15, and total damages reached $24.8 million
September 24th, 1956 (Flossy): Hurricane Flossy completely submerged Grand Isle and caused extensive coastal erosion as it moved across the Mississippi Delta. Burrwood reported winds to 90 mph and a lowest pressure of 29.03." Rain totals were excessive across southeast Louisiana, with a maximum of 16.70" at Golden Meadow. Hundreds lost their homes in the storm. Cattle were drowned and citrus, sugar cane, and pecan crops were heavily damaged. The eastern sections of the New Orleans seawall were overtopped, flooding 2.5 square miles. A storm surge of 13 feet was seen at Ostrica Lock. The storm killed 15 and $22 million in damage was produced.
---
Civic Leader Stanton Morrison Frazar is Born
1932
Born in De Ridder on September 24, 1932, Stanton Morrison Frazar moved to New Orleans in 1955 where he was employed by Hibernia National Bank from then until 1975 having held various positions there including vice president of marketing. From 1975 -- 1986 he was the director of the Historic New Orleans Collection and served as president of WYES-TV from 1986 -- 1987.

Frazar also served as a Louisiana Governor's delegate, on the La Salle Tricentennial Commission; as a member of the boards of Friends of the Cabildo (president), Preservation Resource Center (president), St. Charles Avenue Presbyterian Church, Save Our Cemeteries, Louisiana Landmarks Society, Bring Our Streetcars Home (chairman, 150th Birthday Celebration), Gallier House (vice chairman), Tidewater Development Association (secretary-treasurer), Arts Council of New Orleans (exhibit chairman, Seldom Seen III), Bouligny Improvement Association (vice president), Greater New Orleans Science Fair (president), WYES-TV, Tulane Summer Lyric Theatre, Friends of the University of New Orleans Library, Criminal Courts Renaissance, Le Debut des Jeunes Filles de la Nouvelle Orléans, Louise S. McGehee School, and Contemporary Arts Center, of which he was co-founder. Active in Mardi Gras organizations. he died in New Orleans on July 14, 1987. Source: http://lahistory.org/site.php?pageID
---
Publisher & Mysterious Stranger Edward Austin Burke Dies
1928
The first Democrat to hold the office of Louisiana State Treasurer following Reconstruction, Edward Austin Burke (or Burk) was born on September 13, 1839. He held that office from 1878 to 1888. He later fled to Honduras after it was discovered that there were misappropriations of state treasury funds. While in Honduras Burke became a major land owner and held government positions within Honduras' nationalized railway systems. He remained an exile untill his death nearly four decades later on September 24, 1928.
His entire life prior to 1865 is a mystery, compounded by fabrications. He pretended to have been a Confederate major, he may also have served in the Union Army—or in neither. He arrived in New Orleans as a common laborer after the war and as an opportunist par excellence soon achieved prominence in the city's Democratic party. He managed the Democratic state campaign in 1876, was the leading spokesman for Louisiana's whites in Washington, D. C. after the war, and was active in negotiations which ended Reconstruction in 1877. In his political career after Reconstruction he allied himself with the corrupt Louisiana State Lottery Company; was elected state treasurer in 1878 (serving until 1888), and recognized to be the behind-the-scenes leader of state government during Gov. Samuel D. McEnery's administration from 1879--1888.
Regarding his newspaper career, Burke was managing editor of New Orleans Democrat from 1879 utnil 1881 which was owned by Burke and Lottery interests and which merged with the Times to form the Times-Democrat in 1881 with Burke as publisher. He spearheaded the New Orleans World's Industrial and Cotton Centennial Exposition (1884 -- 1885).
In 1889 he was indicted for embezzlement in state bonds totaling over $1,000,000. After fleeing to Honduras he successfully resisted extradition. Burke died on September 24, 1928 and was interred somewhere in Honduras in 1928. Source: http://lahistory.org/site19.php
---
Jazzman Isidore John Barbarin is Born
1871
Born in New Orleans on September 24, 1871, jazz cornet and alto horn player Isidore John Barbarin was a mainstay of the New Orleans jazz scene in the decades around the turn of the 20th century. He learned to play the cornet at age 14, then played in various New Orleans brass bands including the Onward Brass Band, the Excelsior Brass Band, and Papa Celestin's Tuxedo Brass Band. He can be heard today in a 1945 Bunk Johnson and a 1946 Original Zenith Brass Band recording. Barbarin died in New Orleans on June 12, 1960.
He left a New Orleans musical legacy; sons Paul, Louis, Lucien, and William as well as his grandson, Danny Barker.
---
Louis William Valentine Dubourg Appointed Bishop of Louisiana
1815
Louis William Valentine Dubourg, on September 24, 1815, was appointed Bishop of Louisiana and the East and West Floridas by Pope Pius VII. Unlike his predecessor, who set up his see in New Orleans, DuBourg chose to set up his episcopal see in St. Louis. After his resignation and transfer to lead the diocese of Montauban, France, the diocese of Louisiana was split, giving New Orleans a bishop again. The Diocese of St. Louis was erected on July 18, 1826, by Pope Leo XII.