---

Dorothy Mae Taylor is Born
August 10, 1928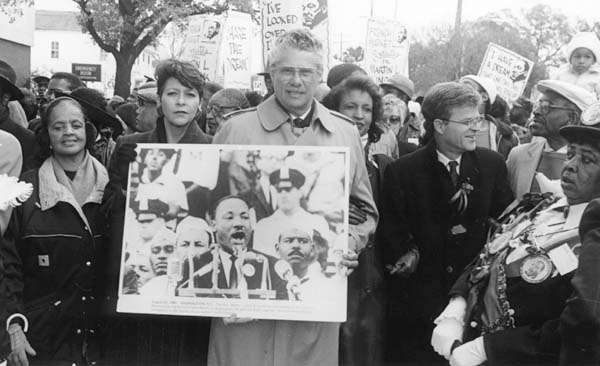 Councilmember Dorothy Mae Taylor, First Lady Mickey Barthelemy, Mayor Sidney J. Barthelemy,
Governor Buddy Roemer, and thousands of New Orleanians participated in the Rev. Martin Luther King, Jr. parade and rally, 1991.
Photograph from the New Orleans Public Library
From the New Orleans Public Library: In 1971 (through 1980), Dorothy Mae Taylor became the first African American woman elected to the Louisiana House of Representatives. This accomplishment was one of many that she held as a public official. The youngest of thirteen children born to Charles Henry and Mary Delavallade on August 10, 1928, Dorothy Mae Delavallade Taylor was educated in Orleans Parish Schools and attended Southern University at Baton Rouge. Her career in public service began after she married Johnny Taylor, Jr. in 1948. By the mid-1950s Taylor was a wife and mother and an active member of her children's Parent Teacher Association (PTA). As president of the PTA during a time when segregation was still the norm in Orleans Parish Schools, Taylor demanded that the Orleans Parish School Board provide supplies for black schools equal to those given to white schools. Her activism continued following the desegregation of the school system as she led efforts to desegregate the New Orleans Recreation Department (NORD) and to help black citizens register to vote.The first political office she held was as Deputy Clerk in Civil District Court. In 1971, her familiarity with the community and their grassroots support helped her become the first Black woman elected to the Louisiana House of Representatives. The following year, she was awarded the Legislator of the Year award from Louisiana State University. During her years as a state legislature she worked with issues regarding health care, the penal system, child care and discrimination. By 1984, Governor Edwin Edwards appointed her State Secretary of the Department of Urban And Community Affairs, making her the first African American woman to head a state department. During her long career in public service, she championed the cause of the poor, serving as Administrator of the Central City Neighborhood Health Center and as Secretary of the State Department of Urban and Community Affairs. In 1986, she was elected to the New Orleans City Council, the first Black woman to be so honored. Though her work on the council was blanketed by her drive to have Carnival Krewes integrate their clubs or cease to parade, Taylor's work extends far beyond that controversy which came in the later part of her political career. She supported fair utility rates for all New Orleans citizens, fought for environmental concerns, launched voter registration drives, encouraged women participation in city government and was active in creating neighborhood forums that brought the community and city government together.She retired from the council in 1994, remaining out of the political spotlight but active in her church, Mount Zion Methodist Church. Upon her death on August 18, 2000, she was funeralized there five days later. (NOPL)
---



---
On August 10, 1972, Beaver Productions presented It's a Beautiful Day and Brownsville Station at A Warehouse on Tchoupitoulas Street. Tickets for the show were priced at $4.00.
Chalmette Monument and Grounds were established on March 4, 1907 to commemorate the site of the Battle of New Orleans. It was transferred from the War Department to the National Park Service on August 10, 1933 and redesignated Chalmette National Historical Park on August 10, 1939.
Louisiana's highest recorded temperature was 114 °F (46 °C) according to the publication Plain Dealing on August 10, 1936.
New Orleans' own Dorothy Dell Goff was crowned Miss United States (Miss America) on August 5, 1930 and then Miss Universe on August 10, 1930 in the Galveston International Pageant of Pulchritude. Goff, as Dorothy Dell became a film actress whose young life was cut short in an automobile accident on June 8, 1934 near Pasadena, California.

Two crimes allegedly committed by the Axe Man of New Orleans: Joseph Romano was an elderly man living with his two nieces, Pauline and Mary Bruno. On
August 10, 1918
, Pauline and Mary awoke to the sound of a commotion in the adjoining room where their uncle resided. Upon entering the room, the sisters discovered that their uncle had taken a serious blow to his head, which resulted in two open cuts. The assailant was fleeing the scene as they arrived, yet the girls were able to distinguish that he was a dark-skinned, heavy-set man, who wore a dark suit and slouched hat. Romano, although seriously injured, was able to walk to the ambulance once it arrived, yet died two days later due to severe head trauma. The home had been ransacked, yet no items were stolen from Romano. Authorities found a bloody axe in the back yard, and discovered that a panel on the back door had been chiseled away. The Romano murder created a state of extreme chaos in the city, with residents living in constant fear of an axman attack. Police received a slew of reports, in which citizens claimed to have seen an axman lurking in New Orleans neighborhoods. A few men even called to report that they had found axes in their back yards. John Dantonio, a then retired Italian detective, made public statements in which he hypothesized that the man who had committed the axman murders was the same who had killed several individuals in 1911. The retired detective cited similarities in the manner by which the two sets of homicides had been committed, as reason to assume that they had been conducted by the same individual. Dantonio described the potential killer as an individual of dual personalities, who killed without motive. This type of individual, Dantonio stated, could very likely have been a normal, law abiding citizen, who was often overcome by an overwhelming desire to kill. He later went on to describe the killer as a real-life "Dr. Jekyl and Mr. Hyde". Exactly one year later, grocer Steve Boca was attacked in his bedroom as he slept, by an axe-wielding intruder on
August 10, 1919
. Boca awoke during the night to find a dark figure looming over his bed. Upon regaining consciousness, Boca ran to the street to investigate the intrusion, and found that his head had been cracked open. The grocer ran to the home of his neighbor, Frank Genusa, where he lost consciousness and collapsed. Nothing had been taken from the home, yet, once again, a panel on the back door of the home had been chiseled away. Boca recovered from his injuries, but could not remember any details of the trauma. It should be noted that this attack took place after the emergence of the infamous axman letter. From http://en.wikipedia.org/wiki/The_Axeman_of_New_Orleans and The Times-Picayune.
Related reading:

Gumbo Ya-Ya: A Collection of Louisiana Folk Tales
by Robert Tallant

The Axeman of New Orleans (True Crime Collection)

Axeman's Jazz: A Female Cop, an Obsessed Killer, an Offbeat New Orleans Setting; Skip Langdon Mystery #2 (The Skip Langdon Series)
by Julie Smith
Jazz bass player William Manuel "Bill" Johnson, born on August 10, 1872, is considered the father of the "slap" style of string bass playing. Johnson claimed to have started "slapping" the strings of his bass (a more vigorous technique than the classical pizzicato) after he accidentally broke his bow on the road with his band in northern Louisiana in the early 1910s. Other New Orleans string bass players picked up this style, and spread it across the country with the spread of New Orleans Jazz. Johnson was founder and manager of the first jazz band to leave New Orleans and tour widely in the 1910s, The Original Creole Orchestra. In Chicago in the early 1920s he assembled King Oliver's Creole Jazz Band, considered perhaps the best of the early ensemble style jazz bands. He taught younger Chicago musicians (including Milt Hinton) his "slap" style of string bass playing. He made many fine recordings in Chicago in the late 1920s. Johnson continued to play with various jazz bands and orchestras into the early 1950s, sometimes working under other names. He was also involved in the import/export business along the USA-Mexico border. Johnson's brother Ollie "Dink" Johnson was also a noted musician and his sister Anita Gonzales was common-law wife or perhaps married to Ferdinand "Jelly Roll" Morton during his stays in California. Bill Johnson died in New Braunfels, Texas on December 3, 1972, at the age of 100. (Wiki)
Adah Isaacs Menken, also known as Ada Bertha Théodore and Ada C. McCord (June 15, 1835 – August 10, 1868), was an American actress, painter and poet, the highest earning actress of her time. Accounts of Menken's early life and origins vary considerably. In her autobiographical "Some Notes of Her Life in Her Own Hand," published in the New York Times in 1868, Menken said she was born Marie Rachel Adelaide de Vere Spenser in Bordeaux, France and lived in Cuba as a child before her family settled in New Orleans. Elsewhere, in 1865 she wrote that her birth name was Dolores Adios Los Fiertes, and that she was the daughter of a French woman from New Orleans and a Jewish man from Spain. About 1940, the consensus of scholars was that her parents were Auguste Théodore, a free black, and Marie, a mixed-race Creole, and Ada was raised as a Catholic. Ed James, a journalist friend, wrote after her death: "Her real name was Adelaide McCord, and she was born at Milneburg, near New Orleans, on June 15, 1835." As a child, Adah performed as a dancer in the ballet of the French Opera House in New Orleans. In her later childhood, she performed as a dancer in Havana, Cuba, where she was crowned "Queen of the Plaza". She died in Paris at age 33.
Tchoupitoulas Street streetcar began its run on August 10, 1866. This early riverfront line once ran the full-length of Tchoupitoulas St. from Canal Street to Audubon Park. It was discontinued on July 2, 1929.
On August 10 -- 12th, 1856: Hurricane strikes Isle Derniere, Last Island, a pleasure resort south- southwest of New Orleans. The highest points were under 5 feet of water. The resort hotel and surrounding gambling establishments were destroyed, over 200 people perished, and the island was left void of vegetation and split in half. Only one terrified cow survived on the Isle. Last Island is now only a haven for pelicans and other sea birds. The rain total at New Orleans reached 13.14". Every house in the town of Abbeville was leveled, including the wooden St. Mary Magdalen Church that Fr. Megret had built in 1855; and, the "brick courthouse". Rains from the storm flooded the Mermentau River and destroyed crops along the bottom lands. Area rice fields in Plaquemines parish were under several feet of salt water. Nearly all rice was lost. Orange trees were stripped of their fruit. The steamer Nautilus foundered. The lone survivor cling to a bale of cotton and washed ashore sometime later.
From the Daily reports of superintendent of laborers & carts and overseers of chain gangs: August 10, 1852: "Report of the chain gang being working in Cypress St., forenoon, 7 men & 3 women; afternoon, 6 men and 3 women.(NOPL)
The Expulsion of the Acadians, also known as the Great Upheaval, the Great Expulsion and Le Grand Dérangement, was the forced removal by the British of the Acadian people from the present day Canadian Maritime provinces of Nova Scotia, New Brunswick, Prince Edward Island, and also part of the US state of Maine—an area also known as Acadie. The first wave of the expulsion began on August 10, 1755, with the Bay of Fundy Campaign during the French and Indian War. The British ordered the expulsion of the Acadians after the Battle of Beausejour. The campaign started at Chignecto and then quickly moved to Grand-Pré, Piziquid (Falmouth/ Windsor, Nova Scotia) and finally Annapolis Royal. (Wiki)