---

Harry Batt Jr. Dies
September 18, 2011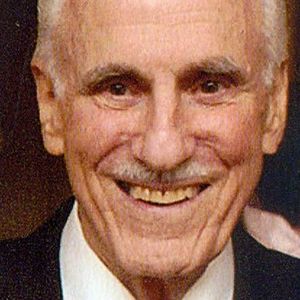 Harry J. Batt, Jr., a prominent local businessman and family man, died Sunday, September 18, 2011. He was 85 years of age. A life-long resident of the New Orleans area, Mr. Batt graduated from Riverside Military Academy in Hollywood, Florida, in 1941, and attended Tulane University, graduating with a B.A. degree in 1946. After securing his B.A. degree, he commenced architectural and design studies at the Chicago Institute of Design. While an architectural student, he was called upon by his father, Harry Batt, Sr., to assist in operating a local business, Pontchartrain Beach Amusement Park, on the lakefront in New Orleans. Over a period of many years, he worked his way up from stock/merchandise clerk to the position of President of Playland Amusements Incorporated, the operator of Pontchartrain Beach Amusement Park. Although at one point he hoped to have a career in architecture, he abandoned that interest when he began working at the amusement park and when he decided "to make a living out of fun". He learned the amusement park business, along with his brother, John Batt, from their father. His father, Harry Batt, Sr., retired in 1970, andHarry Batt, Jr., and his brother, John Batt, served as President, and Vice President, respectively, until the lakefront park closed, in 1983.

Pontchartrain Beach was an amusement park located on the shores of Lake Pontchartrain, which operated for 54 years. Mr. Batt managed the park, along with his brother John, from the 1960's until its closure in 1983. Pontchartrain Beach included a beach shore, amusement rides (including a thrilling rollercoaster known to New Orleanians as The Zephyr), and concession stands. The park featured live music concerts, including performances by many local musicians.

Generations of New Orleanians have fond memories of the amusement park's thrills. A landmark of the park's asphalt midway was the giant clown head, whose mouth was big enough to accommodate multiple kids. Mr. Batt enjoyed walking the midway and watching the kids' reactions. The park's wooden rollercoaster, the Zephyr, was, for many years, considered to be one of the nation's finest. Contrary to its name, it was not a gentle breeze, as it rocketed kids to 60 miles per hour on a sinuous track.

The Beach was a great place for first dates and the terror of the Zephyr made it easy to cozy up to a girlfriend. An enterprising young man could go up to a girl and say "do you want some cotton candy or to go on a ride?" It was innocent and it was safe.

The amusement park offered a variety of family entertainment. Free shows started every night at 9 p.m. Animal acts, circus performers, and marriage ceremonies conducted on a tightrope entertained guests on steamy, summer nights. Tightrope walkers and circus acts were succeeded by big name acts like the singers Rudy Valle, Fabian, and Elvis Presley. Elvis, who was in his early days as a performer, lost top billing to an animal act.

The amusement park also featured the Bali Hai Restaurant, which opened in 1958, as one of the first eateries to introduce Chinese cuisine to the metropolitan New Orleans area. In an A-Frame Polynesian paradise, it featured exotic mixed drinks and Asian bamboo décor. Due to liberal drinking laws, many young couples drank their first cocktails in the shade of palm fronds, at their prom night dinners.

Mr. Batt was very active in business organizations and in the fabric of the local community – he was a president of the International Association of Amusement Parks and Attractions; he served on the Board of various metropolitan banks; he was active in the Hermes Carnival Organization; he served as a consultant for the Seattle World's Fair; he provided advice regarding Disney's expansion into Orlando, Florida; and he served as President of Rotary.

Mr. Batt, along with his brother, started the "Storyland" amusement park in City Park, which included a miniature train, carousel, and other attractions. Storyland operated under the oaks in City Park for many decades. Upon the conclusion of this City Park amusement venture, he and his family arranged for the unique European carousel to be fully restored so that it could be given as a donation to New Orleans, the city he loved, for future generations of kids.

In his later years, after he retired from the amusement business, Mr. Batt became a fine amateur artist. Painting became more than a hobby and family and friends consistently requested that he produce works for them. His passion for painting caused him to study at many local art schools. In his retirement years he loved to paint for hours, have dinner at the end of the day, and enjoy a good glass of wine with his loved ones.

He will be terribly missed by his family and loved ones. He was admired and respected by many, as expressed best in a quote from a letter that his grandson read in honor of him at his funeral service:

"He married the woman of his dreams and loved her until the day he died.

He built a family and watched it grow and prosper.

His business brought joy to thousands. In his retirement, his brilliance turned to art and he left a legacy to his loved ones.

He was an entrepreneur, a world traveler, a connoisseur of food and drink, a top-notch conversationalist and a devoted individualist".




Related reading:

New Orleans City Park (Images of America) by Catherine Campanella
---



---
Malcolm John "Mac" Rebennack Receives Lifetime Achievement Award
September 18, 2013
Dr. John was awarded the Americana Music Association's 2013 Lifetime Achievement Award on Wednesday, September 18, 2013 at 11th annual Americana Music Awards at the Ryman Auditorium in Nashville.
Katrina Aftermath
September 18, 2005
______

The U.S. Army Corps of Engineers performed a detailed assessment of about 350 miles (560 km) of hurricane levee and developed a comprehensive, prioritized plan to repair it and the pumping stations that support New Orleans and surrounding areas. "The system in its present condition does not ensure that the city will be protected from flooding resulting from storms or hurricanes," stressed Col. Duane Gapinski, Task Force Unwatering commander. Gapinski said that residents could be placing their lives and property at risk by re-entering flooded areas until additional emergency levee repairs are made. State and local leaders were informed as assessments are being completed and repairs are made.
Recovery of New Orleans was seen as a three-phase process: first and most immediate, to unwater the city and assess flood protection. Second, to provide an interim level of protection to get the city through hurricane season and later high water, and over the long-term, to return the system to pre-hurricane conditions. This will take a tremendous amount of study, research, funding and construction.
The Corps estimated the New Orleans area was more than 80 percent unwatered. Corps officials estimated the overall unwatering effort, given normal seasonal rainfall, would be completed no later than early October, 2005. Tropical Storm Rita was being closely watched at this point. Additional traffic in the city in the past three days had caused some delay in traveling to work sites and moving emergency repair equipment.
Gert Town Building
on National Register of Historic Places
September 18, 1998
_____
The American Chicle Company Building, located at 8311 Fig St in the Gert Town, was added to the National Register of Historic Places on September 18, 1998. Built as a branch factory of the company, it opened for production in 1911. After it closed, the building housed a box factory and an automotive parts warehouse. Flooded in the aftermath of Hurricane Katrina, it sat vacant until it was refurbished as an office building in 2008-2009, the building now houses the headquarters of Landis Construction Company.
Farm Aid VII in the Dome

September 18, 1994
_____
The Neville Brothers, Spin Doctors, Gin Blossoms, John Conlee, Kris Kristofferson, Willie Nelson, Neil Young & Crazy Horse, Deana Carter, Shaver, Al Hirt, Pete Fountain, David Allen Coe, and others performed in the Louisiana Superdome on this day in 1994 in support of Farm Aid.
Blue Room Conductor
Dick Stabile Dies in New Orleans
September 18, 1980
_____
Born on May 29, 1909 in Newark, New Jersy, Dick Stabile joined Ben Bernie's orchestra in 1928. In 1935 he started his own ensemble, recording with vocalists such as Bunny Berigan, Paula Kelly, Burt Shaw, and Gracie Barrie, who he would go on to marry. During this he recorded for the labels Decca, Bluebird, ARC, and Vocalion/Okeh. During World War II Stabile led a band while serving in the Coast Guard; Gracie Barrie led his ensemble in his absence. After the war he moved to Los Angeles where he began working with Dean Martin and Jerry Lewis from 1949 until his death. He was the leader of the orchestra on many of Martin's popular recordings. Additionally, he worked with Jimmy Dorsey and Vincent Lopez. His band worked often in hotels in New York City and was chosen to play at the New York World's Fair in 1959–60.
After spending the 1960s leading dance bands at Los Angeles ballrooms, Stabile took a job at the Hotel Roosevelt in New Orleans, where he worked from the middle of the 1970s until his death on September 18, 1980 from a heart attack.
Boxer Marty Burke Dies
September 18, 1978
Marty Burke, amateur and professional boxer. Born, New Orleans, 1896. Boxing career: National AAU middleweight and heavyweight champion, 1896; sparring partner for heavyweight champion Jack Dempsey, 1919-1926; fought 150 professional bouts in eleven years, including 1924 fight with Gene Tunney for light-heavyweight championship of the world. Business career: after retiring from the ring, became New Orleans contractor, real estate agent, and bar owner. Moved to California, 1948. Married. Children: Paul and Marty, Jr. Died, Palm Springs, Calif., September 18, 1978; interred St. Patrick Cemetery III, New Orleans. C.A.B. Sources: New Orleans States-Item, September 19, 1978; New Orleans Times-Picayune, September 19, 1978. From http://lahistory.org/site19.php
Veterans Convention in New Orleans
September 18, 1935
_____
New Orleans ladies may have been shopping at Holmes on Wednesday, September 18, 1935 to pick up Sanforized sewing fabric for 89 cents per yard, a 49 cent layer cake, or a Vanity Fair bandeau (brassiere) for just a dollar -- all on the first floor. But when they stepped outside the streets were filled with military veterans in town for the annual Veterans of Foreign Wars convention. Some vets might have stepped out of the St. Charles Hotel and crossed Gravier Street for a 5 cent breakfast at Holsum Cafeteria (or a 12 cent shrimp Creole lunch or a 12 cent baked and stuffed red snapper dinner).
The evening before, the vets put on a grand parade involving thousands of marchers, tanks, blasting canons, locomotives, marching Missouri mules, boy scouts, and floats which formed a five-mile procession. . The parade began at Canal and Claiborne, wound down St. Charles, stopped at City Hall (Gallier Hall where dignitaries from the U.S., Japan, and Cuba filled viewing stands), proceeded to South Street, then headed back to Canal Street before turning on to North Rampart and ending at the Municipal Auditorium.
All states were represented, some with large delegations but the show stopper was the group of ladies from the Des Moines auxiliary who wore electrified letters on their chests which flashed the name of their city, state, and post number. Amid the gaiety, post commander Henry Kranz from Minnesota's Kenabec County Post 2965 "dropped dead" (according to the Times-Picayune) as he marched on the 400 block of Camp Street . He was 60 years old and a veteran of the Spanish-American War.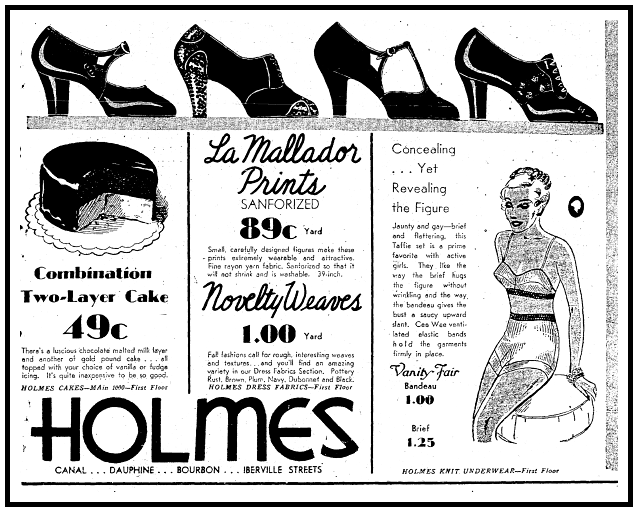 September 18, 1935 -- Times-Picayune
D.H. Holmes Department Store, Canal Street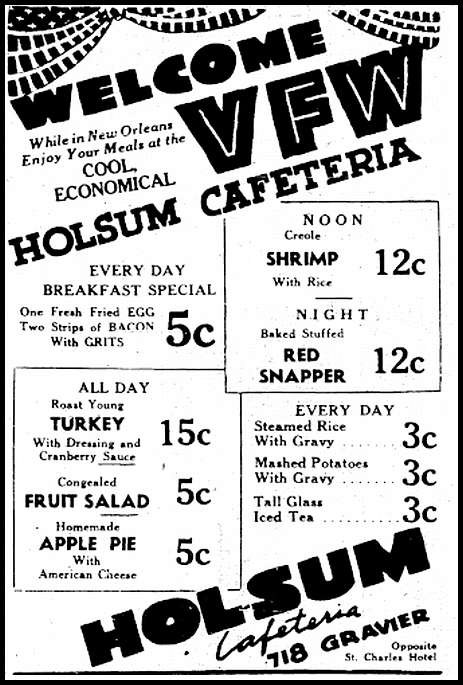 September 18, 1935 -- Times-Picayune
Holsum Cafeteria at 718 Gravier Street
Notre Dame Seminary on Carrollton Avenue began functioning on September 18, 1923, with 25 students from the three Louisiana dioceses registering for philosophical and theological courses.
Theodore Jourdan Debuts
For the White Sox
September 18, 1916
_____
Born in New Orleans on September 5, 1895, Theodore Charles Jourdan made his Major League Baseball debut for the Chicago White Sox on September 18, 1916. He was a first baseman over parts of four seasons (1916–1918, 1920) with Chicago. He complied a career batting average of .214 in 196 at-bats, with 11 RBIs. He ended his career in the majors on October 3, 1920 with the White Sox with whom he played with for World Series championship in 1917 He died in New Orleans, Louisiana at the age of 66 on September 23, 1961.
Publisher & Socialite
Miriam Leslie is Born
September 18, 1914
_____
Born in New Orleans on September 18, 1914, Miriam Florence Folline Peacock Squier Leslie Wilde earned fame as the editor of her third husband's Frank Leslie's Lady's Magazine. She won fortune as the heir to his publishing business which she saved from huge depts through her work there. She was the descendant of a noble Huguenot family and after a trip to France, in 1901, she claimed the title Baroness de Bazus.
Her first marriage, on March 25, 1854, to David Charles Peacock was annulled two years later. She then married anthropologist Ephraim Squier and became involved with Frank Leslie's Lady's Magazine when its editor fell ill (probably in the late 1860s) and she volunteered to fill in while the ill editor still received the salary. After the editor died she took on the job -- the November 18, 1871, issue noted that it was "conducted by Miriam F. Squier." On May 31, 1873 she divorced Squier to marry Leslie. During their honeymoon, they met poet and author Joaquin Miller and she began an affair with him -- the main character in his book The One Fair Woman was modeled after her.
The Leslie's lived lavishly, having a summer home in Saratoga Springs, New York, where they entertained notables, and she was a leader in society. In 1877, they took a costly train trip with fellow socialtes from New York, San Francisco, and other big cities . She wrote her recollections of this trip in her book From Gotham to the Golden Gate. The expense of the trip and an economic depression left Leslie's business badly in debt. When he died in 1880, the debts amounted to $300,000, and his will was contested. Miriam took over the business and made it succssful. She legally changed her name to Frank Leslie in June 1881. She later reorganized the business and became its president. The circulation of the Popular Monthly increased 200,000 in four months under her management..
While abroad in 1891, Miriam Leslie married Willie Wilde, the older brother of Oscar Wilde but divorced him two years later. In 1902 she sold out all her publishing interests. Miriam died on June 5, 1836. In her her will she made Carrie Chapman Catt residuary legatee with the expectation that most of her fortune would be devoted to women's suffrage. Her remains are buried in Woodlawn Cemetery in the Bronx.
The Leslie empire began with Frank Leslie's Ladies' Gazette of Fashion and Fancy Needlework, with good woodcuts by Leslie & Hooper, a partnership which dissolved in 1854. It included The New York Journal, Frank Leslie's Illustrated Newspaper (1855 -- also called Leslie's Weekly), The Boy's and Girl's Weekly, and The Budget of Fun.
Leonard Joseph Yochim
Debuts with the Pirates
September 18, 1951
______
Born on October 16, 1928 in New Orleans, Lenny Yochim made his professional baseball debut with the Pittsburgh Pirates on this day in 1951. He played in parts of two seasons for the Pirates in 1951 and 1954, and later served in the organization for almost four decades. A left-handed screwball specialist, he threw a good curve ball as well, but a sore arm limited him to pitch in only 28.1 innings. He pitched in two games in 1951 and ten in 1954, ending his major league career with a 1-2 record and a 7.62 ERA in 12 games (three as a starter). His professional career highlight came on December 8, 1955, when he became the first pitcher to throw a no-hitter in a professional game in Venezuela while pitching for the Caracas Lions club. Helped by catcher Earl Battey, Yochim accomplished the feat in the Caracas 3–0 victory over Magallanes. Ramón Monzant was credited with the loss.
Following his playing career, Yochim rejoined the Pittsburgh Pirates organization in 1966 to become a member of their baseball operations department. He served as an area scout, national crosschecker and major-league scout for the Pirates before moving into the front office in 1994. Yochim also worked as a senior adviser for player personnel from 1994 through 2004, when he decided not to return for another season. He died in New Orleans on May 11, 2013.
Casa Calvo Appointed Governor
September 18, 1799
CASA CALVO, Sebastián Calvo de la Puerta y O'Farrill, marqués de, acting governor of Spanish Louisiana. Born, Havana, ca. 1751, to a wealthy Cuban noble family. Educated in private schools until entering army at 13 as a cadet in the Company of Nobles. A purchased commission as a captain of cavalry volunteers in 1769 started his rise as an officer, achieving rank of lieutenant colonel in 1786, colonel in 1790, and brigadier in 1794. Military activity: was on Gen. Alejandro O'Reilly's (q.v.) expedition to New Orleans in 1769; the sieges of Mobile, 1780, and of Pensacola, 1781; the seizure of Providence, 1782; on board warships that successfully engaged the enemy; and in Saint-Domingue in 1794 against republican France. Received knighthood in the Order of Santiago and acquired his noble title in 1786. The death of Gov. Manuel Gayoso de Lemos (q.v.) in July 1799 resulted in Cuba's Captain General Someruelos sending Casa Calvo, then judge advocate in Havana, to Louisiana as ad interim governor where he served from
September 18, 1799
, to July 14, 1801. He later returned to New Orleans in May 1803 to assist Governor Salcedo (q.v.) in turning Louisiana over to France and he remained as commissioner of limits to determine the new boundary between Spanish Texas and the United States for over two years. Casa Calvo's interim governorship was prolonged when his successor delayed in arriving. Although Casa Calvo attempted to keep administration flowing smoothly, conflict in government existed with local officials such as Nicolas Maria Vidal, the ad interim civil governor, and the members of the cabildo. Military problems included British threats to invade from Canada each summer, a blockade of the Mississippi's mouth that impeded communications with Havana and trade in general, and William August Bowles' brief capture of Fort San Marcos de Apalache in 1800 and menace until 1802. Because of insufficient funds and the decline of the Fixed Louisiana Regiment, Casa Calvo was unable to prevent Americans from entering Louisiana at will. As commissioner of boundaries, Casa Calvo tried to prevent American encroachment on Spanish territory and became a thorn in the side of American Governor William C. C. Claiborne (q.v.), who ordered his departure in 1806. Traveled to Spain on leaving Louisiana. He sided with Joseph I, the intrusive French king on the Spanish throne in 1808, and became a lieutenant general in his army. Upon the defeat of the French, Casa Calvo left Spain in disgrace and ended his life in exile in Paris in May 1820. Source: http://lahistory.org/site20.php