"Papa Jack" Laine is Born
September 21, 1873
______
Born on this date in 1873, George Vital "Papa Jack" Laine was a pioneering band leader in New Orleans in the years from the Spanish-American War to World War I. He is often credited with being instrumental in the development of jazz music as his Reliance Brass Band was the first to fuse European, African and Latin music together. The earliest jazz musicians can be traced back to playing within the Reliance Brass Band or being influenced from those who had.
Many of the New Orleans musicians who first spread jazz around the United States in the 1910s and 1920s got their start in Laines band, including the members of the Original Dixieland Jass Band. Laine was a drummer, but was more noted for his skills at arranging and booking bands. Laine's musicians included individuals from most of New Orleans' many ethnic groups such as African American, English, French, German, Italian, Jewish, Latin American, Scottish, and more. Laine started leading bands in 1885 before the Jim Crow codes went into effect in New Orleans. Due to the diverse background of many of his bands members such as their cultural background, socioeconomic status, age variations from young to old as well as musical experience (some having none at all) a broad range of ideas were developed and fused together leading to the early beginnings of jazz music.
Even after segregation laws started demanding "whites" and "colored" be kept separate, Laine continued to hire light- and medium light-skinned African-American musicians, claiming that they were "Cuban" or "Mexican" if any segregationist tried to start trouble. As such his band attracted a large and diverse group of people such as Mexican clarinetist Lorenzo Tio Sr who was a pioneer of the jazz solo. Laine believed music brought people together.
He retired from the music booking business by 1920, but he was interviewed a number of times, providing first hand accounts of the early days of the development of New Orleans jazz. He had hired well over 100 musicians to play in his bands. "Papa Jack" died on June 1, 1966.
1920 L Hurricane
September 21, 1920
______

.Once in the Gulf of Mexico, the storm quickly intensified as it moved towards the north-northwest, reaching its peak intensity as a Category 2 hurricane with winds of 100 mph prior to making landfall near Houma with no change in intensity. People along Lake Ponchartrain evacuated into New Orleans, causing hotels to overflow and forcing refugees to take shelter in other public buildings including post offices after waves over the seawall at West End and Spanish Fort were accompanied by 25 mph winds with gusts of 50-60 mph. All New Orleans hotels were full and refugees also samped in the Custom House, the public library, and other public buildings on night of Tuesday, September 21.

City Park Stadium Reopens
September 21, 2006
______
City Park Stadium reopened for the first time after Hurricane Katrina in 2006 with the playing field re-named Reggie Bush Field after the Saints football star donated $80,000 for its repair so high school teams could play there again. The first post-Katrina event was the LHSAA game on September 21, 2006 pitting the Brother Martin Crusaders against the Higgins High Hurricanes. The stadium/field has been the race party venue of the Crescent City Classic since 2000 as it was in the March following Katrina. 2006 brought the reopening of the Driving Range, Storyland, and Carousel Gardens Amusement Park (which only ran during Celebration in the Oaks in 2006 but reopened fully in 2007.
MLBs Gary George Gray is Born
September 21, 1952
______

Gary George Gray, born in New Orleans on this date in 1952, was a Major League Baseball first baseman who played parts of six seasons from 1977 until 1982 for the Texas Rangers, Cleveland Indians, and Seattle Mariners.
Southern University at New Orleans Opens
September 21, 1959
______

Southern University at New Orleans was founded as a branch unit of Southern University and Agricultural & Mechanical College (Southern University) in Baton Rouge by Act 28 of the Extraordinary Session of the Louisiana Legislature of September 4, 1956. On September 21, 1959 SUNO opened its doors on a 17-acre site located in historic Pontchartrain Park, a subdivision of primarily African American single-family residences in eastern New Orleans.
Established as an open community of learners, classes began with 158 freshmen, one building and a faculty of fifteen. The University offered ten courses in four academic disciplines, including Humanities, Science, Social Science and Commerce. The first graduation took place in May 1963 when baccalaureate degrees were awarded to 15 graduates.
Bernardo de Gálvez
September 21, 1779
_____

Spanish colonel Bernardo de Gálvez defeated the British colonial forces at Manchac, Baton Rouge, and Natchez in 1779 -- the Battle of Baton Rouge on September 21, 1779 freed the lower Mississippi Valley of British forces and relieved the threat to New Orleans, the capital of Louisiana. He was later appointed the interim governor of the Louisiana territory. Galvez Street in New Orleans is named for him.

Katrina Aftermath
Wednesday, September 21, 2005
_____

The official death toll was raised to 1,036, with 63 additional deaths recognized in Louisiana. This marked the first time since 1928 that a natural disaster in the U.S. had been officially acknowledged to have killed at least 1,000 people. State-by-state death tolls: Louisiana 799, Mississippi 218, Florida 14, Alabama 2, Georgia 2, Tennessee 1.
By September 21, 2005, the Army Corps of Engineers had begun closing two damaged canals at noon in preparation for storm surges associated with Hurricane Rita. The 17th Street and London Avenue Canals were closed with steel sheet piling by evening and remained closed until the threat of severe weather passed. Steel sheets would be driven deep into the canal beds near Lake Pontchartrain, providing protection from possible storm surges from the lake rushing into the damaged canals.
More than 800 filled sandbags were on hand, and an additional 2,500 ordered. Work continued around the clock to make emergency repairs to damaged canal walls and levees.
Journalist Dean P. Baquet is Born
September 21, 1956
______

Pulitzer Prize winning American journalist Dean P. Baquet was born in New Orleans on this day in 1956. Baquet had held positions at the Times as an assistant managing editor, Washington bureau chief, and is currently managing editor for news at The New York Times. He previously held the positions of managing editor of the Los Angeles Times before becoming the editor of that newspaper. From 1995 to 2000, he was national editor of The New York Times. Pulitzer Prize for investigative reporting in 1988 for a piece on corruption in the Chicago City Council.
Bishop Clarence Duhart Born
March 23, 1912
______


New Orleans born Clarence James Duhart was the first Catholic bishop of the Diocese of Undon Thani in the region of Isan, Thailand from 1965-1975. He died on September 21, 1998.
State Capital Moves From New Orleans
September 21, 1847

______


On September 21, 1847, the City of Baton Rouge donated to the state of Louisiana a $20,000 parcel of land for a state capitol building, taking the seat of the capitol away from the City of New Orleans.

Plans Submitted for Marion Abramson High School
September 21, 1965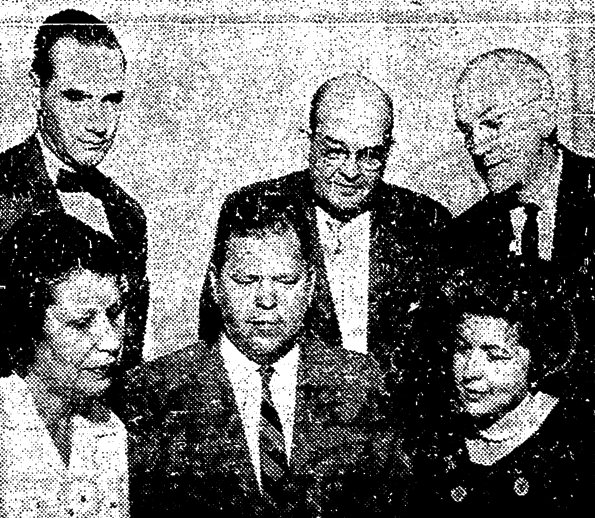 Born in New York City on August 29, 1905, Marion Pfeifer Abramson was raised in New Orleans, attended Isidore Newman School and graduated from Sophie Newcomb College in 1925. She was editor of the Newcomb/Tulane Hulaballoo student newspaper and Ghost-wrote newspaper columns for football end Jerry Dalrymple ("My End of It" -- which several times appeared in the Saturday Evening Post) and Tulane back Don Zimmerman ("Back Talk").
She married Louis Abramson Jr. in June 1925. They had one child, Lucie Lee, who grew up to follow in her mother's footsteps regarding service to the community. After World War II Marion became a member of the national board of the American Association of University Women and later served as president of the New Orleans chapter. She served on the Orleans Parish Democratic Executive Committee in 1946, as a member of the Independent Women's Organization, and was elected in 1959 to serve as Orleans Parish Democratic Executive Committeewoman for Ward 14.
During the 1950s she began planning for an educational television station for New Orleans. Her project was brought to fruition on October 23, 1957, when National Educational Television (NET) station WYES opened with Marion as Chairperson of board of directors of the Greater New Orleans Educational Television Association. WYES-TV signed on the air on April 1, 1957 as the twelfth educational television station in the nation. In 1970, the station swapped frequency allocations with another local station, thus becoming Channel 12.
On September 21, 1965 August Perez and Associates submitted plans for the design of Marion Abramson High School at 5500 Reed Road in New Orleans East. Several weeks later, after a life of community service, Marion Abramson died on November 30, 1965, knowing that her name would live on in association with education.
The grainy newspaper photograph to the right is from the Friday, July 29, 1960 edition of the Times-Picayune. It pictures the members of the Board of Trustees of the Greater New Orleans Educational Television Foundation. It was captioned: Members of the board are (from left, seated) Mrs. Abramson, James W. Ganus, Mrs. Walter Carroll Jr. (standing) Dr. Mayo L. Emory, T. Sterling Dunn, and Francis C. Doyle. The related article described a meeting of the group at the International House where Nash C. Roberts presided as President of the Board of Trustees. The foundation was planning a two-hour (6-8 p.m.), 1500 women-strong, door-to-door fund-raiser and membership drive ($5 membership) to hopefully raise $25,000.
Sources: http://lahistory.org/site18.php. The Times-Picayune, and WYES-TV.
Related reading:

You Can Support this Site by Clicking on & Shopping from the Amazon Ad/Link below -- and it won't cost you a penny more:


Abreviations used on this site: NOPL (New Orleans Public Library), LOC (Library of Congress), LDL (Lousiana Digital Library), HNOC (Historic New Orleans Collection), WIKI (Wikipedia).


Analytics