---

Iberville and Bienville "Discover" the Mouth of the Mississippi
March 2, 1699
The celebration of Mardi Gras (Fat Tuesday) arrived in Louisiana with two Canadian brothers, Pierre Le Moyne, Sieur d'Iberville and Jean-Baptiste Le Moyne, Sieur de Bienville. Sent by Louis XIV to secure the territory of La Louisiane for France, the brothers' expedition entered the mouth of the Mississippi on the evening of Monday,
March 2, 1699
. Their party continued upstream to a spot on the west bank (about 60 miles downriver from present-day New Orleans) and encamped. This was the following day, Tuesday, March 3, 1699, which was Mardi Gras day. In honor of this European holiday, expedition leader Iberville named the site Pointe du Mardi Gras and the connecting tributary Bayou Mardi Gras.
By Ned Hémard
---

You Can Support this Site by Clicking on & Shopping from this Amazon Link -- and it won't cost you a penny more: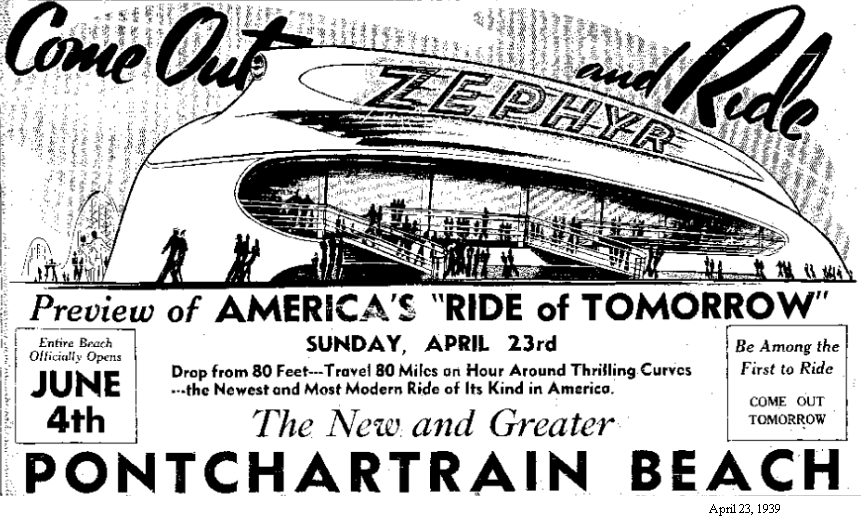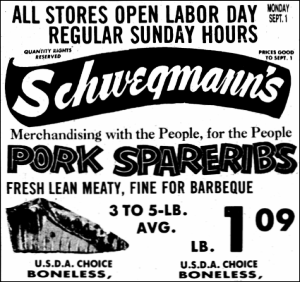 The NFL began investigating the Saints in 2010 in response to allegations of deliberate attempts to injure players during the 2009–10 playoffs, but the investigation stalled until late in the 2011 season. On March 2, 2012, the NFL announced that it had evidence that defensive coordinatorGregg Williams had created the program soon after his arrival in 2009, and alleged that "between 22 and 27 Saints players" were involved. Williams and the players pooled their own money to pay out performance bonuses. It also asserted that head coach Sean Payton tried to cover up the scheme, and that he and general manager Mickey Loomis failed to shut it down when ordered to do so by team owner Tom Benson.
In the first round of the crowded mayoral election in February 2002, Nagin won first place with 29 percent of the vote. Some of his opponents were the Police Chief Richard Pennington, State SenatorPaulette Irons, and City Councilman Troy Carter. In the runoff on Saturday, March 2, 2002, Nagin defeated Richard Pennington with 59 percent of the votes to become the 60th mayor of New Orleans.
WCKW-AM radio station signed on in December 2, 1970 as country music outlet "WKQT" and was the sister station of WCKW-FM. These stations were founded by Sidney Joseph Levet III, a New Orleans native and an electronic engineer. In February 1990, Levet was named Broadcaster of the Year by the Louisiana Association of Broadcasters. By 1973 both stations became simulcasts with the AM becoming "WCKW" on
March 2, 1985
. After the FM flipped to active rock, the AM was sold in 2000 to River Parishes Radio who switched it to a gospel format. Covenant Network purchased the station on January 2, 2007, and began transmitting Catholic programming. The station briefly became "WLTS" on October 20, 2000. The station was re-assigned the call sign "WCKW" by the Federal Communications Commission (FCC) on November 24, 2000.
Narvin Kimball (2 March 1909 - March 17, 2006) was a jazz musician who played banjo and string bass and was also known for his fine singing voice. The left-handed virtuoso banjo player was born in New Orleans, Louisiana, the son of well regarded string bass player Henry Kimball. He was playing music professionally by the mid-1920s with such groups as the bands of Fate Marable and Papa Celestin. He married a fellow member of Celestin's Tuxedo Jazz Band, pianist Jeannette Kimball (née Salvant). In the 1930s during the Great Depression Kimball switched to string bass to play in swing bands such as Sidney Desvigne's, but music did not provide enough money; and he got a day job as a mailman. He continued playing music in the evening, leading his band called "Narvin Kimball's Gentlemen of Jazz". After World War II he formed a singing group called "The Four Tones" with Fred Minor, Alvin Alcorn, and Louis Barbarin that enjoyed some local success. With the revival of interest in traditional jazz, about 1960 was able to return to regularly play banjo professionally again. He played regularly at such French Quarter venues as Preservation Hall and Dixieland Hall, at the latter often leading a band under his own name. However he kept his day job as a postman until his retirement in 1973; until then he only took brief tours outside the city while on vacation from his postal job. After this date, he toured the United States and Europe extensively with the Preservation Hall Jazz Band. His singing "Georgia on My Mind" was a reliable show stopper. He was the oldest member of the band at his retirement in 1999 at age 90. When Hurricane Katrina was threatening New Orleans, in 2005, Preservation Hall leader Ben Jaffe made a point to make sure Kimball and his wife were evacuated to Baton Rouge. He died in exile with relatives in South Carolina. (WIKI)
Eleanor Laura McMain was born on March 2, 1868, on a farm in East Baton Rouge Parish. Her parents were Jacob West McMain and Jane Josephine Walsh McMain, and Eleanor was one of their eight children. Having arrived from Philadelphia in the 1840s, her father became a prosperous planter and served in the Confederate Army, but lost much of his wealth during the Civil War. Eleanor moved with her family to Baton Rouge, where her father became dean and secretary of Louisiana State University. Reared in a household that encouraged reading, Eleanor attended a series of private schools. After teaching school in Baton Rouge, in the late 1890s she relocated to New Orleans, where she trained in the Free Kindergarten Association. This pioneering organization sponsored by city Episcopalian churches relied on innovative methods for teaching preschool children. In 1900, the directors of Kingsley House, a settlement house in the Irish Channel section of the city, chose her as head resident. To prepare, she spent a summer studying the settlement house movement at the University of Chicago. She also studied at two settlement houses, Chicago Commons and Hull House. With McMain's leadership, Kingsley House served as a community center for its working-class neighborhood. The settlement house provided a medical clinic as well as an array of educational opportunities, including a kindergarten, a night school, vocational classes, a circulating library, and the city's first vocational school. In addition, concerts, dances, athletic events, clubs, annual summer camps, and the city's first playground offered recreation, especially to children. Although the settlement house had been established by Trinity Episcopal Church, McMain transformed it into a nonsectarian facility to reach out to the entire community, regardless of religious affiliation. McMain made Kingsley House a focal point for progressive reforms. The settlement hosted the initial meetings of the Woman's League in 1905. As a founder and the organization's first president, McMain called for an end to inadequate housing, unsanitary conditions, child labor, long work days, and deplorable schools. While working to remedy these conditions, she played a pivotal role in halting the yellow fever epidemic of 1905. With volunteers from Kingsley House, she went door to door, instructing local residents about preventive health measures. McMain's activism also included participating in the Anti-Tuberculosis Association, chairing a Tenement House Commission, testifying before the state legislature about child labor, and collaborating with Sophie Newcomb College to open a school for social workers at Kingsley House. During World War I, McMain trained Red Cross nurses, and the New Orleans Times-Picayune awarded her its 1918 Loving Cup for community service. She helped organize the New Orleans Council of Social Agencies and served as its president. She died May 12, 1934, and was buried in Magnolia Cemetery in Baton Rouge (WIKI)
On March 2, 1858, Frederick Cook of New Orleans patented a cotton-bale metallic tie.
Baseball Great Mel is Born in Gretna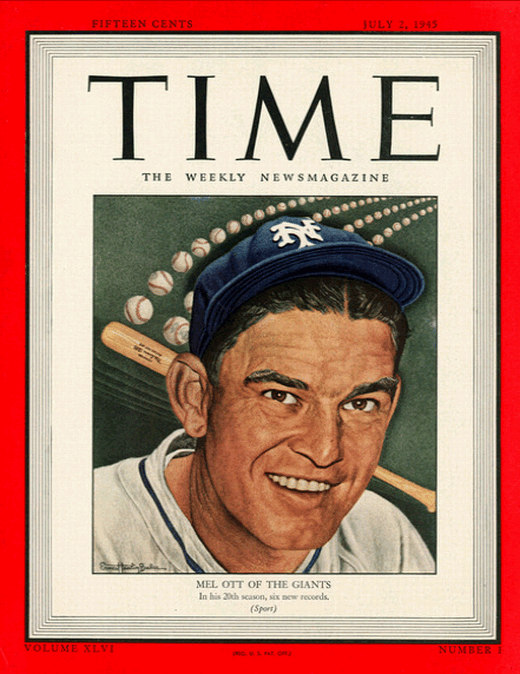 Gretna born right fielder Mel Ott set the National League Baseball record for most walks in a doubleheader with six, on October 5, 1929 and did it again on April 30, 1944. When he appeared on the July 2, 1945 edition of Time Magazine the cover story included "In 1941 Brooklyn won the pennant and the Giants got a new manager: Melvin Thomas Ott, the club's slugging right fielder with a peculiar but potent cocked-leg stand. The feud was and still is in flower, but hard as they tried, the Flatbush faithful could not hate stumpy, boyish Mel Ott. A soft spoken, brown-eyed little (5 ft. 9 in.) guy with a passive Southern accent and an active taste for Crayfish Bisque New Orleans style, Playing Manager Mel has long been a favorite of fans everywhere. More important than his batting records, he had something that made people like him."

Melvin Thomas Ott was born on March 2, 1909 and later nicknamed "Master Melvin". played his entire career for the New York Giants (1926–1947). In his 22-season career, Ott batted .304 with 511 home runs, 1,860 RBIs, 1,859 runs, 2,876 hits, 488 doubles, 72 triples, 89 stolen bases, a .414 on base percentage and a .533 batting average. He was the first National League player to surpass 500 home runs.
He was a 12-time major league All-Star (from 1934 to 1945) and was named four times to the All-Star Teams of The Sporting News (1934-36 and 1938) He is one of only six players to have spent over 20 years with one team. In 1999, he ranked number 42 on The Sporting News' list of the 100 Greatest Baseball Players, and he was a nominee for the Major League Baseball All-Century Team.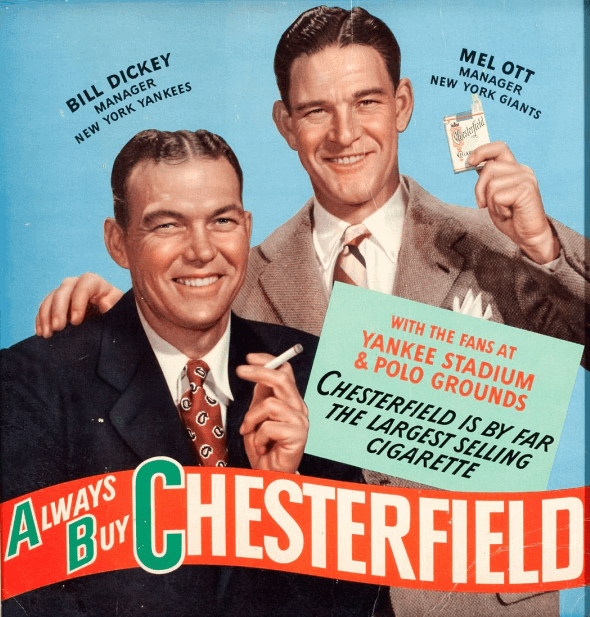 1946 BILL DICKEY AND MEL OTT CHESTERFIELD Display Advertisement

"With the fans at Yankee Stadium & Polo Grounds - Chesterfield is by far the largest selling cigarette - Always buy Chesterfield."
Mel Ott managed the New York Giants for seven years between 1942 and 1948. It was in reference to Ott's supposedly easy-going managing style that then-Dodgers manager Leo Durocher made the oft-quoted and somewhat out-of-context comment, "Nice guys finish last!" Ott was the first manager to be ejected from both games of a doubleheader, when the Giants lost both games to the Pittsburgh Pirates on June 9 1946.
His number "4" was retired by the Giants in 1949, and it is posted on the facade of the upper deck in the left field corner of AT&T Park. He was selected to the Baseball Hall of Fame in 1951 with 87% of the vote.
After his playing career was over, Ott broadcast baseball on the Mutual radio network in 1955. From 1956 to 1958, Ott teamed with Van Patrick to broadcast the games of the Detroit Tigers on radio and television.
Ott died in an auto accident, which also seriously injured his wife, on November 21, 1958 in New Orleans. He is interred in Metairie Cemetery. He is remembered in his hometown of Gretna, where a park is named in his honor. Since 1959, the National League has honored the league's annual home run champion with the Mel Ott Award.
In the 1989 film Field of Dreams, Ott was one of several deceased players portrayed in farmer Ray Kinsella's Iowa cornfield. In 2006, Ott was featured on a U.S. postage stamp, as one of a block of four honoring "Baseball Sluggers" — the others being Mickey Mantle, Hank Greenberg, and Roy Campanella. In announcing the stamps, the U.S. Postal Service stated, "Remembered as powerful hitters who wowed fans with awesome and often record-breaking home runs, these four men were also versatile players who helped to lead their teams to victory and set impressive standards for subsequent generations". Ott is also remembered in the name of the Little League of Amherst, New York which was named for him in 1959.
Tulane's Tuts
Mummies in the Sugar Bowl

On November 2, 1979, Tulane President Sheldon Hackney announced that Tulane Stadium would be demolished. The demolition started on November 18, 1979. In the spring of 1979, Tulane Curator of Art Bill Cullison found two 3000 year-old Egyptian mummies in their wooden sarcophagi under the bleachers.
Cullison had been looking for them. To his knowledge, they had been given to the school (then named University of Louisiana) in 1852 by Egyptologist Doctor Joseph Gliddon who had ceremoniously unveiled them to an audience at the Mechanics Institute near Common and Dryades streets. He had found a 1938 City Guide which described them as a "young man and a young woman". Cullison said that they had been on display in Tulane's old Natural History Museum in Gibson Hall unitl it was dismantled in 1959 and replaced with classrooms. Cullison knew that they were stored in a vault in the stadium but did not know their exact location. He found a metal structure under the bleachers and suspected it might contain the mummies. He had more trouble trying to find the key to open it than he did actually locating the vault. When he stepped inside, he found glass cases through which he first saw the hair and fingernails of the deceased couple. The cases were put on display in the Special Collections Division of the Howard Tilton Library. "Tulane's Tuts", an apt description by Dixie Roto writer Elise Martinez in a March 18, 1979 article about them, were moved to the medical school and put under cold storage.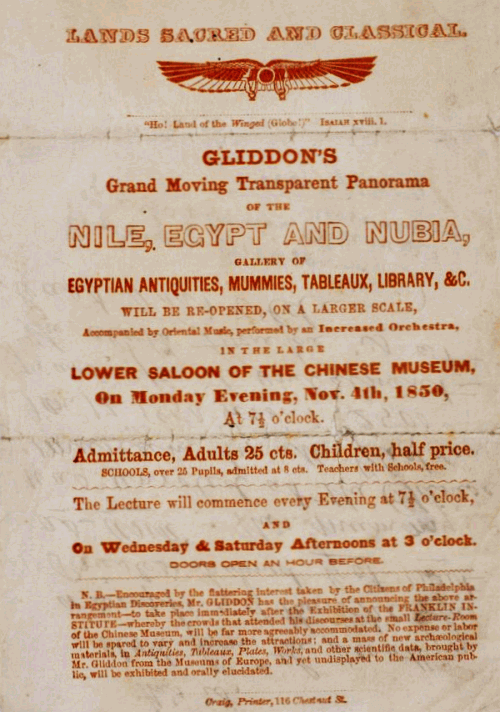 A search of old newspaper articles reveals that Gliddon was a bit of showman who, during the 1850s, took his mummies around the country to display them to the general public. In Boston in January 1850 he had an "officiating carpenter" saw a sycamore box in half, lenghwise, to reveal a female mummy to a large audience. In September 1850 he was a subject a a media blitz when he mistook his male mummy for a female. In 1851 he was in Philadelphia, hawking and displaying the ancient Egyptians. In January 1852, claiming to be a former U.S. Consul to Cairo, he advertised a series of 12 lectures, beginning on March 2, 1852, to be held in New Orleans at Lyceum Hall sponsored by the Committees of the Board of School Directors at which he would discuss and display his mummies and, on February 27, he would unwrap one of them before the audience. Tickets for one gentleman accompanied by two ladies could be had for $8.00, which allowed admittance to all 12 lectures (a season ticket, of sorts). For $5.00 one person could attend all lectures. The unwrapping required an additional 50 cents from season ticket holders or $1.00 from the general public. The handbill on the right advertises Gliddon's Philadelphia show.
On the day of the unwrapping, Gliddon advertised his mummies as "Adam and Eve" but at the actual ceremony he claimed not to know their gender, race, or age. The unwrapping was done under the supervision of New Orleans faculty members of the Medical Department of the University of Louisiana. The actual unrolling was principally done by doctors Jones, Wedderburn, and Chilto who took 45 minutes to accomplish their task. The mummy turned out to be female "in a beautiful state of preservation". Gliddon then announced that at his next lecture he would divulge secrets learned after studying the swathing and inscriptions found on a piece of papyrus found within the folds of the linen. At his last New Orleans lecture, on March 3, 1852, faculty members of the university read letters revealing the results of their examinations of the remains and Gliddon announced that he would turn two mummies over to the school's Museum of Medicine which, in 1880 was located on Common Street between Baronne and Dryades streets.
A later account of Gliddon's mummies tell us that he actually gave them to Josiah Nott, a University of Louisiana anatomical professor. They remained in the medical school's anatomical library until 1894 when they were moved (with the school) to the uptown campus and placed in the Museum of Natural History on the third floor of Gibson Hall. In 1927 there were at the Mid American Research Institute in Didwiddie Hall. They moved back to Gibson hall in 1930 and from 1955 to 1978 they were placed in a dark, non-climate controlled room under the stadium's bleachers. In 1982 they moved to the basement of the Howard-Tilton library and more recenlty back to Diwiddie Hall in a special darkened room where they were studied by anthropologist John Verano.
By June 1980. the mummies were safe and sound but the stadium was gone. It had been condemned in 1975. Upon appeal by the university, the original concrete and brick section was deemed fit to use, but the newer metal seating section was declared unfit.
Ground was broken for Tulane stadium on April 7, 1924. It opened on October 23, 1926 with a seating capacity of roughly 35,000. New Orleans-Item sports editor Fred Digby popularized the term "Sugar Bowl" in 1927. The first Sugar Bowl game was played there on January 1, 1935, against the Philadelphia Temple Owls. The last was on December 31, 1974 when Nebraska beat Florida 14-10.
In 1947 the stadium was expanded to accommodate 80,985 fans. Lights were installed in 1957.
It was the home of the Saints, from their first game on September 17, 1967 when John Gilliam returned the opening kickoff 94 yards for a touchdown (but they lost 27-13 loss to the Los Angeles Rams) until December 8, 1974 when they won 14-0 over the St. Louis Cardinals. On November 8, 1970, Tom Dempsey made his record-breaking 63-yard field goal there, pushing the Saints into a 19-17 win over the Detroit Lions.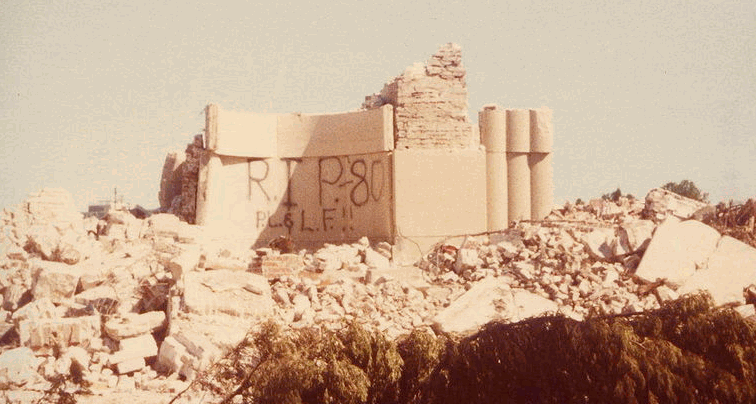 Tulane Stadium was the site of three of the first nine Super Bowls -- Super Bowls IV in 1970, VI in 1972, and IX in 1975. Super Bowl IX was the final professional league game ever played at the stadium. It would become one of three stadiums which hosted a Super Bowl and are no longer standing. Tampa Stadium (which hosted two Super Bowls) was demolished in April 1999 and the Orange Bowl (which hosted five Super Bowl games) was demolished in September 2008.
The record attendance of 86,598 was set on December 1, 1973, during the last game played by LSU against Tulane in the Sugar Bowl. Tulane defeated LSU 14-0, ending a 25-year winless streak against LSU.
Tulane's final game at their home stadium ended in a 26-10 loss to Ole Miss on November 30, 1974.
During its final five years, the stadium was used for football practice, high-school games (in a limited seating area), and other smaller events. The Denver Broncos used Tulane Stadium as its practice field prior to Super Bowl XII, the first Super Bowl played in the Superdome.

The last game ever played in Tulane Stadium was between De La Salleand Rummel on November 1, 1979. The last point scored in Tulane Stadium History was by Rummel High place kicker Gary Boudreaux. The stadium was under demolition from November 18, 1979 through June 15, 1980. (Photo by Infrogmation, 1980)