November 11
---


---
---

Alec Gifford Retires
November 11, 2006
In 2005, the Press Club of New Orleans honored Alec Gifford with their Lifetime Achievement Award in recognition of his 50 years of service in the city's television news industry. He was also inducted into the New Orleans Broadcasting Hall of Fame by the Greater New Orleans Broadcasters Association. On November 11, 2006, he officially announced his retirement from WDSU TV where he had worked as anchor and former news director. He had worked in the New Orleans market for 51 years, most of them at Channel 6.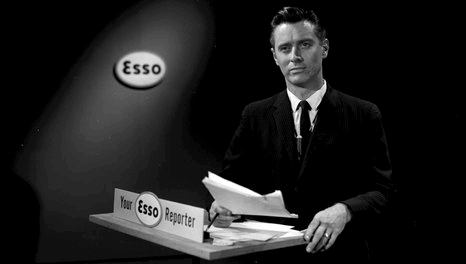 A New Orleans native, he was a Jesuit graduate who entered the Navy at age 17, then attended Johns Hopkins University on the GI Bill. His early professional years included working for the Houston Post, a radio stations in Baltimore and Texas before moving back home. His father, Alexander Gifford, was a political reporter for the Times-Picayune who covered the administration of Governor. Huey Long. His great-grandfather, Numa Dufour, published the French-language newspaper L'Abeille de la Nouvelle-Orleans (The New Orleans Bee).
In 1955 Bill Monroe, first news director for the seven year-old WDSU television station hired him as a reporter. "It was the golden age, but in a sense it was the stone age," he I hate to say it, but we had no idea what we were doing. We had no idea how to do TV news – how to cover it and so forth." he said of his early career during the 1950s in a 2003 interview for WYES-TV. Gifford became the WDSU Esso Reporter/anchor reading news pre-approved by sponsor Esso Standard Oil Company. (Photo from Joe Bergeron Gallery & Studios). His continuous coverage of Hurricane Betsy in 1965 brought him renown and brought us Mayor Vic Schiro's live on-air interview with Gifford which included, " "Don't believe any false rumors unless you hear them from me."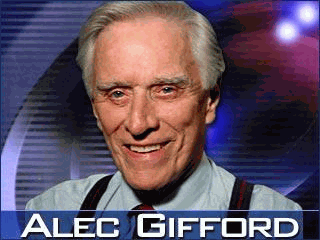 In 1966 he took a job with NBC News in New York City. He returned home a year later to become news director, anchor, and reporter for WVUE-TV were he worked with Nash Roberts and Buddy Diliberto. After 13 years there he moved back to WDSU in 1980 where he remained until his retirement after 26 years with Channel 6. He held an exclusive, sit-down interview with Senator John F. Kennedy on the night Kennedy announced his bid for the White House and covered his presidential campaign. His roles included morning and "The Midday Show" news anchor, public affairs host, political reporter and cooking show host. He was also news anchor for the "Midday" show, with Terry Flettrich, Wayne Mack, Bob and Jan Carr, Nash Roberts and Al Shea. He covered all major news stories including racial desegregation, the Howard Johnson Hotel sniper incident (1973) and, of course, Hurricane Katrina. He also reported news from around the world -- visiting Germany in the 1960s, Israel in the 1970s, and Japan.
Upon his retirement in 2006, WDSU dedicated its newsroom in his honor. Alec Gifford died on March 22. 2013 at the age of 85. His body was donated to LSU Health Sciences Center.
---
---

---
On November 11, 2013, the Saints set an NFL record for the most 1st downs in a single game, against the Dallas Cowboys in the Superdome.
On November 11, 2012, New Orleans Saint Marques E. Colston tied Deuce McAllister's team record for total touchdowns with his 55th career touchdown.
On November 11, 2008, New Orleans born Lil Wayne (Dwayne Michael Carter, Jr) became the first hip-hop act to perform at the Country Music Association Awards, playing "All Summer Long" alongside Kid Rock. (Wiki)
Born in New Orleans on June 4, 1931, John Petitbon was a three-sport star in baseball, basketball, and football at Jesuit High School. He was named the Louisiana All-State Most Valuable Player in football in 1946, and led Jesuit with 18 touchdowns in 1946 and 17 in 1947. He played college football at Notre Dame under coach Frank Leahy, and was a member of Notre Dame's 1949 national championship team as a sophomore safety. Moved to halfback for his final two years, he amassed 1,432 yards of total offense and 10 touchdowns during those seasons, and was named a Collier's Weekly All-American in 1950. He was chosen to play in the College All-Star Game and the East-West Shrine Game after his senior season in 1951. Petitbon was selected as a defensive back in the seventh round of the 1952 NFL Draft by the New York Yanks, who became the Dallas Texans for the 1952 season. Petitbon, however, joined the United States Marine Corps and served in the Korean War. Before the 1953 season, the Texans, who had become the Baltimore Colts, traded him to the Cleveland Browns as part of a 15-player deal, the second-largest trade in NFL history, in which the Colts received, among other players, defensive back Don Shula. After returning from the Marines, Petitbon played for the Browns and was a member of their 1955 NFL championship team. Petitbon was traded to the Green Bay Packers in 1957 and retired after that season. Petitbon was selected for the Louisiana Sports Hall of Fame and the Louisiana High School Sports Hall of Fame, as was his younger brother Richie Petitbon, a former NFL player and coach. After leaving football, John Petitbon entered the insurance business. He died of Alzheimer's disease in New Orleans on November 11, 2006. (Wiki)
Opened on Saturday, May 12, 1984, and endin on Sunday, November 11, 1984, the 1984 Louisiana World Exposition was held 100 years after the city's earlier World's Fair, the World Cotton Centennial in 1884. Its theme was "The World of Rivers—Fresh Waters as a Source of Life". (Wiki)
Born in New Orleans on November 11, 1956, Fred J. Luter Jr. became the first African-American president of the Southern Baptist Convention on June 19, 2012. According to Southeastern Baptist Theological Seminary president Daniel L. Akin, this was ". . . the most significant event to happen in our [SBC's] history since our formation". (Wiki)
Stephen James Foley, born in New Orleans on November 11, 1953 was a safety in the National Football League. He played his entire 11-year NFL career (1976–1986) with the Denver Broncos after one year (1975) with the Jacksonville Express of the World Football League. (Wiki)
The Liberty ship Joseph Weydemeyer was launched on November 11, 1944 by Delta Shipbuilding Company.
Fictional character Benjamin Button was born in New Orleans on the evening of November 11, 1918,
Charles Genois, a native of New Orleans, was the city's ninth mayor whose administration ran from May 12, 1838 -- April 6, 1840. Improvements under his adminstration included the paving of Royal Street, improvements made in expanding the city toward the lake, and the initial digging of the Carondelet Canal. Mayor Genois died on this day in 1866 after a long illness, at the age of 73. He is buried in St. Louis Cemetery Number 2.
CALONGNE, Adolphe Fauconne de, writer-journalist. Born, New Orleans, November 11, 1836; son of native of Jérémie, Haiti, who came to New Orleans in 1816. Worked as accountant and served as editorial secretary for Le Patriote. An active White Leaguer, participated in the riot of 1874. Published numerous poems and some essays in Le Courrier de la Louisiane, La Renaissance Louisianaise, L'Avenir de la Nouvelle Orléans, Le Dimanche, Le Patriote, L'Almanach de la Louisiane. Translated into English an opera Roland a Ronceveaux, libretto and music by A. Mermet (1869). Died, New Orleans, July 17, 1889. From http://lahistory.org/site20.php