---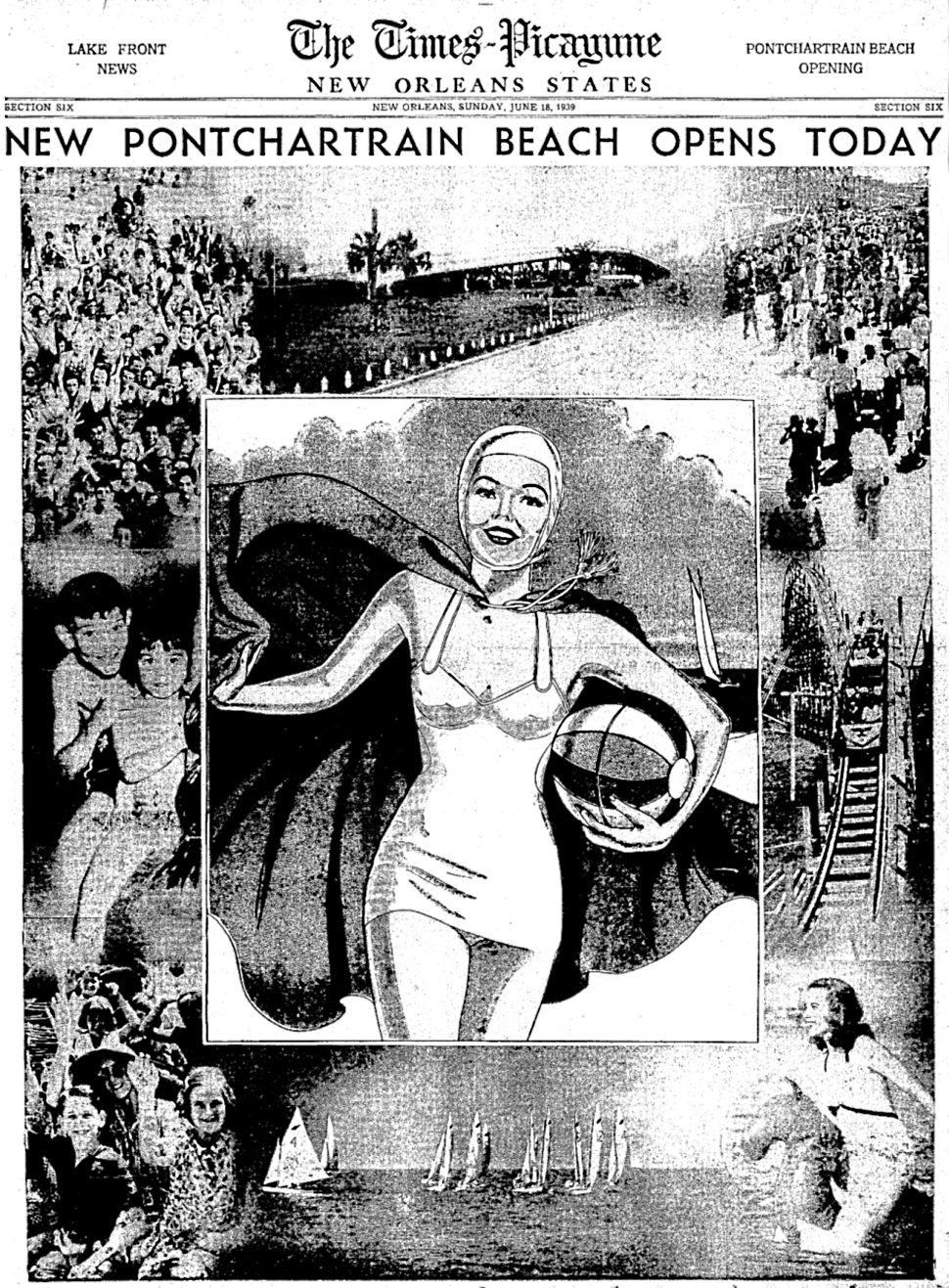 June 18, 1939 -- Times-Picayune
Pontchartrain Beach opens at Elysian Fields on the Lakefront
Opened by Harry J. Batt Sr. in 1928 across Bayou St. John from Spanish Fort near the shoreline, Pontchartrain Beach amusement park moved in 1939 to the newly created beach in front of the old town of Milneburg. Forty-four years later, it closed on Labor Day Weekend of 1983.

---

You Can Support this Site by Clicking on & Shopping from this Amazon Link -- and it won't cost you a penny more: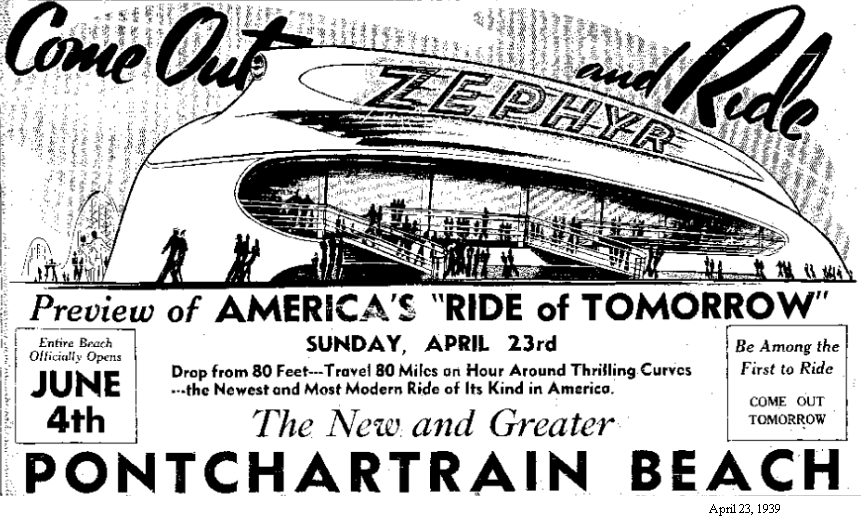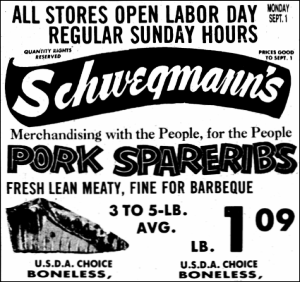 ---
Edward Pakenham (March 19, 1778 – January 8, 1815), was the brother-in law of the Duke of Wellington, with whom he served in the Peninsular War. Appointed as commander of British forces in North America in 1814, he was killed in action at the Battle of New Orleans.
Photo -- Ruins of house where Pakenham died, June 18, 1955.
Jazz drummer Ray Bauduc, born on
June 18, 1906
in New Orleans. was a best known for his work with the Bob Crosby Orchestra and their band-within-a-band, the Bobcats, between 1935 and 1942.
Photo with
Johnny Wiggs, Dr. Edmond Souchon, Ray Bauduc, Stanley Mendelson, Harry Shields, Tom Brown, and Henry Mangiapane at New Orleans Jazz Club jam session for WTPS radio
.
Photo
of Johnny Bayersdofer's Orchestra in the Tokyo Gardens at Spanish Fort. l to r: Charlie Hartman (trombone), Ray Bauduc (drums), Johnny Bayersdofer (trumpet), Joe Wolfe (piano), Hilton "Nappy" Lamare (Banjo), Lester Bouchon (clarinet & sax), Bill Kreager (clarinet).
Portrait
of Ray Bauduc and Nappy Lamare.
Louis Alter (June 18, 1902, Haverhill, Massachusetts – November 5, 1980, New York City, New York) was an American pianist, songwriter and composer. Alter was 13 when he began playing piano in theaters showing silent films. He studied at the New England Conservatory of Music under the tutelage of Stuart Mason. Alter played in vaudeville houses as the accompanist for headliners Irène Bordoni and Nora Bayes. He appeared with Bayes from 1924 until her death in 1928, touring the United States and abroad. Since he had previously written some songs for Broadway shows, Alter decided to concentrate on songwriting after Bayes' death. His first hit was "Manhattan Serenade" (1929). In 1929, Alter moved to Hollywood, where he wrote songs for films, beginning with The Hollywood Review of 1929, and he continued to provide piano accompaniment for various singers, including Beatrice Lillie and Helen Morgan. His contributions to Broadway musicals included songs in Sweet and Low (1930) and Ballyhoo (1931). His first song hit was "Hugs and Kisses" in 1926. In 1928, Alter composed the music and wrote the lyrics of Paris (1928 musical). Other top tunes by Alter include "My Kinda Love," "You Turned the Tables on Me," "Nina Never Knew," "Do You Know What It Means to Miss New Orleans" (for the 1947 film New Orleans), "Blue Shadows" and "Rainbow on the River." He wrote "A Melody from the Sky" and "Twilight on the Trail" for The Trail of the Lonesome Pine (1936). His collaborators included Oscar Hammerstein II, Charlotte Kent, Raymond Klages, Sidney D. Mitchell, and Jo Trent. Twice nominated for Academy Awards ("Dolores," "A Melody from the Sky"), he was inducted into the Songwriters Hall of Fame in 1975. At age 78, he died of pneumonia in New York's St. Clare Hospital. After Hurricane Katrina "Do You Know What It Means to Miss New Orleans" was used for strong emotional effect in Spike Lee's four-hour When the Levees Broke (2006) and an equally moving dramatic sketch by Billy Crystal on HBO's Comic Relief 2006. (WIKI)
CARAZO, Castro, band director, composer. Born, San José, Costa Rica, June 18, 1895; son of chief justice of supreme court of Costa Rica. Studied at Costa Rica National School of Music and Royal Conservatory of Music, Barcelona, Spain. Toured with various musical organizations and artists in U. S. and Latin America before becoming music director of the Saenger Amusement Company, New Orleans. Returned to Costa Rica for one year as director of military music for the government, made honorary lieutenant colonel and decorated by president of Costa Rica. Returned to New Orleans as music director, Roosevelt Hotel, where he met Huey Long (q.v.), becoming closely associated with the Long political movement. Appointed Louisiana State University band director at Long's insistence in 1934, dismissed 1940. Increased size of band from about 70 pieces to 242, second largest in U. S. Long often appeared with drum majors leading band at performances. Composed all types of music, especially band music and songs. Compositions include Long campaign song, "Every Man a King" (words by Huey Long), "Louisiana, My Home Sweet Home," several LSU songs (some with words by Long) and the official U. S. National Guard March. His compositions are recorded on the Victor and Brunswick labels. Private music teacher in Baton Rouge during the later years of his life. Died, Baton Rouge, December 28, 1981. Source: http://lahistory.org/site20.php
John T. Monroe (May 6, 1822 – February 24, 1871) served as the 19th Mayor of New Orleans in June 18, 1860–1862 and was elected for another term for 1866–1867.
Gerard Stith was elected the fifteenth Mayor of New Orleans on June 7, 1858, being the candidate of the American or "Know Nothing" party. He served until June 18, 1860. (NOPL)
The War of 1812, a two and a half-year military conflict between the United States of America and the United Kingdom of Great Britain and Ireland, its North American colonies and its Indian allies. The outcome resolved many issues which remained from the American War of Independence, but involved no boundary changes. The United States declared war on June 18, 1812 for several reasons, including trade restrictions brought about by Britain's continuing war with France, the impressment of American merchant sailors into the Royal Navy, British support of American Indian tribes against American expansion, outrage over insults to national honour after humiliations on the high seas, and possible American interest in annexing British North American territory (part of modern-day Canada) which had been denied to them in the settlement ending the American Revolutionary War. The Battle of New Orleans was the last battle fought in the War of 1812. (WIKI)