---

Hubig's Pie Fire
July 27, 2012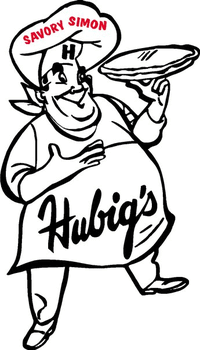 Simon Hubig was born in Spain's Basque Country and immigrated to the United States after serving in World War I. He founded the Simon Hubig Pie Company in Fort Worth, Texas in 1922, capitalizing on baking skills he learned at his mother's bakery. In subsequent years, the company expanded to nine locations throughout the Southeastern United States and opened its New Orleans location in 1922. During the Great Depression, all of the locations were forced to close except the New Orleans bakery, which remained profitable. The New Orleans bakery is now the only bakery operated by the Simon Hubig Pie Company, located in the same Dauphine Street location in the Faubourg Marigny in which it was founded. In the 1950s, the Ramsey family became majority owners of the company, eventually bringing in the Bowman family during the 1970s.
Little changed in the production of Hubig's pies since the pies were first produced. Before Hurricane Katrina, in addition to the famous turnover-style pie, Hubig's also made individual and family-sized pies. They offer a 100% guarantee on all their merchandise and buy back compromised pies to maintain quality, and frequently donate fresh products to charitable organizations in the area. The Orleans Parish prison has traditionally been one of the largest buyers of pies. The Hubig bakery remained heavily reliant on laborers rather than automated processes.
When the city of New Orleans was struck by Hurricane Katrina in August 2005, the bakery's ventilation system, an exterior wall, and the roof were damaged. Production of Hubig's pies was halted and did not start again until more than four months later, January 4, 2006, after the neighborhood had clean water, reliable electricity, and sufficient gas pressure. Hubig's pies increased slightly in cost since the storm, and the variety of flavors offered has changed. About 30,000 hand-sized pies are made a day to be delivered on the next day
On July 27, 2012 a fire broke out at Hubig's Pie facility. Flames were seen coming from the front of the building about 4:30 a.m. The fire grew to five alarms, engulfing the old factory. A little more than an hour after the first firefighters arrived, the facade of the building crumbled. No one was hurt, but the facility was a total loss. Owner Andrew Ramsey said he planned to rebuild and resume production as soon as possible. (Wiki)
---



---
Lindy Boggs Dies
July 27, 2013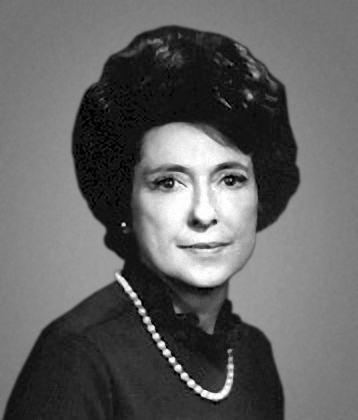 After the October 16, 1972 dissapearance of the twin-engine Cessna plane in Alaska, in which was a passenger, Lindy Boggs ran successfully in a 1973 special election as a Democrat for his vacated seat in Louisiana's 2nd congressional district, based about New Orleans. Lindy was elected to a full term in 1974 with 82 percent of the vote and was reelected seven times thereafter until she vacated her office in January 1991.
She was the first woman elected to Congress from Louisiana and the first female to preside over a major party convention (the Democratic National Convention of 1976). In 1994, Boggs was inducted into the Louisiana Political Museum and Hall of Fame. In 1997, President Bill Clinton appointed her official U.S. ambassador to the Holy See, a position she held until 2001. In 2006, she was awarded the Congressional Distinguished Service Award for her time in the House of Representatives.
Lindy Boggs died of natural causes at her home in Chevy Chase, Maryland on July 27, 2013. A funeral Mass was held on August 1, 2013 at St. Louis Cathedral. Interment followed later in the day at St. Mary's Cemetery in New Roads. (Wiki)
---
David Peter Cradick, radio host and television personality known as Kidd Kraddick, died on July 27, 2013, while attending an annual fundraiser for his charity, Kidd's Kids at Timberlane Country Club in Gretna -- the result of arteriosclerotic and hypertensive cardiovascular disease, read a report released by the Jefferson Parish Coroner's Office. (Wiki)
Allen Joseph Ellender (September 24, 1890 – July 27, 1972) graduated in 1909 from St. Aloysius, studied law at Tulane, and was admitted to the bar in 1913. He began his practice in Houma at the age of twenty-three. Ellender served as a U.S. senator from Houma from 1937 until 1972 when he died in office at the age of eighty-one. He was a Democrat who was originally allied with Huey Long. As senator, he compiled a generally conservative record, voting 77 percent of the time with the Conservative Coalition on domestic issues. A staunch segregationist,he voted against the 1965 Voting Rights Act. (Wiki)
NOPL photo -- Kids keeping cool in front of Engine House 26, July 27, 1936.
---
The Robert Charles Riots of 1900 were sparked after African American laborer Robert Charles shot a white police officer which led to a manhunt. Twenty-eight people were killed in the conflict, including Charles. Many more people were killed and wounded in the riots. The manhunt for Charles began after an altercation involving Charles, his roommate, and several New Orleans police officers on Monday, July 23, 1900, and ended when Charles was killed on Friday, July 27.
July 24 was the first day that showed signs of rioting. A crowd of whites gathered on Fourth Street where the policemen were killed. There were shouts for lynching Charles, but the crowds dispersed when they were falsely told Charles had been located and jailed. On the 25th, Acting Mayor Mehle (Mayor Paul Capdevielle was out of town) announced a $250 reward for the arrest of Charles while issuing a proclamation urging peace. New Orleans papers, particularly the Times-Democrat, helped exacerbate the situation, blaming the black community for Charles's crimes and calling for action.
In the following days, several riots occurred as mobs of armed whites roamed the streets. The night of the 25th caused the deaths of three blacks and the hospitalization of six more, plus five whites, and the injury of more than 50 people. Charles had taken refuge at 1208 Saratoga Street, where he remained safe from the police until Friday, July 27. The house was quickly surrounded by police after they were informed of Charles's location. Throughout the day, men from outside the house fired upon Charles, who sporadically returned the fire. By the end of the day, Charles had shot a total of 27 white people in the course of the week, seven lethally; four of the victims were policemen. At this point, the police decided to burn down the building in which Charles was holed up. When attempting to escape the smoke-filled building, Charles was shot by Charles A. Noiret, a medical student and member of the special police (a police group of volunteer citizens). The policemen present continued to shoot Charles, then dragged him outside where a mob of bystanders beat Charles's body.
Mobs in New Orleans still rampaged after the killing. Charles died, of multiple gunshot wounds on
July 27, 1900.
Police had difficulty getting the body to the morgue due to angry white mobs attempting to damage the corpse. Several innocent African-American people were killed and the Thomy Lafon schoolhouse, "the best Negro schoolhouse in Louisiana," was burned down. The informant who told police the whereabouts of Charles, Fred Clark, was shot and killed several days later by an admirer of Charles, Lewis Forstall.The rioting ended when New Orleans Mayor Paul Capdeville deputized 1,500 special police and asked for assistance from the state militia. (Wiki)
---
COADY, Sister Clare, religious, spiritual leader, educator. Born Margaret Ann Coady, New Orleans, October 3, 1875, daughter of Joseph Coady and Mary Jane Farley. Raised in Irish Channel and Mount Carmel Orphan Asylum in New Orleans. Entered community of Sisters of Mount Carmel, New Orleans, September 2, 1891; professed first vows, New Orleans, July 27, 1894; and final vows, Thibodaux, La., July 24, 1902. Teacher in Abbeville, Lafayette, Thibodaux and Vinita in Indian Territory, 1894-1913. School principal and superior at Mount Carmel Academy in Lafayette, 1909-1915, 1931-1935. Superior general, Sisters of Mount Carmel, 1915-1931; during her tenure, Sisters took charge of three parochial schools in New Orleans (St. Dominic, St. James, and St. Augustine) as well as Our Lady of Prompt Succor School in Westwego; opened new Mount Carmel Academy in the Lakeview section of New Orleans, 1926; established a state-approved normal school in New Orleans, 1923, to better prepare Sisters for teaching; won state approval for community high schools; fostered state certification for teaching Sisters. Encouraged spiritual renewal among the Sisters through personal example, legislative changes, and motherly supervision. Affiliated community to main branch of Carmelite Order, 1931. Died, Lafayette, La., March 22, 1935; interred St. John the Evangelist Cemetery. From http://lahistory.org/site20.php
John Watkins was the third mayor of New Orleans, serving from July 27, 1805 – March 8, 1807.