---

Clay Shaw Arrested and Acquitted
March 1, 1967 & March 1, 1969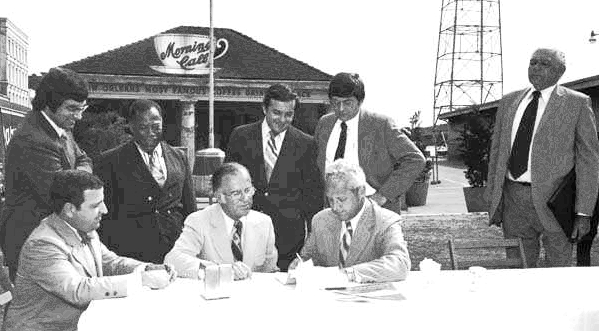 On March 1, 1967, New Orleans District Attorney Jim Garrison arrested Clay Shaw on the charge of conspiracy to assassinate President John F. Kennedy. Precisely two years later, on March 1, 1969, Shaw was acquitted by the jury in less than an hour of deliberation.
Earling Carothers "Jim" Garrison, a native of Denison, Iowa, was born on November 20, 1921. He was the District Attorney of Orleans Parish from 1962 to 1973. Garrison believed, at various points, that the John F. Kennedy assassination had been the work of Central Intelligence Agency personnel, anti-Castro Cuban exiles, "a homosexual thrill killing," and ultra right-wing activists. "My staff and I solved the case weeks ago," Garrison announced in February 1967. "I wouldn't say this if we didn't have evidence beyond a shadow of a doubt." He died in New Orleans on October 21, 1992.
Born in Kentwood on March 17, 1913, Clay Laverne Shaw was a decorated World War II enlistee, successful businessman, playwright, pioneer of restoration in New Orleans' French Quarter, and director of the International Trade Mart in New Orleans. He died in New Orleans on August 15, 1974. Shaw is the only individual ever prosecuted for conspiracy to assassinate Kennedy.
In the photograph, Mayor Moon Landrieu signs documents for the renovation of the French Market in 1973. Seated next to the Mayor is French Market Corporation President Armand J. Duplantier; standing, third from the left, is FMC member Joseph C. Canizaro. Clay Shaw is standing on the right. Shaw had been a member of the FMC from 1971 until he resigned in 1972 in order to take the job as Project Manager for the renovation project. The Morning Call Coffee Stand, unfortunately, did not survive the project, and moved to Metairie later in the 1970s. (Text and photo from the New Orleans Public Library)
---

You Can Support this Site by Clicking on & Shopping from this Amazon Link -- and it won't cost you a penny more: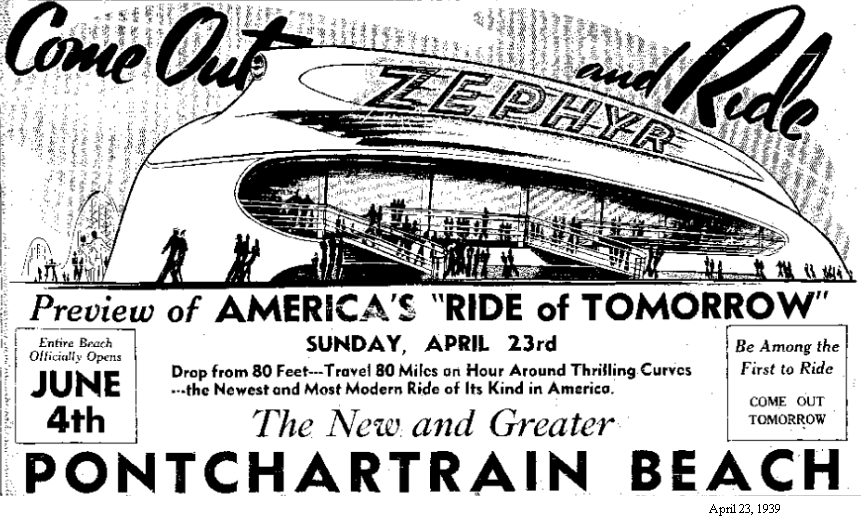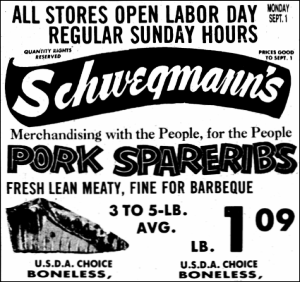 Macfrugal's warehouse fire -- March 21, 1996
NFL defensive tackle (Oakland Raiders, New Orleans Saints) Austin Robbins was born on March 1, 1971.
Photo of Fischer's Brass
Band
, a militaryragtimeband. in black face holding a largebanner that reads: "Big50CarnivalClub, Organized
March 16, 1909
. Gretna, La".
In 1892, Homer Plessy (March 17, 1863-March 1, 1925) challenged a two-year-old street car law that separated passengers traveling on trains in Louisiana. His action made him a plaintiff and defendant in the landmark U.S. Supreme Court Case of Plessy vs. Ferguson in 1896. Plessy was the second child of Adolphe Plessy and Rosa Debergue Plessy. His father died when Plessy was five, and his mother Rosa remarried shortly thereafter. Plessy was apprenticed as a shoemaker, the profession of his stepfather and maternal relatives. In 1887, Plessy married Louise Bordenave at St. Augustine Church. In 1890, then state legislator Murphy Foster, (grandfather of Louisiana Governor Mike Foster), wrote the Separate Car law which called for the segregation of passenger trains traveling within the state of Louisiana. In 1892, the Citizens' Committee, a group of influential African American civic and business leaders, chose Homer Plessy to board the white car of the East Louisiana Railway leaving from New Orleans and traveling to Covington. The Citizens' Committee's strategy was to purposely break the Separate Car law in order for a case to go before the state supreme court. The case eventually made its way to the United States Supreme Court and ruled against Plessy. The supreme court upheld the statute of "Separate but Equal" and unfortunately this landmark decision eventually was used to justify segregation in education, public accommodations, and transportation. After the case Plessy drifted into anonymity, later becoming a life insurance collector with People's Life Insurance Co. Plessy died in 1925 and is buried in his mother's family tomb in St. Louis Cemetery No. 1. (NOPL)
Joseph Stanley "Joe" Wendryhoski (March 1, 1939 – November 6, 2008) was an inaugural member of the New Orleans Saints, playing for the team in both 1967 and 1968 and played every offensive snap as the starting center under head coach Tom Fears, appearing in 14 games each season with the Saints. He recovered a fumble for the Saints in 1968, the only fumble recovery of his career. Wendryhoski, along with several of his Saints teammates, appeared in the film Number One, which starred Charlton Heston as a fading New Orleans quarterback. After retiring from the Saints, Wendryhoski served as a Vice President for the Saints Hall of Fame Museum (now located in the Superdome) from its inception in 1988. Wendryhoski lived in Metairie, where he ran a real estate business, and also had a residence in Wisconsin. He died at age 69 on November 6, 2008 after a short illness in Twin Lakes, Wisconsin, after having battled with cancer.
James Henry Caldwell, a native of Manchester, England, after working as an actor in England and the United States and having managed a theater in Alexandria, Virginian (in 1818) and built a theater at Petersburg, built the Camp Street Theater in New Orleans at cost of $70,000 and although it was still not finished, opened it on May 14, 1823. It was the first important structure in the new Second (American) Municipality. It formally opened on January 1, 1824. Meanwhile, Caldwell continued to tour eastern theaters during summer until 1825 at which time he began tours of towns in the South and Southwest—called "Pioneer of Drama in the South." Brought competent actors and good plays to the region and became the most important theatrical person there. Built theaters in Cincinnati, Nashville, Mobile, and converted a salt house in St. Louis into a theater. He introduced gas lighting into American Theater in New Orleans and organized a company to supply gas lighting for the city, receiving a charter on March 1, 1833. It began operations in 1834 but Caldwell sold his interest in 1835. He established similar companies in Cincinnati and Mobile and these were his principal sources of wealth in later years. He opened the St. Charles Theater in New Orleans on November 12, 1835; it was the most magnificent theater in the South and one of the largest in the country but it burned in March, 1842. Caldwell retired from theatrical activity on January 14, 1843, and thereafter devoted his time to several official positions in New Orleans. He was commissioned as captain in Louisiana Militia, Forty-second Regiment of First Brigade on December 7, 1842. He was a member of the Second Municipality Council during the last ten years of its existence and then served as recorder. When New Orleans reverted to one complete city government, he was elected to board of aldermen and served as president of that body from 1855-1856. He served a term in the Louisiana house of representatives (1858-1860) and in 1857, became a principal stockholder in Bank of James Robb. He had extensive real estate holdings in New Orleans and elsewhere. Caldwell left New Orleans between February and October, 1862 to live in Cincinnati. In August of 1863 he was living in New York City. In feeble health for some time, he died there on September 11, 1863. Services were held on September 14, at St. Patrick's Cathedral. His remains were then taken back to New Orleans where services were again held on October 11, 1863, at Dead Church [?] on Rampart St. with burial in Fireman's Cemetery. (From http://lahistory.org/site20.p)
According to the National Response Plan, the Department of Homeland Security "will assume responsibility on March 1 [2005] for ensuring that emergency response professionals are prepared for any situation. This will entail providing a coordinated, comprehensive federal response to any large-scale crisis and mounting a swift and effective recovery effort". Many critics have noted that while Mayor Nagin gave a mandatory evacuation order on August 28, before the storm hit, they did not make sufficient prevention and provisions to evacuate the homeless, the poor, the elderly, the infirm, or the car-less households. Hospitals, nursing homes, group homes, were supposed to have pre-determined evacuation and/or refuge plans in place. Foreign nationals without transport claimed that the police refused to evacuate them, giving bus places only to American citizens. From http://en.wikipedia.org/wiki/Political_effects_of_Hurricane_Katrina