---

WWL Radio First Broadcasts -- From Loyola's Marquette Hall
March 31, 1922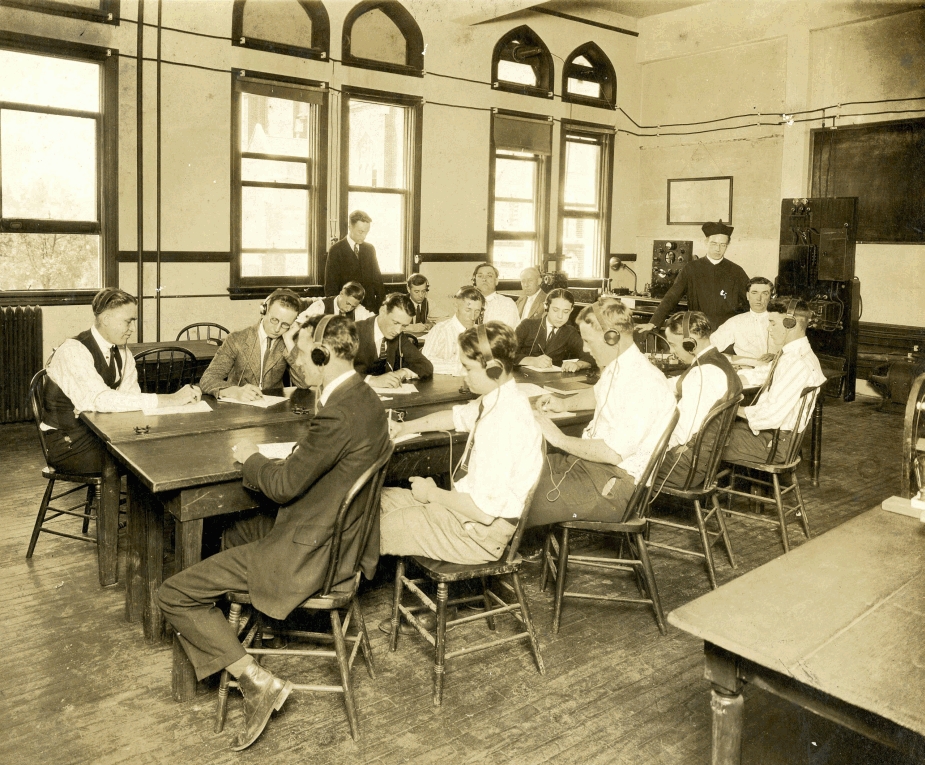 The typed caption on reverse of the matting on this Charles L. Franck photograph reads "In the background is the first WWL radio broadcast station, the first broadcast station to go on the air in New Orleans. // The class is a radiotelegraph class (circa 1920). // Instructor Walmer H. Hammond is standing at center left, and Fr. Edward T. Cassidy, S.J. is standing at right." The photo is from the Loyola University New Orleans Special Collections & Archives (http://library.loyno.edu/services_collections/speccoll/)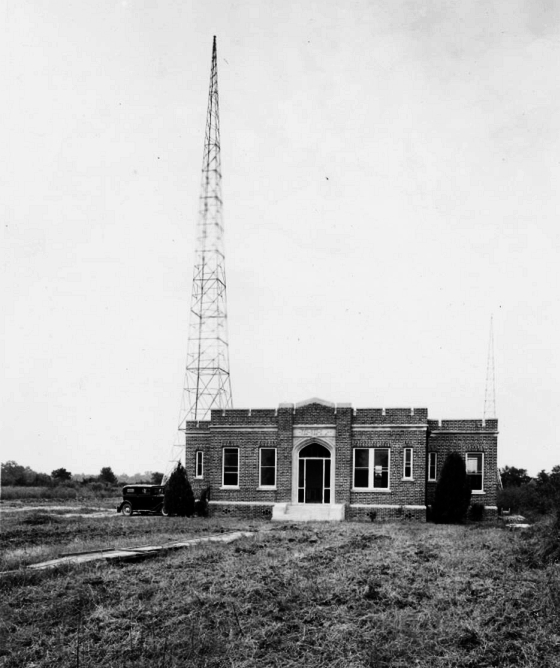 Before the Jesuits at Loyola University New Orleans could operate a radio station, they had to receive permission from the Vatican. The station was originally created as a laboratory for wireless technology. WWL began broadcasting as a 10-watt station at 833 kHz from the Marquette Hall on the Loyola campus on March 31, 1922. A piano recital was the first program on the air. The first broadcast day also included a three-minute request to listeners to support the construction of a new classroom building on campus. By 1924, WWL had 100 watts of power at 1070 kHz, and a year later the station was at 1090 kHz. The station's frequency went up to 1220 kHz along with the power at 500 watts in 1927. WWL, now at 850 kHz, increased power to 5000 watts on March 31, 1929 following the installation of a new transmitter in Loyola's Bobet Hall. In 1932, the station was at 10,000 watts of power, and in 1937 it reached 50,000 watts. WWL-AM affiliated with the CBS Radio Network on November 1, 1935. By 1946, WWL was settled at 870 kHz.
In the 1940s, 1950s, and 1960s, the station was famous for the live broadcasts of local Dixieland jazz bands, including such notables as Papa Celestin, Sharkey Bonano, Irving Fazola, Tony Almarico, and Lizzie Miles. WWL's television partner WWL-TV came on the air on September 7, 1957 and was also affiliated with CBS. The first WWL-FM at 101.9 MHz (now WLMG-FM) began in the 1960s with its own music format (on Oct. 21, 1960, WWL got a mention on the Route 66 TV series in the Episode, "The Swan Bed," in an opening scene when Todd and Buzz turn the car radio on and hear the announcer give the call letters). WWL's transmitter in Kenner (pictured in a 1930s photo from the Louisiana Digital Library on the right) on the shore of Lake Pontchartrain was moved to Estelle, Louisiana in 1975.
Starting on March 14, 1971, WWL became home to the long running overnight country music program aimed at truck drivers called The Road Gang. They claimed their frequency was "Interstate 87" and offered strip weather in major cites along the east-west National Defense Highways I-10, I-20, I-30, etc. Advertising was focused on long-haul truckers. It was originally hosted by Charlie Douglas. Later hosts included Dave Nemo and Big John Parker. The station helped popularize southern gospel by late-night broadcasts of the Mull Singing Convention.
Loyola sold WWL, WLMG-FM, and WWL-TV to separate companies in 1989 to build the university endowment. That same year, the university began broadcasting on WLDC within the university's electrical grid. Keymarket Communications in Greenville, South Carolina became the new owner of WWL and WLMG-FM. Baltimore, Maryland-based company Sinclair Broadcast Group would assume ownership of both stations in 1996 and Entercom Communications in Bala Cynwyd, Pennsylvania in 1999.
Loyola maintains its broadcasting legacy with Crescent City Radio, an internet radio station broadcasting from the Communications/Music Complex on the corner of Calhoun and St. Charles Avenue.
WWL has been "monogrammed" into the Internal Revenue Code. A section excluding certain types of income of nonprofit organizations from income tax mentions entities licensed by federal agencies (like the station's FCC license) and carried on by religious orders (like the Jesuits). The three subsections of this tax provision, 26 U.S.C. 512(b)(15), begin with W, W, and L, respectively. The exclusion was directed at WWL specifically, and the joke has been attributed to Senator Russell Long of Louisiana.
During the immediate effects and aftermath of Hurricane Katrina on New Orleans and the Gulf Coast in late August 2005, WWL was for a time one of the few radio stations in the area remaining on the air. Announcer Garland Robinette for a time kept broadcasting from an improvised studio built in a closet after the studio's windows were blown out.
After the hurricane, WWL's emergency coverage was simulcast on the frequencies of numerous other radio stations. The broadcast was named "The United Radio Broadcasters of New Orleans"; mostly WWL staff appeared on-air. The United Radio Broadcasters were a partnership between Entercom and competitor Clear Channel Communications. The WWL website was completely rebuilt in only one day by the staff of other Entercom stations. The company also dispatched staffers from stations throughout the country to help WWL, and to provide their own stations coverage from the hurricane ravaged New Orleans area. For some time after Hurricane Katrina, WWL was simulcast on shortwave outlet WHRI, owned by World Harvest Radio International.
In April 2006, WWL permanently returned to the FM airwaves, simulcasting on the station then known as WTKL 105.3 (WWL had been simulcasting on 105.3 upon its return to air in late 2005, WTKL had returned to its oldies format for just three weeks prior to the change to WWL-FM).
WWL-AM continues to cover the rebuilding of New Orleans and the Gulf Coast region with local news and talk programming. Two syndicated radio programs are included in the program schedule: The Mutual Fund Show with Adam Bold and The Dave Ramsey Show, both of which deal with financial and personal investment topics.
As a secondary ESPN Radio affiliate (the full-time ESPN radio affiliate is its sister station "ESPN 1350" WWWL (AM), ESPN is aired each Monday night after Monday Night Football from Westwood One, ESPN Radio is broadcast 11 pm to midnight and Sunday nights from 11 pm to midnight right after Westwood One's coverage of every Sunday Night Football game. Selected times may vary on Saturdays during LSU football, basketball, and baseball seasons.
After Saints football season and LSU football and basketball seasons, times will still vary until after LSU baseball season and is broadcast during football off-season times vary during off season on Saturdays and Sundays.
In November 2006, The Big 870 expanded its programming to the former WSMB, now branded WWWL.
WWL has for many years been the flagship station for broadcasts of New Orleans Saints games, continuously since the 1995 season. Jim Henderson and ex-Saint Hokie Gajan have been the broadcast team since 2000. Prior to the 1998 NFL Draft, when son Peyton Manning was drafted by the Indianapolis Colts, Archie Manning provided commentary on WWL's Saints coverage from his retirement as a player in 1985 through 1997. (WIKI at http://en.wikipedia.org/wiki/WWL_%28AM%29)
---

You Can Support this Site by Clicking on & Shopping from this Amazon Link -- and it won't cost you a penny more: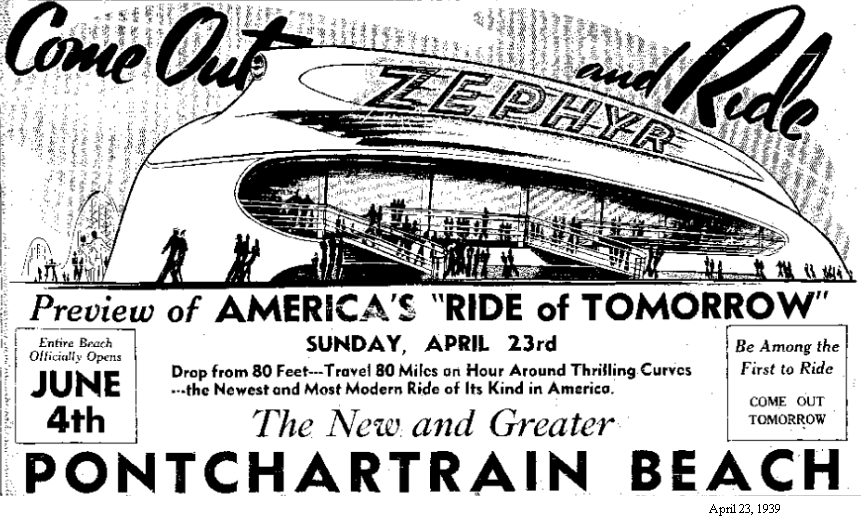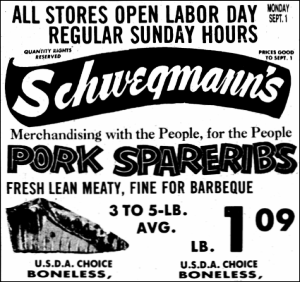 Charmaine Neville born March 31, 1956 is a member of a famous New Orleans music family which includes the Neville Brothers. The daughter of Charles Neville, she is currently the leader and lead singer of the Charmaine Neville Band, a jazz/funk band based in New Orleans. (WIKI)

The College of Orleans, established in 1811, closed on March 31, 1826.
The City Court for the parish of the city of New Orleans was established by act of the Louisiana Legislature on March 31, 1807 with the same jurisdiction as had been given to the previous County Court for New Orleans. In addition to criminal matters and civil causes for amounts under $100, the Court also heard insolvency suits in which debtors petitioned for protection from the demands of their creditors. (NOPL)

Gov. William C. C. Claiborne wrote a letter to the Cabildo on March 31, 1804 regarding a project of establishing a body of horse-police. (NOPL)
Rosa Freeman Keller
Born on March 31, 1911

The New Orleans Recreation Department Keller Center at 1814 Magnolia Street was dedicated on November 22, 1971. It was named in honor of Rosa Freeman Keller who had dedicated decades of her life in New Orleans to racial and gender equality.
Coca Cola heiress and racial pioneer Rosa Freeman Keller worked tirelessly throughout her long life for those less fortunate than herself, particularly New Orleans's African American residents. Though her elite social background made her perhaps an unlikely social activist, Keller helped lead the fight for the integration of public schools and transportation facilities in New Orleans. She never hesitated to use her position in powerful organizations, such as the Independent Women's Organization, the National Urban League, or the Young Women's Christian Association, to advocate for racial equality. Further, Keller encouraged women to play an active role in the political process. The Keller Family Foundation currently continues her legacy.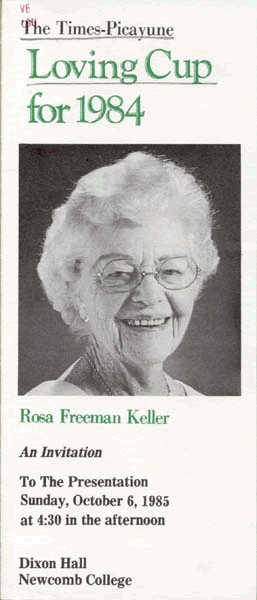 Rosa Freeman was born March 31, 1911, to Alfred Bird "A.B." Freeman and Ella West. While her mother descended from a family of southern aristocrats, Rosa's father was a salesman—a "nobody from nowhere"—until he made a fortune with his fledgling Coca Cola business. With his success, the family gained entrance into the world of the New Orleans elite. After high school, Rosa Freeman attended Sophie Newcomb College for a year and then, anxious to establish her independence, transferred to Hollins College in Virginia, only to drop out a year later. At her social debut in New Orleans, Rosa Freeman met Charles Keller II, whom she married in 1932. After a few itinerant years because of Charles's work in the armed services, the Keller family settled in New Orleans in 1944.
Already a member of the New Orleans chapter of the League of Women Voters, Keller began her foray into the world of politics working on voter registration. When her mother died in 1945, Keller was asked to serve on the local YWCA board, an integrated organization that deeply impacted her views on race relations. In 1947, seeking to alleviate the housing shortage for New Orleans's black families, Rosa and Charles Keller, along with friends and philanthropists Edith and Edgar Stern, financed the construction of Pontchartrain Park, one of the first middle-class black communities in the country.
Keller expanded her political involvement in the early 1950s when she helped organize the Independent Women's Organization, created to support the election of moderate mayoral candidate deLesseps Morrison. When Morrison asked Keller to serve on the board of the public library system, she readily accepted, becoming the first woman to serve on a citywide board. Almost immediately Keller brought controversy to her position when she set out to integrate the New Orleans public library system—a goal she eventually achieved.
Keller continued to serve the New Orleans black community in a variety of ways. She chaired the board of Flint-Goodridge Hospital, a facility that catered to the black community. In this capacity, she fought for and won access to Blue Cross coverage for the New Orleans black community, and insisted that African American medical students have access to New Orleans's medical libraries. Keller also served as president of the New Orleans Urban League, and on the boards of numerous citywide interracial organizations.
In 1953, Keller decided that it was time the League of Women Voters, an organization she loved, begin the process of admitting black members. With the help of her progressive peers, she succeeded in integrating the organization in 1955. State laws passed in the wake of the U.S. Supreme Court's decision in Brown v. Board of Education, however, forced to the league to resegregate a year later. Through Keller's persistence, the league permanently achieved integrated status in 1963.
In 1958 Keller led the fight to desegregate the New Orleans public transportation system, but she considered her efforts to integrate the city's public schools as "her war." Toward this end, Keller helped create Save Our Schools (SOS), an organization dominated by elite white women in the New Orleans community. During the 1960 New Orleans School Crisis, when the first black children attended formerly all-white schools, SOS ferried children to and from the integrated schools. They also raised monies for the black and white families who kept their children in the schools and lobbied the state legislature on behalf of integrated schools. Much to the chagrin of some family members, Keller also personally financed the legal fight to desegregate Tulane University in 1963. Through the years, Rosa Keller had no qualms about holding interracial gatherings in her Uptown home, though it was considered a serious breach of racial etiquette at the time.
Keller received numerous honors for her work on racial issues in New Orleans, including the Times-Picayune Loving Cup Award, which honors New Orleans residents who have worked unselfishly for the community without expectation of public acclaim or material reward. She also received an honorary alumnus degree from Newcomb College and an honorary doctorate from Dillard University. She died in April 15, 1998, in New Orleans. The Keller Family Foundation, established in 1949, continues to provide monies to sustain and improve the New Orleans community. The Rosa F. Keller Library & Community Center at 4300 S. Broad was named for her on October 6, 1999
Frystak, Shannon. "Rosa Keller." KnowLA Encyclopedia of Louisiana. Ed. David Johnson. Louisiana Endowment for the Humanities, 31 Jan. 2011. Web. 20 Nov. 2013.
Photos from the New Orleans Public Library.