November 22
---


---
---

New Orleans on the Day of the Kennedy Assassination
November 22, 1963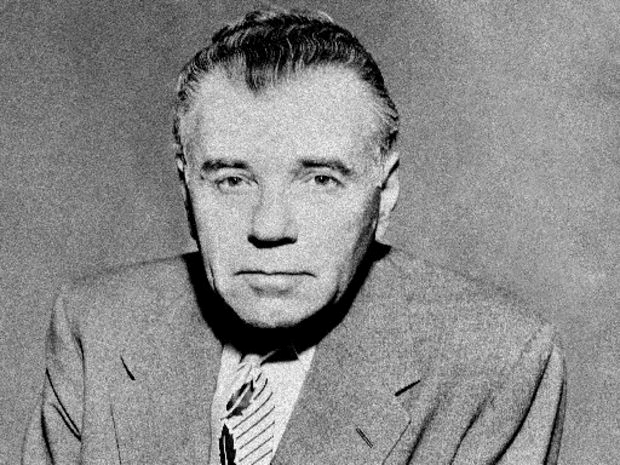 Guy Banister (AP photo)
Just before President John F. Kennedy was assassinated on November 22, 1963, Jack Ruby contacted Carlos Marcello in New Orleans and another Mafia leader, Santos Trafficante, about a labor problem he was having with the American Guild of Variety Artists. Ruby was a known associate of the Marcello family.
On the same day, Marcello was acquitted of federal charges brought against him by Robert Kennedy of conspiracy in connection with his alleged falsification of a Guatemalan birth certificate. The news of President Kennedy's murder in Dallas reached the New Orleans courtroom shortly before the verdict was announced. At the defense table with Marcello's attorney, G. Wray Gill, was David Ferrie, an investigator for Gill.
Both David Ferrie and Guy Banister, a former FBI agent and assistant superintendent of the New Orleans Police Department, were working for lawyer G. Wray Gill on behalf of Marcello, On the afternoon of November 22, 1963 (the day John F. Kennedy was assassinated and the day Marcello was acquitted in his deportation case) Banister (then working as a private investigator) and his employee, Jack Martin, were drinking together at a local bar. On their return to Banister's office, the two men got into a heated argument. According to Martin, Banister said something to which Martin replied, "What are you going to do--kill me like you all did Kennedy?"
---
---

---
On November 22, 2009, following their 38-7 win over Tampa Bay to improve their record to 10-0, the Saints' 10-game winning streak was the longest in franchise history to that date.
19980 Barrysimon, a Main-belt asteroid discovered on November 22, 1989 by David H. Levy and Carolyn S. Shoemaker at Palomar, was named for amateur astronomer Barry Simon who is the founder of the Deep South Regional StarGaze, an amateur event held annually since 1983. Barry Simon is also a multi-term past president of the Pontchartrain Astronomy Society of New Orleans.
In 1983 Mayor Ernest N. "Dutch" Morial tried to accomplish what Mayor Chep Morrison had failed to do twenty-two years earlier. Morial's attempt to change the charter in order to allow him, and all future mayors, to run for an unlimited number of terms was rejected by the city's voters in the
November 22
election. Two years later he tried again, this time asking only that he be given the opportunity to run for a third term. The electorate voted down that proposal as well.
Shown here
are examples of pro and con literature from the 1983 campaign along with campaign pins and a photograph from the 1985 effort. (NOPL)
Robert Nelson "Bobby" Ussery rode in his first race as a professional jockey came at Fair Grounds on November 22, 1951, riding Reticule to victory in the Thanksgiving Handicap. He was inducted into the National Museum of Racing and Hall of Fame In 2011.
Born in New Orleans on November 22, 1901, Paul D. "Polo" Barnes was a jazz clarinetist and saxophonist. A brother of Emile Barnes. "Polo" and was a mainstay of the New Orleans jazz scene of the 1920s and 1930s. He and Lawrence Marrero formed the Original Diamond Band, later known as the Young Tuxedo Band. He performed with Kid Rena in 1922, the Maple Leaf Orchestra and Papa Celestin's Original Tuxedo Band in 1923, Chick Webb in 1927, and with King Oliver in 1927, 1931, 1934–35. Barnes toured with Jelly Roll Morton in 1928-29. In 1932-33 he led his own band and played with Chester Zardis (1935), and Kid Howard (1937–39, 1941). He played in Algiers in a Navy band from 1942–45, then returned to work with Celestin from 1946 to 1951. In 1959 and 1960 he played with Paul Barbarin. From 1962-65 jhe was a member of the Young Men from New Orleans band that played on a riverboat at Disneyland. He returned to New Orleans in 1964 and played at Preservation Hall and Dixieland Hall. He toured Europe in 1973-74, but poor health ended his career in 1977. Barnes died. April 3, 1981.
Oscar James Dunn was one of three African Americans who served as a Republican Lieutenant Governor of Louisiana during the era of Reconstruction. In 1868, Dunn became the first elected black lieutenant governor of a U.S. state. He died at his home on Canal Street on November 22, 1871.
The erection of a new custom house building was planned and on November 22, 1847 and was adopted by, R. A. Walker, secretary of the treasury. On February 22, 1849 the cornerstone was laid in the presence of Henry Clay who was visiting New Orleans at that time.
NORD Keller Center is Dedicated
November 22, 1971
The New Orleans Recreation Department Keller Center at 1814 Magnolia Street was dedicated on
November 22, 1971
. It was named in honor of Rosa Freeman Keller who had dedicated decades of her life in New Orleans to racial and gender equality.
Coca Cola heiress and racial pioneer Rosa Freeman Keller worked tirelessly throughout her long life for those less fortunate than herself, particularly New Orleans's African American residents. Though her elite social background made her perhaps an unlikely social activist, Keller helped lead the fight for the integration of public schools and transportation facilities in New Orleans. She never hesitated to use her position in powerful organizations, such as the Independent Women's Organization, the National Urban League, or the Young Women's Christian Association, to advocate for racial equality. Further, Keller encouraged women to play an active role in the political process. The Keller Family Foundation currently continues her legacy.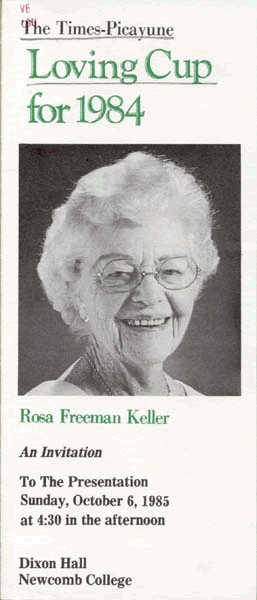 Rosa Freeman was born March 31, 1911, to Alfred Bird "A.B." Freeman and Ella West. While her mother descended from a family of southern aristocrats, Rosa's father was a salesman—a "nobody from nowhere"—until he made a fortune with his fledgling Coca Cola business. With his success, the family gained entrance into the world of the New Orleans elite. After high school, Rosa Freeman attended Sophie Newcomb College for a year and then, anxious to establish her independence, transferred to Hollins College in Virginia, only to drop out a year later. At her social debut in New Orleans, Rosa Freeman met Charles Keller II, whom she married in 1932. After a few itinerant years because of Charles's work in the armed services, the Keller family settled in New Orleans in 1944.
Already a member of the New Orleans chapter of the League of Women Voters, Keller began her foray into the world of politics working on voter registration. When her mother died in 1945, Keller was asked to serve on the local YWCA board, an integrated organization that deeply impacted her views on race relations. In 1947, seeking to alleviate the housing shortage for New Orleans's black families, Rosa and Charles Keller, along with friends and philanthropists Edith and Edgar Stern, financed the construction of Pontchartrain Park, one of the first middle-class black communities in the country.
Keller expanded her political involvement in the early 1950s when she helped organize the Independent Women's Organization, created to support the election of moderate mayoral candidate deLesseps Morrison. When Morrison asked Keller to serve on the board of the public library system, she readily accepted, becoming the first woman to serve on a citywide board. Almost immediately Keller brought controversy to her position when she set out to integrate the New Orleans public library system—a goal she eventually achieved.
Keller continued to serve the New Orleans black community in a variety of ways. She chaired the board of Flint-Goodridge Hospital, a facility that catered to the black community. In this capacity, she fought for and won access to Blue Cross coverage for the New Orleans black community, and insisted that African American medical students have access to New Orleans's medical libraries. Keller also served as president of the New Orleans Urban League, and on the boards of numerous citywide interracial organizations.
In 1953, Keller decided that it was time the League of Women Voters, an organization she loved, begin the process of admitting black members. With the help of her progressive peers, she succeeded in integrating the organization in 1955. State laws passed in the wake of the U.S. Supreme Court's decision in Brown v. Board of Education, however, forced to the league to resegregate a year later. Through Keller's persistence, the league permanently achieved integrated status in 1963.
In 1958 Keller led the fight to desegregate the New Orleans public transportation system, but she considered her efforts to integrate the city's public schools as "her war." Toward this end, Keller helped create Save Our Schools (SOS), an organization dominated by elite white women in the New Orleans community. During the 1960 New Orleans School Crisis, when the first black children attended formerly all-white schools, SOS ferried children to and from the integrated schools. They also raised monies for the black and white families who kept their children in the schools and lobbied the state legislature on behalf of integrated schools. Much to the chagrin of some family members, Keller also personally financed the legal fight to desegregate Tulane University in 1963. Through the years, Rosa Keller had no qualms about holding interracial gatherings in her Uptown home, though it was considered a serious breach of racial etiquette at the time.
Keller received numerous honors for her work on racial issues in New Orleans, including the Times-Picayune Loving Cup Award, which honors New Orleans residents who have worked unselfishly for the community without expectation of public acclaim or material reward. She also received an honorary alumnus degree from Newcomb College and an honorary doctorate from Dillard University. She died in April 15, 1998, in New Orleans. The Keller Family Foundation, established in 1949, continues to provide monies to sustain and improve the New Orleans community. The Rosa F. Keller Library & Community Center at 4300 S. Broad was named for her on October 6, 1999
Source: Frystak, Shannon. "Rosa Keller." KnowLA Encyclopedia of Louisiana. Ed. David Johnson. Louisiana Endowment for the Humanities, 31 Jan. 2011. Web. 20 Nov. 2013.
Photos from the New Orleans Public Library.