October 28
---


---
---

Charles/Carlos Matranga Dies
October 28, 1943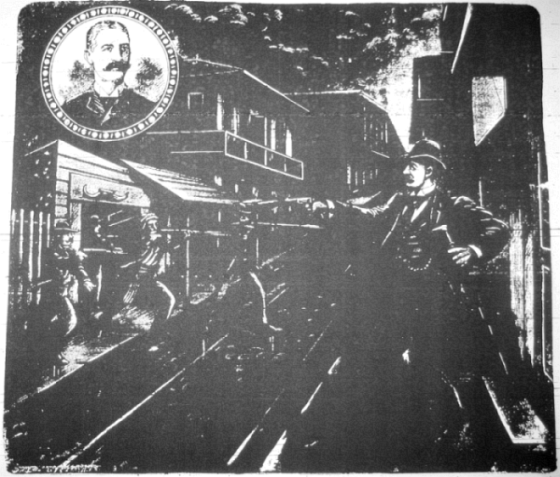 Shows location of the murder of police chief David Hennessy and artist's conception of the event.
At top left is a portrait of Hennessy. Location was at Basin & Girod Streets (this section of Basin since renamed "Loyola Avenue")
Reputed New Orleans Mafia boss Charles/Carlos Matranga died on October 28, 1943 in Los Angeles of natural causes. The Matranga crime family, established by Charles (1857-28 October 1943) and Antonio Matranga (Tony) was one of the earliest recorded American Mafia crime families, operating in New Orleans during the late 19th century until the beginning of Prohibition in 1920.
Born in Sicily, Carlo and Antonio Matranga settled in New Orleans during the 1870s where they eventually opened a saloon and brothel. Using their business as a base of operations, the Matranga brothers began establishing lucrative organized criminal activities including extortion and labor racketeering. Receiving tribute payments from Italian laborers and dockworkers, as well as from the rival Provenzano crime family (who held a near monopoly of commercial shipping from South American fruit shipments), they eventually began moving in on Provenzano fruit loading operations intimidating the Provenzanos with threats of violence.
Although the Provenzanos withdrew in favor of giving the Matrangas a cut of waterfront racketeering, by the late 1880s, the two families eventually went to war over the grocery and produce businesses held by the Provenzanos. As both sides began employing a large number of Sicilian mafiosi from their native Monreale, Sicily, the violent gang war began attracting police attention, particularly from New Orleans police chief David Hennessy who began investigating into the warring organizations.
Within months of his investigation, Hennessy was shot and killed by several unidentified attackers while walking home on the night of October 15, 1890. This was in keeping with the Mafia practice of killing the government official who got in the Mafia's way. The murder of Hennessey created a huge backlash from the city and, although Charles and several members of the Matrangas were arrested, they were eventually tried and acquitted in February 1891 with Charles Matranga and a 14-year-old member acquitted midway through the trial as well as four more who were eventually acquitted and three others released in hung juries.
The decision caused strong protests from residents, angered by the controversy surrounding the case (particularly in the face of incriminating evidence and jury tampering), and the following month a lynch mob stormed the jail hanging 11 of the 17 Matranga members still waiting to be brought to trial including Antonio Bagnetto, Bastiano Incardona, Antonio Marchese, Pietro Monastero and Manuel Politzi on March 14, 1891.
The Hennessey lynchings led to the American Mafia adopting a hard and fast rule that policemen and other law enforcement officials were not to be harmed. Matranga was able to escape from the vigilante lynchings and, upon returning to New Orleans, resumed his position as head of the New Orleans crime family eventually forcing the declining Provenzanos out of New Orleans by the end of the decade. Matranga would rule over the New Orleans underworld until shortly after Prohibition when he turned over leadership over to Sylvestro "Sam" Carollo in the early 1920s. (Wiki)
---
---

---
Rees Architects, Inc. applied for a building permit for new construction at 846 Howard Avenue (WDSU-TV) on October 28, 1994.
Mack Justin Spears was born in Wilson, Louisiana to Charlie and Mary Wheelock Spears, and attended elementary and secondary public schools in New Orleans. He held a Bachelor's degree from Dillard, a Master's degree from Xavier University, and a Doctorate in Education from Harvard University. During his career as an educator, he was a teacher, principal, visiting professor, university dean, and university professor of education. Dr. Spears was the first African American to become president of the Louisiana School Boards Association. He was also the first African American to serve on the Orleans Parish School Board. He was elected president seven times during his eighteen years on the board. Mack J. Spears died on October 28, 1988 after a lengthy illness and is buried in Lake Lawn Cemetery. (NOPL)
Photo of Japan ZONTA Club members. Asian night, October 28, 1985.
Early on October 28, 1985, Hurricane Juan reached hurricane strength, and hours later it reached a peak of 85 mph winds. Severe coastal flooding resulted in significant crop damage and loss of livestock in southern Louisiana. Thousands of houses were flooded and destroyed, mainly around Lake Pontchartrain, though property damage was seen from Texas through the Florida Panhandle, albeit much less than Louisiana. Two people drowned from the flood waters in Louisiana, and 1 person died in a boating accident of the Texas coast. There were 1,357 injuries reported by FEMA, though most were minor. Total damage from Hurricane Juan amounted to $1.5 billion (1985 USD), which made it one of the costliest hurricanes to affect the United States.
In the aftermath of Hurricane Juan, on October 28, 1985, Governor Edwin Edwards declared a state of emergency. By the following day, Governor Edwards requested that Louisiana's United States House of Representatives delegation ask President of the United StatesRonald Reagan for a disaster declaration. President Reagan responded and issued a disaster declaration on November 1, which included the parishes of Ascension, Jefferson, Lafourche, Livingston, Plaquemines, Saint Bernard, Saint Charles, Saint John the Baptist, Saint Tammany, Tangipahoa, and Terrebonne, as well as the Lower Ninth Ward of New Orleans.
Photo of the inside of the Dixie Drug Store at the corner of Erato Street and Loyola Avenue, October 28, 1943. Earlier that month, the owner of the store, druggist George Mansion, was shot during an armed robbery. He later died at Baptist Hospital. Parker Lloyd Adams was arrested for the murder. The photograph was taken by John T. Dahmen.
Jazzman Walter Payton, Jr died on October 28, 2010. Born in New Orleans on August 23, 1942, he played bass and sousaphone with the Preservation Hall Jazz Band,the French Market Jazz Hall Band and the Young Tuxedo Brass Band, and led his own group called the Snap Bean Band. His recording credits include Lee Dorsey's "Working in the Coal Mine", and Payton variously worked with Aaron Neville, Harry Connick Jr., Champion Jack Dupree and Chuck Carbo. Payton died in his hometown of New Orleans, after an illness, aged 68. He was the father of jazz trumpet player Nicholas Payton.
John William Corrington (October 28, 1932 – November 24, 1988) was an American film and television writer, novelist, poet and lawyer. He received a B.A. degree from Centenary College, in 1956 and his M.A. from Rice University in 1960, the year he took on his first teaching position in the English Department at Louisiana State University. While on leave from LSU, Corrington obtained his D.Phil. in 1965, from the University of Sussex and then moved to Loyola University New Orleans in 1966, as an Associate Professor of English, where he also served as chair of the English Department. Corrington graduated from Tulane University Law School in 1975, joined a small New Orleans personal injury law firm, Plotkin and Bradley, and spent the next three years practicing law. During this time Corrington published four books of poetry, Where We Are (1962), The Anatomy of Love (1964), Mr. Clean (1964) and Lines to the South (1965). With Miller Williams, Corrington edited Southern Writing in the Sixties: Fiction (1966) and Southern Writing in the Sixties: Poetry (1967). Corrington also published four books of short stories, The Lonesome Traveler (1968), The Actes and Monuments (1978), The Southern Reporter (1981) and All My Trials (1987) and four novels, And Wait for the Night (1964), The Upper Hand (1967), The Bombardier (1970) and Shad Sentell (1984). He won an Award in Fiction from the National Endowment for the Arts and had a story included in the O. Henry Award Stories (1976) and three in the Best American Short Stories series, (1973, 1976 and 1977). With his wife, Joyce Hooper Corrington, Corrington wrote five screenplays, Von Richthofen and Brown (1969), The Omega Man (1970), Boxcar Bertha (1971), The Arena (1972) and Battle for the Planet of the Apes (1973) and a television film, The Killer Bees (1974). Corrington gave up the practice of law in 1978 and he and his wife, Joyce Corrington, became head writers for daytime serials. The Corringtons scripted Search for Tomorrow (1978–80), Another World (1980), Texas (1980–81), General Hospital (1982; hired by Gloria Monty), Capitol (1982–83, hired by John Conboy) and One Life to Live (1984). They also wrote and produced Superior Court, a syndicated series (1986–89). Texas and Superior Court were each nominated twice for a Daytime Emmy Award. During this time, the Corringtons also published So Small a Carnival (1986), A Project Named Desire (1987), A Civil Death (1987) and The White Zone (1990). After Bill Corrington's death, his novella, "Decoration Day", was adapted as a Hallmark Hall of Fame television special (1990), which was nominated for an Emmy and won a Christopher Award and a Golden Globe award. The Collected Stories of John William Corrington was published in 1990, by the University of Missouri Press. (Wiki)
Willem Hendrik "Butch" van Breda Kolff (October 28, 1922 – August 22, 2007) coached the New Orleans Jazz from 1974 to 1977, taking over in the middle of the 1974–75 season and departing with a 14-12 record partway through the 1976–77 season. While he was coach, he pushed for New Orleans to relinquish the rights to Moses Malone in exchange for a #1 draft pick, and then traded that pick and two other #1s to the Lakers for Gail Goodrich. This turned out to be one of the worst decisions in NBA history, not only because Malone became a superstar but because Goodrich suffered an Achilles' tendon injury that would end his career in 1978. The Jazz's #1 pick in 1979 (the first overall choice) was used by the Lakers to select Magic Johnson. While in New Orleans, he also coached the New Orleans Pride, a women's professional squad. He left the professional ranks for good in 1976, taking with him a career NBA coaching record of 266-253 and a .513 winning percentage. After leaving the Jazz, he remained in New Orleans and returned to the college coaching ranks with the University of New Orleans, where he spent two years. In 1985, Lafayette, the team he had coached 30 years earlier, asked him to return. Van Breda Kolff stayed four seasons at Lafayette before leaving to coach Hofstra once again. His second stint with the Flying Dutchmen lasted five seasons and ended after the 1993–94 season. In 28 years as a college coach, he compiled a 482-272 record.(According to http://en.wikipedia.org/wiki/Butch_van_Breda_Kolff)

Algernon Sidney Badger (October 28, 1839 – May 9, 1905) was a colonel in the Union Army who became an important Republican carpetbagger government official in New Orleans, during and after Reconstruction. After the Civil War, Badger became a clerk in Fourth District Recorders Court in New Orleans. About 1868, he joined the New Orleans Metropolitan Police and was elevated to the superintendency in 1870. On September 14, 1874, Badger was seriously wounded at the Battle of Liberty Place, an insurrection by the Crescent City White League. Badger left the police force in 1875 to serve as state tax collector in New Orleans. In 1878, during the administration of Republican President Rutherford B. Hayes of Ohio, Badger was named postmaster at New Orleans. After a year, he took another patronage position, special deputy in the New Orleans Customs House, a position that he filled until 1885, when the Democratic administration of Grover Cleveland of New York replaced him. In 1889, with the return of a Republican administration under Benjamin Harrison of Indiana, Badger was named special deputy of the customs service, and then in 1890 the appraiser of merchandise at New Orleans, a post which again ended in 1893 with the return of Cleveland to the presidency. Badger returned to the appraiser position about 1900, with the Republican William McKinley administration, and held that final position until his death in 1905 at the age of sixty-five. Badger on more than one occasion led the New Orleans Mardi Gras procession of the Krewe of Rex in his capacity as police superintendent. In one appearance, some in the crowd lampooned him as a "sleuthing bloodhound with a large protruding nose." Badger was a member and officer of the Grand Army of the Republic veterans organization. He was a grand commander of Knights Templar and a member of the Masonic lodge. He was Episcopalian. Badger died in New Orleans and is interred there at Metairie Cemetery. (From http://en.wikipedia.org/wiki/Algernon_Sidney_Badger)
Dixieland jazz pianist, clarinetist, and drummer Ollie "Dink" Johnson (October 28, 1892 – November 29, 1954) was a was born in Biloxi, the younger brother of the bass player/bandleader William Manuel Johnson. He worked around Mississippi and New Orleans before moving out west in the early 1910s. He played in Nevada and California, often with his brother Bill. Most prominently he played with the Original Creole Orchestra (mostly on drums). He also played clarinet in Kid Ory's band. For many years he was based in Los Angeles where he led a band in the 1920s and later ran a bar called Dink's Place at 4429 Avalon Blvd. He was visited there in March 1946 by Bill Russell, who organised most of his piano and one man band recordings. Russell wrote in his diary that Dink had a room at the back for selling bootleg whisky, and kept a gun in a saucepan "because the police would never look there". He told Russell that he had "always lived outside the law." He made his first recordings in 1922 on clarinet with Kid Ory's Band. He made more recordings in the 1940s and 1950s, mostly on piano, although also doing some one-man band recordings, playing all three of his instruments through over dubbing. Johnson's piano style was influenced by Jelly Roll Morton (his brother-in-law); his clarinet playing by Larry Shields. Johnson also wrote tunes, including "The Krooked Blues" (recorded by King Oliver) and "So Different Blues" . (From wikipedia)
BLACKMAR, Armand Edward, music publisher, composer, merchant. Born Harmon Edward Blackmar, Bennington, Vt., May 30, 1826; son of Reuben Harmon Blackmar and Amanda Cushman. Removed to Cleveland, Ohio, 1836. Probably received early musical instruction in singing schools and church choirs; graduated Western Reserve College, Cleveland, 1845. Taught music at Huntsville, Ala., and Jackson, Miss.; professor of music, Centenary College, Jackson, La., 1852-1855. About this time changed given name to Armand. Returned to Jackson, Miss., ca. 1856, to open piano and music store; established second store, Vicksburg, Miss., and took into partnership brother, Henry Clay Blackmar (b. 1831), 1858; moved principal business to New Orleans, 1860, and began publishing music as well as selling sheet music and musical merchandise. H. C. Blackmar ran additional stores, Augusta, Ga., 1862-1864, and New York, 1868. Subject operated music store in San Francisco, 1877-1880; resumed music sales and publishing in New Orleans until death. Composed music, frequently using pseudonyms including Armand, A. Pindar, Ye Comic, Ducie Diamonds, A. E. A. Muse, A. Noir, A. Schwartz, S. Low Coach. Author of Harmony Simplified and Made Clear (1888). Died in New Orleans, October 28, 1888; interred Greenwood Cemetery. F.M.J. Source: Paul Richard Powell, "A Study of A. E. Blackmar and Brother, Music Publishers, of New Orleans, Louisiana, and Augusta, Georgia: With a Check List of Imprints in Louisiana Collections" (M.L.S. thesis, Louisiana State University). From http://lahistory.org/site19.php
On October 28, 1775, in granting a contract to Pedro Morris and Raymond Escote to operate a tavern, the city govenment stipulated that they pay 140 Pesos annually to the Charity Hospital.
Born in New Orleans on October 28, 1785, Bernard Xavier Philippe de Marigny de Mandeville (also known as Bernard de Marigny), was a French-Creole American nobleman, playboy, politician, and President of the Louisiana Senate between 1822-1823. He died on February 3, 1868 in New Orleans, he is buried in St. Louis Cemetery No. 1. More information.
On October 28, rioting in New Orleans by Germans, Acadians, and French Creoles in their armed revolt against the Spanish governor Ulloa in the Louisiana Rebellion of 1768. Ulloa left the city on November 1.
Harrah's Casino is Completed at the Foot of Canal Street
October 28, 1999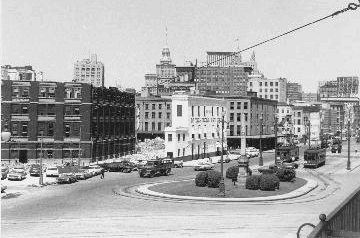 During the "revitalization" efforts of 1950s, the intersection of Canal Street at the river was considered a prime site. A decade later, on November 12, 1964, C.H. Leavell & Co. submitted plans for "Rivergate" at number 4 Canal Street.
The Municipal Auditorium, dedicated on May 30, 1930, had become obsolete for convention-exhibition purposes. The modern center for such activities was to face the Mississippi River, relate to the recently completed International Trade Mart Tower, and tie these two elements together by means of a spacious pedestrian plaza. The designated site, six city blocks, was bounded by Canal, Poydras, South Peters Street, and what is now Convention Center Boulevard. The 1964 photo on the right shows the streetcar turn at the foot of Canal Street, the Liberty Monument, and the three and four-story buildings dating from mid nineteenth-century which would be demolished to make way for the Rivergate. Left of center is a partially demolished warehouse dating from c. 1905. (Photo by Rolland Golden; printed by Robert S. Brantley, Historic New Orleans Collection.)
The Rivergate was originally called the International Exhibition Facility. It was to be a key element with International House, the International Trade Mart, and the hotels in downtown New Orleans as the necessary units required to qualify the City as a World Trade Center. The concept of the World Trade Center was conceived at the International House by Dr. Paul Fabry and was the first such institution in what has now become a great worldwide organization.
The proposed construction of an elevated expressway along the riverfront threatened to thwart the site plan of the Rivergate and would have separated the building from the river and from the International Trade Mart office building. The decision was made to funnel this section of the expressway into an underground tunnel at an estimated additional cost of $1.5 million. Meanwhile, the plans for the Rivergate were being seriously delayed, awaiting a final decision regarding the actual construction of the expressway. At this time the idea for the great covered porch materialized. The sheltered driveway not only made good sense as a way to deal with the possibility of tropical downpours during Rivergate events, but it also left open the option of constructing the tunnel at a later date while allowing construction of the building to proceed on schedule. In time the tunnel, 6 lanes wide and 30 feet high, was authorized, designed into the plan, and constructed. The Riverfront Expressway, however, was eventually defeated, and the tunnel remained, unused, during the life of the Rivergate.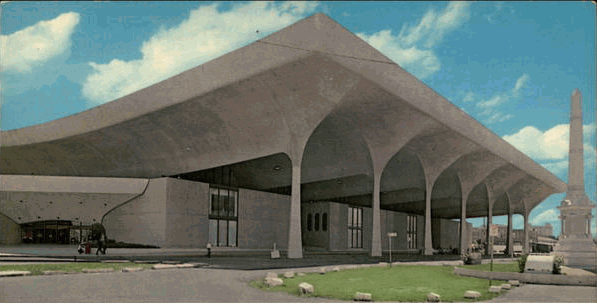 The Rivergate was designed by the local firm Curtis and Davis (Nathaniel Cortlandt Curtis Jr. (1917–1997) and Arthur Quentin Davis (1920–2011) who had also designed the Thomy Lafon School (1954) and the Louisiana State Penitentiary at Angola (1956) and would later design the Superdome. The undulating forms of the Rivergate's thin barrel vaults were not whimsical but are the precise shape necessary to manage the unusually long spans required for the roof over the column free space below. The cantilevers all around contribute to the stability of the roof structure. The selection of six temple like bays utilized to the limit the spans between columns; the columns themselves are slender and graceful, suited to the task of support. The Rivergate, while it stood in New Orleans, was looked upon by many as a significant example of outstanding national and international contemporary architecture and was compared to the recognized masterpieces of its period. The most distinguishing feature of the Rivergate was the roof. The 95,500-sq. foot South Hall was covered by a swooping and sweeping dual curved roof. This reinforced concrete barrel-arched roof design was symbolic of the rolling Mississippi River which flows about 500 feet from the building. Engineering News Record referred to these "humpbacked" 1-1/2 catenary curve barrel arches 453 ft. long as having the profile of a whale. The Rivergate roof was perhaps the longest thin shell concrete roof span that had been constructed at that time. The 34,500-sq. foot North Hall, later called Penn Hall, in honor of its distinguished and successful manager, Herman Penn, was spanned by steel trusses 6' deep and covered with a flat roof.
It was under construction from 1964 to 1968, at a cost of $25 million. By 1994, this building was estimated to be worth $300 million. The Rivergate had pedestrian entrances on Canal and Poydras Streets and Convention Center Boulevard. The South Peters Street elevation was dedicated to entrance and exit openings for the two-level subsurface 800-automobile parking garage, a long loading dock with two access doors 20' x 20' to the first floor, and freight elevators.
The caption for the postcard (above) reads: The RIVERGATE, which covers six city squares, located where famed Canal Street meets the Mississippi River, is one of the most uniquely constructed convention-exhibition halls in the country. Boasting 130,000 square feet of clear, unobstructed space, with no posts or pillars; it is capable of seating more than 16,000 persons for an assembly or meeting with 733 - 10' x 10' exhibit spaces, or a combination of both. This 13 1/2 million dollar ($13,500,000) structure will be one of the nation's newest and finest facilities".
Ground breaking ceremonies on December 4, 1964 were followed by the driving of piles and a deep excavation to provide space for the parking garage, mechanical and electrical equipment, stairs and escalators to move people from subsurface levels up to the first floor, and the tunnel 60' x 750' ($1.3 million).
Although the Rivergate was conceived and designed as a convention-exhibition facility, it was also used as the venue for Mardi Gras balls, high school graduations, and the lying in state of New Orleans native Mahalia Jackson in 1972). But like the Municipal Auditorium, the Rivergate became obsolete in its usefulness as a convention and exhibition center. The Ernest N. Morial Convention Center was being planned in 1978. As of 2006, it has about 1.1 million square feet of exhibit space, covering almost 11 blocks, and over 3 million square feet of total space. It is the 5th-largest facility of its kind in the United States and would dwarf the old Rivergate.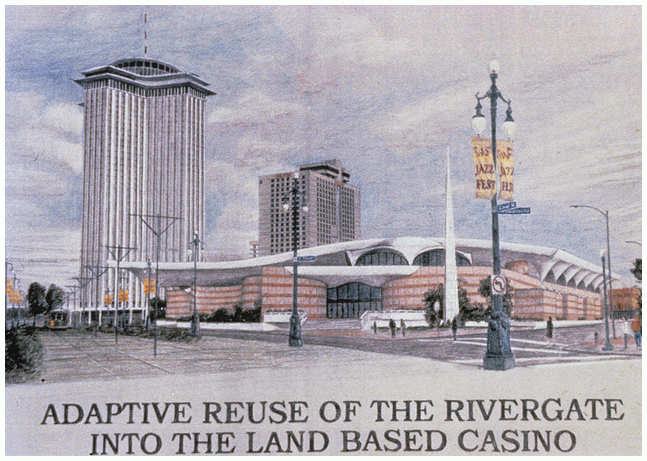 In June 1992, Louisiana House Bill 2010 (Act 384 of the 1992 Regular Session) authorized a land-based casino in New Orleans. The legislation specifically defined the location of the land-based casino -- the Rivergate site at the foot of Canal Street. The law did not require the Rivergate to be torn down, and it did not require a new casino to be built.
The City of New Orleans then altered the zoning ordinances to allow construction of a casino at the Rivergate site. The city issued a call for casino proposals due on August 14, 1992 which required a $50,000 payment for the privilege of submitting a proposal, half of which was refundable to unsuccessful bidders.
On November 5, 1992, Mayor Sidney Barthelemy and the City Council picked Christopher Hemmeter-Caesar's Palace (known as the Grand Palais group) to lease the city-owned Rivergate site for development of a casino. The lease was signed on April 27, 1993.
Subsequently, the Casino Board awarded the casino operator's license to Harrah's Jazz, a partnership of Harrah's and the Jazzville group (all local investors).
On April 15, 1993, Mayor Barthelemy and the City Council finalized the selection of Hemmeter as the "developer" -- he later teamed with Caesar's World of Las Vegas to operate the casino in a renovated Rivergate but soon the Hemmeter-Caesar's group proposed its demolishion to make way for a new building called Grand Palais. This plan would include a twenty-two-inch deep pond, called Celebration Lake which would run across the foot of Canal Street, ending at One Canal Place. And there would be a sound and laser-light show and much more including a recreation of Bernard the colonnaded arcades at the Palace of Fine Arts in San Francisco. In the end, the only elements of the Grand Palais scheme that were constructed were the "Casino Support Facility" -- a ten-leve, 2 1/2 block long parking garage) which replaced a group of nineteenth-century buildings at the corner of Poydras and South Peters Streets and the tunnel linking it to the casino. But everything else fell through.
The official "wall-breaking" ceremony took place on Friday, January 13, 1995. On this occasion, a back hoe equipped with a claw toothed bucket and a "Harrah's" banner draped on its back climbed up the steps at the Canal-South Peters Streets entrance and began wrecking the underside of the cement plaster entrance canopy.
Much of the concrete debris was hauled to West End at Lake Pontchartrain to be used as fill for enlargement of a park off Breakwater Drive. Although only reinforced concrete was supposed to be dumped there, other debris was included. The nature of the debris stirred environmentalists and their protests stopped the dumping at the West End site.
On October 28, 1999, Harrah's Casino was completed at the foot of Canal Street, three years behind schedule.
From THE RIVERGATE (1968 - 1995) Architecture And Politics -- No Strangers In Pair-A-Dice
Happy Birthday Harold Battiste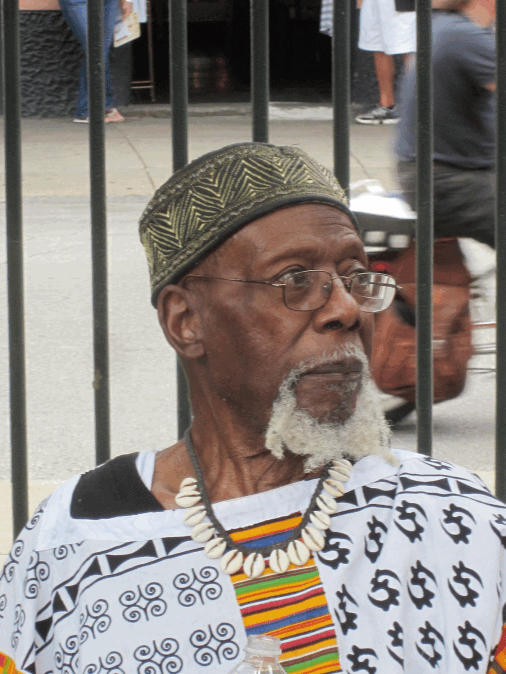 Harold Battiste was born in New Orleans on October 28, 1931
. He attended Dillard University, earning a B.S. in music in 1953. His first success as a studio arranger was with Sam Cooke's
"You Send Me"
in 1957. In 1961, he initiated the first African American musician-owned record label, All For One, better known as AFO Records. Within a few months, they produced a million-selling hit single, Barbara George's
I Know (You Don't Love Me No More)
His other professional contributions as a producer and arranger for studio, film, stage and television include Joe Jones' "You Talk Too Much", Lee Dorsey's "Ya Ya", and Sonny and Cher's "I Got You Babe". Battiste introduced audiences to New Orleans artist Mac Rebennack as Dr. John, and produced his earliest albums. He also spent thirty years in Los Angeles, including fifteen years with Sonny and Cher, earning six gold records, and acting as musical director on their TV series. Harold also played piano for Tom Waits's songs Whistlin' Past The Graveyard and A Sweet Little Bullet From A Pretty Blue Gun on Blue Valentine (1978).
Battiste has also been a lecturer at several colleges, and in 1989, he joined Ellis Marsalis on the Jazz Studies faculty of the University of New Orleans. He has now established the AFO Foundation, a non-profit service and educational organization dedicated to recognizing, perpetuating and documenting the heritage of New Orleans music and the people who make the music.
Battiste remains active in the community and has served as a board member of the Congo Square Cultural Collective, the Louisiana State Music Commission, New Orleans Jazz and Heritage Foundation, Louisiana Jazz Federation, the African Cultural Endowment and numerous other cultural organizations. He has received the Beau Arts Award, the Mayor's Arts Award, the Governor's Arts Lifetime Achievement Award and many others. In 1998, the City of New Orleans proclaimed his birthday as Harold Battiste Day. In 2010 the Historic New Orleans Collection published his autobiography Unfinished Blues.
Photo of Harold Battiste at Satchmo SummerFest, August 4, 2012, by Infrogmation of New Orleans
Text from http://en.wikipedia.org/wiki/Harold_Battiste