---

The Seawall at Pontchartrain Beach
May 5, 1941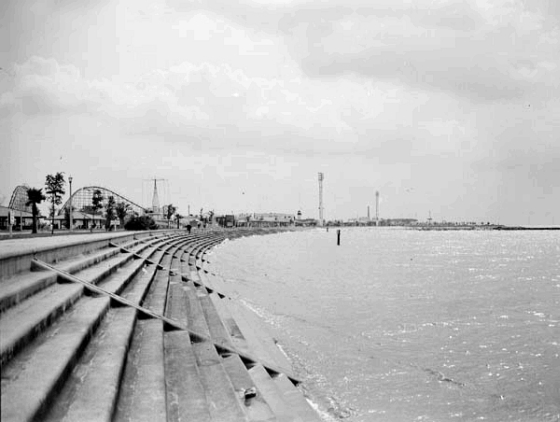 The Orleans Levee Board's seawall spelled doom for the old town of Milneburg [which sat back on the original shoreline of Lake Pontchartrain along what is now Robert E. Lee Boulevard] but made the lakefront as we know it today possible. Pontchartrain Beach [Amusement Park] is in the background [It was built on man-made land -- sand pumped from the lake bottom]. The photograph dates from May 5, 1941. The old Pontchartrain Beach site, also formerly known as Milneburg, is now the location of the University of New Orleans Technology Park. Text and photo from the New Orleans Public Library.
---

You Can Support this Site by Clicking on & Shopping from this Amazon Link -- and it won't cost you a penny more: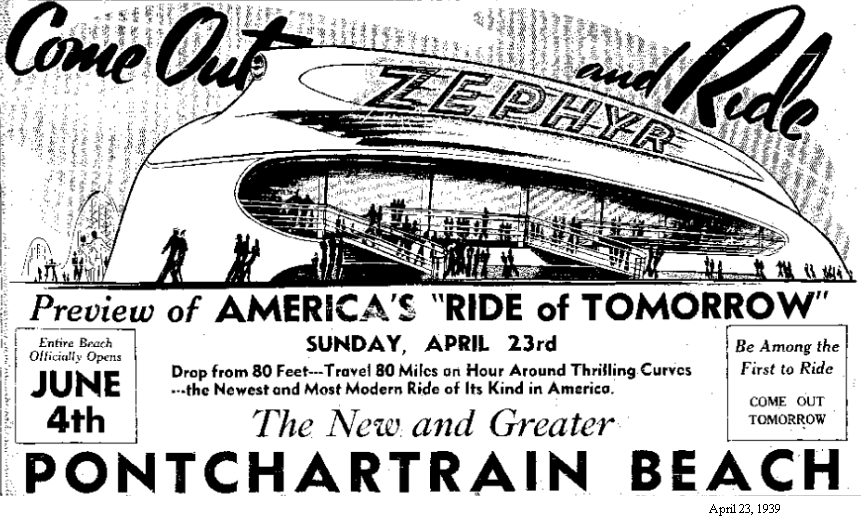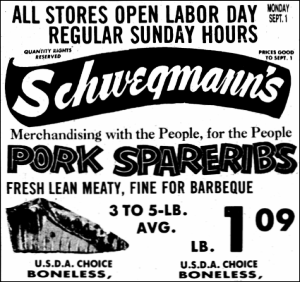 Sidney John Barthelemy (born March 17, 1942) is a former American political figure. The second African American to hold the New Orleans Mayoral chair (May 5, 1986 -- May 2, 1994), he was a member of the Louisiana State Senate from 1974 to 1978 and a member at-large of the New Orleans City Council from 1978 to 1986. He served as Democratic mayor of New Orleans from 1986 to 1994. Barthelemy was born on March 17, 1942 in New Orleans, LA and was the third of six children in a Creole family. He grew up in the Seventh Ward, and attended Corpus Christi Elementary School and St. Augustine High School (New Orleans). From 1960 to 1963, in preparation for entering the priesthood, he studied at Epiphany Apostolic Junior College in Newburgh, New York, and then entered St. Joseph Seminary in Washington, D.C., where he received a Bachelor of Arts degree in philosophy and pursued graduate study in Theology. While in seminary, he worked summers as a laborer in a stevedoring company. In 1967, having made the decision not to enter the priesthood, Barthelemy returned to New Orleans and became an administrative assistant in the office of Total Community Action. In 1968, Barthelemy married Michaele Thibideau.[ From 1969 to 1972 he was director of the Parent Child Center of Family Health, Inc. During these years he also completed a Master of Social Work degree at Tulane University in New Orleans, worked part-time for the Urban League of Greater New Orleans and assisted with various political campaigns, joining COUP, a political organization based in the 7th Ward of New Orleans. From 1972 to 1974 Barthelemy was Director of the Department of Welfare under Mayor Moon Landrieu. Backed by COUP, Barthelemy was elected in 1974 to one term in the Louisiana State Senate from District 4; he was the first African-American to serve in that body since Reconstruction. While he served in the Legislature, he also joined Xavier University as assistant director of the Urbinvolve Program and as an instructor in the Department of Sociology and became an adjunct faculty member in the Applied Health Sciences Department, Maternal and Child Health Section, of Tulane University. In 1978 Barthelemy was elected to an at-large seat on the New Orleans City Council, a position he held for two terms. While in the council, Barthelemy become known for his longstanding rivalry with Mayor Ernest "Dutch" Morial. In 1979, Barthelemy was elected to be in state Senate, beating out a sixteen year, white incumbent He defeated Bill Jefferson in the 1986 mayoral election to succeed Morial. On May 5, 1986, Barthelemy began his first term as mayor of New Orleans. (NOPL)
Edmond "Doc" Souchon has been credited with the historical preservation of jazz during his lifetime. To accomplish that he featured great local musicians and their music on a WWL radio show, contributed to Life, Newsweek, and Time magazines, lectured and appeared on national radio and television programs. He had become so well known for his avocation as a local jazz enthusiast that On May 5, 1961 he appeared on the popular "This is Your Life!" television show hosted by Ralph Edwards.
Photo of Mayor Morrison and the City Council in Duncan Plaza on inauguration day
,
May 5, 1958
. Includes Glenn Clasen, Paul V. Burke, Victor H. Schiro, Mayor Morrison, James E. Fitzmorris, Jr., Fred Cassibry, Henry B. Curtis, and Theodore Hickey.
Photo of the City Council Inauguration
,
May 5, 1958
. Includes Theodore M. Hickey, Fred J. Cassibry, James E. Fitzmorris, Jr., Paul V. Burke, Henry B. Curtis, Victor H. Schiro, and Glenn P. Clasen. and Louisiana Supreme Court Associate Justice E . Howard McCaleb, Jr.
In August 1929, Acting Mayor T. Semmes Walmsley and the Commission Council were attacked in the council chamber by an incensed mob, because the council chose to take under advisement a petition for immediate appeal of the "jitney" ordinance during the street car strike rather than submit to the demands for immediate action. As the results of that attack of organized government, Acting Mayor Walmsley announced his candidacy for mayor predicated on law and order. Walmsley was nominated for Mayor of New Orleans, February 4, 1930; carried fourteen of the seventeen wards, defeating Francis Williams by a margin of 8628 votes; and was He was inaugurated on May 5, 1930. He was re-elected to the office May 1934. . This present term would have expired in 1938. On June 30, 1936 after eleven years of service in City Hall, Mayor Walmsley resigned from office in a ceremony none the less dramatic for all that its details were prearranged. His resignation was in accordance with his promise that he would relinquish the office of mayor when and if legislation restoring home rule to the City of New Orleans was enacted and a sound program for the city's finances was promised. He expressed the opinion that these conditions had been "satisfactorily met." Finance Commissioner A. Miles Pratt served as Acting Mayor for about two weeks and then retired to become Collector of Customs for the Port of New Orleans. He was succeeded as Acting Mayor by Mr. Jesse S. Cave, who was slated to replace Mr. Pratt on the Commission Council, also by Commissioner Fred. A. Earhardt. In fact, on July 15, 1936 New Orleans had the unique distinction of having been served by three mayors on one day. Robert S. Maestri, Commissioner of Conservation, was already endorsed by the Old Regular organization and the Louisiana Democratic Association, as a candidate for mayor. A special Democratic primary was called by the Orleans Parish Democratic Committee on July 25th, and Robert S. Maestri was elected mayor without opposition for a term ending 1942.(NOPL)
The Inner Harbor-Navigation Canal, commonly known to New Orleanians as the Industrial Canal, was formally opened on,
May 5, 1923
.
See program from the event.
Harmony Park at Harmony and Constance streets opened on May 5, 1915.
Samuel Miller Quincy 1832–1887) was the 28th mayor of New Orleans (May 5, 1865 – June 8, 1865). He was also a Harvard graduate (1852), lawyer and legal historian, and Union soldier in the American Civil War, during which he was wounded, captured, imprisoned, and exchanged. On February 21, 1866,PresidentAndrew Johnson nominated Quincy for the award of the honorary grade of brevetbrigadier general, United States Volunteers, to rank from March 13, 1865, for gallant and meritorious services during the war, The U.S. Senate confirmed the award on May 18, 1866.[1] He was the son of Josiah Quincy, Jr., former mayor of Boston, and the younger brother of Josiah Phillips Quincy.