---

Dr. Mary Stults Sherman is Murdered
July 21, 1964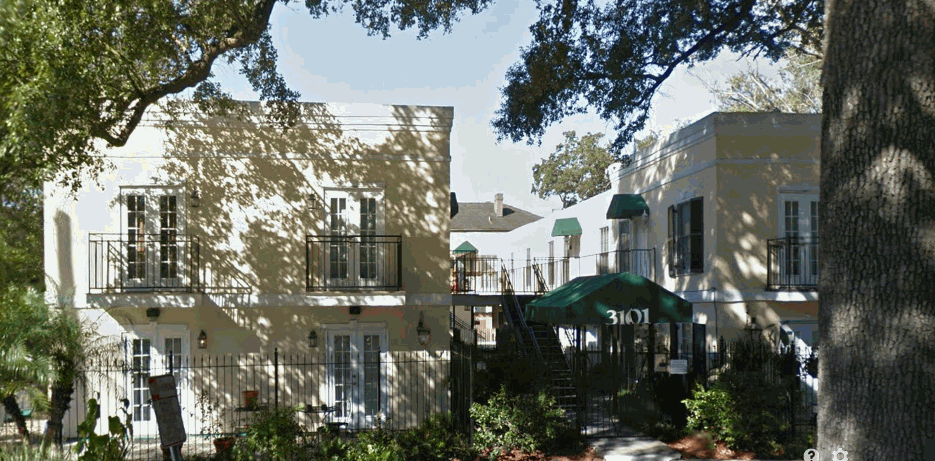 Orthopedic surgeon and cancer researcher Dr. Mary Stults Sherman was murdered in New Orleans on July 21, 1964 at her home in this apartment house at 3101 St. Charles Avenue.
Born in Evanston, Illinois on April 21, 1913, she she earned a medical degree from the University of Chicago in 1941 and interned at Bob Roberts Hospital at the University of Chicago. In 1947, she was appointed assistant professor of orthopedic surgery at Billings Hospital, also affiliated with the university. In 1952, she relocated to New Orleans to become director of the bone pathology laboratory at The Ochsner Clinic Medical Foundation, a creation of surgeon Alton Ochsner. TTe next year she became an associate professor at New Orleans' Tulane Medical School. A cancer researcher, she was also a senior visiting surgeon in orthopedics at the Charity Hospital in New Orleans
On July 21, 1964, Sherman was found dead in her apartment on St. Charles Avenue. She had been stabbed and burned. The police report classified the death as a murder. An autopsy was performed by Monroe S. Samuels, M.D., on July 21, 1964. The autopsy report classified Sherman's death as a homicide. Dr. Samuels determined that Sherman died of a stab wound in her heart. Her murder is listed as unsolved.
Her murder has been included in several conspiracy theories:
According to Joan Mellen, author of A Farewell to Justice: Jim Garrison, JFK's Assassination, and the Case That Should Have Changed History, Sherman may have been involved in secret cancer-related research on behalf of US intelligence. Mellen contends that Alton Ochsner, at whose clinic she worked for a time, was linked to the Central Intelligence Agency and a contributor to the anti-communist Information Council of the Americas (INCA). Mellen wrote that Sherman also made financial contributions and provided medical care to exile Cubans training to overthrow Fidel Castro, and was a close friend of David Ferrie's. Mellen alleges that the police investigation was shut down after a month "by a higher authority; several months later, one of the investigating detectives concluded "they didn't want this thing solved". Mellen argues that the evidence suggests Sherman died in an accident involving a particle accelerator used in secret night-time cancer-related research on behalf of US intelligence, with Sherman being moved to her apartment and stabbed to cover up the incident. Mellen argues that Sherman's extraordinary burn injuries must have been produced by such highly unusual means, as an apartment fire or even a crematorium could not have approximated them.
Edward T. Haslam, who wrote Mary, Ferrie & the Monkey Virus: The Story of an Underground Medical Laboratory and Dr. Mary's Monkey: How the Unsolved Murder of a Doctor, a Secret Laboratory in New Orleans and Cancer-Causing Monkey Viruses Are Linked to Lee Harvey ... Assassination and Emerging Global Epidemics claimed that Sherman was murdered because she knew too much about the assassination of President John F. Kennedy
Jim Garrison questioned the manner of Sherman's death, claiming that the autopsy report said her right arm and rib cage had been burned away, whilst the hair on her head remained unburned. According to Garrison, the body had been stabbed in the heart, liver, arm, leg, and stomach, and the wound to the heart hemorrhaged but the wound to the liver did not, indicating that she was alive at the time of the heart wound but already dead by the time the wound to the liver was inflicted. Garrison also claimed that the massive burns inflicted upon her could not have occurred in her apartment and the details of her missing arm were not released to the public. (WIKI)
Other books related to Mary Stults Sherman include JFK: The Dead Witnesses by Craig Roberts, Who's Who In The JFK Assassination: An A to Z Encyclopedia by Michael Benson, Getting Away With Murder: 15 Chilling Cold Cases That Will Make You Think Twice About Going Outside by William Webb, and Bloody Ivy: 13 Unsolved Campus Murders by Chris Bobonich, among many others.
---



---
Athlete Edward J. Price was born in New Orleans on September 2, 1925. He played college football at Tulane and was drafted in the second round of the 1950 as running back for the New York Giants. Price led the NFL in rushing in 1951. He was inducted into the College Football Hall of Fame in 1982. Price died at his home in New Orleans of a heart attack at the age of 53 on July 21, 1979.
The Green Bridge (the unofficial local name of the Paris Road Bridge) carrying Louisiana Highway 47 across the Mississippi River Gulf Outlet between St. Bernard Parish and New Orleans opened on July 21, 1967. At a cost of $12,250,000, it replaced the Paris Road pontoon bridge. The name "the Green Bridge" came from it originally being painted green. About 1980 it was repainted brown, and more recently grey, but locals continued referring to it as "the green bridge". (Wiki)
New Orleans attorney Dean Andrews Jr. testified to the Warren Commission on July 21, 1964 that he received a call from "Clay Bertrand," the day after the assassination of Kennedy, asking him to fly to Dallas to represent the suspected assassin, Lee Harvey Oswald. The FBI had reported two weeks after the assassination that Andrews, who had been hospitalized with pneumonia, said he was under heavy sedation and had concluded that the call had been a "figment of his imagination". Nearly three years later on March 2, 1967, the New Orleans district attorney Jim Garrison asserted that "Clay Bertrand" was actually New Orleans businessman Clay Shaw who had conspired with Lee Harvey Oswald and David Ferrie to kill Kennedy.[3] Shaw, who had been arrested and booked with conspiracy to commit murder, denied that he had ever used the name. (Wiki)
Actor Paul Burke was born in New Orleans on July 21, 1926. He is best known for his lead roles in two 1960s ABC television series, Naked City and Twelve O'Clock High. He was twice nominated for an Emmy Award for his portrayal of New York Police Department detective Adam Flint in Naked City. The son of Santa Maria Palermo and Martin Joseph "Marty" Burke, a boxer who fought Gene Tunney and later owned a restaurant and a nightclub known as "Marty Burke's" in the French Quarter. In 1989, Burke and New Orleans District Attorney Harry Connick, Sr. were indicted (and acquitted) on racketeering charges for aiding and abetting a gambling operation by returning gambling records to an arrested gambler. Burke died on September 13, 2009. (Wiki)
On Thursday, July 21, 1960, Fats Domino performed an 8 P.M. show at Lincoln Beach.
Jazzman Omer Victor Simeon was born in New Orleans on July 21, 1902. He also played soprano, alto, and baritone saxophone and bass clarinet.
Writer Frances Parkinson Keyes was born in Charlottesville, Virginia on July 21, 1885. In the 1950s, she purchased the historic Beauregard House in the French Quarter and became a fixture of New Orleans life. The house was the childhood home of chess master Paul Morphy, whose life is the subject of Keyes' book The Chess Players. The circumstances of the house's construction and early habitation are told in that book. Today the house is a museum. Many of Keyes' books are set in southern Louisiana and she eloquently described societal life and conventions in her historical novels. Keyes died on July 3, 1970 at the age of 84, in New Orleans. (Wiki)
The Southern Yacht Club's organizational meeting was held on July 21, 1849 at the Pass Christian Hotel, which became its headquarters until 1857 when the club relocated to New Orleans and held its regattas on Lake Pontchartrain. (Wiki)