---

Riverfront Expressway Plan Abandoned
August 22, 1969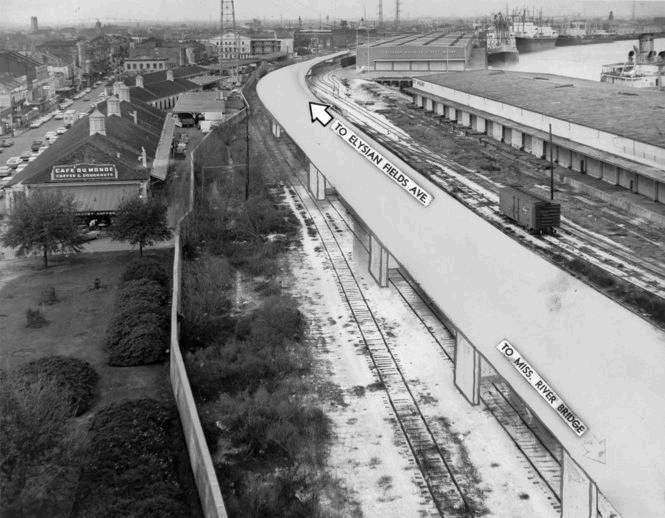 The Times-Picayune graphic of the proposed Riverfront Expressway, Feb. 15, 1965.
The Louisiana Highway Department (predecessor to the Louisiana Department of Transportation and Development) hired Robert Moses as a consultant in 1946 to examine New Orleans' traffic and propose solutions. His proposals included a 40-foot high, 108-foot wide freeway running south 3.5 miles from I-10 exit 237 near Elysian Fields Ave, following Elysian Fields at ground level to the riverfront, and continuing southwest, elevated to the US 90 Mississippi Bridge approach. There it would turn southwest and run to a point near Lafayette Street, where ramps would connect to the Greater New Orleans Bridge (U.S. Highway 90 Business). An extension, never part of the Interstate Highway System, was to continue west to meet the Earhart Expressway (Louisiana Highway 3139).It was not added to the Interstate Highway System as an urban route in the 1950s due to a lack of funding, but by 1961 it was being considered for addition. One proposal to gain the mileage was to shift Interstate 10 to the Riverfront route, but eventually, in 1964, the Interstate 420 bypass of Monroe was removed from the Interstate System and the mileage transferred to the Riverfront Expressway project. It was officially added to the Interstate Highway System on October 13, 1964, as Interstate 310. From 1964 to 1969, it remained designated as Interstate 310.
Known as the Vieux Carré Riverfront Expressway, the plan was ill-received by New Orleanians who fought to prevent its construction through the French Quarter. The voice of the people was heard and the elevated expressway was never built. The freeway was removed from the Interstate System on August 22, 1969. Its mileage was used in part for a new southern bypass of New Orleans—Interstate 410—which was itself never completed However, one component of the original plan, a six-lane tunnel, 690 feet long by 98 feet wide, under the Rivergate Convention Center (now Harrah's New Orleans Casino) was built and is presently used for valet parking.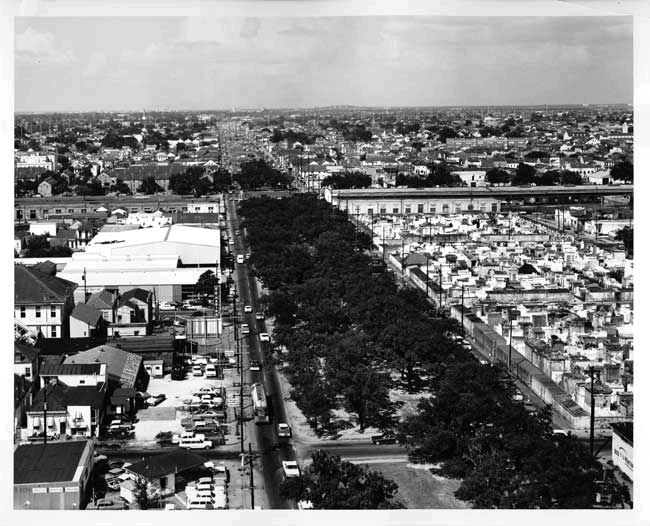 The Oaks on North Claiborne Avenue, August 29, 1968 (Photograph by Joseph C. Davi from the New Orleans Public Library)
While the French Quarter was spared from the intrusion of the interstate highway, Treme was not. The width of Claiborne Avenue provided the second most convenient route for its construction. The opposition of the largely African-American residents of Treme did not overcome the alternate route of an elevated expressway there. The lush oak trees (pictured here in August 1966 were destroyed to make way for the highway and the neighborhood was changed forever. (See also October 12).
---



---
Willem Hendrik "Butch" van Breda Kolff (October 28, 1922 – August 22, 2007) coached the New Orleans Jazz from 1974 to 1977, taking over in the middle of the 1974–75 season and departing with a 14-12 record partway through the 1976–77 season. While he was coach, he pushed for New Orleans to relinquish the rights to Moses Malone in exchange for a #1 draft pick, and then traded that pick and two other #1s to the Lakers for Gail Goodrich. This turned out to be one of the worst decisions in NBA history, not only because Malone became a superstar but because Goodrich suffered an Achilles' tendon injury that would end his career in 1978. The Jazz's #1 pick in 1979 (the first overall choice) was used by the Lakers to select Magic Johnson. While in New Orleans, he also coached the New Orleans Pride, a women's professional squad. He left the professional ranks for good in 1976, taking with him a career NBA coaching record of 266-253 and a .513 winning percentage. After leaving the Jazz, he remained in New Orleans and returned to the college coaching ranks with the University of New Orleans, where he spent two years. In 1985, Lafayette, the team he had coached 30 years earlier, asked him to return. Van Breda Kolff stayed four seasons at Lafayette before leaving to coach Hofstra once again. His second stint with the Flying Dutchmen lasted five seasons and ended after the 1993–94 season. In 28 years as a college coach, he compiled a 482-272 record.(According to http://en.wikipedia.org/wiki/Butch_van_Breda_Kolff)

In 1983, Bridgette Hirt, daughter and manager of trumpeter Al Hirt, announced that he planned to perform for six weeks per year at a Memphis nightclub which would be named for him. Ms. Hirt added that he would also perfom for six weeks per year in St. Louis, in Las Vegas, and in Atlantic City. An August 22, 1983 Times-Picayune article noted "when he will play in New Orleans is uncertain".
On August 22, 1973, National Football League Commissioner Pete Rozelle inspected the Superdome while under construction (roof girders were in place but the open sky could be viewed through them) with Mayor Moon Landreau and New Orleans Saint's owner John Mecom Jr. Rozelle was in town to receive the Americanism Gold Medal Award from the Veterans of Foreign Wars.
United States Attorney Gerald Gallinghouse told a federal jury on August 22, 1973 that the government would prove that District Attorney Jim Garrison and others made and accepted bribes to keep illegal gambling in business in New Orleans.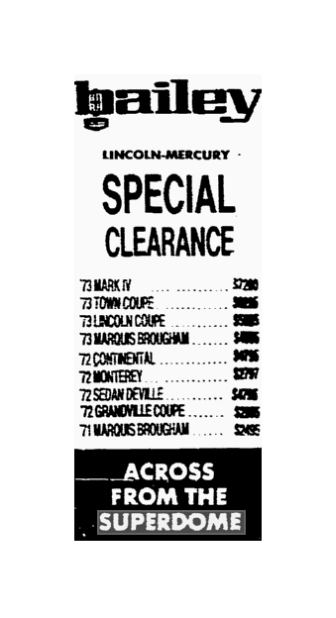 August 22, 1973
advertisement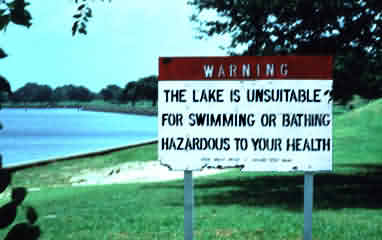 On
August 22, 1963
, a ban on swimming in Lake Pontchartrain was ordered (until further notice) by Charles Miramon of the New Orleans City Health Department.
On August 22, 1947, a hurricane passed offshore Grand Isle. Sabine Pass reported a 3.6 foot storm surge as the storm hit the Upper Texas coast September 19th, 1947: Hurricane force winds first reached the Mississippi and Louisiana shores at 6 a.m. and New Orleans at 8 a.m.. Gusts to 125 m.p.h. were estimated at Moisant International Airport (highest gust measured was 112 m.p.h.) and the pressure fell to 28.57". The storm made landfall at 6:30 a.m. CST on on the 19th. Hurricane force winds reached as far inland as Melville by 4 p.m.. A fifteen foot storm surge overcame the Bay St. Louis seawall. Ostrica saw an 11.5 foot surge and Shell Beach experienced an 11.2 foot storm surge. Water was 6 feet deep in Jefferson Parish. The air fields at Moisant were under 2 feet of water, closing the airport during its second year of operation. This storm demonstrated the dire need for tidal protection levees for New Orleans. Much of the city was flooded, and $100 million in damage was produced. The storm claimed 51 victims, 12 in Louisiana. (NOAA)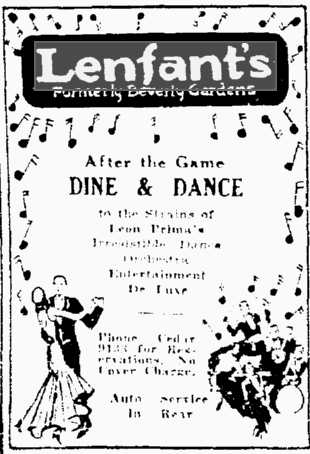 Lenfant's was offering a Thanksgiving Day (all day) dinner menu in 1957 with Broiled Choice Prime Rib Steak with French fries, an appetizer, soup, vegetable, and dessert being the most expensive choice at $2.25. The Shrimp Lenfant, and Crabmeat a la Ritz sound devine.
John L. Lenfant was an entrepreneur who started out as a barber in the Faubourg Marigney who had a grocery and bar on Elysian Fields at Villere Street. He was a sparring partner of boxer Jake Kilrain. Then he had a drugstore and a nightclub at St. Claude and Elysian Fields which featured an open-air dance garden. He owned the Elysian Fields Theater back in vaudeville days. He owned Eclipse Bottling Works, makers of Whistle soda and Glean cola -- both jumbo-sized drinks. He brewed beer for Joe Brown's nightclub, during prohibition, on the 2nd of a building at Canal and Carondelet. He bought and sold real estate. He even owned hearses which he'd rent to funeral homes.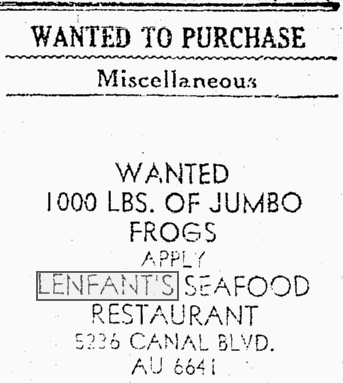 Then he got into the restaurant business. He opened several popular Rosedale Inn sit-down and drive-in restaurants around town. Some locations including one at 1915 Canal Street, one at 5236 Canal Boulevard, one at 5205 Canal Boulevard, and another at South Claiborne and Jackson Avenue. During the 1930s he owned Lenfant's on Metairie Road at the former location of his Beverly Gardens gambling house. Leon Prima and his Orchestra (were playing there on October 17, 1930 (Louis played there, too) and auto service via car-hops was available in the rear. When John Lenfant retired he left the businesses to his sons.
Lenfant's Sea Food Restaurant at 5236 Canal Boulevard opened in 1941. Diners could eat inside the Streamline Moderne dining rooms or drive up to the huge shell parking lot where car-hops filled the bill. An interesting item from those years is an August 22, 1942 want-ad for 1000 pounds of jumbo frog legs. Many New Orleanians celebrated weddings and bridal and baby showers at Lenfant's. Many clubs regularly met there. The adjoining Boulevard Room was well known locally. The building was demolished during the early 1990s and was replaced with Greenwood Funeral Home (which John Lenfant might have rented hearses to if her were still alive).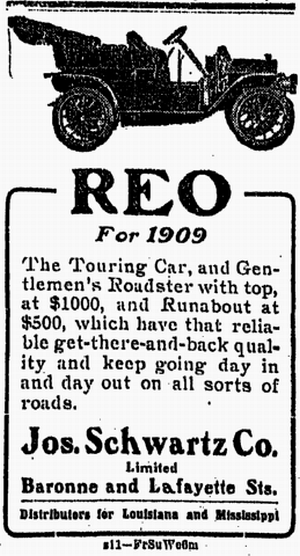 Advertisement,
August 22, 1909
On August 22, 1909, the Atlanta Crackers played the New Orleans Pelicans at home in a three game series.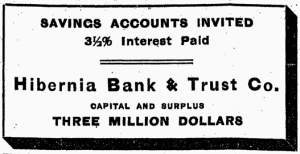 August 22, 1909 advertisement.

CHOPIN, Kate O'Flaherty, author. Born, St. Louis, Mo., February 8, 1851; daughter of Thomas O'Flaherty and Eliza Faris. Christened Katherine O'Flaherty. Father Irish and mother of old St. Louis French background. Education: Sacred Heart Academy, graduated 1868. Married Oscar Chopin of Louisiana, June, 1870. Removed to New Orleans where Chopin was a cotton factor. At the end of 1879 removed to Cloutierville on the Red River near Natchitoches. Children: five sons, born in New Orleans, St. Louis and Cloutierville, and one daughter, born at Cloutierville. After husband's death in January, 1883, managed affairs of family plantations and general store for several years before removing to St. Louis. From 1889 to 1902 wrote numerous short stories for children and adults published in magazines such as the Atlantic Monthly, Vogue, the Century and Harper's Youth's Companion. Her major works: two short story collections, Bayou Folk (1894), and A Night in Acadie (1897), both contained many stories which had been published in magazines earlier. Two novels: At Fault (1890), and The Awakening (1899). The people in the stories are almost all inhabitants of French Louisiana and most locales are in the Natchitoches area. Grand Isle and New Orleans are the locations for the Awakening. Best known short story, "Desirée's Baby", a tale of miscegenation in antebellum Louisiana. She wrote of Louisiana women in the nineteenth century, but she addressed concerns of women in all places and times. Died, St. Louis, of a brain hemmorrhage, August 22, 1904. Source: http://lahistory.org/site20.php

In April 1787, James Wilkinson took a highly controversial trip to New Orleans, which was a colony of Spain.At that time, Americans were allowed to trade on the Mississippi River, but they had to pay a hefty tariff. Wilkinson met with Spanish Governor Esteban Rodríguez Miró and managed to convince him to allow Kentucky to have a trading monopoly on the river; in return he promised to promote Spanish interests in the west. On August 22, 1787, Wilkinson signed an expatriation declaration and swore allegiance to the King of Spain to satisfy his own commercial needs. The "Spanish Conspiracy," as it is known, was initiated by Wilkinson's "First Memorial," a 7,500-word report written before he left New Orleans for Charleston, South Carolina, from New Orleans, to the Spanish concerning the "political future of western settlers" and to convince Spain to "admit us [Kentuckians] under protection as vassals". This was encoded with myriad symbols, numbers, and letters that was decoded via a complex English-Spanish cipher code-named "Number 13," which became the basis for his pseudonym, "Agent 13". (Wiki)