---

James Gallier Sr. Perishes in Hurricane
October 3, 1866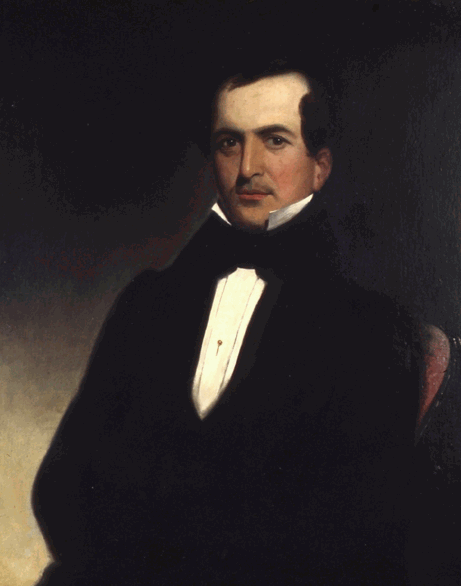 Painting from the Louisiana State Museum
James Gallier Sr. (born James Gallagher in Ravensdale, County Louth, Ireland in 1798) worked in England during his early career, met and married Elizabeth Tyler (their only surviving child was James Gallier Jr.), designed the Godmanchester Chinese Bridge which crosses a mill stream of the River Great Ouse in 1827, and then worked on the redevelopment of the Grosvenor Estate in Mayfair. He became bankrupt, and emigrated to New York City in 1832. In October, 1834 he partnered with Charles B. Dakin, moved to New Orleans, and opened an office on Canal Street.
Dakin and Gallier's first major commission in our city was for the 350-room St. Charles Hotel with its 185 foot-high dome. They also designed the Three Sisters row houses at Bienville and Iberville streets (1834), the Arcade Bath House (1836), Merchants Exchange on Royal Street (1836), and Christ Church on Canal Street (1837). None of these remain today. The partnership was dissolved in 1835 when Dakin's brother James arrived in New Orleans to set up business here.
Elizabeth died in July, 1844 in her mid-forties. Gallier entered into a partnership with Michael Collins and designed many residential and commercial building including Dr. William Mercer's residence at 148 Canal Street (1844), the Commercial Exchange building at St. Charles Avenue at Perdido Street, and the Pontalba Apartments (1849) at Jackson Square which are now a National Historic Landmark, The Leeds-Davis Building on Tchoupitoulas Street (1853), now the headquarters of the Preservation Resource Center New Orleanians now know him best as the architect of the City Hall (Gallier Hall) at Lafayette Square, built in 1850 and now a National Historic Landmark. Gallier retired that same year and turned over his practice to his son James Jr.
He died along with his second wife Catherine Maria Robinson, on October 3, 1866, when the steamer Evening Star, on which they were travelling from New York to New Orleans, sank in a hurricane at Cape Hatteras off the Georgia Coast.
---



---
On October 3, 2011, German automaker Mercedes-Benz announced the purchase of naming rights to the Superdome. The new name took effect on October 23, 2011. The company also holds naming rights for the Mercedes-Benz Arena of Bundesliga club VfB Stuttgart in Stuttgart, Germany and the Mercedes-Benz Arena in Shanghai, China.
Hurricane Lili made landfall on the morning of October 3, 2002 near Intracoastal City, as a weakening category one hurricane. Wind gusts reaching 120 mph (190 km/h), coupled with over 6 inches (150 mm) of rainfall and a storm surge of 12 feet (3.7 m) caused over $790 million (2002 USD; $1 billion 2007 USD) in damage to Louisiana. A total of 237,000 people lost power, and oil rigs offshore were shut down for up to a week. Crops were badly affected, particularly the sugar cane, damage totaled nearly $175 million (2002 USD; $205 million 2007 USD). No direct deaths were reported as early warnings and the compact nature of the storm circumvented major loss of life. (Wiki)
On October 3, 1975, June Carter, Johnny Cash, Merle Haggard, Waylon Jennings and Jessi Colter performed in the Superfome. Fans included then Governor Edwin Edwards.
Hurricane Hilda
October 3, 1964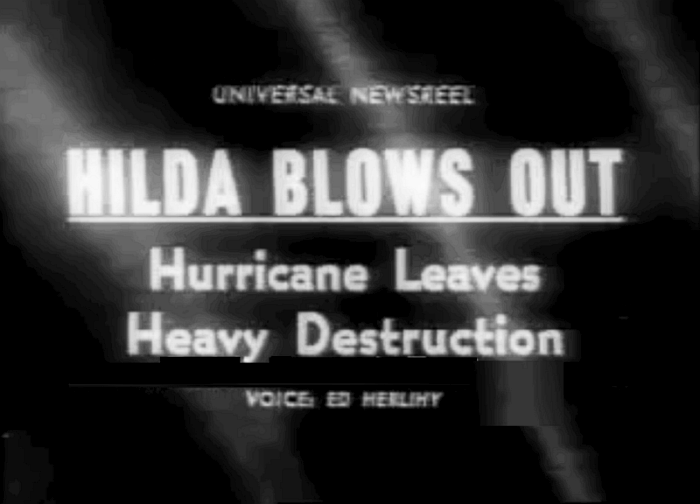 1964's Hurricane Hilda is included in the Top Weather Events of the 20th Century within the New Orleans/Baton Rouge Service Area by the National Weather Service. Category 4 Hilda caused severe coastal erosion and local flooding, along with 39 associated deaths. An almost complete evacuation of the entire Louisiana coast was credited for the relatively low death toll. Waves in the gulf reached 50 feet in height. Offshore and coastal oil instllations were heavily damaged. One twister in Larose killed 22 and injured 200 people. Three million acres of land were flooded and 53 million dollars in damages occurred. Amateur ham radio operators were credited in aiding authorities as to the were-abouts of those in need of rescue.
Tornadoes were spawned at Golden Meadow, Galliano, Kenner, Metarie, and New Orleans. Some 30 homes in Kenner's Wentwood area suffered serious tornado damages. Two gas stations at Causeway Boulevard and Veterans Highway and a home in the French Quarter were wrecked by tornadoes. Lake Pontchartrain camps were severely damaged by high waves. What the New Orleans Levee Board described as a "levee" along Hayne Boulevard was in fact a train trestle which had been fortified/surrounded with cinders and dirt. It was breached and repaired by citizen volunteers. The storm breached the Industrial Canal sheet-metal flood wall, damaging homes and businesses in the area. Laborers attempted to sandbag the leaks by hand, in vain, until mechanical cranes were employed to dump mud along the embankment.
The U.S. Corps of Engineers pronounced the levees built after the 1947 hurricane as having protected Jefferson Parish. But in Orleans, Hilda's damages called attention to the lack of adequate levee protection around the lake and the Industrial Canal. The New Orleans Levee Board was called into questioned regarding expenditures for lighting, yacht harbor improvements, street paving, amusement park improvements, and more while the building and maintaining of levees had been almost completely neglected.
The October 22, 1964 edition of Newsweek magazine reported that Mayor Victor H. Schiro "took refuge in an underground Civil Defense shelter" -- the structure now abandoned on the neutral ground of West End Boulevard near the lake, which we all know is not a place anyone would willingly choose to select as a safe place to ride out a storm in flood-proned New Orleans.
In 1965, Governor John McKeithen said that the government had spent "hundreds of millions of dollars to protect ourselves from water, we feel now we are almost completely protected". However, in that same year Hurricane Betsy again breached the Industrial Canal protection system bringing eight feet of floodwater to the people living in the surrounding area.
---
Photographer Ernest J. Bellocq died in New Orleans on October 3, 1949 and is interred St. Louis Cemetery III on Esplanade Avenue near City Park. Born in New Orleans in 1883, he operated studios in the city from 1909 until 1932, including locations at 840 Conti Street, 157 Baronne Street, 608 Canal Street, and 818 Ursulines Street. Bellocq achieved posthumous fame with the publication of Storyville Portraits, a selection of portraits which he made of prostitutes in the red-light district of New Orleans. The movie Pretty Baby (1978) is based loosely on that part of his life. Source: http://lahistory.org/site19.php
Journalist F. Duval Armstrong died on October 3, 1948 in New Orleans. He was the first New Orleans newspaper reporter to work exclusively with sports while working for New Orleans Daily Picayune. He covered the first football game in 1893, the first golf match, and the Sullivan-Corbett championship fight. He was also the first sports editor of the Picayune (1907-1909). Source: http://lahistory.org/site18.php
Born in New Orleans on September 5, 1895, Theodore Charles Jourdan made his Major League Baseball debut for the Chicago White Sox on September 18, 1916. He was a first baseman over parts of four seasons (1916–1918, 1920) with Chicago. He complied a career batting average of .214 in 196 at-bats, with 11 RBIs. He ended his career in the majors on October 3, 1920 with the White Sox with whom he played with for World Series championship in 1917 He died in New Orleans, Louisiana at the age of 66 on September 23, 1961.
Sister Clare Coady was born Margaret Ann Coady in New Orleans on October 3, 1875. Raised in the Irish Channel and Mount Carmel Orphan Asylum, she entered the community of the Sisters of Mount Carmel on September 2, 1891. Sister Clare served as Superior general of the order in New Orleans from 1915 until 1931; during her tenure the sisters took charge of St. Dominic, St. James, and St. Augustine schools in New Orleans and Our Lady of Prompt Succor in Westwego. In 1926 she opened Mount Carmel Academy in the Lakeview. Her other accomplishments inlclude the establishment of a state-approved normal school in New Orleans in 1923, winning state approval for community high schools, and fostering state certification for teaching nuns. She died, Lafayette on March 22, 1935 and is interred in St. John the Evangelist Cemetery. Source: http://lahistory.org/site20.php
The October 1-3, 1868 hurricane passed just offshore the Southeastern tip of Louisiana, before hitting Apalachicola. Gales and heavy rains developed on the 3rd as the city became flooded. The sawmill and bathhouses were blown away. At Milneburg, houses were swept away. The West Rigolets lighthouse suffered $5000 in damages during the storm.