---

The Battle of Liberty Place
September 14, 1874
After the Civil War, Louisiana drafted and implemented a new constitution that abolished slavery and significantly diminished the political clout of the "old guard" of planters and merchants. In many cases, Union army officers and other Northerners were appointed to government offices in the state. The White League, a paramilitary group comprised of former Confederate soldiers and jilted planters and merchants, was formed in 1874 in St. Landry Parish with the distinct political goals of intimidation of Republican candidates, voters, and officeholders, as well as free blacks, with the long-term aim of restoring white Southern Democratic rule. Unlike similar groups such as the Knights of the White Camellia and the Ku Klux Klan (both of these, which predate the White League, may have encouraged its formation by their success), the White League operated in the open and courted the sympathy of the Southern news media. Shortly after forming, they submitted their manifesto for publication in the Opleousas Courier, and the New Orleans Picayune eagerly reported of their exploits. The White League spread quickly from rural parishes to Louisiana's urban centers. The New Orleans chapter, known as the Crescent City White League, formed on July 1st of 1874.
On September 14, 1874, seizing an opportunity provided when President Grant pulled most Federal troops out of Louisiana due to the yellow fever epidemic, the White League assembled in New Orleans. They demanded that Governor William Kellogg resign and be replaced with John McEnery, his unsuccessful Democratic opponent in the dubious 1872 gubernatorial election. The White League called a public meeting at the Henry Clay statue (then on Canal Street) and advanced through the French Quarter, bound for the Custom House, where Kellogg was headquartered at the time. The White League successfully routed the Metropolitan police with their superior numbers and there were at least 100 casualties. When the smoke cleared the next day, the White League controlled the police station and the arsenal. They installed Davidson Penn as Governor until McEnery, who was returning from Vicksburg, could arrive. Federal troops were already en route to New Orleans; President Grant had dispatched them as soon as he became aware of the White League's machinations in the city. U.S. General Emory met with Penn and McEnery and informed them that Kellogg would be restored by force if necessary, and with that the White League quietly and peacefully surrendered the city to the Federal troops.
Although the White League had effectively overthrown Louisiana's state government for three days, no White League commander or member faced charges for the events of September 14th. In a long-winded published address just two weeks after the incident, Governor Kellogg attempted to prove his administration's solvency and appealed for "...a more just judgement and a more generous sympathy than have yet been given to the Republican state government of Louisiana." Nonetheless, white rule and black disenfranchisement would again become the norm just three years later with the Compromise of 1877, which formally ended Reconstruction and stifled integration efforts for many decades to come. (From http://www.loyno.edu/~kchopin/new/culture/creoles.html#liberty)
A city ordinance which repealed ordinance No. 8137 A.S., being an ordinance dedicating that portion of ground at the foot of Canal Street as a public place to be known as Whitney Place, rededicated and named said place Liberty Place was passed on November 10, 1882. The the city government erected the Liberty Monument to "commemorate the uprising" of 1874 in the city. The monument was prominently placed in the neutral ground near the foot of Canal Street. In 1932 inscriptions were added. They include:
"McEnery and Penny having been elected governor and lieutenant-governor by the white people, were duly installed by this overthrow of carpetbag government, ousting the usurpers, Governor Kellogg and Lieutenant-Governor Antoine."
"United States troops took over the state government and reinstated the usurpers but the national election of November 1876 recognized white supremacy in the South and gave us our state."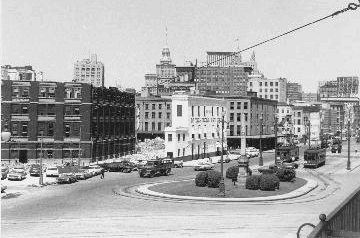 This 1964 photo shows the streetcar turn at the foot of Canal Street, the Liberty Monument at its center, and the three and four-story buildings dating from mid nineteenth-century
which would be demolished to make way for the Rivergate. Left of center is a partially demolished warehouse dating from c. 1905.
(Photo by Rolland Golden; printed by Robert S. Brantley, Historic New Orleans Collection.)
By the late 20th century many residents objected to the monument as a symbol of racism. In 1974 the city government added a plaque at the foot of the monument; it acknowledged the history while officially distancing the City from the racist philosophy of previous generations. It reads:
"Although the "battle of Liberty Place" and this monument are important parts of the New Orleans history, the sentiments in favor of white supremacy expressed thereon are contrary to the philosophy and beliefs of present-day New Orleans."
In 1989 the monument was removed and stored during major street work on Canal Street. In July 16 of 1993, the New Orleans City Council voted 6 to 1, to declare the Liberty Monument a nuisance. It was taken to a warehouse, with the intention to move it to an indoor museum but it was eventually installed at a less prominent location, a short distance off Canal Street between the One Canal Place parking garage and the river. When the monument was last moved, some of the original inscriptions listed above were removed, and replaced with new inscriptions that state in part:
"In honor of those Americans on both sides who died in the Battle of Liberty Place ... A conflict of the past that should teach us lessons for the future." (Wiki)
Police Superintendent Algernon Sidney Adger Seriously Wounded
Police superintendent and government official. Born, Boston, Mass., October 28, 1839; son of John Baton Badger and Sarah Payne Sprague. Education: Milton Academy, Milton, Mass. Civil War service: Sixth Massachusetts Infantry (one of the first Union Army volunteer units) later Twenty-sixth Massachusetts Infantry, with which he came to New Orleans as lieutenant; enlisted in 1863 in the First Louisiana (Union) Cavalry and commanded Company D; rose to rank of lieutenant colonel and was brevetted colonel in 1865 for "faithful and meritorious service" in the Mobile Campaign; wounded in a skirmish at False River, La., 1864. After war, served as clerk in Fourth District Recorders Court in New Orleans; entered the Metropolitan Police, ca. 1868, appointed superintendent, May 4, 1870; seriously wounded September 14, 1874, at the Battle of Liberty Place, resigned from force, 1875. Served as state tax collector in the Fourth District of New Orleans, ca. 1875-1878; postmaster at New Orleans, 1878-1879; collector of customs at New Orleans, 1879-1885; special deputy, customs service, ca. 1889-1890; appraiser of merchandise at New Orleans, 1890-ca. 1893 and ca. 1900-1905. Married (1), April 30, 1872, Elizabeth Florence Parmele (d. 1880), daughter of Frederick F. and Jane Parmele. Children: Sidney (b. ca. 1873), Frederick Parmele (b. ca. 1874), John Algernon (b. 1876) and Harry (b. 1877). Married (2), September 9, 1882, Blanche B. Blineau, daughter of John Blineau and Amelia Dechamps. Children: George Chester (b. 1883) and Marion (Mrs. C. E. Benton Wells, b. 1885). Life member, National Encampment, Grand Army of the Republic; deputy commander, Department of Louisiana and Mississippi, Grand Army of the Republic, 1886, 1891, 1892; past grand commander, Knights Templar of Louisiana; member, Corinthian Lodge of Masons, Knights of Pythias, Mechanics Fire Co. #6, and the Episcopal church. Died, New Orleans, May 9, 1905; interred Metairie Cemetery. W.E. Sources: National Cyclopedia of American Biography, (1900); Biographical and Historical Memoirs of Louisiana (1892); Compiled service records of volunteer Union soldiers who served in organizations from the state of Louisiana; New Orleans City Directories, 1867-1905; U. S. Census for Louisiana, 1880, 1900; New Orleans Times-Democrat, May 17, 1890, obituary, May 9, 1905, May 10, 1905; New Orleans Daily Picayune, obituary, May 10, 1905; New Orleans Item, May 9, 1905. From http://lahistory.org/site19.php
Future Mayor, Sheriff of the Criminal Court Isaac W. Patton
Mayor Isaac W. Patton was born in Fredericksbury, Virginia, February 4, 1828. He engaged in cotton planting on property he purchased in Madison Parish and also looked after a sugar plantation below New Orleans which belonged to his father-in-law. In the first year of the War between the States, Mr. Patton was elected Captain of the Screwmen's Guard stationed at Proctorville. Shortly before arrival of the Federal Fleet at New Orleans, he was ordered to take command of the battery at Chalmette. When the city fell, the troops retired to Camp Moore on the Jackson Railroad. Captain Patton was then elected Colonel of the Twenty-second Louisiana Infantry with which he served until the end of the war. During the siege of Vicksburg he was wounded in the hip, from which he ever afterwards suffered and it probably was one of the ultimate causes of his death. Notwithstanding this wound, after the fall of Vicksburg, he again took command and saw active service at Mobile Bay, Spanish Fort and Cuba Station. At the close of the war he returned to New Orleans and embarked in the commission business. In 1872 he was elected sheriff of the Criminal Court. He was a member of Captain Pleasants' Company on September 14, 1874 in the famous Battle of Liberty Place (AKA battle on the levee). In 1878 he was elected Mayor of New Orleans and held this post for two years. The most important feature of Mayor Patton's administration was his management of the city's finances. His first step was to reduce the debt by fifty percent. In 1880 the legislature passed Act 133, establishing the Board of Liquidation which has been instrumental in solving the whole complicated problem of finance and has put the credit of the city on a firm basis. Considerable progress was made in constructing railroads which gave better access to the west and northwest, sanitary conditions improved steadily and towards the close of Mayor Patton's term, records showed that the death rate of the city was lower than it had been during the ten preceding years. At the expiration of his term, he returned to business, but in 1884 was elected City Treasurer and resigned that post to become Registrar of Voters by appointment of Governor S. D. McEnery and during the summer of 1888 was appointed tax collector for the Fourth District of Orleans Parish by Governor Nicholls. Death terminated his career on February 9th, 1890, while he was still leading an active life, though sixty-two years of age. Physically he was well proportioned and carried himself with a military grace, even until a few days before his death. He was well known and welcome anywhere, his popularity rested upon his real worth. He was always cheerful and sincere, his aims were always the purest and his whole life was actuated by the highest principles – that of serving best his fellow-men, his people and his state. The funeral took place from his residence, No. 221 Washington Avenue between St. Charles Avenue and Prytania Street. He was survived by his wife and three sons. (From the New Orleans Public Libray.)
White League Soldier and Future Mayor William J. Behan
Born in New Orleans on September 25, 1840, Willliam J. Behan was educated at the University of Louisiana (now Tulane University) and Western Military Institute in Nashville, Tennessee. During the Civil War he enlisted in the Washington Artillery (1861) and rose to rank of major, C.S.A. After the was he became a wholesale commissioner in the firm of Zuberbier and Behan.
He aided in organizing and commanded the Crescent White League which stormed customhouse on September 14, 1874 and was named major general of Louisiana National Guard then and served in that capacity until elected mayor in 1882.
As mayor, he was a reformer to the dismay of his "Ring" supporters, who in 1884 defeated him. He then served in the state senate (1888-1892) and switched from the Democratic to the Republican party after a sugar tariff dispute in 1894. Commander of United Confederate Veterans from 1889 to 1901, he was an unsuccessful Republican candidate for governor in 1904 but remained a leader in the state Republican party until death in New Orleans on May 4, 1928. He is buried in Greenwood Cemetery. Source: http://lahistory.org/site19.php
Journalist Page Mercer Baker's Support
Page Mercer Baker, journalist. Born, Pensacola, Fla., February 23, 1840; son of James McCutcheon Baker of Pennsylvania, a naval veteran of the War of 1812 and the Mexican War, and Ann Eliza Mercer of Baltimore. Education: local schools. Removed to New Orleans, 1858; traveling salesman for hardware firm, McCutcheon, Howell & Co. Civil War service: volunteered, 1861; served in Virginia; transferred to Washington Artillery. Spent last year of war in Confederate Navy, assigned to the ironclad Tuscaloosa. After war, returned to New Orleans and engaged in many business pursuits, including insurance. Entered the field of journalism, 1868, largely owing to influence of elder brother, Marion, then city editor of the Daily Picayune. As a reporter, became active in the struggle to free the state from Radical rule. In 1870 was one of the committee of 100 Louisianians who went to Washington, D. C., to protest to President Grant the military policy being pursued by the federal government in Louisiana. In 1872, one of several individuals who founded the New Orleans Herald, a short-lived venture. Shortly thereafter, joined with Dan Byerly to establish the New Orleans Bulletin, which is alleged to have fostered the organization of the White League, leading to the riot of September 14, 1874. Soon after, subject retired from journalism because of ill health and death of his partner. Reentered journalism, 1880, as managing editor of the New Orleans Times, and continued to serve in that capacity after consolidation of the Times and the New Orleans Democrat in 1881. Continued as editor and manager of the Times-Democrat until death, bringing the paper to the zenith of its success. Always encouraged young writers, including Lafcadio Hearn (q.v.), who dedicated his first book to subject. Originated the Doll and Toy Fund later continued by the Times-Picayune. Married (1) Constance Fell (d. 1889), of New Orleans, daughter of Peter B. Fell. Married (2) Mary Fell, sister of first wife. One child, Constance. Died, New Orleans, May 28, 1910; interred Metairie Cemetery. G.R.C. Sources: New Orleans Daily Picayune, May 29, 1910; Fayette Copeland, "The New Orleans Press and the Reconstruction," Louisiana Historical Quarterly, XXX (1947); New Orleans Times-Picayune, January 25, 1937. From http://lahistory.org/site19.php
---



---
The Ray Nagin Special
September 14, 2008
_____
By Jaquetta White, The Times-Picayune
Mary Jane Bernard arrived at the Best Western French Quarter Hotel on Rampart Street on Friday morning with what she thought was a simple request.
"When we got there, we asked for the Ray Nagin special," said Bernard, a Baytown, Texas, resident who was evacuating in advance of Hurricane Ike with her sister. What she got, though, was a perplexed front desk worker and the opportunity to star in a scene replayed at least a few times Friday.
In a news conference Thursday afternoon, Mayor Ray Nagin had encouraged Texas evacuees to book hotel rooms in New Orleans by requesting the "Mayor Ray Nagin special rate." The offer was designed, the mayor said, "to say to our friends in Houston and Texas that we want to take care of you, since you have taken care of us," according to a transcript of his remarks. Thousands of New Orleanians evacuated to Texas shelters and hotels because of Hurricane Katrina. Trouble is, as Bernard found out, the special rate doesn't exist. In fact, it is against federal anti-trust laws for hotels to collectively agree upon rates. It also is impractical to set a flat rate citywide because hotels vary in size and services, said Stephen Perry, president of the New Orleans Metropolitan Convention & Visitors Association.
VooDoo in New Orleans
September 14, 2010
______
The original New Orleans VooDoo played in the AFL from 2004–2008, at which point the league suspended operations. During that time they were owned in part by Tom Benson, who also owned the National Football League's New Orleans Saints. In 2010 it was announced that a franchise would be joining the restructured AFL and carrying on the New Orleans VooDoo name and history. On September 14, 2010 it was announced that the Bossier–Shreveport Battle Wings were relocating to New Orleans, and would take up the VooDoo name, logo, colors, and history.
New Orleans Master Plan
Regarding Claiborne Avenue Overpass
September 14, 2009
______


Supporters for the removal of the I-10 Claiborne overpass and rerouting I-10 to the I-610 corridor cite the structure's need for costly repairs and damage it has caused to cause what was a thriving urban neighborhood. Opponents argue that the overpass' removal would cause great inconvenience to the residents of New Orleans East and potentially require unwanted and intrusive expansion of the I-610 corridor. A September 14th, 2009 draft of the New Orleans Master Plan called for a study and eventual removal of the overpass.
Katrina Emergency Tax Relief Act
Wednesday, September 14, 2005|
_____
Congress
approved the
Katrina Emergency Tax Relief Act of 2005
for Hurricane Katrina victims, which included the elimination of the early withdrawal penalty on retirement accounts, forgiven debts not being taxable, and more. Karl Rove is reported to have been put in charge of reconstruction projects.
Musician Johnny Adams Dies
September 14, 1998
Laten John Adams (January 5, 1932 – September 14, 1998), known as Johnny Adams, was a blues, jazz and gospelsinger, known as "The Tan Canary" for the multi-octave range of his singing voice, his swooping vocal mannerisms and falsetto. His biggest hits were his versions of "Release Me" and "Reconsider Me" in the late 1960s.
September 14, 1987 Frank's Place is an American comedy-drama series which aired on CBS for 22 episodes during the 1987-1988 television season. The series was created by Hugh Wilson and executive produced by Wilson and series star (and fellow WKRP in Cincinnati alumnus) Tim Reid.Set in New Orleans
Superdome Opening Activities
September 14, 1975
The Superdome held its official dedication ceremonies on August 3, 1975. Jazz musicians Al Hirt and Pete Fountain played for the event. Between August 28 and September 14, 1975, the Superdome continued to celebrate its grand opening, with appearances by Bob Hope, Telly Savalas, Dorothy Lamour, Karen Valentine, and Raquel Welch. The Allman Brothers, the Marshall Tucker band, Wet Willie, the Charlie Daniels band, the O'Jays, the Isley Brothers, the Temptations, Donald Byrd and the Blackbyrds, and the Ringling Brothers and Barnum & Bailey Circus also performed.
Little Richard Records at Cosimo's Studio
September 14, 1955
_____

By Matthew Dillon


On this day in 1955 Richard Wayne Penniman walked into Cosimo Matassa's J&M Studios in New Orleans to record his demo of Tutti Frutti. He later visited the Dew Drop Inn during lunch and forever coined the Phrase: A-Wop-Bop-A-Loo-Mop-A-Wop-Bam- Boom.
---
New War Ship
September 14, 1944

The Liberty ship Am-Mer-Mar was launched by Delta Shipbuilding Company on September 14, 1944.
Musician Leon T. Gross is Born
September 14, 1912
Leon T. Gross (September 14, 1912 or 1916 – January 8, 1973), who performed and recorded as Archibald, was an influential rhythm and blues pianist and singer who had a hit in 1950 with "Stack-A-Lee", a version of "Stagger Lee".
James Henry Caldwell's Funeral
September 14, 1863
James Henry Caldwell, actor, theater manager, businessman. Born, Manchester, England, ca. 1793. First appeared as child actor at Manchester or Sheffield, England. Brought to Charleston, S. C., in October 1816 by Joseph George Hollman and gave first performance in November as Belcour in The West Indian. In December 1817, he began managerial career at Alexandria, Va. In 1818, built a theater at Petersburg, Va., and also presented a play at Richmond. Married, apparently last week of November, 1819, Maria Carter Wormeley, who had two sons—Carter and John—by a previous marriage. This new marriage resulted in two additional children—William Shakespeare and Sophia (Sophy) Caldwell. Caldwell toured with theatrical company and in fall of 1819 went to New Orleans. Built Camp Street Theater in New Orleans at cost of $70,000 and although it was still not finished, opened it on May 14, 1823. It was the first important structure in the new Second (American) Municipality; theater formally opened on January 1, 1824. Meanwhile, Caldwell continued to tour eastern theaters during summer until 1825 at which time he began tours of towns in the South and Southwest—called "Pioneer of Drama in the South." Brought competent actors and good plays to the region and became the most important theatrical person there. Built theaters in Cincinnati, Nashville, Mobile, and converted a salt house in St. Louis into a theater. Introduced gas lighting into American Theater in New Orleans and organized a company to supply gas lighting for the city; received charter on March 1, 1833. Began operations in 1834 but Caldwell sold his interest in 1835. Established similar companies in Cincinnati and Mobile and these were his principal sources of wealth in later years. Opened St. Charles Theater in New Orleans on November 12, 1835; was the most magnificent theater in the South and one of the largest in the country; burned in March, 1842. Caldwell retired from theatrical activity on January 14, 1843, and thereafter devoted his time to several official positions in New Orleans. Two sons born during this time as result of liaison with Margaret Abrams—James Henry Caldwell, Jr. (b. 1837) and Edward Holland Caldwell (b. 1844). Caldwell commissioned as captain in Louisiana Militia, Forty-second Regiment of First Brigade, December 7, 1842. He was a member of the Second Municipality Council for last ten years of its existence and then served as recorder. When New Orleans reverted to one complete city government, he was elected to board of aldermen and served as president of that body, 1855-1856. Served a term in Louisiana house of representatives, 1858-1860; in 1857, became principal stockholder in Bank of James Robb; had extensive real estate holdings in New Orleans and elsewhere. Meanwhile, in private life, divorced first wife Maria sometime before 1850. Married Josephine Rowe, daughter of George and Louisa Rowe on May 22, 1850. Son, Harry Stroud Caldwell, born to this union but died at age five. Josephine died on September 16, 1857. Caldwell left New Orleans between February and October, 1862; was living in Cincinnati as of October 6, 1862; by August 29, 1863, was in New York City. In feeble health for some time. Died, New York City, September 11, 1863. Services held on September 14, 1863 at St. Patrick's Cathedral. Caldwell then taken back to New Orleans. Services again held on October 11, 1863, at Dead Church on Rampart St. with burial in Fireman's Cemetery. From http://lahistory.org/site20.php