---

Lake Front Lots -- $135 And Up
April 19, 1925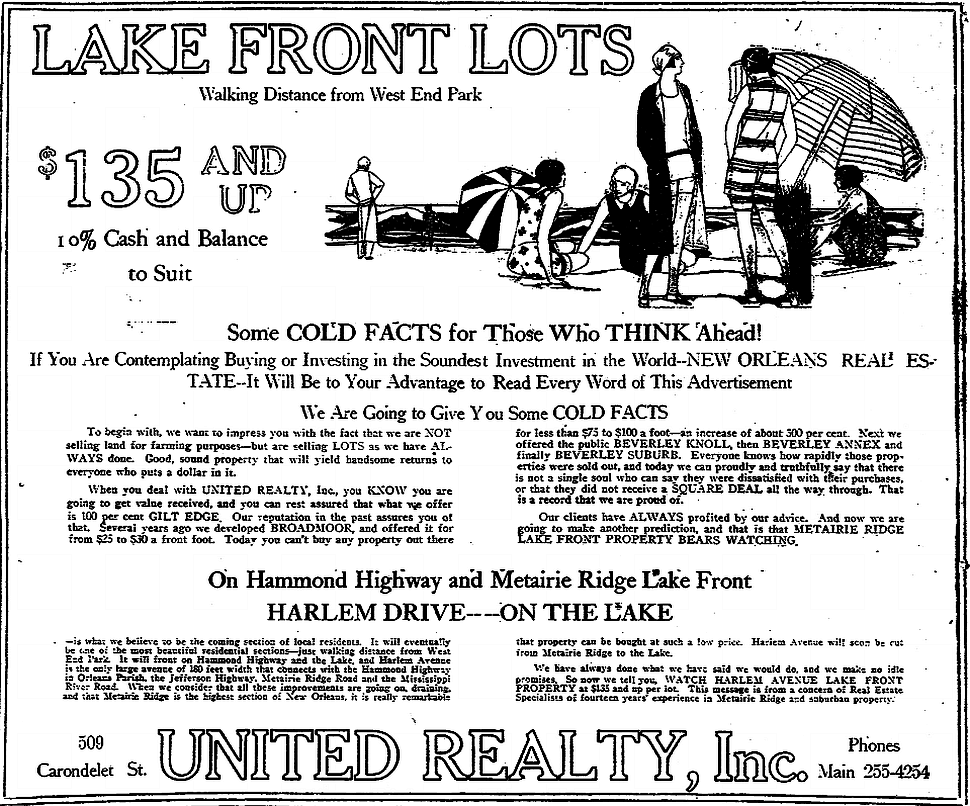 "Harlem Drive -- on the Lake -- is what we believe to be the coming section of local residents. It will eventually be one of the most beautiful residential sections" boasted United Realty, Inc., almost 90 years ago, in this April 19, 1925 advertisement in the Times-Picayune for lots selling for $135 and up. Harlem Drive would later be renamed Causeway Boulevard and, as we know, is a hub of commercial activity -- especially near Lake Pontchartrain.
United Realty was quick to point out that these lots were not being sold for farming, which attests to the rural nature of the area back in the day. But much of the land was swampy at best. United Realty countered this fact with "When we consider that all those improvement are going on, draining, and that Metairie Ridge is the highest section of New Orleans, it really is remarkable that property can be bought at such a low price". However, the land being offered for sale did not sit atop the Metairie Ridge, which parallels Metairie Road.
In fact, neither Harlem Drive/Causeway Boulevard nor Hammond Highway existed at the time this ad was published. Harlem Drive was planned to run from the lake to the river, and would intersect with Hammond Highway (which was conceived to run along the lakefront from New Orleans to Hammond, Louisiana -- an idea that never came to pass), Metairie Ridge Road (now Metairie Road), Jefferson Highway, and the river road. The 1925 advertisement notes that "Harlem Avenue will soon be cut from Metairie Ridge to the Lake" and would be 180 feet wide. The property offered ("In front will be Hammond Highway") was purportedly "Just walking distance from West End Park" -- which would quite a long walk by today's standards.
United Realty had previously developed land in the Broadmoor area (at $25 to $30 per front foot) and proudly boasted "Today you can't buy property OUT THERE for less than $75 to $100 a foot--an increase of 500 per cent". The company was active in selling lots in Beverly Knoll, Beverly Annex, and Beverly Subdivision -- all in the heart of what would become know as Old Metairie, just west of Bonnabel Boulevard. Having done that, United offered for the buyer's perusal "And now we are going to make another prediction, and that is the METAIRIE RIDGE LAKE FRONT PROPERTY BEARS WATCHING". And right, the were!
---

You Can Support this Site by Clicking on & Shopping from this Amazon Link -- and it won't cost you a penny more: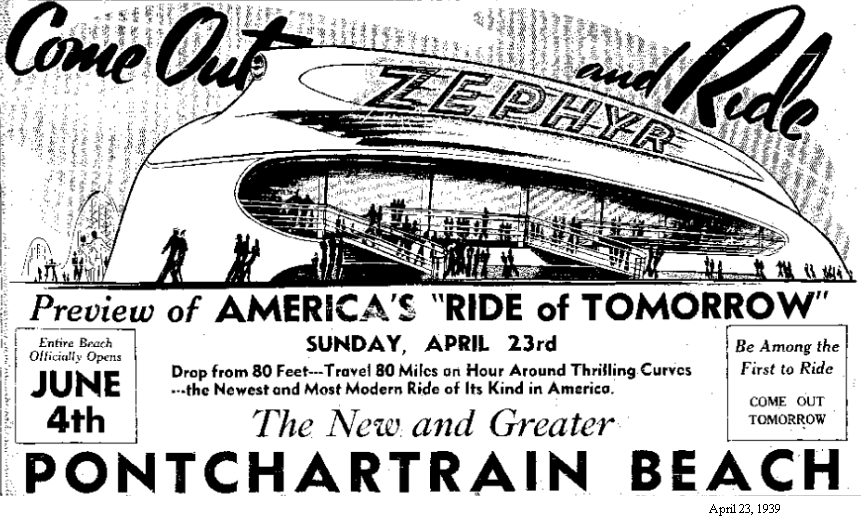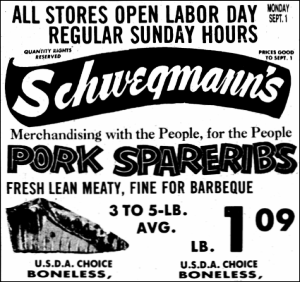 A time capsule was sealed on April 19, 1996 during the New Orleans Public Library's celebration of its centennial.
On
April 19, 1966
, the Algiers Regional Branch library opened. It was was the first of three regional branches built during the 1960s and 1970s.
Click here for a photo of the then new library
. During Hurricane Katrina, it sustained major damage from wind and rain and was demolished. A trailer was used beginning in June 2006, which was replaced by atemporary building in November, 2008. A rebuilt branch opened on July 11, 2012.
Photos of the opening ceremonies
. (NOPL)
Jimmie Davis won his first gubernatorial election on
April 19, 1944
with the support of reform Governor Jones. Davis at first thought he should avoid mixing his two careers of country music and politics. After a campaign stop in Shreveport, however, where he was accused of "going high hat" because he would not sing, Davis decided to speak for a while and sing "three or four songs". He continued that strategy at every campaign rally throughout his political career which constantly frustrated his opponents. Davis' first term benefited from wartime and postwar prosperity. He continued Jones' reform program, but also he traveled to Hollywood and Nashville to make "B movies" and sing. Davis' accomplishments included the establishment of a State Retirement System and the funding of more than $100 million in public improvements leaving the state a $38 million surplus. For his second term, Davis secured the support of the third strongest candidate, Willie Rainach, the chief of the segregationist movement in Louisiana, to defeat Chep Morrison. Davis used the segregation issue to come from behind and that issue dominated his 2nd term. During that period he built the Sunshine Bridge, the new Governor's Mansion and the Toledo Bend Reservoir - all criticized at the time, but now recognized as beneficial to the state. Jimmie Davis died peacefully in his sleep at his Baton Rouge home on November 5, 2000. He was 101 years old and had continued to make public appearances until a few months before his passing. Following visitation in Baton Rouge, his funeral was held at the Jimmie Davis Tabernacle in Jonesboro, LA. He is buried in the cemetery there. (From
the
Louisiana Department of State
.)
An act of April 19, 1805, allowed the minor, Bernard Marigny, with his guardian, Solomon Prevost, to divide his plantation near New Orleans into lots and offer them for sale; an ordinance of the Conseil de Ville on May 18, 1805, authorizing Marigny to establish the Faubourg Marigny. (NOPL)
The private schools of New Orleans during the nineteenth century had practically the whole field of education to themselves. The College of New Orleans had its inception in "An Act to institute a University in the Territory of New Orleans," approved April 19, 1805. This act authorized the Board of Regents to raise by lottery $50,000 annually for the support of the University and the City College. In that day, no stigma was attached to this device of raising funds, which was frequently employed with success. For lack of interest this plan was abandoned in 1808; and it was not until 1810 when the Legislature appropriated $20,000 for the establishment of this college, which was finally opened in 1811. The City contributed a site and buildings, which were located at the corner of Hospital and St. Claude Streets, where St. Augustine Church now stands. (NOPL)

On April 19, 1804, Governor Claiborne wrote to the Mayor and Municipality of New Orleans asking that, in order to assist in the reorganization of the militia in New Orleans, a census be made of "all free male white inhabitants of this city, between the ages of eighteen and forty-five." (The letter is displayed here.) In the Municipal Council session of April 21, 1804, Mayor Boré informed the Council of the governor's request and, at that time, one of the members proposed that "a general census of the inhabitants of both sexes in the City and Banlieu of New Orleans" also be taken. (NOPL)
On April 19,1802, Spain reopened the New Orleans port to American merchants.
Ordonnateur Salmon reported on February 12, 1733, that behind his house on Toulouse Street, between Chartres and Levee (Decatur) Streets, he had made plans to construct a brick vaulted wine cellar. Actually, the structure, designed by Royal Engineer Ignace Francois Broutin, was a two-story archway with the upper portion used as an office, and the lower, or ground portion used as a wine cellar. The upper room also contained a bedroom and was apparently intended as a living quarters for the quartermaster in charge of the wine. Salmon explained the purpose of the cellar was mainly to provision the hospital. He did not explain why he had it built behind the Intendant's house, rather than at the hospital, which was several blocks away. Construction was completed on April 19, 1735. Thus, this structure became New Orleans' first wine cellar. Although this structure no longer exists, the largest wine cellar in the south is a few blocks away on St. Louis Street in Antoine's Restaurant. Source: http://www.historyneworleans.com/index.php