November 23
---


---
---

Plans Submitted for New Jesuit High School
November 23, 1925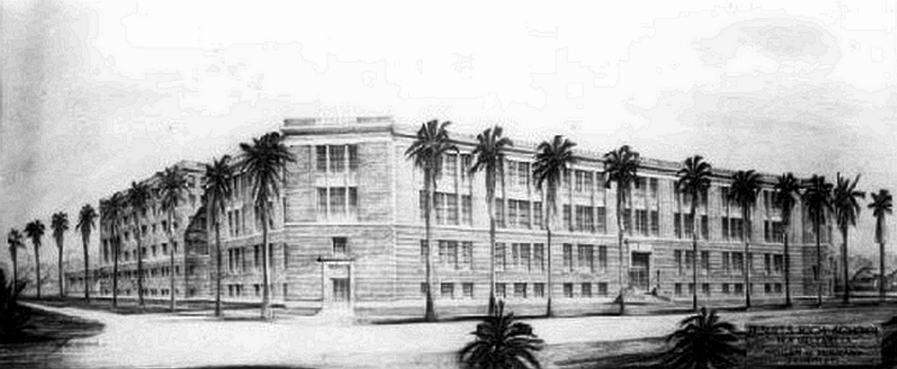 On November 23, 1925, the firm of Wogan and Bernard submitted building plans for Jesuit High School at 4533 South Carrollton Avenue.
The present Jesuit High School was formerly only one department of the College of the Immaculate Conception which was founded in 1847 by the Fathers of the Society of Jesus (the Jesuits) for the education of young men. The College was situated on Baronne and Common Streets; but at the close of the 1910 – 1911 session, the collegiate departments were transferred to the site of the present Loyola University of New Orleans. The high school department, however, was retained in the buildings on Baronne Street. This change was the result of a large increase in enrollment in both the college and the high school departments.
Increased enrollment again rendered the Baronne Street facilities inadequate. In the fall of 1926, classes met in the newly constructed Jesuit High School on Carrollton Avenue between Banks and Palmyra Streets. An extension of the Palmyra Street wing was completed in 1953 and the improvements provided students with additional space for the cafeteria, library, and band room, along with a new auditorium and chapel. The large chapel was named the Chapel of the North American Martyrs, in honor of the many Jesuits who sacrificed their lives while teaching and spreading the Gospel of Jesus Christ.
A recreation center and gym was constructed on Banks Street across from the school in 1957 and provided facilities for the athletic teams and the physical education program. A spacious Resource Center, featuring the library, additional classrooms, and science facilities was built in 1974. The Resource Center, located opposite the main entrance on Carrollton Avenue, was constructed in response to increased enrollment and further individualization of instruction.
In 1982 four floors of the Jesuits' residence on Banks Street were renovated, a project which added 10 classrooms and provided new offices for the administration and staff. A year later the cafeteria was enlarged. A new physical education facility — the Louis J. Roussel, Jr. Building — was constructed in 1986 adjacent to the existing gym and included classrooms, athletic meeting rooms, and offices for coaches.
Meanwhile, properties that were part of the entire square block behind the school — bordered by S. Solomon, Banks, S. Hennessy, and Palmyra Streets — had been methodically acquired over a period of some 25 years. The final parcel was purchased in 2001 and Jesuit converted the entire block into a grass athletic field for team practices, P.E. classes, and other events. This open space was dedicated in 2005 as the Will Clark Field.
---
---

---
Mary Loretta Landrieu was born in Arlington, Virginia on November 23, 1955. She was raised in New Orleans and attended Ursuline Academy. She graduated from Louisiana State University in Baton Rouge in 1977, where she was a member of Delta Gamma sorority. Before entering politics, she worked as a real estate agent.
Gennaro's Bar owners Charles and Conchetta's son made a name for himself on Broadway during the 1950s. With Jerome Robbins, Peter Gennaro choreographed West Side Story in 1957. He danced and choreographed his own troop and coached guests who appeared on Perry Como "Kraft Music Hall" from 1960 through 1963. In 1977 he was awarded a Tony for choreography for the smash hit "Annie". Born on November 23, 1919, Peter Gennaro died in September 28, 2000 at the age of 80.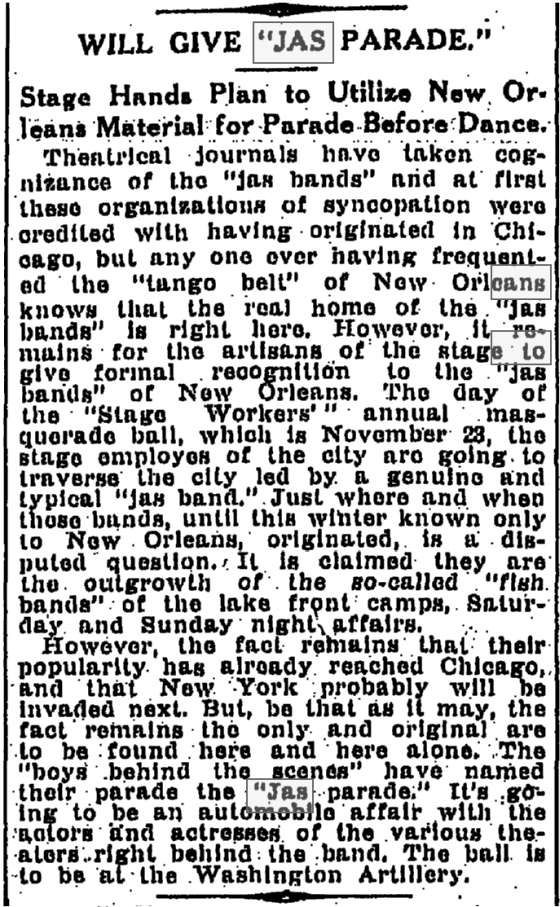 ---
The origin of the word jazz has had wide spread interest—the American Dialect Society named it the Word of the Twentieth Century—which has resulted in considerable research, and its history is well documented. The word began [under various spellings] as West Coast slang around 1912, the meaning of which varied but did not refer to music.
The use of the word in a musical context was documented as early as 1915 in the Chicago Daily Tribune. Its first documented use in a musical context in New Orleans appears in a November 14, 1916 Times-Picayune article about "jas bands" according to Benjamin Zimmer (June 8, 2009). ""Jazz": A Tale of Three Cities". Word Routes. The Visual Thesaurus. That Times-Picayune article appears on the right.

The "Jas Parade" cited in the article was scheduled for November 23, 1916 would include stage workers, actors, and actresses from theaters in town who would be travelling in in "an automobile affair" (cars had only become available and popular around 1910) which would "traverse the city led by a genuine and typical 'jas band'". They would end the parade at the Washington Arillery to celebrate their annual masquerade ball. The Washington Artillery Hall was on St. Charles between Girod and Juila. It's second floor contained two ball rooms, one of which had also been used by the Krewe of Rex before the building was demolished in 1952.
According to the National Park Service: "The Tango Belt (further described later in this document) was in the French Quarter just across Basin and North Rampart streets from Storyville, and there was a symbiotic relationship between the two entertainment areas. The Tango Belt had numerous saloons, cabarets, nightclubs, and three large theaters that employed jazz musicians, including the Oasis Cabaret, the Elite, Butzie Fernandez, the Haymarket and Ringside cafes, and the Black Orchid. The name Tango Belt derived from a 1915 newspaper article that used that name to describe this district. At its peak, the area had one of the highest concentrations of commercial jazz venues in the city. Many buildings in the Tango Belt have been removed or significantly altered, and more research is needed to determine the status of many of the structures related to early jazz."
---
On November 23, 1900, the firm of Sully, Thomas and Stone Brothers submitted plans for an office building at 600 Canal Street for the Tulane Educational Fund.
Born in New Orleans on November 23, 1888, Alfred A. "Al" Bernard was an American vaudeville singer, known as "The Boy From Dixie", who was most popular during the 1910s through early 1930s. He was a blackface singer in minstrel shows before starting his recording career around 1916. He was one of the first white singers to record blues songs. W. C. Handy credited Bernard with helping his own career by recording a number of his songs, notably "St. Louis Blues". Bernard recorded the song for nine different record labels, the most successful being what Handy called "the sensational Victor recording in which he sang with theDixieland Jazz Band". From 1919, he recorded solo for Okeh Records. His songs included one called "Shake, Rattle and Roll", about a dicegame, which was wholly unrelated, except in title, to the later rock and roll song. Bernard was sometimes billed as "The Singing Comedian", and was the first American singer to record the song "Frankie and Johnny" in America. He also recorded duets with Ernest Hare, in which Bernard took the female singing part, including his biggest hit, "I Want To Hold You In My Arms". He recorded with songwriter J. Russel Robinson as "The Dixie Stars" and, with Robinson, wrote the Bessie Smith feature "Sam Jones Blues". He also co-wrote songs with Jimmy Durante. Later, he recorded with Vernon Dalhart. In 1925, inspired by Dalhart, he began recording hillbilly songs. His 1930 version of "Hesitation Blues", recorded with the Goofus Five, is considered to predict the western swing style, with an intriguing combination of country and western and Chicago blues feels. Bernard continued to record into the 1940s. He died on March 6, 1949 in New York City. (Wiki)
The Halfway House was located at the current intersection of the Pontchartrain Expressway and City Park Avenue. Its name derived from the fact that it was located about half-way between the city and and West End which was a popular amusement and dining destination on the lakefront back in the day. A trip from town to West End in those days took some time so a stop for refreshments along the way was most welcome. The earliest mention of the place appeared in the local newspaper on July 18, 1844 with a coroner's inquest regarding a body left there -- the hapless victom of a horse racing accident where he was thrown to the ground along the New Shell Road (now the Interstate service road abutting Metairie Cemetery) near the Metairie Race Track (now the Metairie Cemetery). On November 23, 1848 an announcement appeared in the paper offering a "handsome reward" for a lost silk purse containing $350 (a very sizable amount in those days) in denominations of $100 bills and a $50 issued by the State Bank of Louisiana which was lost between the New Shell Road, the Halfway House, and the post office. By June 1853 a new horse-drawn omnibus appeared which could bring 16 inside passengers as well as 12 outside passengers to the Halfway House 6 times per day for a mere 15 cents.
The Conseil de Ville [City Council], by ordinance of November 23, 1822, required a license from the Mayor in order for peddlers to sell merchandize in the public squares or on the public streets. The license was to specify the time and location permitted. Slaves could not be directly licensed, but free persons could purchase a license and specify a slave to do the actual selling. The Mayor was further allowed to grant up to twenty five gratis licenses each year. Peddlers of bread, vegetables, milk products, wood, and fodder were exempted from the provisions of this law. (NOPL)
CLAIBORNE, William Charles Cole, politician. Born, 1775, Sussex County, Va.; son of Col. William Claiborne, a small and generally impecunious landholder, and Mary (Leigh) Claiborne. Brother of Ferdinand Leigh, Thomas Augustine, Nathaniel Herbert, and Mary Leigh. Married (1) Elizabeth "Eliza" W. Lewis of Nashville, Tenn., April 20, 1801; one daughter: Cornelia Tennessee. Married (2), September 27, 1806, Clarissa Duralde, of Attakapas County, La.. Child: William C. C. II. Married (3), November 8, 1812, Susanna Bosque y Fangui (q.v.). Children: Charles and Sophronia. Attended Richmond Academy and, briefly, William and Mary College. At age of 15 became copyist for John Beckley, clerk of the national House of Representatives, first in New York and then in Philadelphia, where he also studied law under A. J. Dallas. Encouraged by John Sevier, migrated to Tennessee, beginning law practice there in May, 1794. Served in the Tennessee constitutional convention of 1796, resigned in 1797 to campaign successfully for the national House of Representatives. A firm Republican, cast Tennessee's vote for Jefferson in the disputed House election of 1801, to be rewarded with appointment as governor of the Territory of Mississippi on May 25, 1801. Claiborne's Mississippi years were plagued by continuation of a general "anti-governor" attitude among settlers dating back to the days of his predecessor, but he did make at least modest gains in establishing the militia, reorganizing the judicial and legal system, promoting education, and keeping the Indians subdued while schemes to exploit them advanced. With acquisition of Louisiana by the United States in 1803, he was sent by Jefferson to New Orleans with Gen. James Wilkinson (q.v.) to transact the transfer of the region to its new status, receiving in addition the sole authority to govern the ceded territory. His relations with the native Louisianians were soured by his ignorance of the French language, by the United States' refusal to honor certain clauses in the Treaty of 1803, and by his own judgment that the Louisianians were unprepared for self-government. By temperament emotionally insecure, Claiborne intensified the difficulties of his administration by identifying legitimate protest as hostility to the United States and by plunging into acrimonious and heated political strife with such non-French Louisianians as Edward Livingston (q.v.), Daniel Clark (q.v.), and James Workman (q.v.). His reputation was not advanced by his rather wavering resistance to Wilkinson's high-handed behavior during the Burr conspiracy, but marriage to two Latin women (one a Louisianian, the other Spanish), compassionate reception of émigrés from Saint-Domingue, support of a civil law system for the Territory, and prompt suppression of a slave insurrection in 1811 so improved his standing among the native population that he won election as first governor of the state of Louisiana in 1812, defeating the native Jacques Villeré (q.v.) 3,707 to 1,947 in the popular vote, 35 to 6 in the determining choice by the legislature. Claiborne's gubernatorial term was largely dominated by the crisis of the War of 1812, in which his own role, to his clear chagrin, was completely overwhelmed by that of Andrew Jackson (q.v.) during the campaigns at New Orleans in 1814-1815. His concerns for militia affairs and education were, however, persistent if only partially productive. Ineligible for reelection, he left office in November, 1816, to be chosen on January 13, 1817, as United States senator. Before he could take his seat, death came in New Orleans on November 23, 1817; interred St. Louis Cemetery. Remains later reinterred Metairie Cemetery. Source: http://lahistory.org/site20.php
Tulane at Carrollton Avenue -- Before & After

November 23, 1952 & Now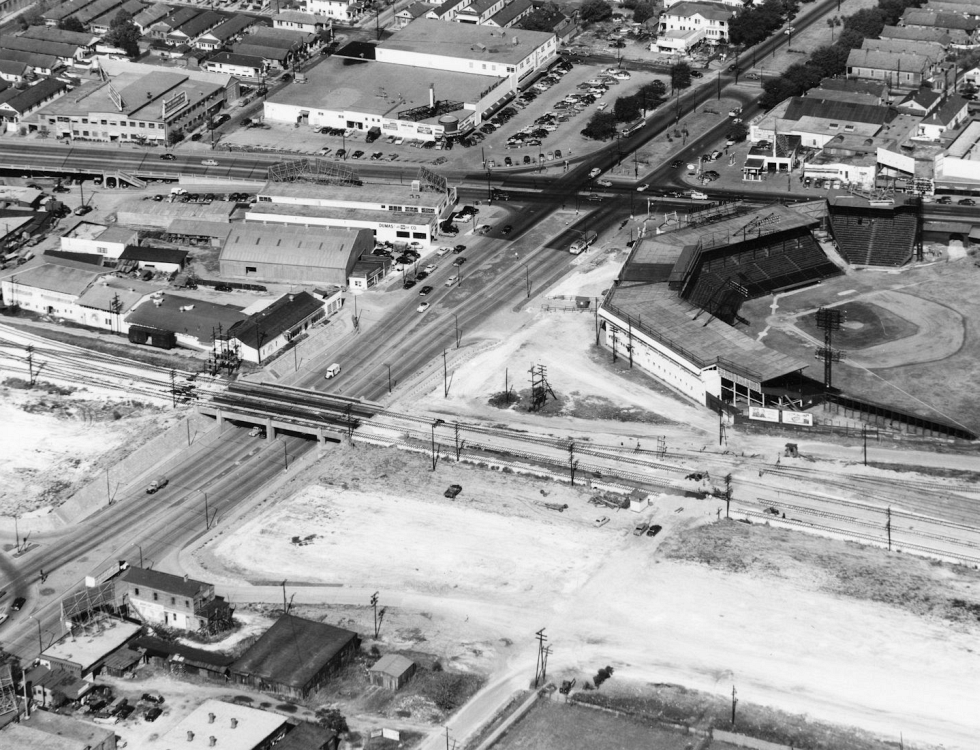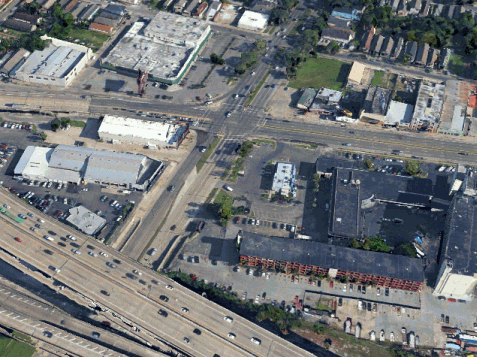 This industrial aerial photo on the left, from the New Orleans Public Library, captures the view on November 23, 1952. On the right is a capture of the same intersection today. Through the years this intersection has been many things for many people. In 1903, C. Werbeck's blacksmith shop shop was here. In 1905, Mr. Morto's horse and buggy were found abandoned here. On August 16, 1906, Athletic Park Amusement Company's arcade, casino, band building, ice cream building, and Japanese building were up for auction where Pelican Stadium would later reside. White City amusement park took its place in 1907. The Pelicans began playing baseball here around 1913. In 1939, M. B. Hardy set up a "gaily beautiful sales yard" complete with camellias, azaleas, evergreens, rose bushes, and native shrubs where the Mid-City Shopping Center would later locate. The Krewe of Endymion began their extravagant parades here. This intersection was a busy hub of activity for many years.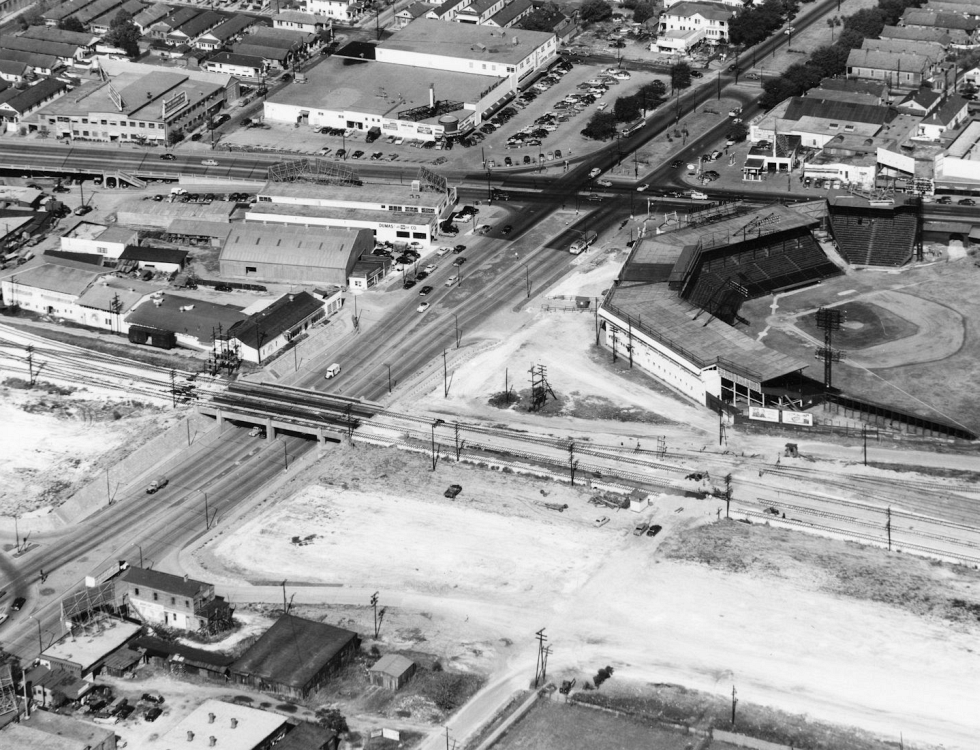 The same photo as above, zoomed in for a tighter view shows the railroad underpass on Carrollton which had been opened to traffic about three months before the photo was taken on November 23, 1952. It was part of the extensive Union Passenger Terminal Grade Separation Program, designed ease auto traffic throughout the city. In the photograph is also Pelican Stadium (right) on the corner of Tulane Avenue and South Carrollton Avenue, Mid-City Shopping Center (catercorner to the stadium), Riecke Cabinet Works (left of the shopping center on Carrollton), and Dumas Chevrolet (across Carrollton Ave. from the Stadium). The then newly-filled New Basin Canal runs along the bottom of the photo, parallel to the train tracks. Once a thriving navigational canal which had connected Lake Pontchartrain to the heart of the city, much of its path was replaced by the Pontchartrain Expressway and the neutral ground between West End and Pontchartrain Boulevards.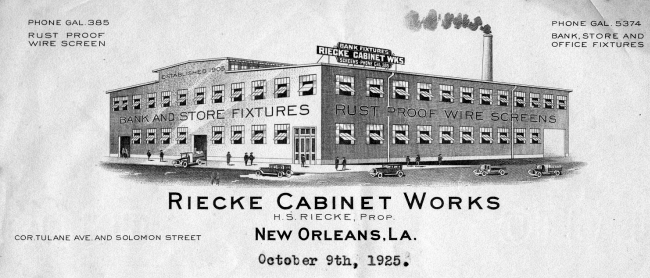 Riecke Cabinet Works, Inc. at 4102 Tulane manufactured furnishings for offices, banks, stores, and churches. It was founded by Henry Sebastian Riecke in 1904 witha $1000 investment and a small building on Magazine Street at Girod. Riecke's excellent work and satisfied customers allowed him to move to a larger facility at Tchoupitoulas at Girod. Another expansion occurred when he move the business to Annunciation at Girod until 1924 when he built the large plant pictured. Riecke was among the first to produce and sell radio cabinets in the city. He made the pews and fixtures for Grace Evangelical Church, which were moved to the congregation's new location at 5800 Canal Boulevard. One of his proudest accomplishments was the creation of the Archbishops throne for St. Louis Cathedral during the mid-1940s. In all, the company company furnished over 1200 churches around the world, employed as many as 120 persons during peak seasons, and was one of the largest company of its kind in the South.
The company's work could be seen at Howard-Tilton Library, the LSU medical building, Gentilly Presbyterian Church, Katz & Besthoff on Canal Boulevard, St. Rita's Church, St. James Major Church, the Xaivier University Chapel, Notre Dame Seminary, First Baptist Church, Pontchartrain Motor Company, and the Supreme Court main court room.
The fourth grader who was forced to drop out of McDonough grammar school on South Rampart and Girod Street to work odd jobs, Henry Riecke passed away on June 24, 1965 at the age of 84 a very successful businessman. He was also president and owner of Tulane Hardware and Lumber Company, Inc. His sons continued to run Riecke Cabinet works after his death.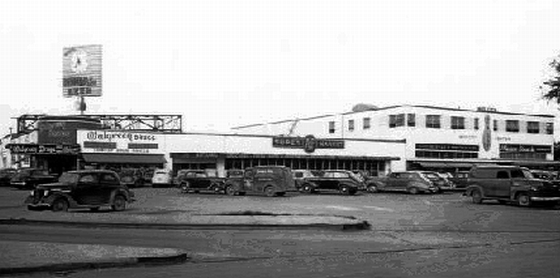 Mid-City Shopping Center is pictured on the left during the early 1940s. At the time it housed a Walgreen's, an A&P grocery store, and the Mid-City Bowling Lanes which would later become Rock 'n' Bowl (which has now relocated a few blocks away on Carrollton Avenue behind what was Ye Olde College Inn). On the right is the former location of Mid-City Lanes/Rock 'n' Bowl, now Shamrock night club.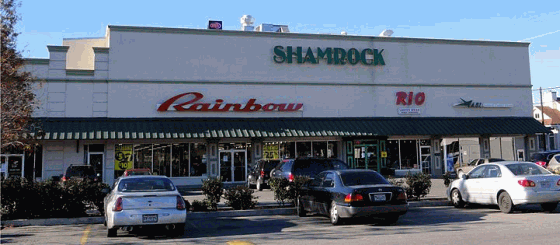 A Maison Blanche store was later located in the strip as was a Capital grocery store (1950s). Capital also had locations at 3031 Gentilly Boulevard at Frenchman Street and at 4650 Washington Avenue at Jefferson Davis Parkway.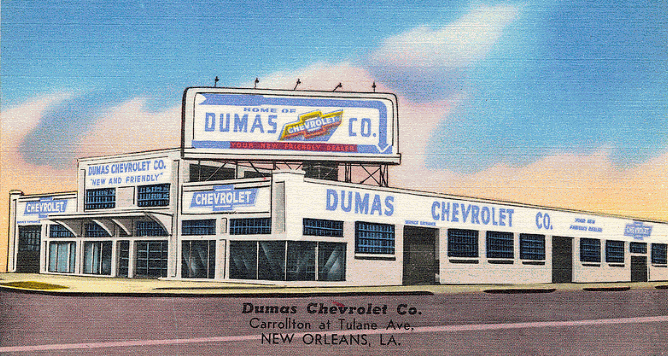 Robert Ernest "Dumas" Milner, who owned Dumas Chevrolet Company, was the Tom Benson of Jackson, Mississippi -- a self-made millionaire who made a fortune through turning small companies into large profitable ones, opening car dealerships, buying and selling real estate, and generally making everthing he touched turn to gold. "Dumas" was a nickname given his after he began following a hired hand by that name around his family's cotton farm. At age 7 he hawked Rosebud Salve elixir to his rural neighbors. As a young man he took over Magnolia Chemical Company who employed six peope to produce their patented Pine-Sol and other cleaning products, and turned it into a $10 million per year company with 86 warehouses, and sold it to American Cyanamid for $17 million. He bought hotel and real estate, owned the tallest building in Jackson, began an exporting business, and acquired National Car Rental. He was Chief of Staff of Mississippi Governor John Bell Williams and owned Henderson Mansion in Pass Christian. With a somewhat quirky (but true to his times) business philosophy, he refused to hire a man to a key position until he met the man's wife.
When the Dumas dealership formally opened at 4049 South Carrollton on August 30, 1952 at 8 a.m., gifts were given to the ladies and Val Barbara and his Orchestra played. The air-conditioned showroom was modern in every way. The repair shop was stocked with $50,000 worth of parts and equipment. Thirty-five employees were on duty, with 80 more expected to be brought on during the next six months. Ben Howard Nelson was the vice-president and general manager, W. N. Newt Godfree was the GM, Herbert P. Jackson served as service manager, S.K. Martin the business manager, J. Clyde Carter was in charge of parts, Alex Holliday was truck manager, and Henry Carter was the used car head man. By the time the dealership celebrated its second anniversary, it had added a used car lot at 3925 South Carrollton. By 1956, Dumas had four dealerships in New Orleans, including locations at 215 South Claiborne (between Tulane and Canal) and in Kenner at Airline Highway at Clay Street.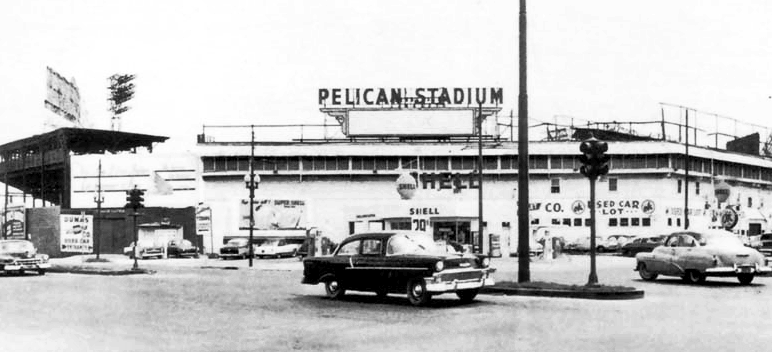 The beloved Pelican Stadium has a long history of its own (much too long to feature here) but for baseball fans, this sight (right) must have been heartbreaking. On October 16, 1956, Dumas announced the opening of a new car lot at Pelican Stadium. A want-ad published in the Times-Picayune that day sought new and used car salesmen to work it..."Apply in person to Bill Watson".
From 1915 the New Orleans Pelicans (the first professional sports team in New Orleans) called it home, as did the Black Pelicans and the Creole Negro teams. Pelican/Heinemann Stadium also allowed local fans to view major league exhibition and training games and to get a glimpse of stars such as Babe Ruth, Jackie Robinson, and Hank Aaron. The stadium was demolished in 1957. It was replaced by the Fontainebleau Hotel which was was later converted into a storage facility.
Happy Birthday, Al Shea
Born in New Orleans on November 23, 1927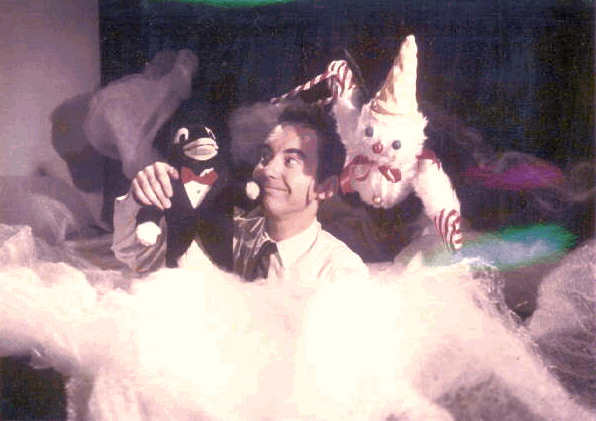 Photo from the Broadcast Museum
Al Shea, born Alvin Francis Caserta, Jr. in New Orleans on November 23, 1927, was a popular local actor and theatre critic. He spent his early childhood in Paducah, Kentucky, where his father obtained employment. While still a boy, his parents divorced. His father remained in Kentucky, where he re-married. His mother returned with her son to her family in New Orleans. Al's name was then officially changed to Alvin John Shea, Shea being his mother's maiden name. At the age of ten, Shea was heard on WWL radio as Jackey, in the serial, "The Life of Peggy Hill." His stage debut was as Tip in The Land of Oz, in 1941, at Le Petit Théâtre du Vieux Carré.
Shea served in the Navy, and was a Tulane graduate. In 1955, he joined the staff of WDSU-TV, replacing Ed Nelson on "Tip-Top Space Ship," as Sparky. He then had success as Deputy Oops in "Adventures in Fun," in 1960. A bigger success followed when he was the voice of Pete the Penguin on Mr. Bingle broadcasts. He was also producer of the station's "Second Cup" show, with Bob and Jan Carr and served as entertainment critic on "Midday" (1963–73), with Terry Flettrich, where he interviewed many stars of the theatre and cinema. Throughout his career, Shea wrote on various facets of the Fine Arts and of entertainment for varying media, and was often heard on radio, as well.
As an actor, Shea was seen in New Orleans in Our Town, The Boy Friend, The Merchant of Yonkers, Night Must Fall, Bye Bye Birdie, Mister Roberts, and All the King's Men. He also directed local productions of Lo and Behold! and Life with Father. His final stage appearance was in 1998, in Puss in Boots. He can be seen in the documentaries "New Orleans That Was" and "New Orleans TV: The Golden Age."
Shea covered theatre for several years for Gambit (until 1995), and, for twenty-three years, was theatre critic on WYES's "Steppin' Out," with Peggy Scott Laborde. His final appearance on the program was only two months before his death, from cancer, at the age of eighty-one. Al Shea died on August 20, 2009, in New Orleans. His funeral mass was held at St. Louis Cathedral. (Wiki)