December 6



---
Skating in City Park
December 6, 1938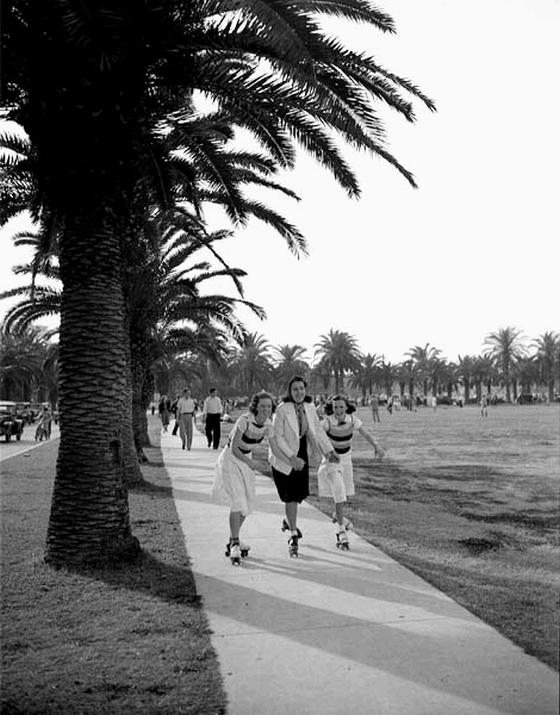 Works Progress Administration photograph captioned "Some of the mainy drives and sidewalks in the City Park program which were laid by the WPA". Photo from the New Orleans Public Library.
---

If you have enjoyed these daily updates, please consider these books by Catherine Campanella for your holiday gift giving:
---
Jim Letten. U.S. Attorney for the Eastern District of Louisiana, announced his resignation from his position as U.S. Attorney on December 6, 2012, effective December 11, 2012. He was the longest-serving U.S. Attorney in the country, holding the position for more than 11 years.
In 2008, William Jefferson sought re-election to the United States House of Representatives. Seven Democrats challenged him for the seat in the Democratic primary. In the October 4, 2008 Democratic primary, opposition to Jefferson was split among six contenders. Some of the challengers made strong showings in their base neighborhoods but failed to garner much support in other parts of the district. Jefferson ran second, third, or even fourth in many precincts, but his 25% total was enough to give him a plurality and to send him into the runoff primary, where he faced Helena Moreno, a former TV newscaster, on November 4. Aided by overwhelming support from African-American voters on the same date as the presidential candidacy of Barack H. Obama drew them to the polls in unprecedented numbers, Jefferson won the Democratic nomination in the congressional party primary, which barred the district's 41,000 Republicans and many of its 84,000 other voters not registered as Democrats. Jefferson won the November 4 Democratic runoff. The general election round occurred on December 6, 2008. Jefferson faced Republican candidate Anh "Joseph" Cao, Green Party candidate Malik Rahim, and Libertarian Party candidate Gregory Kahn. An earlier candidate, independent Jerry Jacobs, withdrew. Jefferson was defeated in the general election in a major upset by Republican nominee Cao, who had endorsements from several prominent Democrats including Moreno and City Councilwomen Jacquelyn Brechtel Clarkson and Stacy Head. New Orleans Mayor Ray Nagin endorsed Jefferson. Cao won by three percentage points. Jefferson thus became only the third Democratic incumbent since the end of Reconstruction to lose to a Republican at the federal level in Louisiana.
On December 6, 2006, Armstrong International launched an $8 million maintenance campaign to clean and improve the terminal environment. Dubbed Music To Your Eyes, the campaign was designed to transform the airport into a more visitor-friendly facility, with improvements to lighting, cleanliness, seating, baggage claim maintenance, curbside congestion, and designated smoking areas.
Photo of a City Council Meeting
,
December 6, 1984
where an Urban League Equal Opportunity Day proclamation was issued. Pictured are Councilman Lambert Boissier, Councilman James Singleton, and others unidentified.
On December 6, 1975 Fleetwood Mac and Jiva performed at A Warehouse.
On December 6, 1970 The Band performed at A Warehouse.
Ground was broken for the Tupelo Canal on December 6, 1970.
Blanche Virginia Blanchard, born in New Orleans, 1866, studied with artists Charles Giroux and William Aiken Walker, thus becoming active in their artistic circle. Walker and other artists spent many evenings in the Blanchard home, and Giroux intermittently lived there. Her residence became a focal point for art and music in the city. She was an extensive collector of art and a early member of the Artists' Association of New Orleans and in later years with her husband organized and directed the Literary and Musical Club of New Orleans. In 1884-1885 she participated in the Exhibit of Woman's Work in the Louisiana State Department at the World's Industrial and Cotton Centennial Exposition. Through her efforts the pulpit of St. Alphonsus Church was beautified in 1890. She died in New Orleans on December 6, 1959. Source: http://lahistory.org/site19.php
Several photos of WPA improvement projects on city bridges, December 6, 1938.
Andrew James McShane (January 2, 1865 – April 17, 1936) was mayor of New Orleans from December 6, 1920 to May 4, 1925. McShane was born in New Orleans, the son of two Irish-American Catholics, Bernard McShane and Rose (Fitzpatrick) McShane. After his father died, he entered the hide business at the age of nine, working his way through the ranks as a travelling salesman before becoming sole owner of his firm at the age of twenty-one. His business was very successful. He married Agnes Bruns of New Orleans in 1918; they had one daughter, Rosemary. McShane was involved in New Orleans politics throughout his adult life. He was associated with the reform-oriented groups that were opposed to the machine politics of the Regular Democratic Organization, or Old Regulars. He held posts in the administrations of reform mayors Walter Flower and Paul Capdevielle. McShane ran for a city council seat in 1912 under a 'good government' platform, but lost. In the election of 1920, McShane was the mayoral nominee of the reform-oriented Orleans Democratic Organization. The endorsement of reform governor John M. Parker helped him narrowly defeat the incumbent Old Regular mayor, Martin Behrman. Despite the reform promises of the new administration, McShane was able to achieve very little. He and his administration were hampered by inexperience at city government and by dissension between various factions of his supporters. He was able to improve garbage collection, reform the Department of Public Works and the city's finances, and create a system of one-way streets to improve traffic flow. McShane ran for re-election in 1925, but was soundly defeated by former mayor Martin Behrman. After his defeat, the Old Regulars would continue to control the city until 1946. McShane Place, a block-long street connecting Rampart Street and St. Claude Avenue, is named after him. http://upload.wikimedia.org/wikipedia/commons/8/8d/Andrew_J_McShane.jpg
Marie Jeanne Aliguot, Born, France, ca. 1783. Arrived in New Orleans, December 6, 1832. Devoted her time, wealth and self to reduce the oppressed conditions of black people, especially the slaves. Became a part of Sister St. Mathé's "school for colored children," took over the management of school in 1834. Purchased, 1834, buildings that formerly housed Collège d'Orléans on St. Claude Street. Established, 1836, helped Henriette Delille form a religious community, Sisters of the Holy Family. Died, New Orleans, April 12, 1863. From http://lahistory.org/site18.php
William H. Christy, soldier, politician. Born, Georgetown, Ky., December 6, 1791; son of George and Mary (Cave) Christy. Orphaned at age fourteen. Served in the Creek campaign and under Gen. William H. Harrison in the War of 1812, and became the "Hero of Fort Meigs" when he saved a group of men from certain death at the hands of Tecumseh. Later fought in the Florida War and rose to the rank of colonel. Removed to New Orleans in the winter of 1815 as an army paymaster, became a tobacco merchant in 1816 and lost his fortune in 1818. Was admitted to the bar, 1821, served as city councilman, 1823-1825, 1833, 1844, and notary public, 1827-1857, and published a Digest of the Decisions of the Supreme Court of Louisiana (1825). In 1835 helped found the Native American movement, ran unsuccessfully for governor, and agitated for separate municipalities in New Orleans. In October 1835 became the leading supporter of the Texas Revolution in the city, outfitting the New Orleans Grays and recruiting men for the Tampico Expedition. In 1836 helped procure loans to the Texas government totalling $250,000. His friend Sam Houston stayed with him while recuperating from a wound received at the Battle of San Jacinto and later that year honored Christy at his inauguration as president of the Republic of Texas. In 1839 as president of the Native American Party of Louisiana, Christy incited riots at Galveston and Cincinnati by his anti-foreign speeches and attacked a foreign newspaper establishment in New Orleans. In 1840 he campaigned actively for Harrison in the presidential election. In the 1850s he was surveyor of customs at New Orleans (1850-1854), again sought the gubernatorial nomination, 1855, and developed Abita Springs in St. Tammany Parish into a health resort. He actively supported the Confederacy, fighting at Chickamauga as a volunteer even though in his seventies. Married Catherine Pauline Baker Cenas (1783-1856), January 31, 1818, daughter of former Philadelphia mayor Hilary Baker and widow of Blaise Cenas (q.v.), former sheriff of New Orleans. Helped raise her three sons by her first marriage, and together they had two sons and a daughter. Died, New Orleans, November 7, 1865. Source: http://lahistory.org/site20.php
Jefferson Davis Dies
December 6, 1889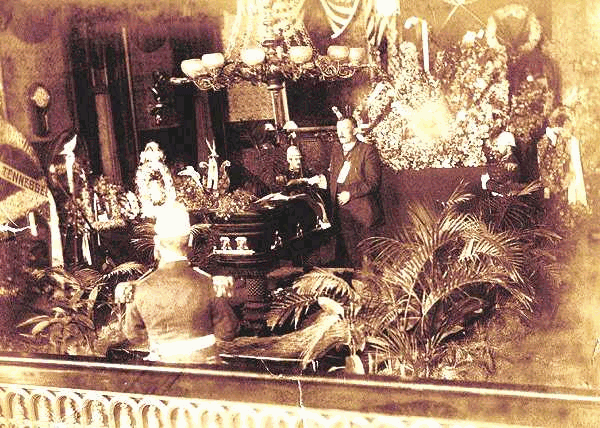 Jefferson Davis, former president of the Confederate States of American, died on December 6, 1889 at the New Orleans home of Associate Justice Charles E. Fenner, at the corner of First and Camp Streets. Later that day his body was removed to the City Hall at Lafayette Square (now Gallier Hall), where the body lay in State from Midnight, December 6 to Noon, December 11, 1889. Thousands of people filed past the coffin to look for a last time upon the face of the man who had presided over the destinies of the Confederacy during the entire period of its brief existence. The deceased was dressed in a suit of Confederate gray and the council chamber was profusely decorated with the somber trappings bespeaking the gloom that dwelt in the hearts of the thousands to whom he was dear.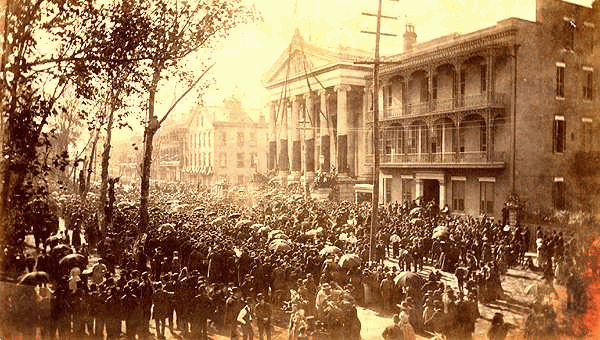 The funeral services were held the at the entrance to the City Hall and it was one of the most impressive ever held in the United States.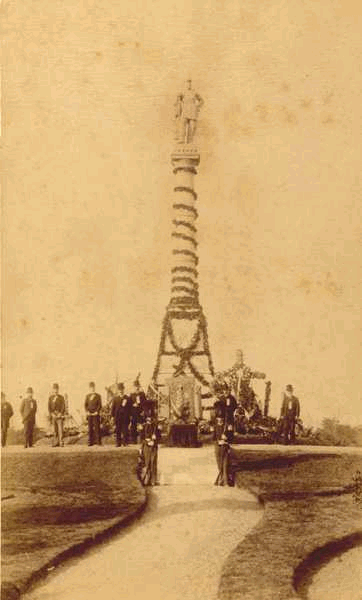 The body was then carried by a funeral procession through the streets of New Orleans to Metairie Cemetery. Davis was buried there in the tomb of the Army of Northern Virginia. On May 27, 1893, his remains were transferred to a new casket and placed in state at Confederate Memorial Hall for a day before being removed to the Louisville & Nashville train that carried them to Richmond, Virginia, for reinterment in the Hollywood Cemetery. (From the New Orleans Public Library.)