---

Happy Mardi Gras!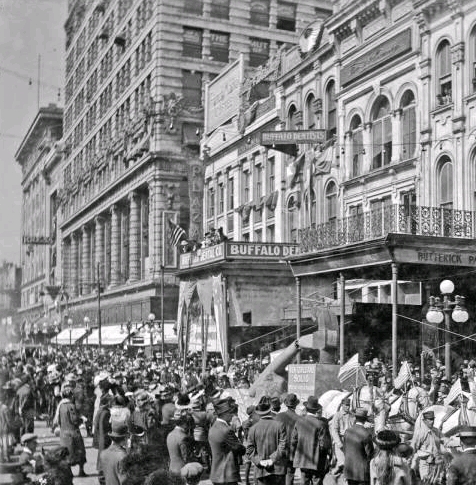 Carnival Day has been celebrated on this date in 2003 and 2014. But this March 4, 1916 Times-Picayune photograph, taken on Canal Street near the Maison Blanche building, is not of a Mardi Gras parade.
Publicity leading up to the event had New Orleanians scratching their heads. To top that off, in the days preceding the parade, "prominent citizens" were reportedly spotted all over town wearing lapel pins depicting broken hammers but would not divulge their symbolism. "Keep your eyes on March 4" announced an advertisement in the paper on February 25th. "Everyone be at St. Charles and Calliope at 11:30 o'clock on March 2" read another on February 29. On March 1, The Association of Commerce announced that it would tell more about the mysterious event in the coming days. And on March 2 it did inform the public of its upcoming "Industrial Parade" featuring a broken "giant hammer" (which is pictured here) which would symbolize the defeat by "progressive citizens" over pessimistic "knockers" who did not preach the "gospel of thrift and optimism".
Maison Blanche and Lazard's department stores sold broken hammer pins for a nickel because "Every public spirited citizen should wear the broken hammer". On March 3, the Association of Commerce announced that the Knights of the Broken Hammer's upcoming parade would be a mile long, led by the NOPD, and include twelve bands. Paul Jahncke was its chairman. New Orleanians love a parade and this one did not disappoint.
This photo appeared on the March 5, 1916 front page of the Picayune. The inscription under the hammer head reads "New Orleans Solid After 178 Years of Progress -- 1718 - 1916". "Hammer Signifies Spirit of New Orleans" and "Exhibits of Products Please Spectators" read the headlines.
The parade was the first of its kind in our city and was scheduled to appeal to Mardi Gras visitors in town for the March 7th Carnival Day. It began at 11 a.m. at St. Charles and Clio, turned at Washington Avenue, went back to St. Charles to Canal Street, back to Camp and then to Howard Avenue. Its 83 floats featured 75 New Orleans based products representing local resources, businesses, farming, and more. Men donning sandwich-board signs extolling the virtues of the Association of Commerce were interspersed throughout. "Hundreds of thousands attended" the parade, said the paper. And what a parade it was:
The city sponsored two "Safety First in Economy of Industrial New Orleans" floats -- one a huge "auto dump truck" with an attached wagon from the city repair plant, the other an "auto truck" with a creosote mixer in operation.
The Miller Elmer company's float depicted a giant box of candy from which girs tossed chocolates to the crowd.
The American Can Company displayed hundreds of different products.
E. A. Zatarain and Sons displayed their food products as did Jacobs Candy.
The American Brewing Company displayed Regal Beer in cartons.
Consumers Electric's float depicted a modern chimney-less home.
Levy Mattress Co. had not only a float with many mattresses but float-pulling mules decked with tiny mattresses.
Crescent City Steam Laundry's float was titled "Merry Monday" (our traditional wash and red beans day).
Odenwald & Gross' ten-foot high tiered wedding cake topped with bridal couple puppets must have wowed viewers.
New Orleans Railway & Lighting had two massive floats -- one featuring its electric plant and the other its gas works which included gas stoves and tanks.
Penick and Ford touted its Velva Syrup.
Swift & Co. proudly sponsored two floats -- one for its lard, the other for its fertilizer, both produced in Harvey.
Lane Mills featured an operating spindle and young women dining at a table covered in fine linen.
The Public Belt Railroad depicted its history.
S. Chesterobe Co. featured its cedar chests.
Wichita Service Station had an auto truck floate with a working mechanic.
New Orleans Coffee Co. featured French Market Coffee.
The Dock Board's float was piled high with bales of hay.

Crescent City Stock Yards had a massive red bull on their float.
Evan J. McCall had three floats -- one with hogs, one with swine, and another with a bull.
Jahncke Company had four floats (note Paul Jahncke was the parade chairman). They included a two-story house, a pyramid, a stucco house, and a comment display.
Evansville Brewing Company featured Sterling Beer and Cook Brewing Company displayed Cook's Beer.
Abott Auto Co. proudly displayed a huge Packard truck bearing a six-passenger touring car.
Interstate Electric's float was described as "one of the prettiest". It included pets in a miniature house surrounded by various "handy appliances".
The YMCA's float included "boys in athletic costumes, one taking a shower" (in his costume?).
And last but not least, came the broken hammer float.
---

You Can Support this Site by Clicking on & Shopping from this Amazon Link -- and it won't cost you a penny more: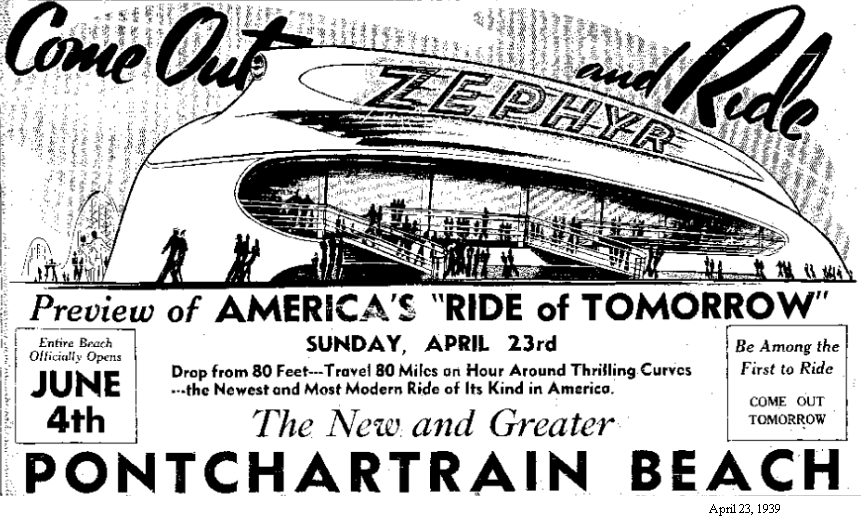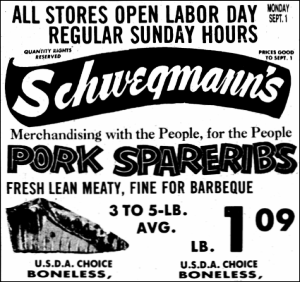 All amusement park rides in City Park sustained major damage as a result of Hurricane Katrina. The Hyams Fountain (wading pool) was swamped with fallen branches and unwanted vegetation. The golf clubhouse was flooded then demolished. But in 2005 some tennis courts reopened. In August, 2006 Runner's World reported that many water fountains and streetlights were still not working but the park's roads were clear. The Botanical Garden reopened to the public and its facilities were again available for functions beginning on March 4th, 2006 (a little over six months after Katrina) "...thanks in large part to volunteers and donors from throughout the United States and worldwide" read an article in the Time-Picayune. (PI) cp#142
Photo of Arthur J. Heyd, Superintendent of the New Orleans Fire Department, and Assistant Superintendent Louis J. San Salvador, March 4, 1969.
Evarts Ambrose Graham was born on March 10, 1885, and died in St. Louis of cancer of the lung on March 4, 1957. At the time of his death Dr. Graham was widely recognized as the leading surgeon of his day. He had devoted many years to the study of cancer of the lung and, together with Dr. Alton Ochsner had pointed out the important role of cigarette smoking in the cause of this disease. Credit: http://www.nap.edu/books/0309023491/html/220.html
Nicholas Bauer, educator. Born, New Orleans, July 22, 1877. Education: local schools; Tulane Univeristy, B. S., 1897; master's degree, 1899. Senior chemistry professor at Boys' High School, 1900-1908; assistant superintendent of Orleans Parish Schools, 1901-1923. Superintendent of Orleans Parish Schools, 1923-1942. Active in civic affairs; served as secretary of the Louisiana Teachers' Association, 1901-1915; president, 1915-1916. A charter member and director of Isaac Delgado Trade School. As superintendent of education, launched a ten-year expansion program (1927-1936) resulting in construction of at least nineteen new schools. Awarded the Times-Picayune Loving Cup for 1936 for outstanding civic service. Married (1) Ethel Champerlain and (2) Edna Kane. One child, Ethel, by first marriage. Died, March 4, 1946; interred Metairie Cemetery. G.R.C. Source: New Orleans Times-Picayune, March 5, 1946 From http://lahistory.org/site19.php
The Liberty ship Harry Toulmin was launched at Delta Shipbuilding Company on March 4, 1944.
Under Mayor Robert S. Maestri's leadership, "America's Most Improved City" paid off its old debts, redeemed itself from technical bankruptcy and liquidated bank loans totaling more than $6,000,000 to become debt free on a pay-as-you-go basis. Repayment of these debts has saved the city up to $416,000 interest rates annually. The city's "Red Letter Day" came March 4, 1938 when a note for $508,008.37 held by the American Bank and Trust Company was marked paid, the last installment of the $6,051,928.02 owed to the banks of New Orleans. (NOPL)
The Howard Library, donated to the city by Mrs. Annie Howard Parrat, was formally opened on March 4, 1889. William Beer was appointed librarian.
The First Municipality Council accepted the Wardens' proposal on March 4, 1847 and further resolved to accept sealed bids for the construction of 150 vaults on the Conti Street side of St. Louis number 1 cemetery. The Surveyor was authorized to superintend the building of the vaults and to fill the low spots in the cemetery. The Council authorized the mayor to give new vaults to those able to prove title to old vaults "provided that such person or person's family or families renounce forever their rights to the same."