November 2
---


---
---

The Annual Report for the New Orleans Public Library, 1948 included this quote: "The magnificent Milton H. Latter Memorial Library, given by Mr. and Mrs. Harry Latter in memory of their son lost in the recent war, deserves a report all its own. This stone mansion at 5120 St. Charles Avenue, a landmark of uptown New Orleans, has been completely remodeled, furnished, and equipped by the donors. It is unique among the public libraries of the nation for its equipment--crystal chandeliers, tapestries, period furniture--and for its setting in a full square of landscaped gardens. Its conference and assembly rooms provide for a type of community-wide service long needed in New Orleans. Opened November 2, 1948, by the year's end its patronage had already justified the generosity of the Latter family and the expectations of the Library administration."
The Latter family never lived in the mansion nor did they own it prior to purchasing it from Eddy for the sole purpose of donating the beautiful building and grounds to the people of New Orleans as a memorial to their son. They made their home at 10 Newcomb Boulevard and figured prominently on the Society pages of the local papers during the 1930s and 40s, which noted their travels and Harry's business ventures as owner of Latter and Blum Realtors.
Back on September 9, 1909, the Daily Picayune noted that "Harry Latter, the cheerful young man in Stroudback and Sterns office made his first important real estate sale yesterday. He sold a double cottage at 2224 Baronne Streets [sic] between Philip and Jackson, for $5,000. He was congratulated for his achievement". By 1913 he had been named a partner with Charles S. Stroudback with offices at 409 Carondelet, dealing in real estate and insurance.
In 1914, along with others, Harry Latter chartered the Louisiana Real Estate Exchange and served as secretary and treasurer. The firm sold everything from mules and harnesses to land and homes with Harry acting as auctioneer for many of their sales of publicly seized property. On November 18, 1914, he married Annie Shushan.
Harry and Annie had three children -- Shirley, Shepard, and youngest son Milton. Both boys graduated from Culver Military Academy in Culver, Indiana. Milton graduated from the academy in 1940. He was well-known as a good local golfer and athlete. He joined his father's firm in 1940 and while attending Tulane was elected president of the "Greenbackers", a school spirit organization. Both brothers served in the military during World War II. In 1942, Milton was stationed in Camp Walters, Texas as a lieutenant in the army.
An August 14, 1944 Times-Picayune article noted that "Lieutenant Milton Latter, 22, of 10 Newcomb Blvd.: was a "member of the Regimental Headquarters Company which lost its identity and took up arms to kill more than 400 Japs in one day, when they threatened the regiment command post perimeter in Saipan. A dispatch of Sunday from Saipan told how headquarters company men snatched up rifles and grenades as about 5000 Japs made an 11th hour suicide attack down the western coastal strip of Saipan in the afternoon of July 7. It described how Lieutenant Latter volunteered to lead a rescue party to bring back several wounded men...loaded men on a tank for evacuation to a medical aid station". The hero of this battle lost his own life to the war on April 27, 1945 "killed in action leading his platoon against a machine gun position in the Battle of Okinawa " reads the plaque under his portrait which hangs in the foyer of the library.
The Latter family also donated $25,000 for library alterations and furnishings but with three simple conditions:
1. That the library be named the "Milton H. Latter Memorial Library" and that one sign stating so be placed on the building and another (a "neat bronze sign") be placed on the lawn near St. Charles Avenue"
2. That the grounds be maintained in a "first-class manner" by the Parkway Commission.
3. That if, in the future, the building becomes unsuited for a library, that it be deeded to the city for public purposes and that any building which might replace it be named in memory of their son.
October 21, 1976, the library was included on the register of National Historic Places. On June 3, 1985 the Milton H. Latter Memorial Library reopened following more than a year of construction activity. Mrs. Shirley Latter Kaufman gave $150,000 for interior furnishings that helped make Latter a showplace for NOPL and the Friends of the Library organization.
---
---

---
New Orleans Public Library photo
taken on
November 2, 2010
-- the Rosa Keller Library in Broadmoor began the shoring for the new foundation of the historic house, which will be one part of the new structure.
Many New Orleans levee and flood wall failures in the wake of Hurricane Katrina occurred at weak-link junctions where different levee or wall sections joined together, according to a preliminary report released on November 2, 2005, carried out by independent investigators from the University of California, Berkeley and the American Society of Civil Engineers. Preliminary investigations and evidence were presented before the U.S. Senate Committee on Homeland Security and Governmental Affairs on the same day, and generally confirmed the findings of the preliminary investigations.
On November 2, 2004, David Vitter won the Louisana Senate primary garnering a majority of the vote, while the rest of the vote was mostly split among the Democratic contenders. Vitter was the first Republican in Louisiana to be popularly elected as a U.S. Senator. The previous Republican Senator, William Pitt Kellogg, was chosen by the state legislature in 1876, in accordance with the process used before the Seventeenth Amendment to the United States Constitution went into effect in 1914.
On November 2, 2003, the Saints won their third straight season game over defending Super Bowl champion Tampa Bay Buccaneers on their home field, 17-14. In the game Deuce McAllister set a team record with his sixth straight 100-yard game. Defensive end Willie Whitehead was named NFC Player of the Week with three sacks.
On November 2, 1979, Tulane President Sheldon Hackney announced that the stadium would be demolished. The demolition started on November 18, 1979 and ended in June 1980. While the storage areas underneath the seating in the stadium were being emptied prior to demolition, various neglected University possessions were rediscovered, including an Ancient Egyptian mummy couple. The site is currently home to the Aron and Willow student housing complexes, the Diboll parking structure, the Reily Student Fitness Center and Brown Quad. Tulane Stadium is one of three stadiums that had hosted a Super Bowl that are no longer standing. Tampa Stadium, which hosted two Super Bowls, was demolished in April 1999 and the Orange Bowl, which hosted five Super Bowl games, was demolished in September 2008.
"On November 2, 1976, citizens of New Orleans approved a bond issue that will provide funds for the construction of a new Robert E. Smith Branch Library. The existing structure serves a community three times the size it is designed to serve; is badly in need of repairs; seats 24 patrons and has no space for juvenile or adult programming. The new structure to be built on the same site will add a mezzanine level, equipment room and meeting room capable of seating 90 patrons, capacity for 55,000 volumes, and seating for 65 patrons." [Annual Report of the New Orleans Public Library, 1976]
On November 2, 1969, Billy Kilmer set the Saints team Passing Touchdowns record at 6 in a game against the at St. Louis Cardinals at their home field.
On November 2, 1966
, Times-Picayune Sports Editor Bob Roesler quoted Dave Dixon as saying, "I stumped the state the past two months for Constitutional Amendment No. 10" which, if passed by the voters, would fund an all-purpose domed facility in the Greater New Orleans area. Dixen felt that most Louisianians were in favor of it. Also in his column that day, Roesler wrote, "The New Orleans Saints, or whatever they'll be called, would participate in the mid-January draft". This was likely the first time the team had ever been referred to as "The Saints" in the print media. Roesler also wrote that Dixon had contacted NFL Commissioner Bert Beli and AFL team owners, as early as 1957, regarding a professional team in New Orleans and had worked since then to see this happen. Dixon was quoted as saying, "I could write 10 books" about experiences along the way. He did, in fact write one, with the publication of
The Saints, the Superdome, and the Scandal
which was published on February 15, 2008.
Several Alexander Allison photographs of Claiborne Avenue on November 2, 1956.
Abraham Lincoln (A.L.) Davis, born on November 2, 1914, was a founder of the Southern Christian Leadership Conference (SCLC) and the first African American city councilman in New Orleans. He was born in Bayou Goula, Louisiana and moved to New Orleans in 1930 to live with a sister and attend high school. Reverend Davis graduated from McDonogh 35 High School, received his B. A. degree from Leland College and his theological degree from Union Baptist Theological Seminary. He became the pastor of New Zion Baptist Church in 1935 where he became known as the Rev. A. L. Davis. He served as pastor of New Zion for forty-three years. In 1957, Rev. Davis and a group of civil rights activists met at New Zion to organize the SCLC. The group chose as its first president Dr. Martin Luther King, Jr. and Rev. Davis became its first vice president. In 1975, he became the first African-American to serve on the New Orleans City Council. He was appointed to the District "B" seat on the City Council in 1975 to fill the unexpired term of Councilman Eddie Sapir, who had been elected judge of Municipal Court. Davis was elected to the seat in 1976. Due to a redistricting dispute, which had delayed the 1974 elections until 1976, the council members elected in 1976 served only until 1978. Rev. A. L. Davis died at the age of 63 of pancreatic cancer on June 25, 1978 and is buried in Bayou Goula. (From the New Olreans Public Library)
The steamboat in the background (of this photo) is the Oleander , which carried President Howard Taft down the Mississippi to New Orleans. The President and his fleet (other boats carried 24 governors and about 200 congressmen and senators) left St. Louis on October 25, 1909 and were joined along the way by boats from various river states carrying delegates to the great Waterways Convention, sponsored by the Lakes-to-the-Gulf Deep Waterways Association in New Orleans from October 30 to November 2. Some 50,000 to 100,000 people were expected to attend. The steamboat carrying the Missouri delegation is shown in the foreground.
Born in New Orleans on November 19, 1848, Warren Easton was Louisiana's first superintendent of education from 1884 to 1888. On October 11, 1888 he was elected the first superintendent of New Orleans Public Schools which, at that time had 414 teachers and 24,800 students in 51 schools. In 1910, when he died in office, the teacher count had risen to 1,122 teachers of 38,098 students in day classes at 87 schools and 105 teachers of 4,035 students at nine night schools. During his twenty-two-year tenure in New Orleans, Easton opened classes in calisthenics, drawing, short-hand, typing, and music. He submitted the first typewritten superintendent's report on January 11, 1889, inaugurated fire drills on October 15, 1894, introduced short-hand and typing classes on November 2, 1905, and ordered compulsory smallpox vaccinations on September 25, 1906. His work supporting teacher included the setting of regular paydays, the endorsement of the Teachers' Pension League, the organization of the Louisiana Teachers Association and service as served as its president, and active participation in the National Education Association, the New Orleans Educational Association, and the Public School Alliance. He died in New Orleans on October 17, 1910 and is buried in Greenwood Cemetery. Warren Easton High School, opened in 1913, was named for him. Source: http://lahistory.org/site.php?pageID=2
Walter Cook Keenan, an architect and civic leader, was born in New Orleans on November 2, 1881. He was educated at Tulane University and practiced as an architect for more than 55 years. He also served for many years as a member of the Audubon Park Commission and, from 1937 until 1952 as a member of the Vieux Carre Commssion. In 1943, he was named the "Architect of the Commission," a position that approximated that held today by the Director of the Vieux Carre Commission. Keenan died in New Orleans on November 7, 1970. (From the New Orleans Public Library)
On November 2, 1798 a public address was made by the city attorney requesting that an inventory be made of the Cabildo archives.
Request of several citizens soliciting that the lot previously forming the garden of the Parsonage on which they had been permitted to construct small buildings, be sold to them for rental purposes on November 2, 1789.
Antoine Caperdonio, door keeper of the Cabildo, petitioned the city leaders demanding a raise of salary on November 2, 1797.
"Father of the Union Passenger Terminal", Fred A. Earhart Dies
November 2, 1948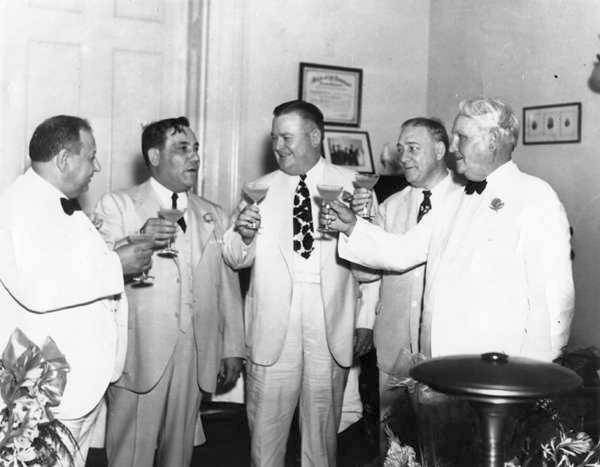 Commissioner F.R. Gomila, Mayor Maestri, Commissioner Joseph P. Skelly, Commissioner Fred A. Earhart, Commissioner Jesse Cave
Pharmacist Fred A. Earhart was elected to New Orleans' commission council in 1930, where he served as Commissioner of Public Utilities. Along with A. Miles Pratt and Jesse S. Cave, Earhart was one of three acting mayors who served in the summer of 1936 between the resignation of Mayor T. Semmes Walmsley and innauguration of Robert Maestri. After his day as acting mayor Earhart continued to serve as Commissioner of Public Utilities in the Maestri and Chep Morrison's administrations. Morrison called Earhart the "Father of the Union Passenger Terminal" and the accompanying railroad grade separation program in the city.
Earhart was elected a state representative in 1912 and to the Louisiana senate in 1920. In 1930 he was elected to the city commission council (which would later be replaced by the city council) where he first advocated for separated street and railroad corridors and a centralized railroad passenger terminal. In 1937 he published a report/study outlining how this might be accomplished. Never giving up on the plan, in 1945 he urged Mayor Maestri to appoint a railroad terminal board to engineer the plan. The following year he proposed to Mayor Morrison the closing of the New Basin Canal and other changes which would make his plan feasible. Earhart died on November 2, 1948 at his home at 731 Napoleon Avenue at the age of 73, before seeing his plan come to fruition.
Born in 1875 in New Orleans, Earhart was educated in the city's public schools and the New Orleans College of Pharmacy. He was editor of a German language newspaper and served in the Navy during the Spanish-American war, and in the intellegnce service during World War I. He opened his first pharmacy, at the age of 21, on Eighth Street at Chippewa and would go on to open nine more. He taught in the pharmacy school at Loyola and served as secretary on the state Board of Pharmacy, president of the State Pharmacy Association, and president of the National Pharmacy Association. He was instrumental in establishing the Pharmaceutical Museum on Chartres Street.
Upon his death, his body was laid at state in the Grand Consistory of Louisiana at 619 Carondelet Street and flags flew at half-staff at city buildings. Earhart Boulevard and the Earhart Expressway are named after him. (New Orleans Public Library photograph -- celebration of Maestri's first anniversary in office, City Hall, August 17, 1937.)
Vernon "Lefty" Haynes and Gilda Dorothia Pohlig
A Match Made in Metairie
November 2, 1935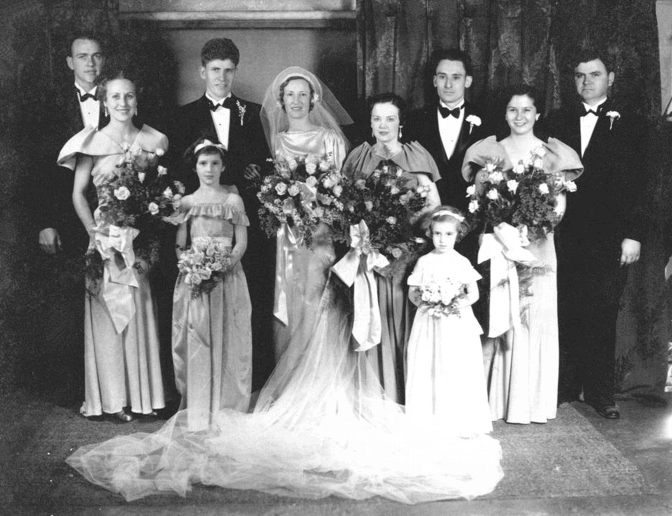 Alfred Bonnabel donated land for the first public school in Metairie at what is now 1416 Metairie Road, The a two-room structure built there in 1909 was named Metairie Ridge School. In 1911 its principal Miss Luella Van Vrancken married Bonnabel's son Alfred Jr. Today Haynes Academy for Advanced Studies occupies the property. The schoolhouse was replaced in 1924 by this building: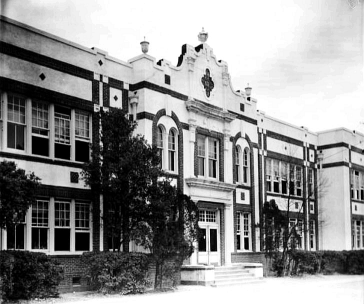 In 1955, after 1,716 students had graduated, the school became Metairie Junior High under the leadership of Vernon C. Haynes. Newly opened East Jefferson High would then serve as Metairie's secondary school. The building was demolished in 1968 and many of the current structures were built. Through the years it has been named Metairie Middle School (1969), Vernon C. Haynes Middle School (1974), Vernon C. and Gilda P. Haynes Middle School (1995), Metairie Academy for Advanced Students, and Haynes Academy for Advanced Studies.
The couple whose memory is honored by the school on Metairie Road were a most interesting pair. Arkansas native Vernon "Lefty" Carlton Haynes was a man of few words. Metairie born Gilda Dorothia Pohlig was an outspoken ball of fire. They met when he was officiating a basketball game in which she was a player. He called a foul on her and she became foul with him. He had a BA from Tulane and an M.Ed in administration from LSU. She dropped out of Tulane to take a job modeling swimwear. He made a living coaching sports while she dreamed of becoming a professional basketball player – a prospect her father would not allow.
These opposites attracted and were married on November 2, 1935 at Metairie Presbyterian Church. Lefty said he picked the date because his father and grandfather had also had their weddings on the second day of November. Vernon and Gilda were married for 38 years. They are pictured here on their wedding day, photograph courtesy of Carlyle Dana Vann.
He was a principal at Metairie High who oversaw hundreds of students offered a variety of courses. She was an alumnae (Class of 1928 which included nine graduates) who said, while slamming her fist on a table, "We didn't have all these electives. That was the ruination of the schools. They need to get back to basics". Despite the different ideologies they both were tireless in working with and for young people.
Vernon was an All-American football star at Tulane who played in the 1932 Rose Bowl. Gilda, who was a student in the Metairie Ridge Schoolhouse, was a standout basketball player and one of the best bowlers in the south. He was inducted into the Tulane Athletic Hall of Fame posthumously in 1982. She was named to the Louisiana State U.S. Congress of Bowlers Women's Bowling Association Hall of Fame in in 1987.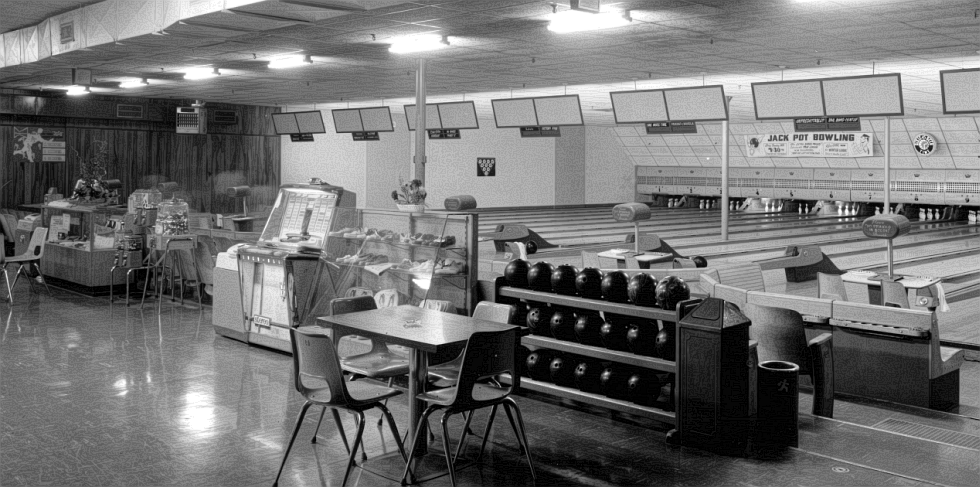 His first coaching job was at Fortier (1932) then at Warren Easton (1933-35) where he also taught. After a stint in Ouachita Parish schools (1935-40) he coached at Tulane (1941-49) where he was head basketball coach. From 1949-51 he coached in Newport News, Virginia then move back home in 1951 to teach and coach in public schools. From 1958-1960 he served on the parish council and was a superintendent of schools from 1961-73. Lefty was also an avid bowler.
The first manager of Airline Bowl at 7401 Airline (1962), Gilda was a charter member Louisiana Women's Bowling Association (1966), the first woman chairman of a local Professional Bowling Association tournament (at Pelican Lanes in 1974), and recipient of an LWBA outstanding service to female bowling award in recognition of two decades of work with children.
Together they owned Bowl-A-Rama at 1008 Jefferson Highway which she managed from 1956 until his death in 1973 at age 62. She then served on the Jefferson Parish School Board from 1974 through 1980. Gilda passed away in 1995. Their home at 126 Brockenbraugh Court is gone, the property long taken over by Munholland Methodist Church. But their memory lives on a few blocks away in the school named for them. (Text and images from
Metairie (
Images of America
) &
Legendary Locals of Metairie
, both by Catherine Campanella
)

Gilda and Vernon
Lefty
Haynes, along with many others, are included in
Legendary Locals of Metairie
.