---

Alice O'Brien Borchardt
October 6, 1939 -- July 24, 2007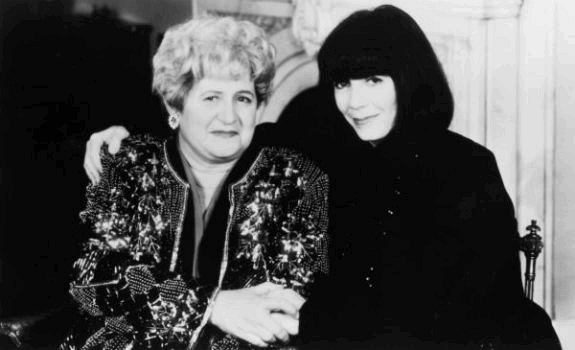 Alice Borchardt, left, and her sister, Anne Rice in Houston. Photo from the Houston Chronicle
"Storytelling came easy for Houston novelist Alice Borchardt, even as a young child growing up in New Orleans when she would share her fancy tales with her younger sisters at their urging", wrote Renee C. Lee in the Houston Chronicle about Alice O'Brien Borchardt. One of those four sisters was novelist Anne Rice. "Alice loved to write," Anne Rice said in a statement to The Las Angeles Times. "She had a natural ear for beautiful language and was a natural storyteller." "We want to be the Bronte sisters," Rice said in a 1995 interview with the Houston Chronicle, referring to the sisters who wrote the gothic novels "Jane Eyre" and "Wuthering Heights." "We want to go down in history."
Alice O'Brien Borchardt was born in New Orleans on October 6, 1939. She moved with her family, as a teenager, to Richardson, Texas. After a career in nursing, she began to write historical fiction, fantasy, and horror. Her sister Anne encouraged her, helped her find an agent, and wrote introductions to several of her books. The first of her seven novels, Devoted, was published in 1995. She is best known for a trilogy about werewolves in medieval Rome. In her Legends of the Wolves trilogy, (The Silver Wolf, Night of the Wolf and The Wolf King,) the orphaned Regeane and the nobleman Maeniel, both are part wolf and part human, contend with bullying chieftains, embattled emperors and supernatural interventions. The last book in the series was published in 2001. Alice died on July 24, 2007 at the age of 67 after a long battle with cancer.
Books by Alice Borchardt
.
---



---
Ernest Fredric "Ernie" Morrison, born in New Orleans on December 20, 1912 who performed under the stage name "Sunshine Sammy" was the only black member of the East Side Kids, and was also an original Our Gang kid. He also played a sidekick to Harold Lloyd and Snub Pollard, was a silent screen comedian, a vaudevillian, a dancer, and a band leader. He died on July 24, 1989 at the age of 76. (WIKI)
Disnelyland's New Orleans Square opened in July 24, 1966. New Orleans Mayor Victor H. Schiro participated in the dedication ceremony. Schiro announced Walt Disney had been made an honorary citizen of New Orleans; Disney joked the addition cost as much as the original Louisiana Purchase. This was Walt Disney's last major public appearance at Disneyland before his death in December 1966.
KAVANAGH, Leslie J., clergyman, educator. Born Liverpool, England, September 25, 1866. After service in the British navy, studied at St. Joseph College, Louvain, Belgium; St. Francis Xavier College, Liverpool; the Marist College in Lyons, France; Davidsonville, Md.; Washington, D. C.; and at the Bouligny Seminary, New Orleans. Faculty member at Jefferson College, Convent, La., 1897-1901. Ordained to priesthood in St. Stephen's Church, New Orleans, June 11, 1903. Served first as vicar at Sts. Peter and Paul and St. Michael parishes in New Orleans. Founding pastor of Our Lady of Lourdes Parish, 1905-1934. Appointed, 1906, first school superintendent simultaneously with creation of School Board of the Archdiocese of New Orleans. Initial accomplishments included opening of a Catholic Teachers' Institute, introducing uniform textbooks, and elementary grade examinations. Compiled with James M. McLaughlin of Boston the Crown Hymnal of liturgical music, 1911. Appointed, 1918, vicar of Catholic chaplains of the U. S.Army and Navy for the Gulf Coast vicariate, including Panama and Cuba, during World War I. Resigned as superintendent and named monsignor, 1919; received honorary doctorate of law from Duchesne University, 1926. Died, New Orleans, July 24, 1934; interred St. Vincent Cemetery, Soniat St. From http://lahistory.org/site.php?pageID=28
Albert "Broadway" Dell Flair, born in New Orleans on July 24, 1916, was a first baseman for the Boston Red Sox during the 1941 season. Listed at 6 ft 4 in (1.93 m), 195 lb., Flair batted and threw left-handed. Flair died atn his home of New Orleans on July 26, 1988.
---
The Robert Charles Riots of 1900 were sparked after African American laborer Robert Charles shot a white police officer which led to a manhunt. Twenty-eight people were killed in the conflict, including Charles. Many more people were killed and wounded in the riots. The manhunt for Charles began after an altercation involving Charles, his roommate, and several New Orleans police officers on Monday, July 23, 1900, and ended when Charles was killed on Friday, July 27.

July 24, 1900 was the first day that showed signs of rioting. A crowd of whites gathered on Fourth Street where the policemen were killed. There were shouts for lynching Charles, but the crowds dispersed when they were falsely told Charles had been located and jailed. On the 25th, Acting Mayor Mehle (Mayor Paul Capdevielle was out of town) announced a $250 reward for the arrest of Charles while issuing a proclamation urging peace. New Orleans papers, particularly the Times-Democrat, helped exacerbate the situation, blaming the black community for Charles's crimes and calling for action.

In the following days, several riots occurred as mobs of armed whites roamed the streets. The night of the 25th caused the deaths of three blacks and the hospitalization of six more, plus five whites, and the injury of more than 50 people. Charles had taken refuge at 1208 Saratoga Street, where he remained safe from the police until Friday, July 27. The house was quickly surrounded by police after they were informed of Charles's location. Throughout the day, men from outside the house fired upon Charles, who sporadically returned the fire. By the end of the day, Charles had shot a total of 27 white people in the course of the week, seven lethally; four of the victims were policemen. At this point, the police decided to burn down the building in which Charles was holed up. When attempting to escape the smoke-filled building, Charles was shot by Charles A. Noiret, a medical student and member of the special police (a police group of volunteer citizens). The policemen present continued to shoot Charles, then dragged him outside where a mob of bystanders beat Charles's body.

Mobs in New Orleans still rampaged after the killing. Police had difficulty getting the body to the morgue due to angry white mobs attempting to damage the corpse. Several innocent African-American people were killed and the Thomy Lafon schoolhouse, "the best Negro schoolhouse in Louisiana," was burned down. The informant who told police the whereabouts of Charles, Fred Clark, was shot and killed several days later by an admirer of Charles, Lewis Forstall.The rioting ended when New Orleans Mayor Paul Capdeville deputized 1,500 special police and asked for assistance from the state militia. (Wiki)
---
CHERRIE, Ernest E.,, physician, business executive. Born, New Orleans, July 24, 1899; son of Joseph and Clara Cherrie. Education: local schools; Straight College (now Dillard University); Northwestern University, Chicago, Ill.; Howard University, Washington, D. C.; post graduate work, Columbia University Medical School. Army service, World War I and received some of his training at Tuskegee, Ala. Married Anna Louise Johnson of New Orleans, July 25, 1929, daughter of Felix and Leah Johnson. Children: Anna Cherrie Epps (b. 1930); Ernest, Jr., (b. 1934). Active in community and local politics. Began practicing medicine late in life after being a Pullman porter, a house boy, Broadway song and dance man in the summer, and a blackboard artist. Positions: Tulane University Medical School (lecturer in the department of Radiology); staff at Flint-Goodridge Hospital. Member: Orleans Parish Medical Society; Louisiana State Medical Association; National Medical Association; trustee, Central Congregational Church of Christ; the Urban League of Greater New Orleans; Friends of Amistad; Dillard University Alumni Association; Sigma Pi Phi Fraternity, Alpha Alpha Chapter; Alpha Phi Alpha Fraternity; director, United Federal Savings and Loan Association; director, Liberty Bank. Died, New Orleans, July 31, 1981; interred Lake Lawn Mausoleum. Source: http://lahistory.org/site20.php