---

Former Jefferson Parish Councilman Implicated by Life Magazine Consorting with Criminal
September 8, 1967
______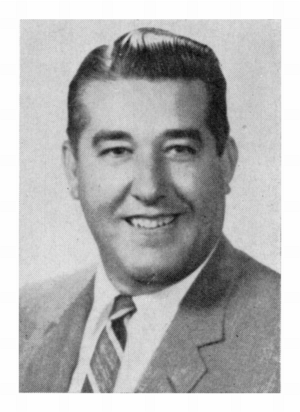 Vial J. Blanke served on the Jefferson Parish Council with Donald Gillen [both of whom have streets named for them in Bissonet Plaza subdivision as the assessor and other members of the 1962 Council also do] but his past was more colorful than his cohort's. As a parish constable for the 5th Justice Court in 1957 he (along with a deputized citizen – both unarmed) made front page news for raiding Vic Gallo's gaming house at 120 Chesterfield Street off Monticello Avenue along the New Orleans/Jefferson Parish line. Blanke had claimed that Sheriff William S. Coci was soft on gambling and did not enforce the laws. A photographer from the local press apparently just happened to be there at the time – the photo and story of the bust ran in the paper. By February Gallo was acquitted for insufficient evidence and Blanke lost his soft-drink route at Zet's Seven-Up Bottling Company because, he wrote in a November 1959 letter to the editor of the Times-Picayune, "I was dismissed on the grounds that I was causing the company loss of sales due to the pressure brought against all employees of the company by the sheriff and business establishments....[which] refused to do business with said company with a resultant drop in sales and my being fired". Blanke was infuriated because the newspaper failed to endorse his anti-gambling candidacy for a parish council seat (he won the election). But returning to 1957, in July, fire gutted Gallo's establishment in the darkness of early morning – no fire had been reported and no calls to police had been made. The state fire marshall determined that an overloaded electrical circuit had been the cause. Gallo repaired his placed and continued his business while Blanke's future in local politics was relatively uneventful – until September 8, 1967 when Life Magazine included a photograph of him consorting with Joseph Armenio (described by Life as "a convicted murderer", alleged associate of Carlos Marcello, and Blanke's ally) at The Mist Restaurant and Lounge in Waggaman. Life reported that the two were discussing contributions to Vincent H. Ebeier Jr's unsuccessful campaign for sheriff against anti-racketeering incumbent Alwynn Cronvich. Ebeier went on to become commander of Louisiana State Police Troop B (1964 – 1967). Blanke's political career was over. (Photo: JPYR) From
Legendary Locals of Metairie
.
---



---
On Thursday, September 8, 2005, President Bush issued an executive order suspending the Davis-Bacon Act of 1931, allowing federal contractors rebuilding after Katrina to pay below the prevailing wage. This action upset labor leaders and Democrats in Congress, who feared that it would make it more difficult for union contractors to win bids. 40,667 Army National Guard and 5,735 Air National Guard were deployed (46,402 total). Entergy had restored 9 of 17 electricity generating units in the New Orleans area to service. Entergy's 1000 MW Waterford and Watson plants were still out of service, with the Watson plant expected to require 6–12 weeks to repair. By Friday, electrical power had been restored to 11% of New Orleans customers. Also, officials were organizing to have work begin as soon as Monday, September 12, to rebuild the, "twin spans" I-10 bridge to New Orleans.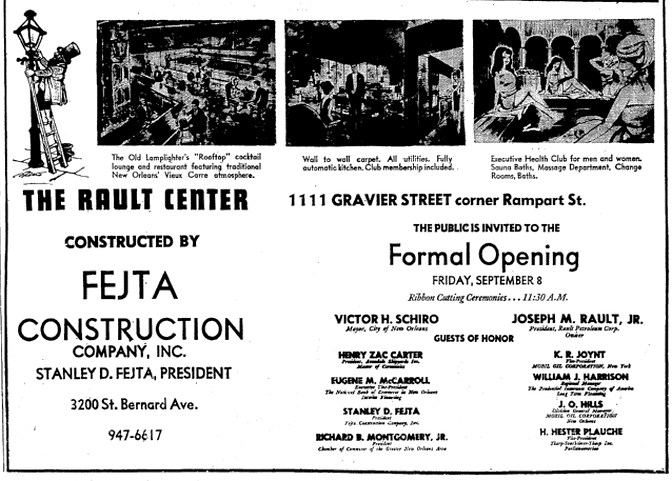 The Rault Center Opens
September 8, 1967
The horrific fire at the Rault Center marks November 29, 1972 as tragic day in New Orleans history. Many of us still remember the loss of six New Orleanians lost that day. Legislation requiring sprinkler systems in high-rise buildings were prompted by this tragedy, a perverbial silver lining which may have potentially saved many lives since.

The local news media has traditionally covered the story of the fire each year on its anniversary, so there's little doubt that you'll be informed of the details while watching the news today. Here, we will focus, with an homage to those lost, on a happier day, when the Rault Center was a shiny new 17-story building during an era when New Orleans was a growing hub in the petroleum industry.
On September 8, 1967, five years before the fire, the modern new structure formally opened as the first high-rise in New Orleans to combine office spaces with residential living accommodations. Mayor Victor H. Schiro was on hand to cut the ribbon. Henry Zac Carter, president of Avondale Shipyards emceed the opening ceremonies which were attended by Joseph M. Rault Jr, builder and president of Rault Petroleum Corporation which occupied the building; K.R. Joyner, vice-president of Mobile Oil Corporation which occupied eight floors; Richard Montgomery Jr, president of he New Orleans and the Region Chamber of Commerce; and Rex Homer Jolly, president of Loyola University among other guests of honor. The Eureka Brass Band opened the ceremonies with The Star Spangled Banner.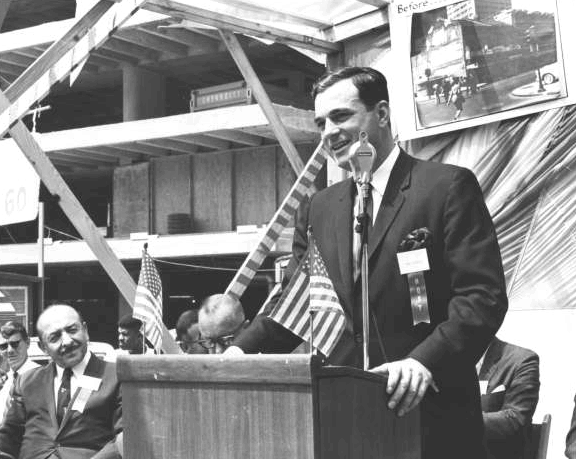 The top three stories were occupied by the Roof Top Club, a members-only women and mens club featuring Old Lamplighter's rooftop cocktail lounge, a roof-top pool and sun-deck, a putting green, a spa for women, and a health club for men.
Seven floors contained apartments and suites. A one-bedroom apartment with wall-to-wall carpeting could be had for a mere $137 per month. Twelve three-bedroom Penthouse Salon Suites with "automatic kitchens" rented for $197 per month. The kitchens were furnished with refrigerator/freezers, ice makers, dish washers, garbage disposals, and built-in Norge oven/ranges. Utilities were included, maid and room service was available, and a doorman was on duty 24/7 in the security guarded building.
All floors were damaged in the fire. Rault estimated that $2 million to $3 million would be needed for repairs, nearly almost as much spent to construct the building. The state fire marshal declared the fire a result of arson. After the Howard Johnson Mark Essex sniper incident of January 7, 1973, Joseph Rault reported that two well-dressed men, one fitting the description of Essex,entered the Rault Center on the morning of the fire. A security guard spotted them, acting suspiciously, entering the ground-floor lobby elevator after reading the building directory. They were later seen in the lobby by the guard. Rault offered a $25,000 reward for the arrest and conviction of the arsonist who set fire to his building.
The Rault Center remained closed for a year and a half after the fire, until 1973 when it was converted into a 201 room, $6,000,000 hotel. The building was renamed the Dome Stadium Hotel, later named the Rault Hotel, later to become the Holiday Inn Superdome (1975). In 1981 the hotel hosted the Republican National Convention. During the 1980s it was converted into apartments and time-share properties. The Lamplighter Club remained opened through the years. The building was up for auction in 1984, 1986, and 1988. It is now vacant.

New Orleans born Joseph M. Rault developed apartment complexes and land use in Louisiana and Mississippi. He entered the Navy after graduating from Jesuit in 1943, and was the commander of the USS LCI-549 and participated in the atomic bomb test at the Bikini Atoll. In 1946, he entered MIT and graduated with a Bachelor's Degree in Marine Transportation in 1948. In 1955 he graduated from Tulane Law School and practiced Admiralty in Maritime Law until 1960 with the Terriberry Firm. He then opened his own company building offshore vessels and semi-submersible drilling rigs. He merged one of these companies with John Laborde to create Tidewater Marine and contracted with PeMex to drill a number of wells in Mexico and import oil from Venezuela. He and his wife, Bonnie reside in Metairie.
On the day of his assassination, September 8, 1935, Long was at the State Capitol attempting to oust a long-time opponent, Judge Benjamin Henry Pavy. "House Bill Number One", a re-redistricting plan, was Long's top priority. If it passed, Judge Pavy would be removed from the bench. At 9 p.m., the session was still going strong. Judge Pavy's son-in-law, Dr. Carl Weiss, had been at the State Capitol waiting to speak to Long. He tried to see him three times to talk to him but was brushed off each time in the hallway by Long and his bodyguards. At 9:20 p.m., Dr. Weiss approached Long for the third time and, according to the generally accepted version of events, fired a handgun at Long from four feet away, striking him in the abdomen. Long's bodyguards returned fire, hitting Weiss 62 times and killing him. Long was rushed to the hospital but died two days later. Historians do not accept the strong speculation that Long actually died after accidentally being struck by a bullet fired by one of his own bodyguards as they fired at Weiss. Long was plannning to run for president. (Wiki)
---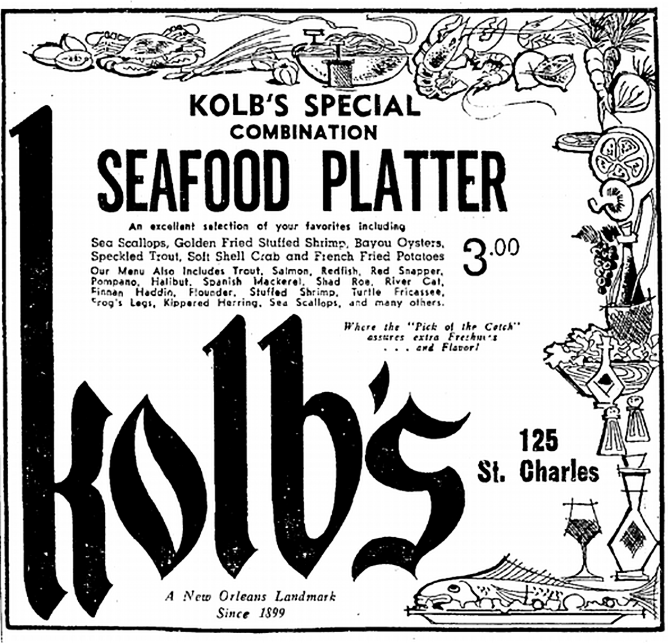 September 8, 1967 edition of the Times-Picayune.
At 125 St. Charles, Kolb's restaurant was originally an art gallery which included the collections of Glendy Burke and others, Built circa 1840, it became the home of the Louisiana Jockey Club in 1845. Conrad Kolb opened his restaurant there in 1899. It closed in 1995.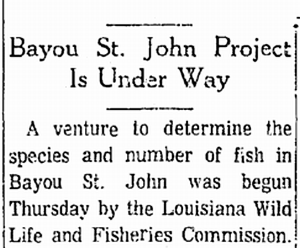 September 8, 1967 edition of the Times-Picayune.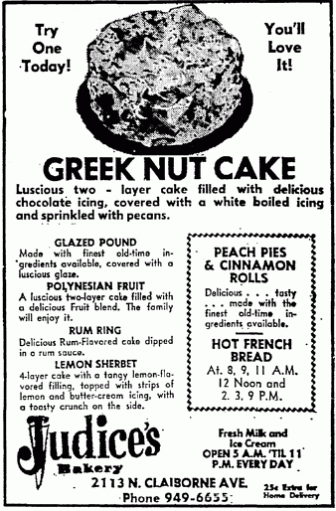 Judice's Bakery, owned and operated by Mr. and Mrs. Ernest A. Judice at 2113 N. Claiborne Avenue, September 8, 1967 edition of the Times-Picayune.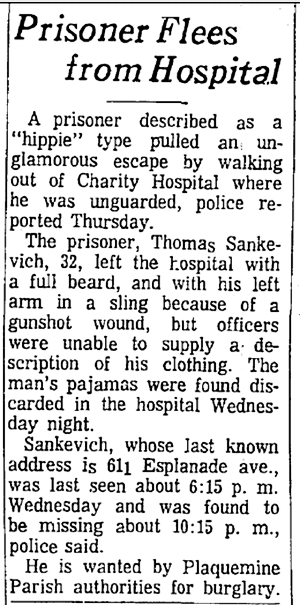 September 8, 1967 edition of the Times-Picayune.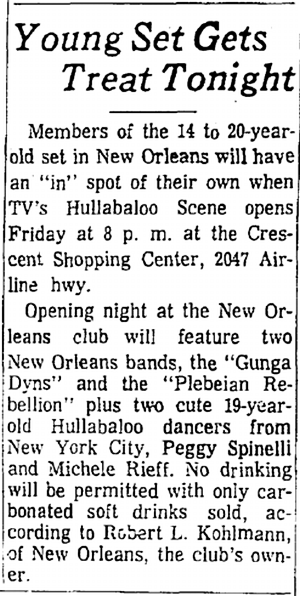 Hullabaloo at Crescent Airline Shopping Center, featuring Gunga Dyns & Plebeian Rebellion, September 8, 1967.


What's on Television --
September 8, 1967
. Note that Channel 8 broadcast high school football -- E.J. vs. Jesuit.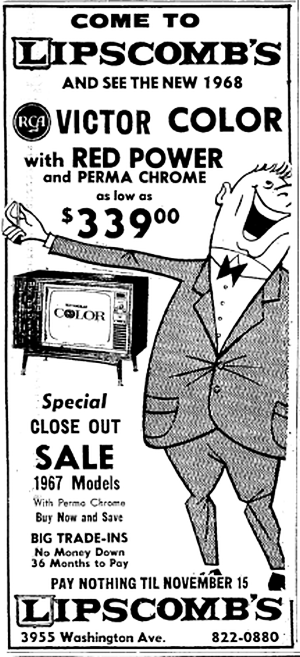 Hilburn Lipscomb was reared in New Orleans and educated in the city's public schools. He owned Lipscomb Furniture Company at 3955 Washington Avenue (at South Broad) and other business interests in and around the area. This adversitement ran in the
September 8, 1967
edition of the Times-Picayune.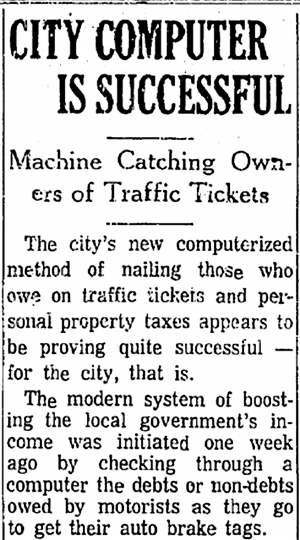 One week before this short article appeared in the
September 8, 1967
edition of the Times-Picayune, the city had initiated a computerised system to check for traffic tickets and property taxes owed when renewing brake tags.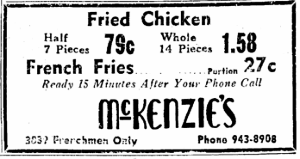 September 8, 1967
edition of the Times-Picayune. McKenzie's "Chicken-in-a-Box" is still open at this location at 3839 Frenchemen Street.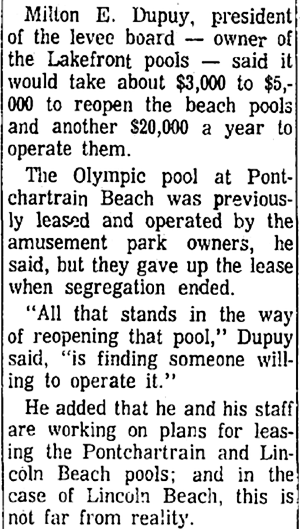 After the federal desegrigation order of 1964, the leesors of Pontchartrain and Lincoln Beach amusement parks gave up their leases on the swimming pools existing there. This September 8, 1967 edition of the Times-Picayune reports that property owner, the New Orleans Levee Board, was seeking new lessees for both pools. "All that stands in the way of repopening that pool [the one at Pontchartrain Beach] is finding someone willing to operate it". As for the Lincoln Beach pools, Dupuy said that thier reopening was 'not far from reality'. None of the pools were ever reopened.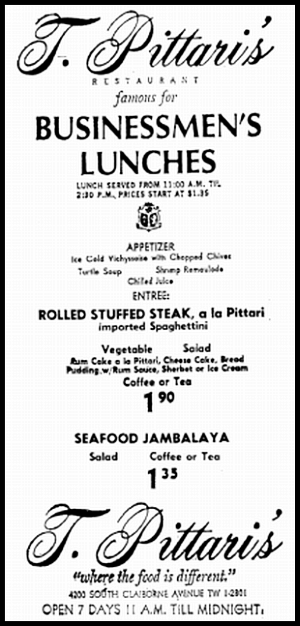 September 8, 1967 edition of the Times-Picayune.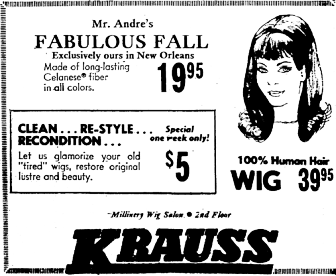 September 8, 1967 edition of the Times-Picayune.