---

Early Jazz Great Leon Roppolo is Born
March 16, 1902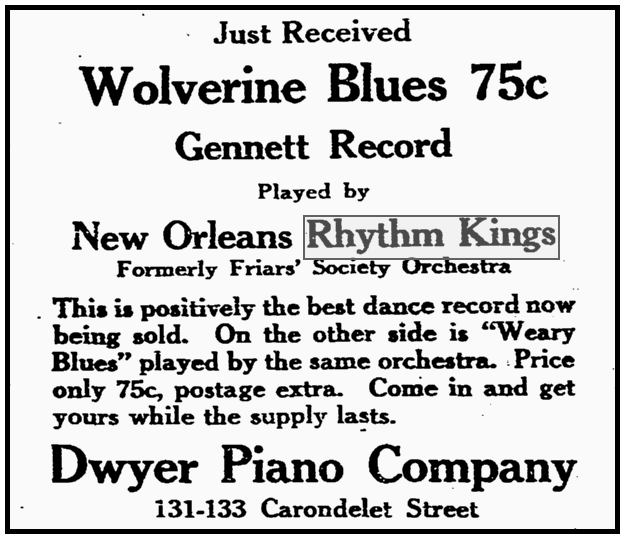 "My idea of a great clarinet player...was Leon Rapollo, who was playing at the Friars' Inn then with the New Orleans Rhythm Kings, and I did my best to sound like him. I never heard him play in person more than once, but there were plenty of good records to study up on".

Benny Goodman, in The Kingdom of Swing, [p33]

Leon Joseph Roppolo (nicknamed "Rap" and sometimes misspelled as 'Rappolo') was born on March 16, 1902 in Lutcher, Louisiana. His family, of Sicilian origin, moved to Uptown New Orleans about 1912. Young Leon's first instrument was the violin. He was a fan of the marching bands he heard in the streets of New Orleans, and wanted to play clarinet. An older relative with the same name played that instrument in Papa Jack Laine's Reliance Brass Band.
Roppolo soon excelled at the clarinet, and played youthful jobs with his friends Paul Mares and George Brunies for parades, parties, and at Milneburg on the shores of Lake Pontchartrain. In his teens Roppolo decided to leave home to travel with the band of Bee Palmer, which soon became the nucleus for the New Orleans Rhythm Kings. The Rhythm Kings became (along with King Oliver's band) one of the best regarded hot jazz bands in Chicago in the early 1920s. Many considered Roppolo to be the star. His style influenced many younger Chicago musicians, most famously Benny Goodman. Some critics have called Roppolo's work on the Rhythm Kings Gennett Records the first recorded jazz solos.
After the breakup of the Rhythm Kings in Chicago, Roppolo and Paul Mares headed east to try their luck on the New York City jazz scene. Contemporary musicians recalled Roppolo making some recordings with Original Memphis Five and California Ramblers musicians in New York in 1924. These sides were presumably unissued, or if issued unidentified.
Roppolo and Mares then returned home to New Orleans where they briefly reformed the Rhythm Kings and made some more recordings. After this Roppolo worked with other New Orleans bands such as the Halfway House Orchestra, with which he recorded on saxophone.
Roppolo married Mabel Alice Branchard on May 17, 1920 in New Orleans. They had one child, Epifanio Leon Roppolo Sr.
Leon Roppolo died on October 14, 1943 in New Orleans at the age of 41, and is buried in Greenwood Cemetery (note that WIKI incorrectly states that Roppolo is interred in Woodlawn Cemetery), within sight of the old Halfway House site where he played for years.
Leon Roppolo's compositions include the jazz standards "Farewell Blues" and "Milenberg Joys", "Gold Leaf Strut" or "Golden Leaf Strut", "Tin Roof Blues" (1923), and "Make Love to Me", which was a pop song using Leon Roppolo's music (from "Tin Roof Blues"), recorded by Jo Stafford in 1954, and by Anne Murray and B. B. King. Jo Stafford's recording of "Make Love to Me" was no. 1 for three weeks on the Billboard charts and no. 2 on Cashbox. (WIKI)
The advertisement is from the Sunday, April 15 1923 edition of the Times-Picayune.
---

You Can Support this Site by Clicking on & Shopping from this Amazon Link -- and it won't cost you a penny more: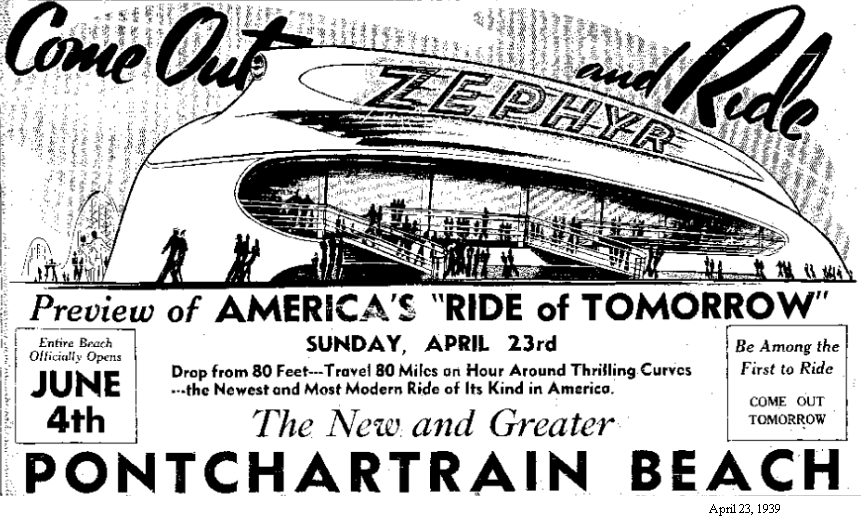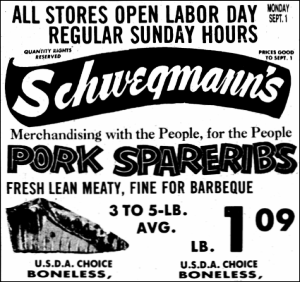 On Saturday, March 16, 1957, Little Walter and his Fabulous Jukes performed at Dave Brown's Blue Eagle on Felicity at Saratoga Street. Billed as "King of the Harmonica Blues" Little Walter's hits included Midnight Rumble, Blues With a Feeling, Last Night, and Juke. The advertising poster for this show announced "Leave all blades and pistols at the door".
Hamilton Dudley Coleman, politician, businessman. Born, New Orleans, May 12, 1845. Attended public and private schools. Enlisted in 1861 as a private in the Washington Artillery, Army of Northern Virginia, and served throughout the Civil War, surrendering at Appomattox with Gen. Robert E. Lee. Married Jessie Prague, August 4, 1870. Manufacturer of and dealer in plantation machinery; head of Coleman Machinery Co., New Orleans. An organizer of the first electric lighting company in the city, 1880, served as vice president and president of the company, active in the organization of the World's Industrial and Cotton Centennial Exposition, 1884-1885. President of the New Orleans Chamber of Commerce, 1887-1888; a vice president of the National Board of Trade and the New Orleans Board of Trade, 1889. Elected as a Republican to the Fifty-first Congress (March 4, 1889-March 3, 1891); unsuccessful candidate for reelection to Congress in 1890 and 1894; unsuccessful candidate for governor, 1890 and 1894, and for lieutenant governor, 1892; delegate to Republican League Convention at Cleveland, Ohio, 1895; delegate to the Republican state conventions in 1896, 1900, and 1904. Appointed melter and refiner, United States Mint at New Orleans in 1899 and served until March 1, 1905; served as a member of United States Assay Commission, 1912. Died, Jefferson Davis Confederate Soldiers Home, Biloxi, Miss., March 16, 1926. Survived by three sons: W. P., Hamilton, and H. Dudley, Jr., and two grandsons: Coleman and Victor Romain; interred Metairie Cemetery, New Orleans From http://lahistory.org/site20.php
Governor John M. Parker was born on March 16, 1863.