---

The Beatles at City Park Stadium
Wednesday, September 16, 1964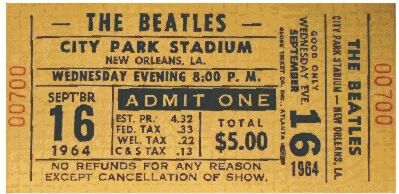 A sellout crowd of 27,000-plus New Orleanians, most of them young girls, filled City Park Stadium on Wednesday, September 16, 1964 to "meet" The Beatles. General admission tickets sold for $5.00 ($4.32 plus taxes). Opening the 8:00 P.M. show were New Orleans' own Frogman Henry, Jackie deShannon, and The Bill Black Combo.
Mayor Victor H. Schiro issued a proclamation declaring the date "Beatles Day in New Orleans". Most news reports from the day fail to include that September 16, 1964 was Yom Kippur and many businesses were closed in observation of the Jewish holy day.
Recollections of the day from New Orleanians who were in the stadium that evening include:
Longtime WTIX Radio disk-jockey Bob Walker watched through the stadium fence because, "I couldn't afford the $5 ticket. All I saw was Ringo's back for the entire time".
Karen Giusti Carnahan recalled "Mom let us miss school to stand in line - tickets were general admission....it rained and nobody moved out of line.....mom left us in line and drive home to get dry clothes. Once the concert started quite a few fans jump the railing and rushed the stage...my sister included! The cops couldn't catch all the screaming girls thank goodness so my sister escaped. Poor Mom almost had a heart attack".
Vince Caronna added, "I was there. Couldn't hear too much with all the girls screaming. My Dad got us free tix because he was in the music biz. Cops were beating anyone over the head with billy clubs that rushed onto the field, including girls. After the show, outside lots of bloody noggins and no one to help them. Will never forget going to that shoe though, it was memorable".
Denise Broussard Sassone remembers, "I was 12 and the parents would only let us go with an adult, so I had to buy mama a ticket".
Billie Anderer, "I went to the Beatles concert. I was 19 and took my boyfriend's 13 y/o sister. I saw her recently and she said the concert changed her life. She became a Beatle maniac. My mother was horrified that girls left their stadium seats and mobbed the fabulous four. I did not, of course". And like many other young New Orleans Beatles fans, Sandra Sporl Middleton said, "I was there. My mama and daddy brought all us girls in the neighborhood".
Michael J. Rouillier, said, "My wife Jeannie was there screaming with all the rest. She said her girlfriend tried to run for the stage, and a cop tore her skirt off! Girls were rushing the stage, and the cops were intercepting them. Paul kept yelling "who is winning?" but his football joke was lost in the pandemonium".

Barbara Whitlow Hardin was not so fortunate, adding "I had the chance to see them when they landed at 'Moisant' airport...and then the concert afterwards. Alas, my dad wouldn't let me go. He was afraid I would be crushed in a stampede of screaming, hysterical girls". Barbara probably did, however, enjoy the premier showing of Shindig! on the ABC television's local affiliate WVUE Channel 12 at 7:30 that evening.

---



---
Warren Easton School Celebrates Centennial
September 16, 2013
Warren Easton school celebrated its 100th year anniversary of the opening its current location on September 16, 2013.
LSU's Michael Ray "Mickey" Manghan Dies
September 16, 2010
___
"Mickey" Manghan played for the LSU Tigers from 1958 to 1960 as an end on both the offensive and the defenseive squads. An Academic All-America and All-SEC player, he is most remembered best for catching the winning touchdown pass in the Sugar Bowl on January 1, 1959, to give LSU the national championship for the 1958 college football season.
Bishop Caillouet Dies
September 16, 1984
Born on August 2, 1900 to Judge Louis Philip Caillouet and Marie Adèle Lagarde in Thibodaux, Louis Abel Caillouet was ordained a priest for the Archdiocese of New Orleans on March 7, 1925. He served as administrator of Our Lady of Perpetual Help in Kenner from 1935-1938 and as pastor of Our Lady of Rosary, New Orleans. On August 2, 1947 Pope Pius XII appointed him as the Titular Bishop of Setea and Auxiliary Bishop of New Orleans. He was consecrated a bishop by Archbishop Joseph Rummel on October 28, 1947. He was vicar general (1962-1976) and interim administrator (1965) of the Archdiocese of New Orleans. Caillouet participated in all four sessions of the Second Vatican Council from 1962-1965 and continued to serve as an auxiliary bishop until his resignation was accepted by Pope Paul VI on July 7, 1976. He received the Star of the Sea Award in 1981 and was Rector of National Shrine of Our Lady of Prompt Succor and chaplain to Ursuline Academy and Convent from 1975 to 1984. Bishop Caillouet died in New Orleans on September 16, 1984 at the age of 84 and is buried in St. Joseph Cemetery in Thibodaux.
Lafreniere Park Ground Breaking
September 16, 1977
On September 16, 1977, ground was broken for the development of Lafreniere Park in Metairie at the site of the former Jefferson Downs racetrack and Magnolia Park harness racing facility.
Allman Brothers at A Warehouse
September 16, 1971
______

The warm-up band Cowboy played at A Warehouse, 1020 Tchoupitoulas Street on Thursday, September 16, 1971 at 8 P.M. followed by a concert by The Allman Brothers. Tickets cost $5.00.
Pioneering Crawfish Farmer Voorhies Trahan Dies
September 16, 1963
______
Voorhies Trahan was, along with his second wife Aloncel "Ciel" Trahan (Credeur), instrumental in pioneering the crawfish farming industry in Louisiana rice fields. Shortly after the end of World War II, Trahan was the first farmer in the state of Louisiana to start producing crawfish in the same fields that he planted rice. This was done by rotating the crops. The rice was a summer crop, while the crawfish were a winter crop. According to biologist Percy Viosca, Jr., Trahan was given "full credit" for pioneering this method of producing a crawfish crop. This method of crawfish farming continues today and has grown into Louisiana's largest freshwater crustacean industry, with annual revenues that exceeds $300 million.
MBL's Preston James Robertson is Born
October 2, 1944
Major League Baseball player Preston James Robertson died in New Orleans on October 2, 1944. He pitched in two games for the Cincinnati Reds in 1913, thirteen games for the 1918 Brooklyn Robins and seven games for the 1919 Washington Senators. Robertson was born on September 16, 1891 in Rockville, Maryland.
Prytania Streetcars Replaced
September 16, 1923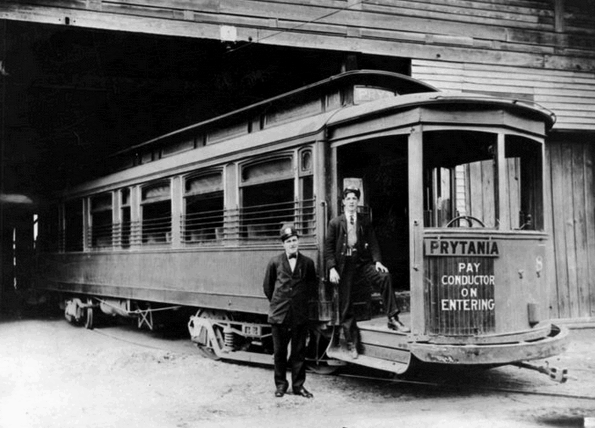 The Prytania Streetcar Line was serviced almost exclusively by the "Prytanias," a luxurious class of electric cars just as distinctive as the elegant "Garden District" neighborhood. Fifty cars were ordered on April 21, 1910 from the St. Louisi Car Company. The exteriors were painted yellow and orange and their numbers ran from 355 to 404. Mahogany interiors surrounded patrons seated in St. Louis rattan seats. They looked out of Robertson windows that slid conveniently into side panels when open. The "Prytania" cars were designed for double-end operation and the prepayment of fares, the first of its type in New Orleans.
The 800 model cars replaced the Prytanias on September 16, 1923. The Prytanias were then shifted to lighter traffic routes. A public's changing preference for private transportation made streetcar operation unprofitable. According to a New Orleans Public Service Inc. newspaper announcement, the Prytania Streetcar Line discontinued operations on October 1, 1932 and the Nashville Bus Line began service over a part of the territory formerly served by the line. Prytania Street, itself, was not included. Remaining Prytanias were scrapped that same year. The Prytania streetcar barn was located on Prytania Street between Robert, Pitt, and Upperline. After the city acquired the property, a 1936 ordinance dedicated it for "public purposes". The location is now a shopping center, fronting Prytania, with a CVC pharmacy (4901 Prytania) as its anchor. Main Source: http://neworleanshistorical.org/items/show/540#.Ukfi9X9dy8A
Writer Gwen Bristow is Born
September 16, 1903
_____

Gwen Bristow became interested in writing while reporting junior high school functions for her local newspaper. After studying at Columbia University, she wrote for a number of literary magazines and journals. Eventually, she moved to New Orleans, and worked at the Times-Picayune. She became interested in longer forms of writing—novels and short stories—through her husband, screenwriter Bruce Manning, and published her first novel in 1929.
Bristow reached the pinnacle of her career with the western romance Jubilee Trail, which became abestseller in 1950, and was adapted to a moderately successful film in 1954. She continued to write novels and articles for magazines until her death on August 17, 1980 in New Orleans. Gwen Bristow was inducted into the Alabama Women's Hall of Fame in 1989.
Communications Pioneer Frederick Britton Llewellyn is Born
September 16, 1897
New Orleans Born Frederick Britton Llewellyn was a noted American electrical engineer. He took a course at the Marconi School for Wireless Operators in 1915, spent some three years in the merchant marine, and almost a year in the Navy in 1917-1918. He then studied under Professor Alan Hazeltine at Stevens Institute of Technology, receiving his M.E. degree in 1922.
After a year as laboratory assistant to Dr. F. K. Vreeland, he joined Western Electric in 1923, transferring in 1925 to Bell Telephone Laboratories, where he worked on the long-wave transatlantic telephone based in Rocky Point, Long Island. From 1924-1928 he studied at Columbia University, receiving his Ph.D. in 1928.
Llewellyn helped develop the first public ship-to-shore telephone service, inaugurated in 1929 on the SS Leviathan. In the 1930s he studied noise in vacuum tubes and constant-frequency oscillators, and researched the behavior of vacuum tubes at very high frequencies. During World War II, he served as a consultant to the Office of Secretary of War. He and Edwin H. Armstrong designed a sensitive receiver used to detect a radar signal reflected from the moon (Project Diana).
After the war, he served as a consulting engineer, primarily on military electronics systems, assistant to the President of Bell Telephone Laboratories 1956-1961, affiliate of the Institute of Science and Technology at the University of Michigan 1961-1965, and research director of the Polytechnic Institute of Brooklyn 1965 until retirement in 1967.
Llewellyn was president of the Institute of Radio Engineers in 1946, and awarded the 1936 IEEE Morris N. Liebmann Memorial Award for his results on high-frequency electronics and constant-frequency oscillators. He died on December 10, 1971.
Archbishop Janssens is Installed
September 16, 1881
______
Dutch-born Francis August Anthony Joseph Janssens served as Bishop of Natchez (1881–1888) and Archbishop of New Orleans (1888–1897). He was born in Tilburg, North Brabant, to Cornelius John and Josephine Anne (née Dams) Janssens and studied at the seminary of 's-Hertogenbosch from 1856 until 1866, when he entered the American College at Louvain, Belgium, with the view of dedicating himself to the American missions.
Janssens was ordained to the priesthood on December 21, 1867. Arriving at Richmond, Virginia, in September 1868, he became rector of the cathedral in 1870 and served as vicar general under Bishops James Gibbons and John Joseph Keane.
On April 7, 1881, Janssens was appointed the fourth Bishop of Natchez, Mississippi, by Pope Leo XIII. He received his episcopal consecration on the following May 1 from Archbishop James Gibbons, with Bishops Thomas Becker and John Keane serving as co-consecrators. During his tenure he completed construction on the Cathedral of St. Peter the Apostle, which had commenced forty years earlier.
Janssens was promoted to the fourth Archbishop of New Orleans, Louisiana, on August 7, 1888, and installed on the following September 16. During his tenure he convened the fifth Archdiocesan Synod in May 1889, founded more than twenty-five new parochial schools, dedicated a new preparatory seminary at Gessen in September 1891, and established the Catholic Institute for Deaf and Dumb at Chinchuba in 1890. Janssens significantly reduced the immense debt incurred by Archbishop Napoléon-Joseph Perché; continuing the work of his immediate predecessor Francis Xavier Leray, he reduced it from $324,759 to about $130,000.
Janssens' tenure also spanned the period of hardening racial divisions between whites and blacks. He once said, "There is nothing in my administration of the Diocese that worries me more than our colored people; to see what is done by the Protestants to capture them and how often they succeed. Believing that a separate parish would keep blacks within the Catholic Church and facilitate black leadership just as it had for Irish and German immigrants, Janssens established St. Katharine's Church in 1895 as the first parish designated for black Catholics; attendance, however, was optional. It was, however, his expressed hope "that anyone might occupy any pew or any seat anywhere in the church."
Janssens died aboard the steamer Creole, bound for New York City, aged 53. He is buried in St. Louis Cathedral.
Suffragette & Business Leader
Vira Boarman Whitehouse is Born
September 16, 1875
______
Vira Boarman Whitehouse (September 16, 1875 - April 11, 1957) was the owner of the Whitehouse Leather Company, and a suffragette and early proponent of birth control.
Vira Boarman was born in New Orleans on September 16, 1875, to Robert Boarman and Cornelia Terrell, was educated in New Orleans, and attended Newcomb College. She married James Norman de Rapelye Whitehouse, a New York stockbroker, on April 13, 1898. She was chairman in 1913 of the publicity council of the Empire State Campaign Committee and in 1916 of the New York State Woman Suffrage Party (NYSWSP). She was a leader in securing suffrage for New York women in November 1917.
In 1918, she became director of the Swiss office of the Committee on Public Information. She reported her experiences in A Year as a Government Agent (1920).
In 1921 she bought the Buchan-Murphy Manufacturing Company, a leather business, renamed it the Whitehouse Leather Products Company, Inc., and reorganized it with herself as president. She managed the company for eight years, reducing the work week from 48 hours to 44 hours, among other changes.
In 1925 she was elected a member of the Democratic County Committee from Manhattan's 15th Assembly District. In 1926 she became Chairman of the Independent Women's Committee for Judge Wagner. She sold her leather company before the stock market crash of 1929. Mrs. Whitehouse died at her home in New York City on April 11, 1957.
New Orleans Squadron Raids Jean Laffite
September 16, 1814
______

Daniel Patterson, Commander of the New Orleans Squadron took command after the outbreak of the War of 1812. On September 16, 1814, Patterson raided the base of the pirate Jean Laffite at Barataria, Louisiana, capturing six schooners and other small craft. In that same month, he refused Andrew Jackson's request to send his few naval units to Mobile Bay where Patterson knew they would be bottled up by a superior British fleet. Foreseeing British designs against New Orleans almost two months before their attack, Patterson, not Jackson many assert, was the first to prepare to defend the city. The victory resulted as much from his foresight and preparations as from Jackson's able fighting. His little fleet delayed the enemy until reinforcements arrived, then gave artillery support in defense of the entrenchments from which Jackson was never driven.