---

Union Saving & Loan
December 27, 1973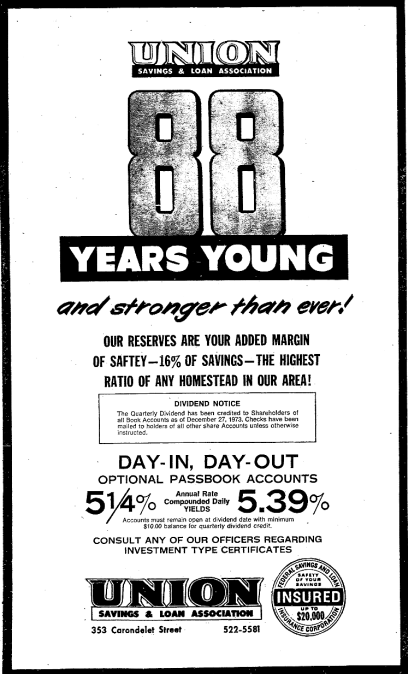 Established on January 1, 1886, Union Saving & Loan Association (353 Carondelet Street ) was "88 Years Young and sronger than ever" when this advertisement ran on December 27, 1973. Still buisiness at the same location with an additional Jefferson Parish branch at 5620 Veterans Memorial Boulevard, Union has been headed by the Schonberg family for generations.

On December 27, 1966, Tom Fears was named the first head coach of the New Orleans Saints. It wasn't until January 9, 1967 that the team was officially named "Saints".
In 1901, the New Orleans Traction Compay slightly extended the Canal and Esplanade Lines so that their outer ends met at City Park Ave., and connected them together in a Belt Line. Canal cars left the central business district on Canal Street, operated to City Park Ave., turned down that street to Esplanade Ave., and returned on Esplanade to Rampart and thus back to Canal Street. Cars marked Esplanade left the central business district via Rampart Street down to Esplanade, then operated out Esplanade to City Park Ave. to Canal, and returned on Canal Street. This Belt Line arrangement lasted until December 27, 1934, when Esplanade Ave. was converted to buses, and Canal resumed running only on Canal Street, end-to-end.
The Louisiana Avenue streetcar (which ran from February 4, 1850 – 1878 and August 27, 1913 – December 27, 1934) was originally a branch line of the New Orleans & Carrollton streetcar, running on Louisiana from St. Charles to the river at Tchoupitoulas. The later 1913–1934 line ran from Canal Street up to Louisiana Ave. on Freret and Howard (now LaSalle) Streets, then to Tchoupitoulas. For part of its life, it terminated on Canal Street at the ferry landing.
The North Claiborne Avenue streetcar line ran from May 13, 1868 until December 27, 1934. From 1917 to 1925, it was operated as a single line with the Jackson Line.
The Esplanade Avenue streetacar ran from June 1, 1861 until December 27, 1934. It was the first streetcar line to traverse the "back-of-town" section of New Orleans, running all the way out Esplanade Ave. to Bayou St. John in its original routing. From 1901–1934 the Canal and Esplanade lines operated in a loop as the Canal-Esplanade Belt, until Esplanade Ave. went to buses in 1934.
The New Orleans Bee (French: L'Abeille de la Nouvelle-Orléans, Spanish: La Abeja de Nueva Orleans) was a newspaper in New Orleans, Louisiana, founded on September 1, 1827, by François Delaup and originally located at 94 St. Peter, between Royal and Bourbon. Initially published three times a week in French, an English section was added on November 24, 1827, and in this form it was the most successful of New Orleans daily newspapers in the middle of the nineteenth century. The English section was abandoned in 1872 because of increased competition from English-language newspapers, but later restored. A Spanish-language section (Abeja) was published in 1829-1830. Until at least 1897 L'Abeille remained "almost certainly the daily newspaper of choice" for French officials in New Orleans. The title was purchased in 1921 by The Times-Picayune and was published weekly until it closed in 1923. It was by some accounts the last French-language newspaper in New Orleans, ceasing publication on December 27, 1923, after ninety-six years; others assert that it was outlasted by Le Courrier de la Nouvelle Orleans, which continued until 1955.
The Daily Picayune's "Profit the frog" first failed to appear on
December 27, 1914
, eight months after the newspaper merged with the Times-Democrat.
See April 6
.
Jean Étienne de Boré (December 27, 1741 – February 1, 1820) was the first Mayor of New Orleans. Though born in Kaskaskia, Illinois, he was sent to Europe to be educated and spent most of his life there. On leaving school he entered French military service in the Musketeers of the Guard, and, later, after a visit to Louisiana, on business, was transferred to the cavalry. He left the army with the rank of captain. His wife, Marie Marguerite d'Estrehan, came from one of the most prominent families of colonial Louisiana; her father, Jean Baptiste d'Estrehan, was the Royal Treasurer of French Louisiana. Etienne owned a great plantation a few miles above the City of New Orleans. There he had originally cultivated indigo. But when this product lost its market as a result of competition from Guatemala, he turned his attention to the manufacture of sugar. On his estate he set up a sugar mill and there, in 1795, had, with the aid of two Cubans, Mendez and Lopez, succeeded in producing the first granulated sugar ever known in the colony, with the result that agriculture was completely revolutionized. He was appointed mayor by Governor William C. C. Claiborne in 1803; he resigned to look after his personal affairs the following year. He died at around 80 years old, and is buried in New Orleans' Saint Louis Cemetery No. 1. One of his daughters was the mother of Louisiana historian Charles Gayarré.
Shainberg's
December 27, 1973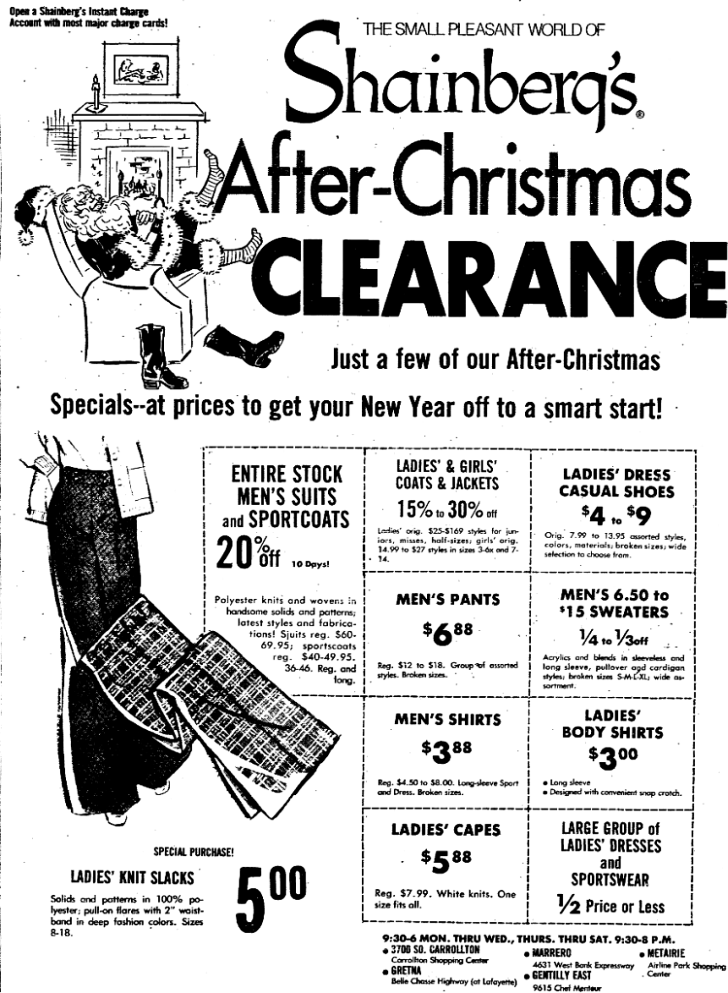 Shainberg's Department Stores, with headquarters in Memphis, opened their first New Orleans location at 10 a.m. on Monday, September 17, 1956 at 3700 South Carrollton Avenue in the Carrollton Shopping Center (Carrollton Avenue at Palm Street). It was the Shainberg chain's 28th store, located "Next to the Biggest A&P Supermarket, according to their advertisements. Carrollton Shopping Center also housed Security Sporting Goods, Mayfair, Morgan & Lindsey, and many other stores through the years. Shainberg's stores were in the New Orleans until the 1970s when some were converted to Kent's stores (owned by the Sam Shainberg Company). This Shainberg store, in its final years, was a Linen Mills Outlet store. On this location now is a CVS pharmacy.

Mayor DeLesseps S. Morrison was on hand to cut the ribbon at the Carrollton Avenue store back in 1956. Nathan S. Shainberg, president of the company was in attendance. Cecil Grigsby managed the store which was fully air-conditioned, sold clothing, shoes, sewing notions, and more, offered display counters and racks "designed and built to permit complete display of goods, and employed 55 New Orleanians. During the grand opening give-aways included 25 baskets of groceries (presumably provided by the A&P), three wardrobes, and gifts for "kiddies".
Advertisements touted "A new adventure in pleasant, thrifty shopping for the whole family" and a store "Big enough for big selections -- small enough for easy shopping!" which was "Less than 15 minutes from any place in the city" where "Five different bus lines will deposit you smack at our door".
This Advertisement ran in the December 27, 1973 edition of the Times-Picayune. At that time, five Shainberg's Stores were located in the Greater New Orleans area -- at 3700 South Carrollton, 4631 West Bank Expressway, 9615 Chef Menteur Highway, Belle Chasse Highway at Lafayette Street, and in the Airline Park Shopping Center