December 22


---

St. John the Baptist Church and School
December 22, 1956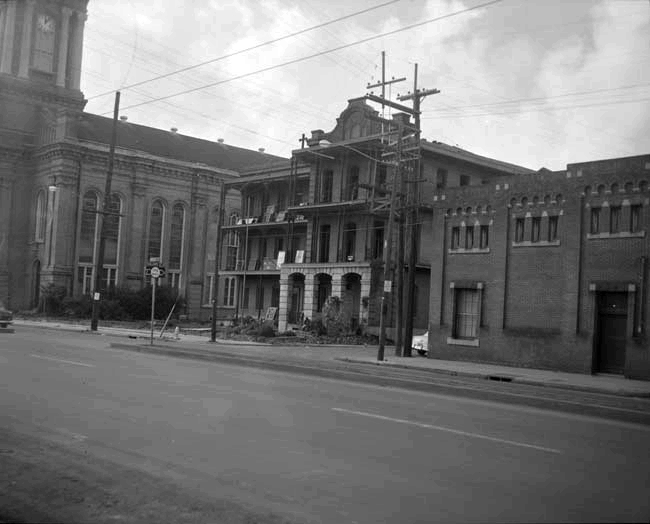 St. John the Baptist Church on Dryades Street (now 1139 Oretha Castle Haley Boulevard), between Clio and Calliope Streets was established in 1851. More than 100 years later, the Mississippi River Bridge from New Orleans to Algiers opened to traffic in October 1958.
The church, built in 1872, designed by architect Albert Diettel, and built by Irish contractor Thomas Mulligan, is immediately adjacent to the Pontchartrain Expressway approach to the bridge. This photograph shows the parish school, apparently being prepared for demolition, still standing on the corner of Dryades and Calliope. The church was also also scheduled for demolition but was spared due to the efforts of pastor Fr. Arthur Screen.
---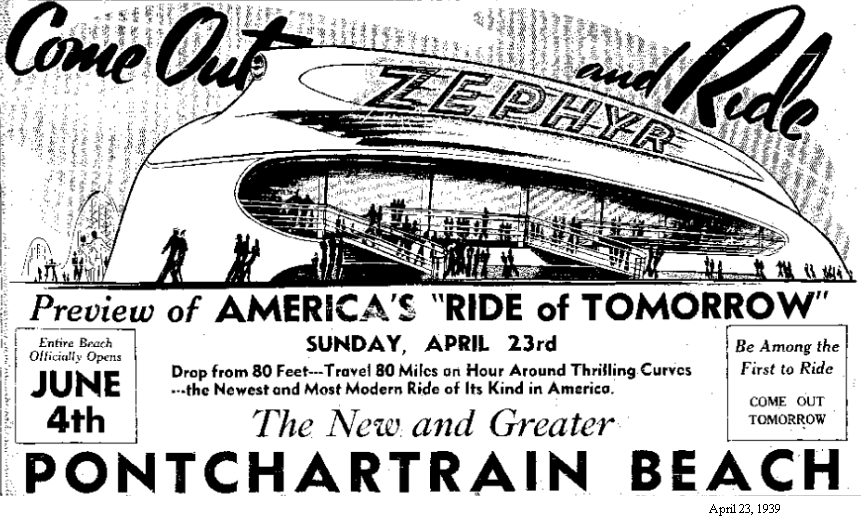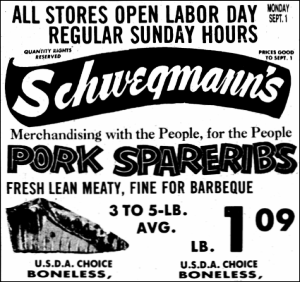 ---
CREECH, Oscar, physician, surgeon, medical scientist, editor, administrator. Born, Nashville, N. C., November 14, 1916; son of Oscar Creech, Sr., and Martha Gulley. Education: Ahoski (N. C.) High School, 1933; Wake Forest College, B. S., 1937; Jefferson Medical College, M. D., 1941; internship, Charity Hospital of Louisiana at New Orleans, 1941-1942; major, Army Medical Corps, 1942-1946; residency, Tulane Surgical Service, Charity Hospital of Louisiana, 1946-1949; senior resident, 1948-1949. Board certified, American Board of Surgery, May 1951; Board of Thoracic Surgery, October 1953. Married Dorothy Browne, September 7, 1937. Four children. Teaching experience: assistant in Surgery, Tulane University School of Medicine, 1946-1949, then rose from instructor to associate professor of Surgery, Baylor University College of Medicine, 1949-1956. One year spent on research and writing while undergoing treatment for tuberculosis. William Henderson Professor of Surgery and chairman of the Department of Surgery, Tulane University School of Medicine, 1956-1967; and dean, July 1, 1967. An intense combination of medicine's traditional scientific discipline and human compassion, Creech published more than two hundred papers and chapters. In research he improved cardiovascular surgery, regional perfusion chemotherapy for cancer (pioneered), and organ transplantation. His innovations in medicine and surgery at Tulane well served the university and the state of Louisiana. Died of lymphoma, New Orleans, December 22, 1967. From http://lahistory.org/site20.php
On December 15, John W. Mecom, Jr. became the majority stockholder-president of the New Orleans Saints franchise. On December 22, Victor E. Schwenk was appointed director of player personnel. On December 27, 1966 Tom Fears was named the head coach. It wasn't until January 9, 1967 that the team was officially named "Saints".
CLANCY, Frank J., politician. Born, 1892, Kenner, La. Education: local schools, Soulé Business College, Tulane University Law School. After graduation (1917), became a practicing attorney. Married Vera Wattigny. Two daughters: Mrs. Vernon Dupepe and Mrs. Joseph S. Weimer. Active in the Democratic party: city attorney, Kenner, 1918-1920; clerk of court, Twenty-eighth Judicial District, 1920-1928; sheriff, Jefferson Parish, 1928-1956. As sheriff, gained national notoriety by refusing to testify before a U. S. Senate committee on gambling; when threatened with contempt of Congress charges, Clancy, who reputedly had ties to organized crime, drove gambling operations from Jefferson Parish, 1952. Subsequently ran as "good government" candidate in local elections. Was author of unsuc¬cessful "Clancy plan" to replace Jefferson Parish Police Jury with five-member commission. Organizational: first president, Louisiana Sheriffs' Association; founder of Junior Deputy Sheriff's Association to combat juvenile delinquincy. Died, Kenner, December 22, 1960; interred Carrollton Cemetery, New Orleans. From http://lahistory.org/site20.php
Alvin "Shine" Robinson (December 22, 1937 – January 24, 1989), sometimes credited as Al Robinson, was an Americanrhythm and blues singer, guitarist, and songwriter, based in New Orleans. His recording of "Something You Got" reached the BillboardHot 100 in 1964.
CABRINI, Mother Frances Xavier, religious. Born, St. Angelo, Lodigiano, Italy, July 15, 1850; daughter of Stella Oldini and Agostino Cabrini. Education: taught by older sister until age 13; sent to Convent of the Sacred Heart at Arluno; pursued a normal school course; received a normal school certificate from the magisterial institute at Lodi. Career: ministered to poor and sick of her parish, 1868-1872; taught public school for two years; took charge of orphans' home in Cocogno, 1874; founded the Institute of the Missionary Sisters of the Sacred Heart of Jesus, 1880. Immigrated to the United States, 1889; began work among Italian immigrants in New York City; founded Columbus Hospital, 1891. Removed to New Orleans, 1892; bought a tenement house on St. Philip Street which she turned into a convent with a chapel, a day school, and an orphanage; sisters acted as midwives, spoke to seamen and dock workers about the sacraments, and accompanied the bishop on visits to the poor on plantations upriver. To conduct their work, she and her sisters begged for alms on the streets of New Orleans. Left New Orleans but returned in 1905 to enlarge the St. Philip Street house; another orphanage was built on donated land near Bayou St. John on Esplanade Avenue; the St. Philip Street building was turned into a school; in 1928 it became the Cabrini Day Nursery, one of the city's first day-care centers, which it remains to the present. Became a naturalized American citizen in 1900. Died, Chicago, Ill., December 22, 1917. In 1933 her body was removed from its first tomb at West Park, N.Y., and placed under the main altar of the chapel at Mother Cabrini High School, New York City. She was beatified by the Roman Catholic church in November 1938 and canonized in 1946, the first American to be so honored.From http://lahistory.org/site20.php
British forces under Col. William Thorton landed at Pea Island and began advancing to encounter American forces near New Orleans on December 22, 1814.
The Bayou Bridge and City Park streetcar (mid-1861 – December 22, 1894) route was absorbed into the Esplanade line. This early line ran the full length of the present-day City Park Ave. (then called Metairie Rd.)
Abe Shushan Convicted
December 22, 1939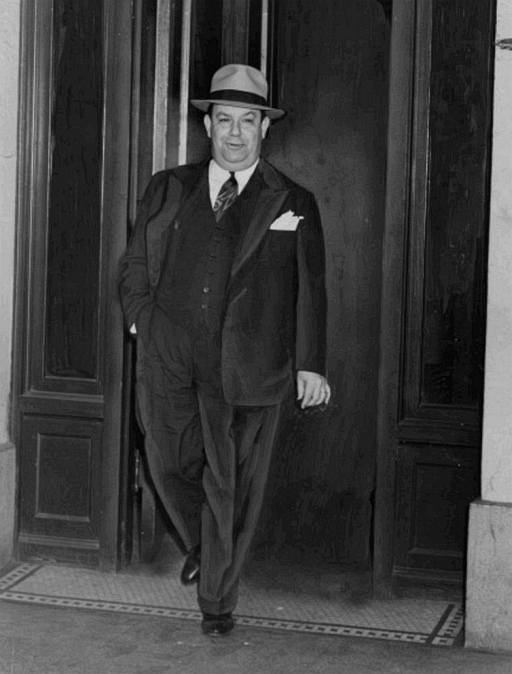 The man behind the construction of the lakefront airport and the massive lakefront "land reclamation" along the New Orleans lake shore (see October 29) is pictured here walking out of his office alone on October 23, 1941, after learning of his impending arrest for defrauding his fellow citizens. He had no comments for the the news reporters gathered there but with a forced smile, said the the photographers, "TAKE A GOOD ONE, BOYS". The mandate for his arrest had been filed at 11:20 a.m. He was in federal jail by 4:00 that afternoon.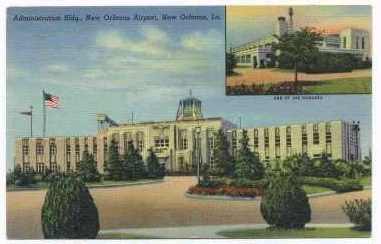 Eight years earlier, on February 10, 1934, the airport opened with great fanfare. More than 10,000 visitors from around the world attended the dedication of what was coined "the Air Hub of the Americas". Built at a cost of $4.5 million, the airport's 3,000 foot-long field qualified it for the U.S. Department of Commerce's highest rating of AA-I. The architecture was considered a modern marvel. Everything about the airport was state-of-the-art and first class. It was the first major airport in the region and the first combined land and seaplane air terminal in the world. And it was named Shushan Airport.
Architect Leon C. Weiss designed it (as well as the state capital, the governor's mansion, the Louisiana State University buildings, and the LSU Medical School. Inside the terminal building were/are beautiful Art Deco appointments as well as murals by artist Xavier Gonzalez, friezes by Enrique R. Alferez who also carved the Fountain of the Four Winds which stands out front.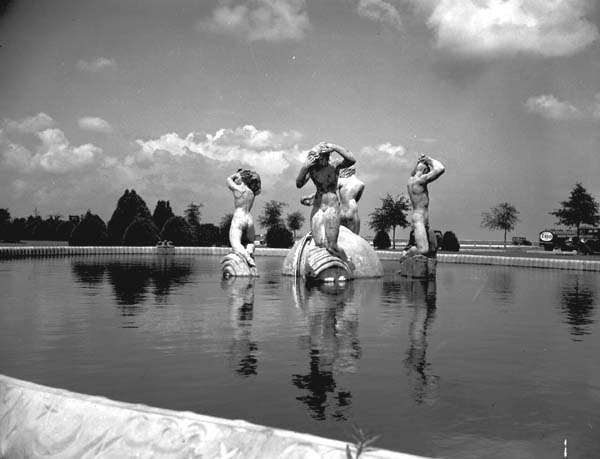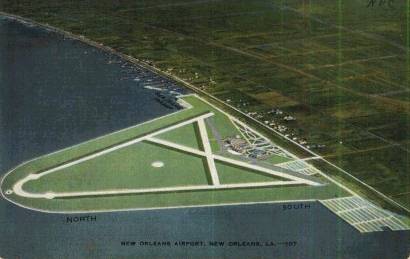 Shushan Airport, which had been under construction since 1929, sits adjacent to the Industrial Canal on a man-made peninsula jutting into the lake. To make land available for this elaborate project, the Orleans Levee Board drove a 10,000 foot retaining wall into the lake and pumped six million cubic yards of hydraulic fill to raise the field above the water. It was this project (and others) that landed Shushan, the levee board president, in hot water.
On March 27, 1934 he submitted his resignation, citing health reasons. In the letter of resignation to Governor O.K. Allen he noted accomplishments during his tenure which included a five-and-one-half long "levee" (along what is now Lakeshore Drive) with an average width of 3500 feet (over one-half mile) for eventual use as residential and recreational development (this became a part of the Lakeview post-WWII subdivisions of Lake Vista, Lake Terrace, etc.). Shushan was indicted on October 19, 1934 for eight counts of personal income tax evasion, was tried on October 8, 1935, and acquitted later that month of those charges. He remained the levee board president, however, because at at subsequent meetings of the board there were no quorums, therefore, no means of accepting his resignation. He was a slick operator, to say the least. He said, regarding the tax evasion charges, that he was being persecuted politically.
On August 21, 1939, Shusan (and five others) were indicted for mail fraud. He had allegedly been aware of a bribe which led a levee board member to pursue fellow members not to submit the job for public bid, resulting in Orleans Dredging Company netting the deal. In 1931 he also allegedly received $130,500 for his part in extorting exorbitant fees from the government, far in excess of services rendered, in a bond refunding deal and for using the U.S. mail to do so (mail fraud). But all that seemingly escaped notice for several years until until the indictment.. He was convicted on December 22, 1939 and sentenced to 30 months in federal prison on January 2, 1940. The U.S. Supreme Court refused to review the case on May 12, 1941 and declined to reconsider its decision on October 3, 1941.
In October 1941, the Orleans Airport Commission discussed removing the cornerstone of the Shushan Airport which included not only his name but the names of other former levee board members convicted of misdeeds during what became known as the "Louisiana Scandals". The cornerstone was reported to be "the only place where the name Shushan remains at the airport (which doesn't lend credence to the oft-told urban legend that his name was on all doorknobs, flooring, etc., including plumbing). The commission decided to keep the stone in place for "historical significance" and a matter of record which should be preserved.
Shushan was released from prison on parole in September of 1942. On February 28, 1947, President Harry S. Truman granted him a full and unconditional pardon.
Born on January 12, 1894 in Reserve, Abraham Lazar Shushan on died on November 3, 1966 at Touro Infirmary and is buried in Chevra Thilim Cemetery. He was educated in New Orleans and began his career at Shushan Brothers, a whole-sale dry-goods firm owned by his father and uncle, and later became its president and principal owner. He had served as levee board president during the terms of four governors (Parker, Fuqua, Long, Allen) who had all appointed him to the position beginning in 1920. He was a close personal friend of Huey P. Long. Shushan's political clout enabled constitutional amendments calling for the development of the lakefront to be enacted.
Related reading:
Louisiana Aviation: An Extraordinary History in Photographs
by Vincent P. Caire.