---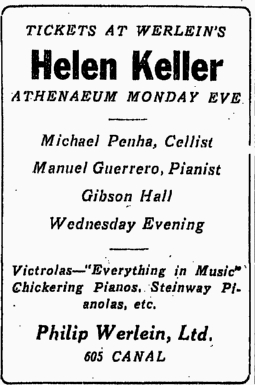 March 19, 1916 advertisement in the Times-Picayune for Helen Keller's appearance at the Athenaeum. The first New Orleans Athenaeum (defined as place for literary or scientific study), at St. Charles Avenue and Clio Street, was built for the Young Men's Hebrew Association in 1896. The YMHA sponsored lectures, art shows, and rented the space for masquerades, cotillions, and other private entertainments. This building burned in January 1905 and was replaced in 1907 by the "New" Athenaeum on the same site, the scene of many Carnival balls until the early 1930s. The new Athenaeum also burned, in 1937. The corner is now the site of the Orleanian Apartments. (NOPL).
Miss Keller's appearance, on Monday, March 20 at 8:30 p.m. sponsored by the YMHA's Committee for Blind chaired by Dr. A. O. Browne, was publicised as a stop on her farewell tour, after which she would devote her time to writing. She was accompanied to our city by her mother Mrs. Kate Adams Keller, her teacher Annie Sullivan Macy, and her secretary Polly Thompson.
During a pre-lecture interview, Miss Keller proclaimed "I am a modern woman...I never lose the opportunity to talk for suffrage...Man is never so absurd as when he presumes upon the inferiority of women". She also expressed regret in never having met the late Sophie Wright while visiting New Orleans. And she declared that she was a Swedenborgian -- a member of the Church of the New Jerusalem founded by Emmanual Swedenborg.
Promoted as "The Modern Miracle", Helen Keller reportedly received a letter when checking into the Grunewald Hotel (later The Roosevelt) offering $60,000 for a brief season tour in the Orpheum vaudeville circuit but expressed no inclination to accept it. Her hotel room was resplendent with flowers provided by Metairie florist Harry Papworth who also decorated the Athenaeum for her appearance.
The master of ceremonies for the event was Dr. Brown. The evening included musical direction by Mrs. Browne, an introductory talk by Annie Sullivan Macy, and Helen's "lecture on happiness" followed by a question and answer session. Proceeds from the event were dedicated to establishing an institute for the blind in New Orleans. Admission at the door was 50 cents. Reserved seats could be had for $1.00 or $1.50.
---

You Can Support this Site by Clicking on & Shopping from this Amazon Link -- and it won't cost you a penny more: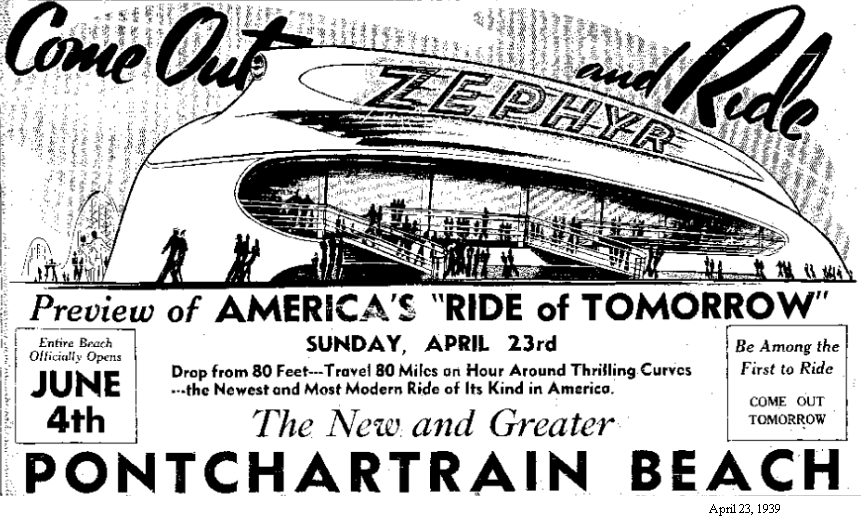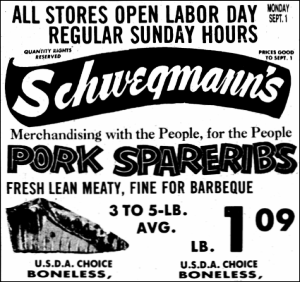 St. Joseph's Day is widely celebrated each March 19th in New Orleans.

On March 13, 1919, la etter purporting to be from "
The Axeman"
was published in the newspapers, stating that he would kill again at 15 minutes past midnight on the night of
March 19
,
1919
but would spare the occupants of any place where a jazz band was playing. New Orleans's dance halls were filled to capacity, and professional and amateur bands played jazz at parties at hundreds of houses around town. Lacking a band, Victrola's played in homes. There were no murders that night.
Leander Perez (Attorney, Politician and Staunch Segregationist) died in Plaquemines Parish on March 19, 1969.
Clarence "Frogman" Henry, was born March 19, 1937 in Algiers. His trademark croak, utilized to the maximum on his 1956 debut hit "Ain't Got No Home," earned Henry his nickname and jump-started a career that endures to this day. "(I Don't Know Why) But I Do" and "You Always Hurt the One You Love", both from 1961, were also top-selling records.
Lieutenant Godfrey Weitzel served as Mayor of New Orleans for only a few weeks, as he was removed from the office to take command of the Federal troops operating in Lafourche, with the rank of Brigadier General. He died in Philadelphia, March 19, 1884, at his residence.
J. A. D. Rozier was the 30th mayor of New Orleans. He served in office for two days, from March 19, 1866 until March 20, 1866.
New Orleans Draining Company was established by act of the Louisiana legislature on March 19, 1835, the Company was to drain, fill, and improve all of the land between the settled portion of the city of New Orleans and Lake Pontchartrain. Capital in the amount of $1 million, divided into 10,000 shares, was authorized by the act, which also provided limits for purchase of stock by the city and state. The affairs of the Company were to be handled by a board of twelve directors, some to be appointed by the governor and some by the mayor, with the remainder to be elected by the stockholders. The Company was to prepare a plan of the lands to be drained and to divide that land into sections. The board was to decide in which order to drain the various sections and landowners were given certain rights of redemption once the lands had been drained. Lands not so redeemed could be purchased by the Company. On completion of drainage in a given section the city was to gain control of, and responsibility for, maintenance of the drainage works (NOPL)