November 19
---


---
---

Doris Zemurray Stone is Born
November 19, 1909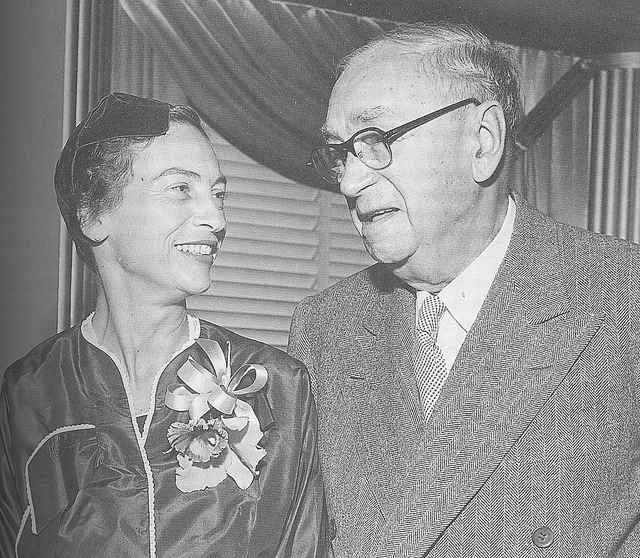 Doris Zemurray Stone with her father Samuel ("The Banana Man") Zemurray
Doris Zemurray Stone was an archaeologist and ethnographer, specializing in pre-Columbian Mesoamerica and the so-called "Intermediate Area" of lower Central America. She served as the director of the National Museum of Costa Rica and endowed numerous professorial chairs in U.S. universities.
Born 1909 in New Orleans, Doris Zemurray was the daughter of Samuel Zemurray, a Russian immigrant who founded the Cuyamel Fruit Company the following year. In 1917, Samuel Zemurray purchased and moved his family into a three-storey Beaux Arts mansion on St. Charles Avenue facing Tulane University, which would become the family home for the next four decades. In the early 1960s the mansion was transferred to Tulane where it became the residency of the University's presidents.
Sam built the Cuyamel Fruit Company into a successful venture, later famously selling it to the United Fruit Company giant in 1930 only to subsequently engineer a reverse takeover of sorts, serving as the latter's director in a profitable, if controversial, tenure from 1933 to 1952. Meanwhile, daughter Doris Zemurray attended Radcliffe College in Cambridge, Massachusetts, where she majored in anthropology, and also pursued graduate studies in archaeology. She graduated in 1930. During her studies she met and married Roger Thayer Stone, a physics student at Union College, Schenectady, New York.
The year after graduating Doris Stone joined the Department of Middle American Research at Tulane University, which later became the Middle American Research Institute (MARI). Over the next eight years Stone was employed initially as a research associate in ethnography, and then as an associate in archaeology.
In 1939 shortly before the outbreak of World War II Doris Stone and her husband moved to Costa Rica, where Roger had business interests in a coffee plantation operating in Curridabat, outside of the capital San José Stone would remain based there and in Central America for the next two decades, returning to New Orleans after her father's death and her husband's retirement from the plantation business, in 1961.
With her husband Roger Thayer Stone, she co-founded the Stone Center for Latin American Studies at Tulane University.
Stone was awarded an honorary Doctor of Letters degree in 1973 by Union College NY, her husband's alma mater. In her last decades Doris served as president of the Zemurray Foundation, the funding agency supporting educational and cultural programs established through the legacy of her father. Her husband Roger had been foundation president up until his death in 1983. Doris Zemurray Stone died in Covington, LA on October 21, 1994, at the age of eighty-four. (Wiki)
---
---

---
On November 19, 2006, Drew Brees set a team throwing record of 510 yards in a 31-16 loss to the Cincinnati Bengals at the Superdome. The yardage total is the sixth-highest in NFL history.
On November 19, 1996, Gregory Aymond was appointed Auxiliary Bishop of New Orleans and Titular Bishop of Acholla by Pope John Paul II. He received his episcopal consecration on January 10, 1997 from Archbishop Francis Bible Schulte, with Archbishops Philip Hannan and John Favalora serving as co-consecrators.
On November 19 1984, the Saints recorded their first win on prime time television with a 27-24 Monday Night Football victory over the Pittsburgh Steelers in the Superdome.
Design Consortium, Ltd submitted building plans for the Australian Exhibit at Audubon Zoological Gardens on November 19, 1984.
Trombonist George Brunies, born on February 6, 1902, passed away on November 19, 1974. He came to fame in the 1930s, and was part of the Dixieland revival.
On November 19, 1944, the Liberty ship William H. Kendrick was launched by Delta Shipbuilding Company.

Photo of the interior of the Lee Circle Bar
,
November 19, 1940
. On September 17, 1939 Philip Carey, an official of the National Maritime Union, was shot and killed just outside this establishment. The alleged murderer, William C. McCuistion, later appeared as a witness in a Congressional investigation
i
nto Communist influence in the union. He was still at large when this photograph was taken. (From the New Orleans Public Library)
On November 19, 1911 Virtue Street's name was changed to North Rocheblave Street.
Warren Easton
Born on November 19, 1848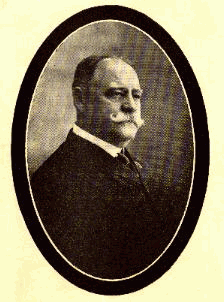 Born in New Orleans on
November 19, 1848
, Warren Easton graduated from Louisiana State University in 1871, taught in Baton Rouge schools for two years, and returned to New Orleans to teach at Magnolia, Jackson, St. Philip, and Fillmore Public School of which he became principal. From 1884 to 1888 he served as Louisiana superintendent of education. In that position Easton established the State Normal School in Natchitoches (which is now Northwestern State University).
On October 11, 1888, he was elected superintendent of New Orleans Public Schools and served until his death in 1910. At that time the system had 414 teachers of 24,800 students in 51 schools. In 1910, when Easton died in office, there were 1,122 teachers, 38,098 students in day classes, and 87 schools (105 teachers of 4,035 students worked at nine night schools).
During his twenty-two-year tenure Easton launched classes in calisthenics, drawing, and music. He submitted the first typewritten superintendent's report on January 11, 1889. On November 2, 1905, forty young men enrolled in public schools' first short-hand, typing class. On October 15, 1894 Easton inaugurated fire drills in schools, and on September 25, 1906 he required compulsory smallpox vaccinations of students.
Easton fought to set regular paydays for teachers and endorsed and established the Teachers' Pension League. He organized the Louisiana Teachers Association and served as its president. He was active in the National Education Association, New Orleans Educational Association, and the Public School Alliance. Married to Camille Hart, he died in New Orleans on October 17, 1910 and is interred at Greenwood Cemetery.
Warren Easton school was named for him in 1911. Principal Francis Gregory and the entire faculty moved into the new school at 3019 Canal Street.in 1913. In 1952 the school became co-ed and in 1967 was racially integrated.Warren Easton school celebrated its 100th year anniversary of the opening its current location on September 16, 2013.
Students of note who attended Warren Easton include Henry Boh (Class of 1911), O. Perry Walker (Class of 1918), Mayor Victor Schiro (Class of 1922), Harold "Hoss" Memtsas (Class of 1932), John T. Curtis, Sr. (Class of 1938), Cosimo Matassa (Class of 1941), Eddie Price (Class of 1943), Al Belleto (Class of 1944), Pete Fountain (Class of 1945), Lester Kennedy Class of 1950), Sheriff Charles Foti, Jr. (Class of 1953), Ronald McDonald (Class of 1954), and Lee Harvey Oswald.