Principal and Director
Brother August Raphael Bodin F.S.C.

Assistant Principal
Brother John Fairfax

Enrollment
568 freshman and sophomore students
Firsts for the '63 - '64 school year:
Sophomore class
Track Team
Passion Play
Donkey Basketball
Hootenanny

May Fair
Hardcover yearbook

Highest Enrollment -568 Students

TheGenesians

Benildus Club, Acolytes, and Confraternity of Christian Doctrine
Freshman Basketball Team won Rummel's first inter-scholastic athletic trophy
Charles Guajardo, Wendell Fenner, John Niemietz, and Tom Schwaner joined the faculty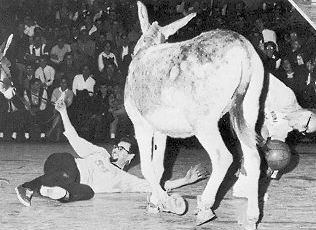 It was time when Donkey Basketball, bon-fires, hootenannies, and language laboratories were in vogue. The first Raider Fair was held. Long before fast foods were introduced into school lunch programs, cafeteria administrator Miss Hilde ran a tight ship and was duly recognized when the Rummel cafeteria was rated "Best quality and variety of food, [with the] best sanitary conditions of any school in the New Orleans Area".
Rummel's charter class became sophomores and the first seven sophomore classrooms were opened with an average of 35 students per class -- 246 sophomores in all. Along with nine new freshman homerooms (323 Freshmen with an average of 35.9 students per classroom) the school enrollment totalled 568 students. Homerooms where identified by letters of the alphabet and each teacher served as a homeroom "Sponsor".
Brother August Raphael Bodin, F. S.C. served as Principal and Director of Religious Community. Brother John Fairfax was Assistant Principal, Prefect of Discipline, and Sub-director of Religious community. Mrs. Becnel was the school secretary, student nurse, amd manger of small loans, lost and found department and oversaw various other activities. Mrs. MacInnes was the librarian.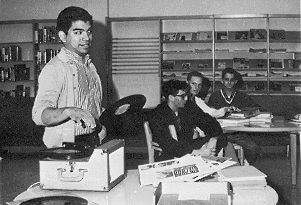 Mr. Gaujardo spins LPs for his class (right)
Living With Christ, a Christian Brothers published series of textbooks for high school education was required study for all students at Rummel.

Twenty two teachers were on the faculty. They were:
Brother Andrew -- Religion II, English II, Moderator of Intramural Athletic Program
Brother Clarence -- Religion I, English I, Biology, Director of The Raider Chorus
Brother Edward -- Religion I, Biology, Athletic coordinator, Moderator of Science Club

Brother Fidelis -- Department Head of the freshman religion course, Freshmen Mathematics, Freshman basketball coach, sponsor of Benildus Club, Freshman Advisor
Brother George -- Department Head of the sophomore religion department, Moderator of
The Raider's Digest
student newspaper, Geometry
Brother Freeman -- Religion I, Spanish I, Moderator of
Raiders on Review
yearbook
Brother John -- French II, Moderator of Student Council

Brother Robert -- Freshman Religion and Algebra,

Brother Scanlan -- Freshman Algebra and Religion, Sophomore Religion, Moderator of the Confraternity of Christian Doctrine
Brother Rodney -- Religion I, Typing

Brother Steve -- Religion I, Spanish II, Moderator of Espana Pequena Spanish Club, Moderator of acolytes

Mr. Chelchowski -- General Mathematics, Business Arithmetic, Physical Education, Head basketball coach, Head track coach
Mr. Capron -- English I, Business Mathematics, Moderator of
The Raider's Digest
Mr. Ronald Doyle -- Civics, Physical Education, Assistant football coach, assistant track coach
Mr. Anthony Galliano -- Civics, Physical Education, Head footbal coach

Mr. Charles Guajardo -- English, Speech, Moderator of the Genesians drama club,Moderator of cheerleaders
Mr. Wendell Fenner -- History, Civics, Assistant footbal coach

Mr. Lockwood -- English, Social Studies
Mr. Gary Mannina -- French I, Latin I and II
Mr. John Niemietz -- Science, Physical Education

Mr. O'Sullivan -- Freshman English, Sophomore World History, Moderator Rummel Debate Squad

Mr. Tom Schwaner -- Mathematics, Physical Education, Football coach, baseball coach
The yearbook was dedicated in memory of President John F. Kennedy who had been assassinated in November of the 1963 -- 1964 school year. Johnny Lincoln sketched the illustration on page one of a flag at half-staff with the school building in the the background. During this second year of Rummel's existence students had witnessed traumatic and world-changing events. College students marched through Times Square and in San Francisco -- the first major student demonstration against the Vietnam War. The Nuclear Test Ban Treaty was signed. Lee Harvey Oswald was killed by Jack Ruby. President Lyndon B. Johnson established the Warren Commission and declared a War on Poverty. The 16th Street Baptist Church bombing in Birmingham, Alabama, killed 4 and injured 22 people. Plans to build the New York World Trade Center were announced. Malcolm X was suspended from the Nation of Islam. saying that he would organize a black nationalist party. Martin Luther King, Jr. delivered his "I have a dream..." speech at Lincoln Memorial during the March on Washington. The second session of Second Vatican Council convened in Rome. James Meredith became the first black person to graduate from the University of Mississippi.

In local news, the Sisters of the Holy Family had moved from the convent (pictured) they had inhabited at 717 Orleans Avenue since 1881 -- it would become the Bourbon Orleans hotel. The Mississippi River Gulf Outlet (MRGO) opened. Lincoln Beach closed. The Port of Call opened on Esplanade Avenue. Eastern flight 304 crashed into Lake Pontchartrain. The Zatarain's sold their family business. Mayor Chep Morrison died. New homes were being offered for sale in Airline Park Subdivion.
Rummel student Coleman Hardin won the "Name the Yearbook" contest. His choice was Raiders on Review. The yearbook staff included Gerry Miller, Johnny Lincoln, Dale Flowers, Robert Templet, and David Roberts with Brother Freeman as the moderator. Paul Severson and Michael Angelico were the photographers.
The Raiders on Review prologue by Brother August Raphael Bodin, Principal, discussed "The Catholic Philosophy of Education" which "not only recognizes the higher ultimate end of the pupil and of his education, but also recognizes lower aims, secondary character, which contribute to the achievement of the pupil's final destiny...Thus it is the aim of Archbishop Rummel High School to develop young men who will think and act as Christians in all the phases of their activities, both now as students and later on in life".
To further that goal, several religious organizations were formed at Rummel. These included the Christian Brothers sponsored Benildus Club which sought to promote vocations to the priesthood and religious life, the Acolytes of St Joseph Chapel, and the Confraternity of Christian Doctrine which provided religious education to Catholic children attending secular schools.
Benildus Club members were Bruce Bascle, Tony Bondi, Stan Guidry, Roger Langlois, Donnie Dessauer, Danny Brennen, Phil Jaeger, Mike Granier, John Weigand, John Smith, Gordon Stevens, Bobby Lunning, Roy Taormina, Ray Genovese, Dave Guidry, Danny Pepitone, Walter Sabrier, Mike Bowler, Rodney Ferrand, Steve Armbruster, David Lowe, Michael Brehm, Roland Coppola, Eddie Abate, Nike Tusa, Ken Sperling, Mike Enault, and Vern Williams.
The Acolytes were Robert Vick, Johnny Macaluso, Sidney Bertucci, Robert Schambach, Ed Van Hoven, Kevin Keenan, Paul Cressend, Bruce Bourgeois, Nike Tusa, and Rufus Cressend.
Confraternity of Christian Doctrine members were John Truxillo, Chris Haydel, Irvin Kuhn, Pete Oddo, Ronnie Boyd, John Folger, Earl Heintz, Ken McAllister, Anthony Bertucci, Bernard Baisier, George Becnel, Tony Calandro, Paul Brue, Mike Parr, Eugene Cheirici, Mike Livaudais, Ronnie Frentz, Ronnie Long, Dour Borne, Dale Flowers, Jim Dikus, Mike Angelico, Ted Genter, Tom O'Brien, Gary Hardin, and George Mader. The group was moderated by Brother Scanlan.
The Genesians debuted during the 1963-1964 school year (when Hello, Dolly! opened on Broadway). As founder of the Genesians, now Genesian Players (whose namesake St. Genesius the Comedian is the patron saint of actors) Mr. Charles Guajardo's first dramatic efforts at Rummel included the production of a pre-Genesian one act play, Minor Miracle (pictured) starring David Young as Hale, Danny Griggs as Jordan, Paul Thorne as McClane and Michael Whalenwhich was presented to Rummel students and The Littlest Angel which was presented to the public.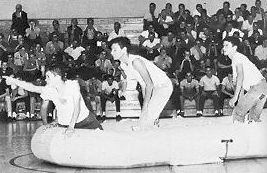 The first Genesians were Ray Zabala, David Young, John Weigand, Joe Manguno, Stan Cowley, Danny Griggs, Frank Pesce, Bobby Comeaux, Paul Cressend, Harold Meyer, David Evans, Marshall Perez, Gerry Miller, Lloyd Barrios, Steve Ovino, Alvin Guilliot, Carl Schultz, Norman Schoenhardt, Mike Paar, Paul Thorne, John Pardue, Marion Catalano, Dwayne Bayes, Mike Fuller, Jerome Stephens, Coleman Harden, Don Burke, Richard Porter, Mike Angelico, Jimmy Savoye, Tom Doar, Joe Rotolo, and Paul Ramirez.
Under Chuck Guajardo's direction the Genesians were awarded their first Louisiana state trophy for the presentation of Edward Albee's The Sandbox (1964--1965 school year). They would go on to earn thirteen state titles. In 1970 Mr. G wrote two plays; Montage '70 and Kids.
Of over two-hundred productions during more than four decades at Rummel, Charley's Aunt (spring 2008) would be his last. Charles C. Guajardo died on January 12, 2008.
The Rummel Alumni Association, Inc. donated $500 to the Genesian Booster Club in loving memory of Mr. Guajardo in January, 2008.
Rummel had no varsity athletic teams because the student body (freshmen and sophomores) was not old enough to qualify for varsity play.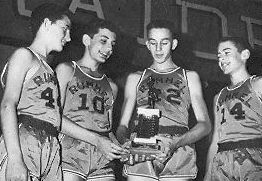 The Freshman Basketball Team won Rummel's first inter-scholastic athletic trophy. They were Marty Donovan, Chuck Lawrence, Fred Pillot, Ronnie Rusek, Boo Hebert, Ricky Raymond, Steae Sears, Jimmy Haldane, Rod Olps, George Comeaux, Gearoge Rucker, Wayne Harris, Danny Boudreaux, Bobby Italiano, and Harry Morgan. Hebert, Comeaux, Italinao, and Donovan (pictured) were freshman All-Stars. The team ended the year with a 23-10 record.
Coach Joe Galliano said, "Football at Rummel is progressing as expected; we are a young and inexperienced team, but willing. I believe the schools has wonderful spirit for its short existence. Our boys seem to have the pride and desire necessary to succeed. I am very fortunate to have very fine assistant coaches which make the job easier and more pleasant. We are looking forward to a successful season". Members of the Junior Varsity Football Team were S. Mayeux, C. Lawrence, G. Hughes, W. Luckette, T. Boudreaux, R. Cressend, A. Bertucci, G. Guarisco, C. Sanders, J. Guarisco, D, Decedue, R. Pacaccio, R. Schaff, E. Martinez, R. Eschleman, J Pardue, W. Jusselin, E. Lambert, R. Cahanin, L. Labiche, F. Dupre, C. Domino, A. Geraci, J. Folse, R. Mahoney, T. O'Brien, M. Dyer, R. Long, D. Borne, and K. Leonardi. The team managers were Thane Avrard, Joe Manguno, and Anthony Diez.
The yearbook notes that "This year's junior varsity basketball team, though small in number and height, was large in heart. Grinding their way through a schedule of varsity and junior varsity teams, the Raider team won eight games while losing thirteen. The team has closed the gap immensely on their opponents over the past two years; however, ther is still a long road ahead if they wish to compete on a par with their Catholic rivals in New Orleans". Members of the squad were , Steve Donahue, Craig Martinez, Bob Gallway, Nick Leggio, Gary Nobile, and Glenn Mentel with managers Fred Greene and Mike Maier.
The Rummel coaching staff included:
Tom Schwaner -- head baseball coach and assistant football coach
Joe Galliano -- head football coach
Stan Chelchowski -- head junior varsity basketball coach and head track coach
Brother Fidelis -- head freshman basketball coach
Ronnie Doyle -- assistant football coach and assistant track coach
Pete Fenner -- assistant football coach
A Football Awards Banquet was held in December.
Shea Stadium opened in Flushing, New York and The Pro Football Hall of Fame opened in Canton, Ohio.

The identities of track team members were not included in the 1963-64 yearbook.
Girls had not yet been allowed to join the cheerleading squad but in Washington the President's Commission on the Status of Women issued ts final reports to President Kennedy. Raider cheerleaders were headed by Jerome Stephens and included Bill McAuliffe, Steve Ovino, Mike Liaudais, John Coon, Ray Zabala, and Wayne Messina.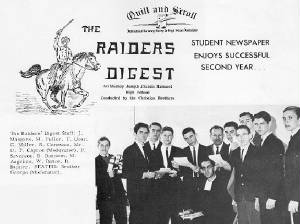 The Raider's Digest celebrated its second year as the official student newspaper. Thanks to business and family sponsors (advertisements) it was now a four-page Linotype publication rather than the original mimeographed spread. With sponsorship, The Raider's Digest staff was also able to purchase a large banner for the gymnasium. Under Mr. O. T. Capron's moderation the staff included Editors T. Doar, G. Miller, , R. Comeaux, M. Fuller, and J. Manguano as well as P. Severson, B. Donovan, M. Angelico, W. Danos, and B. Basier. The publication was noted as a member of the Quill and Scroll -- International Honorary Society for High School Journalists.
The Debate Team, moderated by Mr. Anthony O'Sullivan, participated in the Catholic Forensic League of New Orleans sponsored Loyola University Debate Tournament and the Southwestern Louisiana Speech Festival (in Lafayette) where they place eighth of the twenty-four competing schools. The group also participated in intramural debates in which faculty members and the student body participated. Members of the team were Bruce Bourgeois, Mike Ewin, John Smith, John Weigand, Steven Armbruster, Roland Coppola, Steven Reidlinger, Eric Bissel, Stephen LaPlace, Kevin Keenan, and Joe Koehler.
In more trivial pursuits, Merv Griffin's game show Jeopardy! debued on NBC.
Espana Pequena (the Spanish Club) members were Pete Terranova, David Laing, Bernard Basier, Alton Grand, Kenneth Cochran, Craig Bennen, Steve Hebbler, Paul Ramirez, Don Deckelman, Tim Breau, Donald Decidue, Mike Paar, Vernon Meyer, Dennis Ragas, Dana Hanning, Alin Guillot, and Robert Schambach with Brother Steve as the moderator.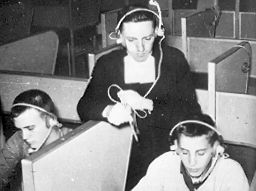 Rummel's state-of-the-art Language Lab opened at a cost of $20,000 at the same time that first program written in BASIC (Beginners' All-purpose Symbolic Instruction Code) was released, IBM announced the introduction of its System/360 computer, and John Glenn became the first American to orbit the earth.
Freeman McGlothlin (pictured teaching in the language lab) recalled, "This was my first year teaching. I was only four years out of high school myself and had not yet graduated from college. This was supposed to be my year of "practice teaching." I was yearbook moderator that year and this was Rummel's first ever yearbook.
Joseph Domino served as the President of the Rummel High School Booster's Club whose fund raising efforts concentrated on purchasing a complete outfit of band uniforms. The Raider Marching Band proudly displayed them in the Krewe of Freret parade (pictured).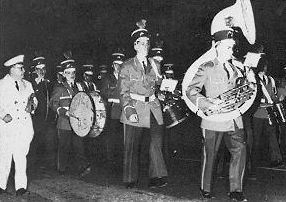 Professor Howard C. Voorhies was the band master. Band members included:
Horn Section -- M. Murray, Steve MacInnes, Alvin Weber, Kevin Crutherds
C. Section -- A. J. Ladet, Patrick Bossetta, Paul Chauvin, and Thane Avrard
Trombone Section -- Joseph Brocato, Fred Barraco, George Mader, Allen DiGiovanni, and Steve Young
Clarinet Section -- Bill Donovan, Larry Juge, Tommy Waguespack, Wayne Danos, Frank Moore, Heild Smith, Kenny Bossetta (who's memory would later be honored at Rummel in naming the Kenneth J. Bossetta Library), Eldon Louviere, Paul Bergeron, Leroy Lind, and George Becnel
Trumpet Section -- George Pattison, Ed Usner, Dennis Ragas, Marcel Tujaque, Wayne Muler, Joe P. Rotolo, Gerry Berner, and Denis Schaff
Percussion Section -- Perry Poche, McKinley Cantrell, Mike Palumbo, Ted Genter, Mike Vanderwall, Louis Hodges, and Marty Donovan

In the New Orleans music scene Huey & Curly (Huey Smith & Curley Moore) recorded The Second Line for Ace Records and Oliver Morgan asked Who Shot the La La? on the GNP Crescendo label.
The Rummel Chorus Hootenanny was attended by nearly 2,000 parents and friends in October in the newly opened gym. It included a performance by the Nutria Rats (pictured)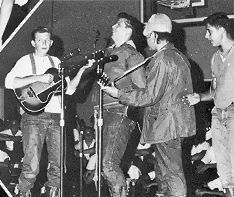 . Chorus members were Raymond Genovese, James Pratt, Carl Giarraputo, Jams Meehan, Philip Jaeger, Chris Borne, Calvin Rolland, Gerry Arcement, David Guidry, Lee Holmes, Mark Seamster, John Dreher, David Tortorich, Steve Ovino, Paul Dremdel, and Robert Soule under the direction of Brother Clarence. In the entertainment world, the record album Meet the Beatles! was released as was the Rolling Stones debut album, Rolling Stones. Sam Cooke and his band were arrested after trying to register at a "whites only" motel in Louisiana but before the school year ended he recorded A Change Is Gonna Come. The Beatles appeared in their first live American television performance on The Ed Sullivan Show.
Student Council officers were Tommy Boudreaux, President; Doug Borne, Vice-President; Mike Pisciotta, Secretary; Ronnie Long, Treasurer. Class representatives included Glenn Mentel, Pete Terranova, John Pardue, Robert Comeaux, Joe Guarisco, Anthony Bertucci, Robert Eshleman, and Coleman Hardin.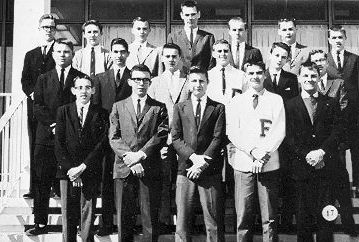 Students who scored at or above the 90th percentile on the National Education Development Tests were William Donovan, Leonard Short, Alton Grand, Dana Hanning, Anthony Bertucci, Johm Pardue, Kenneth Bossetta, Pete Terranova, Tom Finnegan, Chris Johanson, Gerald Trigo, Dale Flowers, Ronald Sennett, Walter Toll, Thomas O'Brien, David Laing, Jeffery Ehlinger, and Kevin Bland.
The yearbook staff noted that "This year Rummel High School has made its first attempt at publishing a school yearbook. Although the size and elaborateness of the book are limited, we feel that it is Representative of Rummel High School, and that it will provide a lasting memory to students, faculty and friends; in this degree it will have served its purpose. In the future you can look forward to bigger and better books -- we have just begun.." We now thank them for the memories.
In 1963 the Archdiocese predicted that by 1966, when the charter class would graduate, that the total school enrollment would e 840 students.
Thanks to Jean Breaux Gravois and Clyde Gravois ('67) for their help in compiling this chapter of Rummel High School history.