During the 1964-65 school year Metairie's VErnon telephone extension was discontinued. Ruth's Chris Steak House and Rocky and Carlo's Restaurant opened. The highly controversial and eventually failed plan for a Riverfront Expressway along the edge of the French Quarter was proposed. A new 33-story International Trade Mart building at the foot of Canal Street was under construction as was the nearby Rivergate where Harrah's Casino now stands. The Archdiosese appropriated land at a cost of $329,704 for extension/expansion of the Rummel campus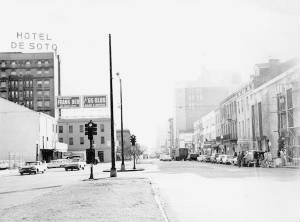 The 900 block of Poydras Street is pictured in December of 1964, before it was widened. The Hotel De Soto would become Le Pavillon hotel and instead of sitting a block from the street it now faces Poydras. Photograph from the
New Orleans Public Library.
The New Orleans Cotton Exchange, founded on February 11, 1871, stopped trading on July 9, 1964. Out on the lakefront the Shushan Airport exterior friezes and high windows were covered with modernistic panels and the art deco appointments were hidden by the addition of second-floor offices. Five of the airport's eight Xavier Gonzales murals were covered or destroyed. George Mondy became the first African American member of the paid New Orleans Fire Department in February, 1965.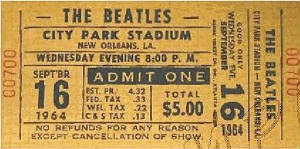 The Beatles performed at City Park Stadium Wednesday, September 16 8:00 $5.00
Archbishop Rummel passed away on Sunday, November 8, 1964 of pneumonia at the age of 88. He had entered the priesthood in 1902 thrn served as a priest in New York City and in Omaha. In 1928 he became the Bishop of the Diocese of Omaha. In 1935 he moved to the Crescent City when appointed Archbishop of New Orleans in May or that year and went on to serve longer than any other. During Rummel's tenure, Catholic school attendance increased 130% and many new parishes were formed in the archdiosese whose population was estimated at over 1/2 million people. Archbishop Rummel's funeral services were aired on local televsion chanells 4 and 6. He is buried in the altar area of St. Louis Cathedral. John P. Cody was appointed in his place as the new Archbishop. The 1965 Raiders on Review yearbook was dedicated in honor of the school's namesake and in memory of Archbishop Joseph Francis Rummel.
The other Rummel/"Crimson Pride":
In 1964 the Christian Brothers opened Archbishop Rummel High School in Omaha, Nebraska. Like our alma mater, the school used a confederate flag and John Chase's Raider logo (which were discontinued in 1968 as reported in the New York Times). At one time they were known as the Rummel Rebels. In 1974 the all-boy school merged with the all-girl Notre Dame Academy of Omaha to form Roncalli High School, later renamed Roncalli Catholic High School (named for Angelo Giuseppe Roncalli -- Pope John XXIII). Now Roncalli's mascot is a winged lion (the symbol of St. Mark which was included in Pope John's coat of arms). Its school motto is "Crimson Pride".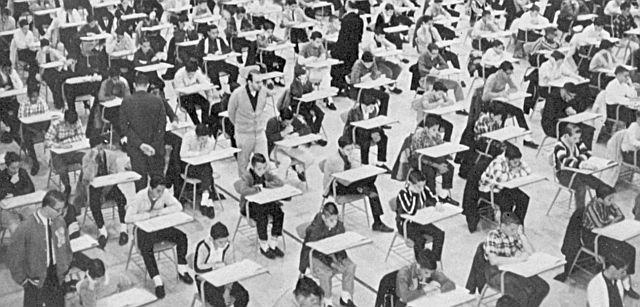 Prospective students take the entrance exam. Photo by Mike Angelico appeared in the Clarion Herald.
The charter class who had entered Metairie's Archbishop Joseph Francis Rummel High School as freshmen were now juniors as the 1964 school year began. The student body included 310 freshmen, 307 sophomores, and 221 juniors for a total of 838 students -- 270 more than in 1963-64 school year. Four new buildings had been added. Brother Ephrem Hebert, FSC was appointed principal. He predicted that "next year we will be the largest Catholic high school for boys in the entire South".
New faculty members included:
Brother Andrew Harris -- Sophomore Religion and English
Brother Bertrand -- Junior Religion and Mathematics
Brother M. Bourgeois -- Junior Religion and Mathematics
Brother Bruce -- Junior Religion and Biology
Brother Dean -- Freshman Religion and U.S. History
Brother Michael -- Prefect of Discipline, Religion
Mr. Blanchard -- Mathematics
Mr. Bonner -- English and Civics
Mr. Brown -- Biology and Chemistry
Mr. O. R. Capron -- Freshman English
Mr. Theodore Cotonio -- English and History
Mr. William Delery -- Health and P.E.
Mr. Joseph Dover -- Junior English
Mr. Edrington -- English and Civics
Mr. Frentz -- Sophomore and Junior English
Mr. Gelpi -- Spanish
Mr. Guderian -- Geometry
Mr. J. W. Sellers -- Latin, French, and Spanish
Mr. Tessitore -- Civics and History
Mr. Treuil -- Chemistry
The
Alma Mater
was written by music teacher and band director Howard Voohries in 1965.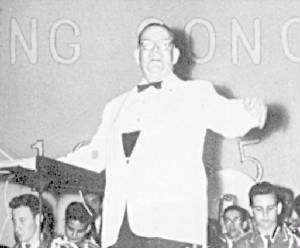 Student Council officers were Ronald Long,vice-president; John Pardue, President; Bobby Gallwey, treasurer; Paul Brue, secretary.

Across the nation American students took on a new role as protesters of "The Establishment" as a 2-stage escalation of bombing in North Vietnam accounted for approximately 3,500 United States Marines being stationed in South Vietnam -- the first American combat troops to fight there. The first draft card burnings took place at the University of California, Berkeley, and a coffin was carried to the Berkeley Draft Board. Students for a Democratic Society (SDS) organized the first teach-in against the Vietnam War, with 2,500 participants, at the University of Michigan. The largest teach-in to date began at Berkeley and was attended by 30,000. The first SDS march against the Vietnam War drew 25,000 protesters to Washington, DC.
On Bloody Sunday, March 7, 1965, approximately 600 civil rights demonstrators in Selma, Alabama -- many of whom represented the Student Nonviolent Coordinating Committee (SNCC) and the Southern Christian Leadership Conference (SCLC) -- began a peaceful march to the state capital in Montgomery. They were met six blocks away by state and local lawmen as well as deputized citizens who attacked with billy clubs, bull-whips, rubber tubing wrapped in barbed wire, and tear -- gas forcing them back to Selma. Within two days, Martin Luther King, Jr. led a "symbolic' march to the same spot where they had been stopped, the Edmund Pettus Bridge. On Sunday, March 21, after a court decision that "The law is clear that the right to petition one's government for the redress of grievances may be exercised in large groups...and these rights may be exercised by marching, even along public highways" (this overturned Governor George Wallace's ban on protest marches) some 3200 marchers began walking 12 miles per day until they reached Montgomery on Thursday, March 25. During the trek they had grown to number 25,000. President Johnson then sent a bill to Congress which resulted in the Voting Rights Act of 1965. It was passed by the Senate on May 26, the House on July 10, and signed into law on August 6.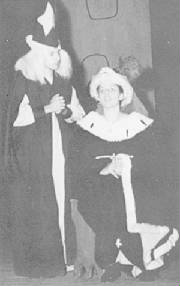 The Genesians presented four performances (April 1 2, and 3) of Once Upon a Mattress at The Civic Theatre at 533 Baronne Street in New Olreans -- Roger Villere (The Wizard) and Anna Maria Franzella (The Queen) are pictured along with Mary Lee Berner (Larken), Paul Brue (Harry), Phyllis Wagner (Princess Winifred), and Bruce Clark (Prince Dauntless).
Donna Roniger and Tommy O'Brien starred in The Balcony Scene from the vocation play, Jim Dicus, Mary Ann Drury, Donna Roniger, Anna Maria Franzella, Mike Fuller, and Maureen Mock performed in Song of Bernadette. and Judy Arceneaux, Suzanne Gueterrez, and Coleman Hardin earned 100% Superior rating at the University of Southwestern Louisiana at Lafayette competition in Sandbox -- this was Rummel's first statewide drama award.
At the First Annual Geni Awards given to "outstanding Genesians who have in any way participated in year's dramatic productions" Johnny Lincoln was recognized as the best technician, Mike Liaudais earned the most versatile actor award, and Ken Jensen was deemed the "Most interested freshman in dramatics and speech".
In the entertainment world at large, the film version of the hit Broadway stage musical My Fair Lady premiered in New York City. The movie starred Audrey Hepburn and won 8 Academy Awards. The James Bond film Goldfinger began its run in U.S. theaters as did Mary Poppins and The Sound of Music. On television the ABC sitcom Bewitched, starring Elizabeth Montgomery, first hit the tube. Roald Dahl wrote Charlie and the Chocolate Factory.
In the real world In Cold Blood killers Richard Hickock and Perry Smith, convicted of murdering 4 members of the Herbert Clutter family of Holcomb, Kansas, are executed by hanging at the Kansas State Penitentiary for Men in Lansing, Kansas. Dr. Martin Luther King, Jr. became the youngest recipient of the Nobel Peace Prize. The Warren Commission Report, the first official investigation of the assassination of United States President John F. Kennedy, is published Lyndon B. Johnson proclaims his "Great Society" Winston Churchill dies Malcolm X was assassinated in Manhattan.
The Speech Team moderated by Mr. Contonio and Mr. Guajardo included Mark Seamster, Jerome Stevens, Robert Wakefield, Coleman Hardin, John Pardue, James Dicus, Steve Calamia, Eldon Louviere, and Harold Meyer took home first and second place awards from the USL Speech and Drama Festival.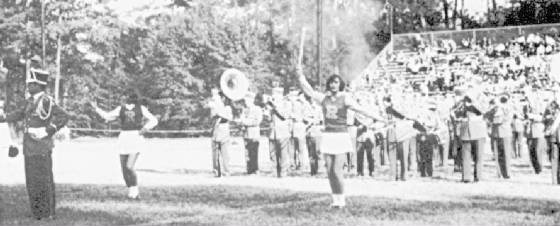 The Band officers were Mike Palumbo, Wayne Danos, Brian Landry, Craig Haydel, Thane Avard, Louis Hodges, Freddie Barraco, George Mader, Edward Usner, and Stephen MacInnes. Pictured is the Marching Band performing at the Rummel vs. St. Paul's football game. This is the first year we see drum majorettes performing with the band.

For the first time in its history Rummel formed a Bowling Team and Bridge Club. Bridge Club officers were James Meehan, Robert Lunning, Dale Flowers, and William Donovan.
While the third period of the Second Vatican Council was in session Rummel's Benildus Club and the Acolytes where placed under the umbrella of the CCD (Confraternity of Christian Doctrine). Brother Dean and Brother Fidilis where appointed to lead the organization. Brother John supervised the YCS while Brother Scanlan worked with the teachers. Brother Scanlan also, along with Brother Bourgeois mediated between the Archdiocese CCD office and the school. The student officers were Kenneth Ducote, Paul Cressend, and James Danner.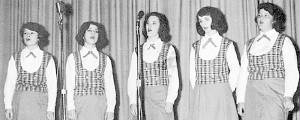 Hootenanny Night was again celebrated during the '64-'65 school year featuring the Maypert Singers. Meanwhile Bob Dylan is said to have introduced The Beatles to cannabis, The Kinks released their first album;
The Kinks,
and the Moog synthesizer was designed by Robert Moog.
Contributors to the New Orleans Sound in popular music of the day were Curley Moore's (Hot Line Records) Soul Train, Eddie Powers' - (Sims Records) Gypsy Woman Told Me, Irma Thomas' (Imperial Records) Time Is on My Sid, Louis Armstrong's (Kapp Records) Hello Doll, Professor Longhair's (Watch Records) Big Chief, Part 1 and Part 2, and the Dixie Cups' (Red Bird Records) People Say.
Donkey Basketball was again a successful fund raiser.

The Raider's Digest added new staff members Chris Johanson and Pete Oddo. Gerry Miller became editor-in-chief.
Espana Pequena (the Spanish Club) officers were Ledger Fisse, Buddy Dunklin, George Kerner, Philip Knight, and Terry Naquin.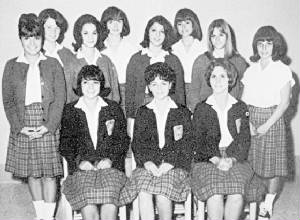 The Homecoming Queen was Dorothy D'Antonio who was escorted to the football game by Dave Eshleman. The homecoming court included First Maid Jackie Robert, was Micky Riles, Adrienne Leche, Kitty Varusco, Darlene Zito, Cindy Russell, Diane Civello, Sharon Enright, Kay Clark, and Carolyn Ann Ingraham.
The Debate Team led by officers Steve Armbruster and Harold Clavier added new members Gary Glaviano, Gregory Grimsal, Patrick Chaffin, Guy Denoux, Kenneth Jensen, Llyod Goebel, Spenser Bienvenu, and Harold Clavier who was awarded the Most Loyal Debater trophy. Meanwhile, a large scale "debate" took place on the west coast where three thousand student activists at the Berkeley campus surrounded and blocked a police car from taking a Congress of Racial Equality (CORE) volunteer to prison after he was arrested for not showing his ID and for violating a ban on outdoor activist tables. This protest eventually exploded into the Berkeley Free Speech Movement -- a movement which would spread to campuses throughout the U.S.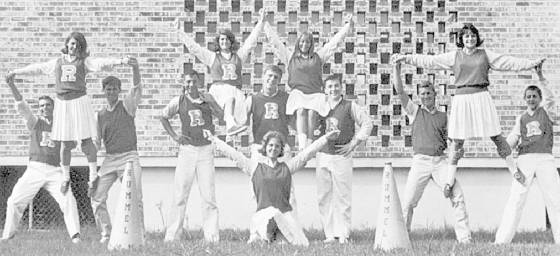 Another "first" in Rummel's history was the addition of girls to the Cheerleader squad. They included Diane Civello, Sharon Moskau, Cindy Russell, and Jackie Robert. Former Raider cheerleaders Jerome Stephens, John Coon, Mike Livaudais, Wayne Messina, and Mickey Riles were joined by James Pratt, Eddie Frois, James Beckham during the '64-'65 school year. Cheerleaders were moderated by Mr. Guajardo.
For the first time in its short history the Rummel Raiders presented Varsity athletic teams because this was the first year school year a junior class existed. Looking ahead, the yearbook stated "The 1964-65 football season gave optimistic hopes for the next year, Rummel's first year with seniors". It added, "The Junior Varsity, under Coach Schwaner and Coach Fenner, met with plenty of competition. However the experience gained by these boys will serve them well next year when some of them will move up to varsity play".

The Varsity Football Team -- Returning players Joseph Guarisco, Anthony Bertucci, Rufus Cressend, Wayne Jusselin, Robert Eschleman, Gary Guarisco, Donald Decedue, Ralph Pacaccio, Leonard Labiche, Doug Borne, Ronnie Cahanin, Earl Lambert, Kirk Leonardi, Ronnie Long, Merlin Dyer, Charles Domino, Stanley Mayeaux, Robert Schaff, Tommy Boudreaux. New players included Robert Martin, Glenn Hedrick, Dickie Cambre, Dennis Hubbell, Walter Fahr,, Gary Hardin, George Rucker, Vernon Smith,, Bill Kehoe, Craig Martine. Team Managers were Ernest Hebert, Donnie Dessauer, and Paul Cressend. The team was coached by Joe Galliano and Ronnie Doyle.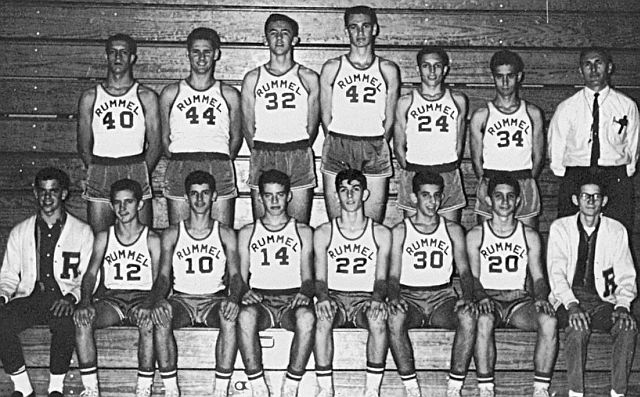 Returning as sophomores, the former freshman All-Stars Murphy Hebert, Marty Donovan, and George Comeaux, played on Rummel's first Varsity Basketball team. Joining them were Bobby Gallwey, Marty Donovan, Steve Donahue, Ronnie Wininger, Craig Martinez, Anthony Geraci, Tom Kronenberger, Tommy O'Brien, Gary Nobile, and Nick Leggio. Team Managers were Fred Greene and Michael Maier. The team was coached by Stan Chelchowski.
The Junior Varsity Basketball team ended the season with a 21-0 record. Returning as a sophomore, Bobby Italiano led new players D. Guillot, B. Klotz, N. Dessauer,R. Rappold, J. Haldane, B. Stumpf, P. Deas, R. Olps, E. Rosen, and V. Terranova. Team Managers were L. Savoie, J. Defourneaux, and E. Abate. The team was coached by Bill Delaney.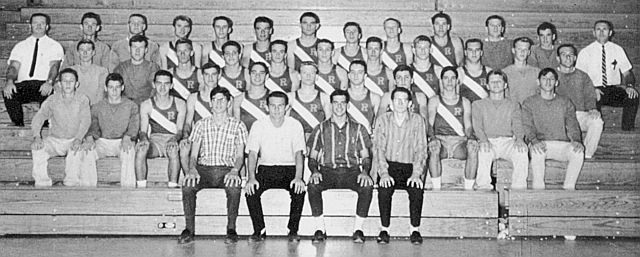 The Track Team -- Dennis Norwood, David Guillot, Peter Terranova, James Ragland, Rufus Cressend, Dickie Cambre, Coleman Hardin, Robert Scheuermann, Larry Moskau, Jack Mauer, Ernest Boudoin, Bill Rapold, Michael Cochrane, Jim Beckham, Joe Guarisco, John Gilbert, Gary Guarisco, Jack Treuting, Robert Schaff, KirkLeonardi, Albert Bowes, Bill Babin, Joseph Donnow, Ronnie Long, Vern Williams, Tom Doer, Louis Ritter, Merlin Dyer, William Schmidt, John Owens, Donald Burke, Gary Hardin, and Craig Young Team Managers were Eddie Abate, Steve Boyer, Fred Greene, and Michael Maier. The team was coached by Ronnie Doyle.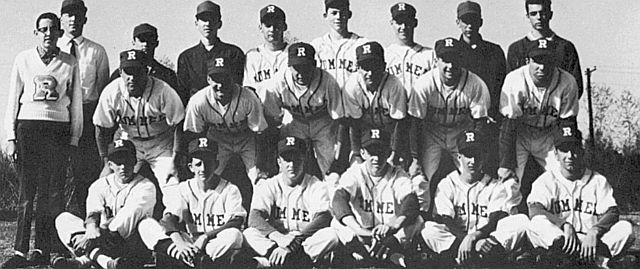 Rummel's first ever Varsity Baseball team was coached by Tom Schwaner. The team included Lee Martiny, Murphy Hebert, Steve Hoffman, Tat Deas, Bobby Gallwey, Dennis Hubbell, C. J. Bruno, Robert Eshleman, Marty Donovan, Dana Hanning, Wayne Jusselin, Kenneth Bankston,Bryan Klotz, Billy Stumpf, Jeff Ehlinger, Jim Steckel, Anthony Geraci, and Freddy Barocco with managers Bill Donovan and Harold Meyer. They ended the season with a 7-9 record. Pete Fenner coached the team.
In the world of sports the St. Louis Cardinals defeated the visiting New York Yankees 7-5 to win the World Series in 7 games (4-3), ending a long run of 29 World Series appearances in 44 seasons for the Yankees. Bob Pettit (St. Louis Hawks) became the first NBA player to score 20,000 points. The Cleveland Browns defeated the Baltimore Colts in the NFL Championship Game. Racing driver Jim Clark won the Indianapolis 500. The Astrodome opened.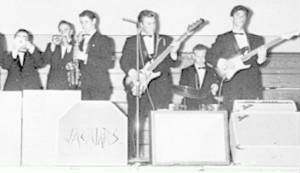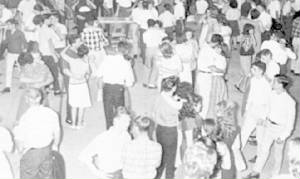 The Battle of the Bands included the Jaguars (pictured) at the second Annual Fair which was followed by the "Hop" (a dance party). During the same school year Shindig! premiered live on the American Broadcasting Corporation (ABC), featuring the top musical acts of the day.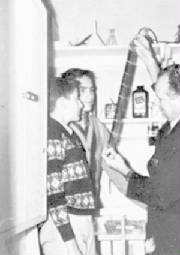 Raiders on Review.
Digital photography obviously had yet to be invented as photography moderator Mr. Capron looked over negatives with Pat Keller and Herb Powell (right) During the same year NASA's Gemini 3 became the United States' first 2-person crew ship -- it blasted Gus Grissom and John Young into the Earth's orbit.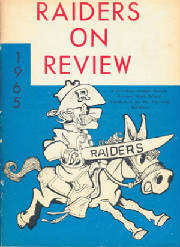 John Chase's Raider on horseback appeared for the first time in a yearbook.
Gerry Miller (editor-in-chief) and Michael Angelico served a second year on the yearbook staff, joined by Bruce Chapman, Joseph Manguno, Harold Meyer, Pat Keller, Herb Powell, and Robert Vick. Mr. Capron was the moderator. The staff included an illustration of a crystal ball in the 1965 edition with the caption "Raiders on Review glimpses the future: a full-scale hardback yearbook next year". Their prediction came true.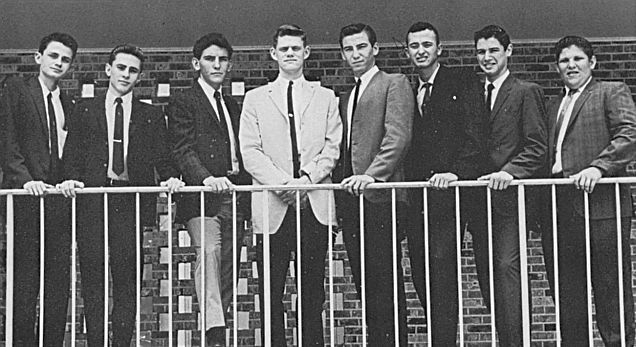 1965 Raiders on Review Staff
St. Benildo (formerly Blessed Benilde) celebrated parish masses in the Rummel gym from 1964 until their church was opened on Christmas Eve of 1967,
Thanks to Jean Breaux Gravois and Clyde Gravois ('67) for their help in compiling this chapter of Rummel High School history.