The Christian Brothers, after having been requested by the Archdiocese to open a boys high school in Metairie, welcomed the school's first freshman class of 225 students at the request of the Archdiocese of New Orleans. Archbishop Rummel attended the dedication ceremony of the $900,000 campus on September 9th. Along with lay teachers and staff the brothers served as administrators and faculty. The school was named in honor of Joseph Francis Rummel who had served as Archbishop of Omaha and was the current Archbishop of the Diocese of New Orleans. Brother August Raphael Bodin F.S.C.served as Director and Principal.
Originally named Archbishop Joseph Francis Rummel High School, it was one of four new high schools (including Blenk, Chapelle, and Shaw) constructed by the Archdiosese on both sides of the River in Jefferson Parish. In the year that Rummel opened, Archbishop Rummel ordered, on March 27th, that all Roman Catholic schools in the New Orleans diocese would no longer be segregated by race. This edict applied to 116 elementary and 37 high schools with a total enrollment of 75,276. The 86 year-old Archbishop resigned as New Orleans archdiocese head on May 24, 1962.
In memory of the Nelson-Smyth family of Chicago, the gymnasium was dedicated on July 6, 1962 when real estate and homes in Metairie were highly touted as being "near Rummel High" and "close to the new boys high school".
James Pratt ('67) related that Ronnie Frentz was the winner of the "name the school newspaper" contest. He chose Raider's Digest.
Band
The band earned a "very good" rating at a local competition.
Football
In 1962, Joe Galliano left a football coaching job at Redemptorist l to become Rummel 's first coach for its first football season.
Parent Booster Club
The Archbishop Rummel Parent Booster Club was founded in 1962 to promote and sustain the Christian atmosphere at the school and to help foster a harmonious relationship among parents, students and teachers.
Basketball
Stan Chelchowski was Rummel's first basketball coach.
Local news and events:
Mayor Victor Schiro was inaugurated.
A Certain Girl by Ernie K-Doe was recorded in Cosimo Matassa's JM Studio in New Orleans.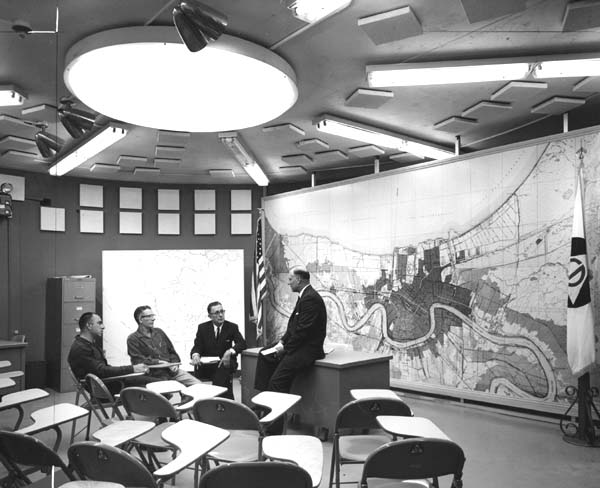 Interior view, ca. 1962 of the Civil Defense shelter on West End Boulevard (looks like a scene from Dr. Strangelove).

Leon Kelner's Orchestra performed at the Blue Room.
World-renowned for its jazz, New Orleans musicians also influenced early rock and roll and '60s music. During the 1962-63 school year Irma Thomas recorded I Done Got Over, It's Raining, I Did My Part, Two Winters Long, and Ruler of My Heart on Minit Records as did Benny Spellman (bass vocalist on Ernie K-Doe's "Mother-In-Law,") with Lipstick Traces and Fortune Teller. Aaron Neville recorded Humdinger on the Minit lable as did Jessie Hill performing Can't Get Enough (Of That Ooh Pah Doo. Chris Kenner's Land of 1000 Dances was a hit for Instant Records. Reggie Hall implored why everybody was Always Pickin' on Me on the Rip label. Eddie Bo did Ain't It the Truth Now on Ric Records.
The South African government arrests Nelson Mandela in Howick, and charges him with incitement to rebellion.
Beatles drummer Pete Best is fired and replaced by Ringo Starr.
Sonny Liston and Floyd Patterson fight for the boxing world title.
Rachel Carson's book Silent Spring is released, giving rise to the modern environmentalist movement.
Johnny Carson takes over as permanent host of NBC's Tonight Show,
The Beatles release their first single, Love Me Do and their first album Please Please Me.
The Freewheelin' Bob Dylan is singer-songwriter Bob Dylan's second studio album

Second Vatican Council: Pope John XXIII convenes the first ecumenical council of the Roman Catholic Church in 92 years.
Who's Afraid of Virginia Woolf? opens on Broadway.
film Lawrence of Arabia, premiers
U.S. spacecraft Mariner 2 flies by Venus, becoming the first probe to successfully transmit data from another planet.
Travel, financial and commercial transactions by United States citizens to Cuba are made illegal by the John F. Kennedy Administration.
The publication of Betty Friedan's The Feminine Mystique launches the reawakening of the Women's Movement in the United States as women's organizations and consciousness-raising groups spread. Female suffrage is enacted in Iran.
Cuban Missile Crisis begins and ends:
The term "personal computer" is first mentioned by the media.
Richard M. Nixon loses the California governor's race. In his concession speech, he states that this is his "last press conference" and that "you won't have Dick Nixon to kick around any more".
An agreement is signed between Britain and France to develop the Concorde supersonic airliner.
Vietnam War:
Martin Luther King, Jr., Ralph Abernathy, Fred Shuttlesworth and others are arrested in a Birmingham protest for "parading without a permit"
The Coca-Cola Company debuts its first diet drink, TaB cola. it helps people who keep tabs on what they consume
Thousands of African Americans, many of them children, are arrested while protesting segregation in Birmingham, Alabama. Public Safety Commissioner Eugene "Bull" Connor later unleashes fire hoses and police dogs on the demonstrators.