Principal - Brother Ephrem Hebert, F.S.C.
Assistant Principal - Brother John Fairfax
Enrollment - 1100 freshmen, sophomore, junior, and senior students

To set the tone for the 1965-66 school year, we will begin with the then-popular New Orleans Sound...Lee Dorsey recorded Ride Your Pony for Amy records; Roger & The Gypsies (on Seven-B Records) performed Pass The Hatchet; Benny Spellman (Atlantic) did I Feel Good; Sax Kari (Instant) recorded All These Things; The Dixie Cups (Red Bird records) sang Iko Iko, and The Stokes (Allen Touissaint's band before the Meters) recorded Whipped Cream on the Alon label.
During the summer before Rummel's 4th year of existance Vick Schiro celebrated his Fourth Anniversary as Mayor of New Orleans on July 12, 1965. By winter, New Orleans District Attorney James Garrison issued a letter (on January 3, 1966) to the Government Printing Office in Washington ordering a set of the Warren Commission report for use in the DA's Office. This would be the beginning of what would become known as the Clay Shaw Trial alleging his involvement in the assassination of President Kennedy.
The school year opened with the passing of Hurricane Betsy on September 9, 1965 -- photo of Brother Bruce cleaning up the morning after but amidst the destruction a building boom was taking place in Jefferson Parish with new homes being advertised as being in the area of the new boys high school.
Rummel High School, for the first time, consisted of all four traditional classes -- freshmen, sophomores, juniors, and seniors. The total enrollment consisted of 1100 students.
Twenty-one Christian Brothers ( F.S.C.) taught and administered the school. Those returning from the 1964-65 school year:
Principal Reverend Brother Ephrem
Assistant Principal Reverend Brother John Fairfax
Sophomore Religion and English teacher Brother Harris
Junior Religion and Junior and Senior Math teacher Brother Bertrand
Freshman Religion and Junior Math teacher Brother Bourgeois
Sophomore Religion and Biology teacher Brother Bruce
Senior Religion and Sociology teacher Brother Dean
Prefect Brother Michael
Freshman Religion and Algebra teacher Brother Fidelis
Treasurer Brother Andrew
Junior Religion and English teacher Brother Clarence
Attendance Director Brother August
Freshman Religion and Spanish teacher Brother Steve

New religious members were:
Chaplain Father Wiliam Aldridge, O.P.
Senior Religion and English teacher Brother Anthony
Freshman Religion and Biology and Geometry teacher Brother Aquinas
Senior Religion and Chemistry teacher Brother Ernest
Junior and Senior Religion teacher Brother Stout
Junior Religion and Senior English teacher Brother Shelton
Sophomore Religion, French and Spanish teacher Brother Victor (who also taught Spanish III)
Typing and Maintenance teacher Brother Joseph
New lay members of the faculty were:
Folse Bertaut -- Algebra and Geometry
W. R. Arthurs -- Typing, Bookkeeping, and General Business
Larry Blanchard -- Physics and Business Arithmetic
Donald Bourgeois -- Algebra and Geometry
Norbert Bread -- English III and Latin II & III
Steve Braking -- General Science, Health, and Physical Education
John Curran -- Chemistry and Biology
Theodore Cotonio -- Ancient History and English II & III
William Delaney -- Health and Speech
Joseph Dover -- English I, II, & III
James Gettys -- Algebra and Math III
James LeBeau -- World History and Civics
Jules Preatts -- Spanish I & II
John Niemetz -- U.S. History and English III
Joseph Miller -- Algebra and General Science
Frank Roberts -- English IV
Thomas Phillips -- Civics, Heath, and P.E.
Thomas Schwanner -- Math III and Geometry
E.J. Shannon -- Biology
Reilly Spitzfaden -- English I and Civics
J. W. Sellers -- Latin and French I & II
A. Trosclair -- U.S. History and Senior Arithmetic
Returning faculty members:
O. R. Capron -- English I
Ronnie Doyle -- Civics and Physical Education
William P. Fenner -- U.S. History, World History, and Physical Education
Joseph Galliano -- Civics and P.E.
Charles (Chuck) Guajardo -- Speech I & II
S. Chelchowski -- Counselor
Howard Voorhies -- Music and Band Director (who also wrote the school's Alma Mater).
The office was staffed by secretaries J. Stockfleth and C. Becnel. In the Library was Mrs. Rushing assisted by Mrs. MacInnes.
A senior wing had been added which included the music building, an athletic field house, and an addition to the faculty office wing at a cost of $329,704. These were dedicated by Father Aldridge while Archbishop Hannon took part in the ceremony.
The school colors (Columbia blue, scarlet red, and white) and the Raider mascot had been established. New Orleans artist and writer John Chase had been commissioned to sketch the Rummel Raider (Mr. Chase, along with local writer and television reporter Mel Levit, visited the school during the '65-'66 school year to discuss the opportunities in the communications field with Borromeo Club members). But it wasn't until a 1966 district track meet in May where Mrs. John Cressend, mother of a senior team member and captain, suggested her son's name as an appropriate one for John Chase's Raider on horseback. Brother John Fairfax. then the Principal, told Mrs. Cressend that if her son won his upcoming mile race it would be done. Rufus Cressend won the race at 4:48:5.
It was a year of "Firsts" -- first Senior Rings and Ring Dance in September in the gym, first Junior-Senior Prom (with a Cleopatra theme in gym), first Senior Prom (with John Fred and the Playboys at the Royal Orleans), first Senior Retreat, first Baccalaureate Mass at St. Catherine of Sienna church. First graduation ceremony at the New Orleans Municipal Auditorium on May 27, 1966. Two-hundred twenty two Seniors received diplomas led by Valedictorian Alton Grand and Salutatorian James Ragland. The American Legion Award was presented to Ronald Long. The Most Reverend Philip Hannon, Archbishop of New Orleans, and State Superintendent of schools William Dodd were attendance.
For the first time in its history Rummel students John Lincoln, M Frost, D Holmes, W Tschirn, M Frost, S Jensen, C Borne, D Riedlinger, L Holmes, and M Ewin formed an Art Club that "Promotes Interest in Culture". Brother Clarence was the moderator.
Coaches Linda Pattison and Helen Peterson organized the Bowling League. The winning team was the Phinques: Paul Satterlee, David Lowe, Martin Grieshaber, and Marvin Russell. Placing second -- Strike-Outs: A Gomez, A Durr, Kevin Bland, and A Schmidt.
The new French Club, sponsored by Mr. J Sellers, included R Beelman -- President, S Chatalaine -- Vice Presiden, H Clavier -- Secretary, R Albo -- Treasurer and K Cruthirds, D Bougere, R Lussier, J Ducombs, M Brouilette, M LeBlanc, H Lambert, M Bros, D Palmisano, M Clavier, P Merk, C Peterson, K Wolf, D Verrette, and E Bissel.
Brother Aquianis organized the first Rummel Golf Team.

The new Library Club was led by Bill Donovan -- President and included Charles Rose -- Vice President along with members James Kelley, Robert Uqquhart, Bruce Bascle, and Richard Comford.
Rummel's first National Honor Society was presided over by Senior Frank Moor.
The new Radio Club included Jay Varenholt, Lionel Booth, Russel Cordella, Richart Thimmesch, Joseph Bartels, John Esle, Paul Satterlee, Steve Hebbler, Mike Michon, and David Lowe.
The first Science Club was comprised of R Schambach, F Cusimano, M Maier, M Jackson, G Lynch, C. Clifford, S Hebbler, N. Lanson, M Russell, E H Ledet, P Satterlee, J Bartelles, G Hardin, G Trigo, K Ducote, C Johanson, A Grand, J Jones, W Toll, and D Laing.
The Swim Team was made up of L Comeaux, R Mahler, G LeBlanc, M Palestina, R Clements, S Quilter, B Naccari, W Mashburn, R DePollitte, R Rauch, C Jesclard, J Bowes, R Sentilles, R Villavaso, C Ranson, C Newport, G Comeaux, and M Enault.
Coach by Mr. Breaud, the Tennis Team included D Scheer, W Sabrier, J Davidson, L Grush, D Dessauer, and V Muller.
A Publicity Committee was formed and comprised of R Vicks, R Comeaux, G Lynch, J Ragland, C Rose, D Burke, P Oddo, M Angelico, J Godell, P Terranova, J Manguno, and S Armbruster.
The Raider Club included C Barker, M Russell, D Young, P Wininger, F Schroeder, R Gallway, G Lorio, D Dessauer, J Pratt, R ix, Michael Maier, Lee Martiny, M Jackson, E Boudoin, R Melynk, D Guidry, J Manguno, F Cusimano, K Wolf, R Lunning, J Mauier, B Weller, H Clavier, S Harris, B Kehoe, N Lanson, R Italiano, P Chaffin, L Mutter, C Clifford, L HEcker, G Stevens, G Rucker, D Decedue, D Hubbell, R Dick, B Coney, K McHugh, A Voelkel, P Bertucci, S Armbruster, R Sennett, K Burke, J Killen, W Blanchard, M Donovvan, J Macualuso, K Cruthirds, A Bode, B Naccari, H Powell, M Parr, K Sperling, P Satterlee, and R Schambach.
Senior Coleman Hardin won 1st Place at Rummel's first Science Fair with his project "Fresh-water Ecology". Senior Stephen Hebbler went on to win First in State for "Experimentation in Ultra High Frequency Television and Video Transmission" (closed-circuit tv).
The Raider Band entertained (along with Chapelle students) at the Rummel Summer Pops in July and in the Mid-City parade where they performed on WDSU-TV's "Greatest Bands in Dixie" contest. During halftime at the Rummel vs. St Paul football game they played and marched to the popular Al Hirt hit "Cotton Candy". Director Howard Voohries also oversaw the Drum Majorettes, a Brigadoon Band, a Stage Band, and a Color Guard. Charmaigne Culotta reigned as the Band Queen while George Mader served as Drum Major. The band president was Louis Hodges. The '65-'66 school year marked the first appearance by the Archbishop Chapelle Chapelletes led by Martha Flair.
Mr. Voohries conducted the band during a June, 1966 concert at Rummel sponsored by the Jefferson Cultural Council and the Raider music department.
Squad Captains Michael Livaudais and Mickey Riles led the Cheerleaders -- Jackie Robert, Carol Falati, Cindy Russel, Joy Radcliffe, John Coon, John Weigand, and Ted Meehan.
Parade Day celebrated Homecoming. The yearbook proclaimed Cheerleading Squad Captain "Her Royal Majesty" [Mickey] "Riles Rules Raiderland"..."Her Majesty's Escort: Ronnie Long".
The Raider Chorus, moderated by Brother Bourgeois, included J Meehan, L McKenna, J Ofstad, A Amoroso, J Dreher, C Rolland, E Ernewein, N Schoenhardt, D Whaen, D Tortorich, W Tschirn, R Lovecchio, R Dodson, R Taromina, M Ginquigranno, R Beelman, D Whalen, L Lind, K Hodges, B Bascle, M Correy, R Genovese, R Owens, G Lunning, and D DeLoach.
The Confraternity of Christian Doctrine (C.C.D.) taught religion classes to non-Catholic school students. Led by officers Officers H Powell, K Ducote, and G Mentel the group included R Schamback, F Cusimano, R Wininger, D Young, B Gallway, G Comeaux, C Clifford, D Avrard, G Brown, M Parr, L Mutter, T Ford, S Breaux, S Otillio, R VonDullen, W Tschirn, J Hecker, R Beelman, L Kiefer, L Voelkel, J Vaughn, K Ducote, R Morrison, D Esler, H Morgan, D Martiny, S Cowley, P satterlee, L McKenna, C Domino, L Martiny, H Powell, R Bertucci, B Coney, J Danner, H Clavier, A Geraci, M Donovan, D Robert, M Braud, and S Armbruster. Brother Fidelis oversaw the C.C.D.
The Varsity Baseball team, coached by Tom Schwaner and managed by D Guidry and R Steckel, was the first in Rummel history to debut in the 5-AAA division.
The team included Lee Martiny (outfield), Murphy Hebert (2nd base), B Klots, Steve Hoffman (catcher), CJ Bruno (catcher), Pat Deas (shortstop), Dennis Hubbell (outfield), Bobby Eschelman (outfield), Bobby Gallwey (2nd base), Wayne Jusselin (outfield), Marty Donovan (3rd base), Jeff Ehlinger (pitcher), Jim Steckel (outfield), Danny Boudreaux (1st base), F Barocco, Anthony Geraci (pitcher), Dana Hanning (shortstop), and Brian Klotz (pitcher)
David Krail, Bobby Barberita, Brent Kelly, Cyril Gracianette, Roy Hyer, and David Barocco were members of the '65-'66 JV Baseball team.

Homerooms 36, 26, and 15 won the Baseball Intramural.
Senior Tom O'Brien led the Varsity Basketball team with 300 points. Ronnie Wininger (guard) and Bobby Gallwey (guard) where team captains. Players included M Hebert, B Klotz, Marty Donovan (guard), Johnny Haldane (guard), R Italiano, Ricky Raymond (guard), R Olps, Gary Nobile, R Smith, H Morgan, T O'Brien, E Rosen, and V Terranova. Managed by L Savoie and E Abate, the team competed against the now defunct Fortier, Holy Cross, Cor Jesu, Chalmette, and Prytania teams. C.J. Bruno became the first All-District 5-AAA baseball player in Raider history. The Head Coach was William Delaney.
J Deforneaux, W Kenning, John McEvoy (guard), Melvin Vollenweider (guard), C Gracianette R Kenning, Dave Barocco (center), H Powell, F Sherman, G Robinson, Burton Ernst (guard), D Guilliot, Mickey Dessauer (guard), Robert Dugas (guard), R Fuqua, R Whitman, and S Boyer were members of the JV Basketball team.
The Varsity Football team won the first AAA victory in Rummel's then short history. Like the Basketball team they played against schools no longer in existence, including Fortier and Mc Donaough. Head Coach Anthony Galliano with Tom Schwaner, Ronnie Doyle, Pete Fenner, and Tom Brackin coached Raiders C Domino, T Tenhundfeld, B Kehoe, G Hardin,M Dyer, M Brown, D Boudreaux, S Lockhart, G Rucker, R Long, Vv Smith, D Oddo, R Triche, J Brocato, S Owens, D Decidue, J Gaurisco (co-captain) G Guarisco, R Mclaughlin,E Boudoin, W Jusselin, E Lambert, B Weller, G Sins, L Oliier, B Naccari, C Gravois, C Sanders, R Russo, R Eshleman, G Hedrick, P Bertucci, R Cresend, C Lawrence, R Cambre, T Boudreux, R Cahanin, R Coste, A Wald, S Dugas, and D Hubbel. Team managers were Paul Cressend, Ted Daly, and Ken Bankston. Captain and Center Robert Schaff was named to the All-District team.
Pete Fenner and Steve Brackin coached the JV Football team.
Football Intramural champs included Homeroom 41, Homeroom 46, Homeroom 35, Homeroom 22, and Homeroom 14. Mr. Breaud and Brother Andrew Harris were the moderators.
In Varsity Track Rufus Cressend (as mentioned above) ran the race which made him the District Champ Miler and namesake of "Rufus Raider". Records set that year include L Moskau with a pole vault at 10'6'', Don Duke with a record shotput, Merlin Dyer's record breaking discus throw, and Lockhart's high jump at 5'6". Head Coach Ronnie Doyle's team also included Seniors B Landry, J Ragland, R Cressend, J Gilbert, L Moskau, J Guarisco, R McLaughlin, C Hardin, M Dyer, B Schaff, A Bowes, and D Burke as well as Joe Guarisco and Gary Guarisco (Low Hurdles), John Owens (220), and J. Gilbert (Broad Jump). Team captains were J Ragland (880 Yards), B Schaff, and Rufus Cressend.
JV Track members included Clyde Gravois (Pole Vault), Craig Young (Broad Jump), and David Guillot (High Jump).
A quarter-mile running track was being proposed for the area between Severn and Arnault Avenues.
At the Sports Award Night Lee Martiny was named the Outstanding Baseball Player, Gary Guarisco the Outstanding Defensive Back, Peter Terranova the Most Improved Basketball Player, Jim Ragland the Most Valuable Track teammate, and Larry Moscow received recognition from the Track team.
Mr. Cotonio moderated the Debate team which included Seniors Steve LaPlace, F. Zambon, E Bissel, and R Lorentz; Juniors J Davidson, J Weigand, D Pepitone, M Ewin, J Meehan, S Armbruster, and L Goebel; Sophomores C Hingle, P Chaffin, J Hecker, C Barker, C Ranson, M Carrico, R Grieshaber, and W Mashburn.
Tiger House, Julius Caesar, All the Way Home, and Brigadoon were presented to the student body by the Genesian Players who brought their production of Rumpelstiltskin to the New Orleans Children's Theater. At the State Rally they presented The Honor of God. President Mike Livaudais, Vice President Jim Dicus, and Secretary Ted Meehan where officers of the troop. Representatives from other schools included Patti Landry, Chapelle; Jo Lynn Franzella, Mount Carmel; Mary Lee Berner, Ursuline. At the 2nd Annual Geni Awards ceremony John Lincoln received the "Best Technician" award. Lilli Crassier was recognized as "Best Supporting Actress". J Manguno was the "Outstanding Senior Genesian" and the "Most Versatile Girl" award was won by Jo Lynn Franzella.
Formerly called Raiders on Review, the school yearbook was now titled The Raider. Its red cover featured the silhouette of a graduate (Rummel's first graduation class was the Class of '66) and a torch. The yearbook staff included Charles Rose -- Editor-in-Chief, Bernard Baisier -- Associate Editor, Michael Angelico --Photography Editor, Charles Domino and B. Schaff -- Business Managers, B. Earman, V. Varenholt, M. Michon, J. Bartels, and A. Diblin -- Photographers, B. Lunning and M. Russell -- Circulation Managers, J. Ragland, M. Parr, Robert Schambach -- Class Editors, Pete Oddo and R. Mentel -- Typists, M. Donovan L. Martiny, David Barocco, D Guilliot, M. Dessauer, and D. Burke -- Sports Editors. John Lincoln -- Artist, M. Reed -- Activities Editor, and S. Hebbler -- Band section Editor. The staff was moderated by Brother Bourgeois, Brother Anthony, and Mr. Anderson.
Brother Shelton, Mr. Dover, and Brother Anthony moderated the Raiders Digest newspaper staff which included Joe Manguno -- Editor-in-Chief, Photographers B Earman A Diblin, and M Angelico, Typist Pete Oddo, John Lincoln -- Cartoonist, and R Vix, G, Grimsal, L Mutter, J weigand, W Danos, H Meyer, S Cowley, and J Meehan.
John Kutchta, Jay Varenholt, Gary Silva, Robert Jackob, Robert Whitman, Steve Otillio, Donald Lampert, Ted Hoz, John Cessens, Keith Breaux, Eric Schneller, Steve Buras, Eldridge Delatte, Ray Wagner, Stanley Hava, Joey Tampoullo, David Hutchins, Dennis Hubbel, Glenn Ferrand, Frank Schamback, Gary Burke, Leroy Lind, Michael Krieger, Gary Mutte, George Schilling, Jack Raines, Jim Mader, Gary Chatelain, and John Owens were members of the Spanish Club.
Student Council officers J Pardue, R Comeaux, R Gallway, and S Armbruster. Senior Senators were J Miller R Long R Winninger. L Martiny, S Harris, and D Hubbell were the Junior Senators. Freshman Senators -- B Oddo G Burke, and D Richard. Sophomore Senators -- R Vix, K Burke, and T Daly.
The Fair offered Falstaff Beer on tap, a potted plant booth, and a chicken bar-b-que. The Cottage Singers -- headlined the 3rd annual Hootenanny. Local radio celebrity Dan Diamond acted as M.C. During the Donkey Basketball game Coach Fenner and Mr. Trosclair were riders.
Yearbook Ads

Yearbook advertisers included Browns Velvet Dairy Products at 1300 Baronne St. (it's still there), Peter A. Chopin Florist at 2800 St. Charles Avenue at Washington Ave. and Bradner Furniture Store ("Lowest Prices -- Liberal Trade-Ins" at 233 N. Broad "Near Bienville"), and Jim's Place ("We Are Famous For Our Southern Fired Chicken" and also offerd "Wop Salad" and "Sea Foods" in a restaurant "Air Conditioned For Your Comfort" (it is now a Popeye's on Carrollton Ave. Closer to school was Crescent City Esso Service at 1601 Airline Hwy. -- "Corner of Ridgewood and Airline (which shared the intersection with the old TAC Amusement Company) and Bob Soule Furn. & Appl. at 2404 Airline as well as Beach Bro. Furniture Store (VE 3- 5546) at 3627 Airline and Suburban Drug Center at 3822. Home Sweet Home Motel and Gueydan Lumber advertised and they still remain on Airline today. Sal Groziano offered "Congratulations Seniors" with his had for Sal's Barber Shops at 3745 Airline and 8012 West Metry. Buy-a-Pak Food Store was also on West Metairie Ave. in the West Metairie Shopping Center.

Burton's Hardware & Paint Store advertised its location at 2025 Metairie Road (in the row of businesses which now includes Oscar's, Mark Twain Pizza, and the Great Wall Chinese Restaurant). Also on Metairie Road was the Beverly Food Store at 2561 and Shrewsbury Laundry and Cleaners at "106 Severn at Metairie Rd.". Darrell De MOss offered "Artistic Designs in Fine Portraiture at 3225 Metairie Rd. Dixie Maid served "Soft Ice Cream, Soft Drinks, Malts & Shakes, Sandwiches at 1613 Metairie Rd.
Rheem Manufacturing Company at 4901 Jefferson Highway now a Jefferson Parish govermnental building. Also on Jefferson was Manuel's Restaurant & Bar at 952 "Owned and Operated by Francis and Bill Schneider" which advertised a large offering of "Hot Lunches...Fried Chicken, Po-Boy Sandwiches...Seafood of All Kinds...We specialize in Mexican Dishes...Hot Tameles __ Chili __ Tacos __ Enchiladas"Time Saver had "Twenty-Five Stores to Serve You". Another Jefferson Highway hangout was O'Dwyer's Bowling Center (formerly O'Dwyer's gambling house at the parish line -- it is now the location of Salvation Army thrift store). Colonial Pharmacy was at 8241 Jeff. Hwy. Eble the Florist was at 4021 Jeff. Pat Gillens Bar advertised Package Liquors opened 24 hours at 1715 Jeff.Hwy. 2024 Metairie Rd. and 8001 Shirley St.
Sclafini's Meat Market (owned by George Sr. and Jr. was at 1817 Veterans Hwy. at the corner of Bonnebell. Putt Putt Golf Course ("World's Largest -- 72 Holes -- Fun For Everyone 4901 Veterans Hwy. where Ochsner Children's Health Center is currently located). A One Hour Valetone at 7119 Vets. near Power Blvd. was "Next Door to McKenzie's in the shopping center that once included a Shoe Town, and A&P, and a K&B (now Walgreens) . Metairie Ford invited Raiders to "See the All New 1967 Fords" at their dealership at 3724 Vets. Hwy.The Ritz Frostop Drive-In at 3501 Vets. was "Under New Management" but was still "Home of the Lot-a-burger. Cibo's Pizza House was at 5030 Vets.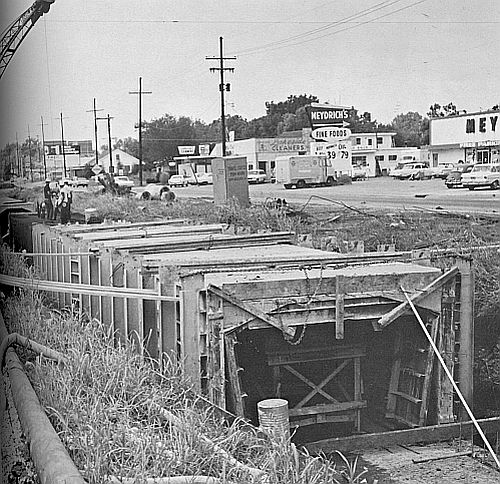 Meydrich's Fine Foods "Featuring Autocrat and Libby" at 1405 Vets,, the corner of Homestead. It's now C's Pharmacy. This 1967 photograph shows work being done to cover the canal. Abit further down the highway "the best for less" was available at Dorignac's Food Center -- a "Complete One Stop Shopping Center" at 710 Vets. At the other end of Vets. Mehroff Pharmacy were "presciption specialists". Not far from there was Westgate Hardware at 2305 Vets.
Jim Tatum's Mens Shop (Bob Devinney JR. Mgr.) offered an interesting proposal..."The student with the Most Chapelle Autographs on this ad will wind a Blazer of their choice. The student with the signature of Marci Kavanaugh a senior at Chapelle, will receive an additional 5% off on all sales". Schaff Bros. Inc., which was a long-time sponsor of the Rummel based American Legion baseball team, offered "Congratulations" and added "We are happy to have been a part of the growth of Rummel High School by installing all Plumbing, Heating and Air Conditioning for the entire plant!
H. Guinle advertised the Famous Door night club at 339 Bourbon Street. "For 57 Years...the Greatest Store South -- Maison Blanche advertised its locations on Canal Street, Airline, Gentilly Woods, and Westside. Leonard Krower & Son were still open at Canal and Exchange Place. So was Labiche's. Doerr Furniture ran an ad for their family business at 2109 Burgundy. Werlein's for music "since 1842" still stood at 605 Canal Street. Grunewald Music Co. was at 325 Baronne. At Napoleon Avenue and Claiborne The Beacon Restaurant served "the Finest in Sizzling Steaks, Etc." The Marshall family (George, Raymond, and Patrick along with Cliff Blue) sold the "Best Used Cars in Town" at 2100 Canal Street. Wegmann Drugs was at 4240 Canal. The Rendon Inn (Frank & Bernard Tusa, Prop.) was at 4501 Eve. Street

Fulco's Rest. & Bar was and still remains at 519 Turnbull. Way out in Kenner, Andy Messina's Restaurant and Caterers were on Williams Blvd. Time Saver had "Twenty-five Stores to Serve You".

Mr. Harry Stevens, who owned a Thomas Built Buses and OK Tires shop at 10930 Jefferson Hwy, is shown in an ad presenting keys to the buses to Brother Ephrem. His advertisement states "If it 's kin to a wheel, it's related to me since 1919.

Special thanks to Don Dessauer ('67) for his help in compiling this chapter of Rummel High School history.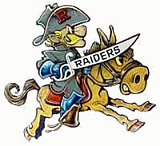 Firsts for the 1965 - 1966 school year:
Rufus Raider was named after senior Rufus Cressend (Rummel teams were previously referred to as "Red Raiders")
First graduating class
Varsity Baseball team first entered the 5-AAA division.
C.J. Bruno became the first All-District 5-AAA baseball player in Raider history
Senior Rings and Ring Dance in September in the gym
First Junior-Senior Prom
Art Club
Bowling League
Golf Team.
Library Club
National Honor Society
Radio Club
Science Club
Science Fair
Chapelletes
Raiders on Review yearbook changed title to The Raider
Total enrollment consisted of Twenty-one Christian Brothers
Senior wing including the music building, athletic field house, and an addition to the faculty office wing
New Science Lab and darkroom (contracted by W. Hamilton Company at 5912)
Coach Thomas Schwanner joined the faculty as the math III and geometry teacher
Mr. William R. Arthurs joined the faculty, teaching typing and bookkeeping