"Psychic automatism in its pure state, by which one proposes to express -- verbally, by means of the written word, or in any other manner -- the actual functioning of thought. Dictated by the thought, in the absence of any control exercised by reason, exempt from any aesthetic or moral concern."
-- Surrealist Manifesto, Andre' Breton, 1924
Surrealist: A participant in the surrealism movement founded by André Breton in 1924. The term is French for "transcending the real." The movement absorbed the nonsensical Dada movement and was heavily based on the writings of Sigmund Freud. Surrealist practices are meant to liberate the unconscious through various methods and suspend conscious control.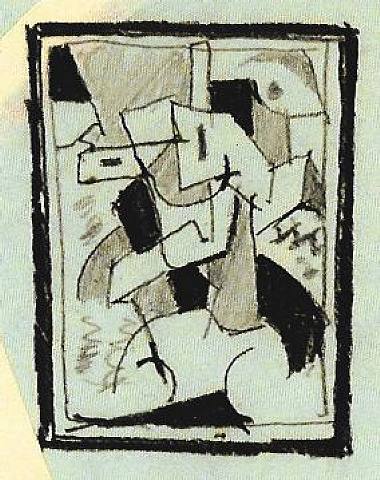 Surrealist Landscape Andre' Breton, 1950
Crayon on envelope
h: 4 x w: 4.8 in / h: 10.2 x w: 12.2 cm