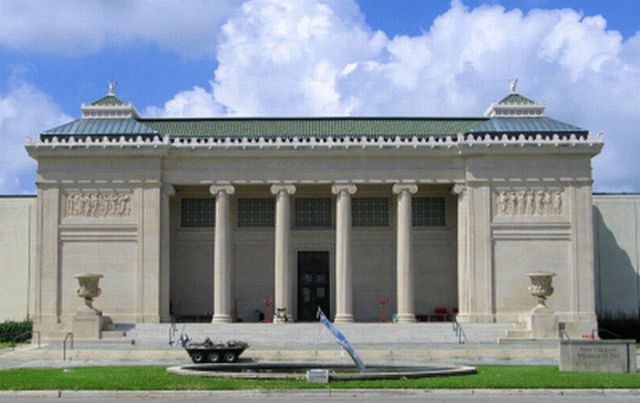 New Orleans Museum of Art
In 1911, the Isaac Delgado Museum of Art (currently known as the New Orleans Museum of Art) opened in City Park.
Isaac Delgado was born in 1839 in Kingston, Jamaica and arrived in New Orleans when he was 14 years old to live with his aunt and uncle in the Garden District.

He worked for his uncle's sugar business and became a charter member of the Louisiana Sugar Exchange.
Delgado was a member of the exclusive the Boston Club, the Chess Checkers and Whist Club, and the Opera House Association.
Delgado died in 1912. He willed his plantation, Albania, and nearly $1 million for a trade school for young men. Delgado also contributed to Charity Hospital, the Eye, Ear and Nose Hospital and to the New Orleans Convalescent Home.
Delgado Tomb in Metairie Cemetery
Tombstone of Isaac Delgado and family
Original Charity Hospital in New Orleans
Art Deco style "new" Charity Hospital
Delgado also donated funds to establish a manual trades school for boys in 1909. It opened in 1921 and is now called Delgado Community College.
Isaac Delgado also offered the city $150,000 to build a "temple of art for rich and poor alike".

When the neo-classical, Beaux Arts-style museum opened in December 1911, Delgado was too ill to attend. He died weeks later, and left his art collection which had been gathered by his late aunt.
The original building encompasses 25,000-square-feet but new wings have been added through the years.

The Museum houses a $200 million collection in 46 galleries: European painting and sculpture from the 16th through 20th centuries; American painting and sculpture from the 18th and 19th centuries; European and American prints and drawings; Asian, African, Oceanic, Pre-Columbian, and Native American art; photography; and European and American decorative arts. Special collections include the Peter Carl Fabergé treasures and the Latin American Colonial collection.

The Museum ranks among the top 25% of the nation's largest and most significant museums.

The world class Sydney and Walda Besthoff Sculpture Garden contains 50 modern and contemporary pieces on five acres of land adjacent to the museum.

Source: http://www.neworleansmuseums.com/artmuseums/noma.html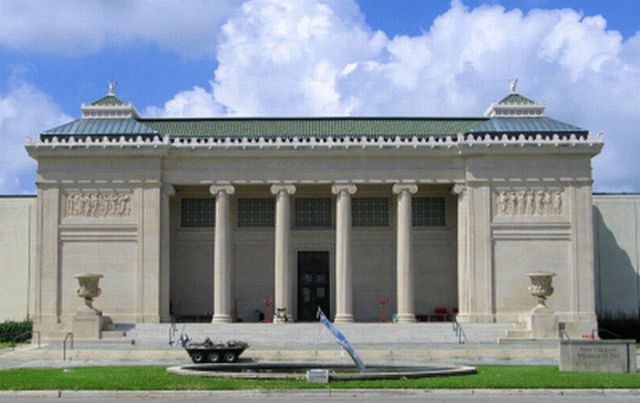 New Orleans Museum of Art
The original museum (in the Beaux-Arts style) was designed by New Orleans architect Julius Koch.
Link to Julius Koch photograph.
More about:
Examples of Beaux-Arts architecture in New Orleans:
International House Hotel (New Orleans)
Federal Court House (New Orleans)