The oldest market in the United States
Since around 1791 merchants gathered at the current location on what is now 1008 N. Peters Street. Through the years various structures were built at the site. By 1833, "Red Stores" housed vendors. In 1870 the Bazaar Market Building went up (it was destroyed during a hurricane in 1915). During the early 1930s many changes and additions were made via the WPA. The latest major renovations took place during the 1970s.
1903 Philadelphia Ice Cream Co.
1956 Rando's Bar and Restaurant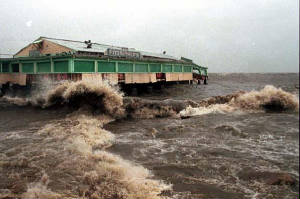 Fitsgerald's at West End
Cheri's Orchid Lounge
1956 Rando's Bar and Restaurant
804 Dumaine Street, Yakima Club with Wirthbru Sign
Jax Beer
Leo Bruno's College Inn -- now Bruno's
"Little May Dairy Farm -- Algiers"

>
Brewing Plants of the New Orleans Brewing Assn.>
Visit the Nostalgic New Orleans Collection:
Contact the Webmaster