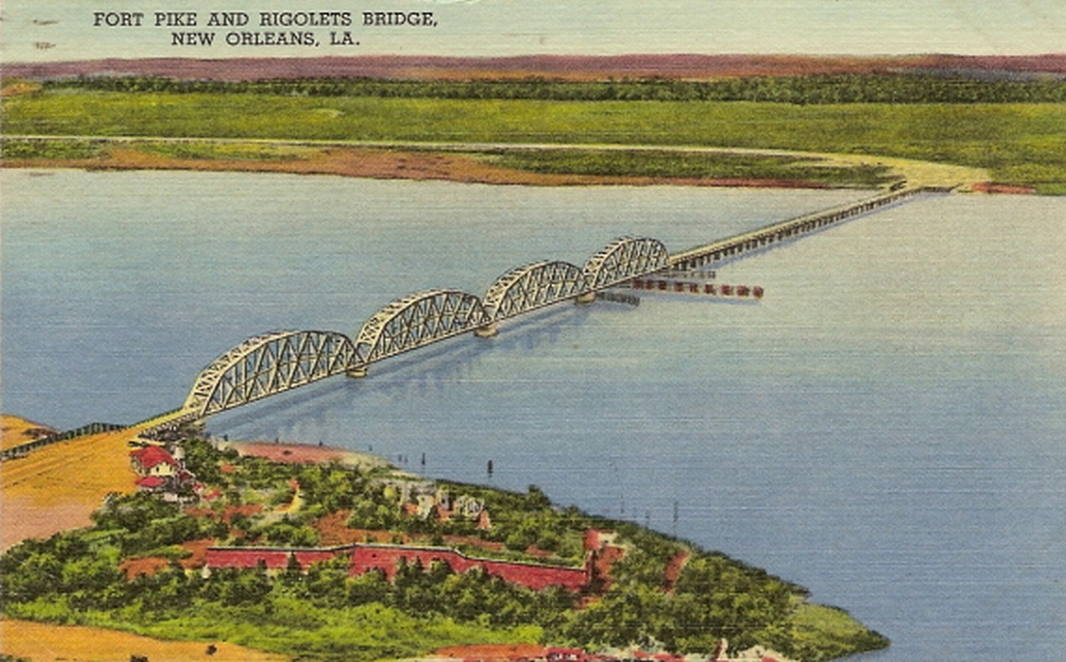 The back of this postcard (postmarked 1942) published by A. Hirschowitz, New Orleans reads:
Ft. Pike built in 1819
FORT PIKE -- One of the numerous forts in the vicinity of New Orleans is located on the Old Spanish Trail (U.S. 90). The land was reserved for military purposes under executive order dated February 9, 1842. Recently restored and beautified and converted into a state park. In the background is the toll-free span over the Rigolets, noted fishing resort, which connects Lake Borgne and Lake Pontchartrain. Although located about 35 miles from Canal Street, Rigolets is within the corporate limits of the City of New Orleans.
http://www.civilwaralbum.com/louisiana/macomb_pike.htm and LA -- Orleans Fort Macomb E of New Orleans at Chef Menteur Pass on U.S. 90 New Orleans 10/11/1978 78001429 National Register of Historic Places
In 1828, his highness Bernhard, Duke of Saxe-Weimar-Eisenach, published both English and German editions of his Travels through North America, during the years 1825 and 1826. In this narrative, Duke Bernhard mentions traveling through the Rigolets and Lake Pontchartain, noting that a tavern was then being erected at the site of the old Spanish fort on Bayou St. John.