Historic Landmark -- Metairie and Gentilly Ridges
"Sauvage matachez en Guerrier", pen and ink by Alexandre de Batz, New Orleans, 1732 (41-72-10/18). Courtesy of the Peabody Museum, Harvard University.
"Temple des Sauvages, Cabanne de Chef", pen and ink by Alexandre de Batz, New Orleans, 1732 (41-72-10/18). Courtesy of the Peabody Museum, Harvard University
Before the Europeans changed its name, Native American had called it Bayouk Choupic for the mudfish which lined its edges.




Drawing by Alexandre de Batz called Savages of Several Nations 1735 Creator Batz, Alexandre de Subject Art
Drawing
Batz, Alexandre de
Indigenous peoples
Indian encampments
Description B&W print. Drawing by Alexandre de Batz called "Savages of Several Nations 1735" or "Desseins de Sauvages de Plusieurs nations, N. Orleans, 1735." Some of the readable words on the picture include: Chef, Illinois, Sauvagesse, Atakapas Notes Date unknown. Not clear if the 1735 date means that the picture was created in 1735 or if it depicts a scene from 1735 or both. Type image Format jpeg Identifier see 'reference url' on the navigation bars Source State Library of Louisiana (http://www.state.lib.la.us) Language en Relation http://louisdl.louislibraries.org/LHP/Pages/home.php Coverage-Spatial New Orleans (La.) Rights Physical rights are retained by the State Library of Louisiana. Copyright is retained in accordance with U. S. copyright laws. Object File Name hp001174 Full resolution Volume11\hp001174.tif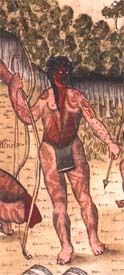 From the Louisiana State Museum

Illinois man holding bow and arrow, New Orleans, 1735 (colored pen and ink by Alexandre de Batz, 1735)
Drawing of Indians of several nations, New Orleans. (colored pen and ink by Alexandre de Batz, 1735)

The word bayou comes from bayuk, the Chocktaw word for "minor streams".
From the LOUISIANA STATE MUSEUM

Histoire de la Louisiane, 3 vols.
Antoine Le Page du Pratz
1758
At the time of the Louisiana Purchase, approximately 5,000 American Indians inhabited the Orleans Territory, soon to become the state of Louisiana. These Houmas, Tunicas, Chitimachas, Attakapas, Opelousas, Biloxis, Apalaches, Alabamas, Coushattas, Pascagoulas, Choctaws, and Caddos had already tragically declined in population since early European contact. But by the middle of the nineteenth century they diminished even further to fewer than 1,500, largely because the Caddo nation and a sizable number of Choctaws were relocated outside the state's boundaries. By 1910 only about 800 Indians were counted in Louisiana. Undoubtedly undercounted by census takers, the Indian population of Louisiana then consisted mainly of Houmas in Terrebonne and Lafourche Parishes, Alabamas and Coushattas in the parish of Calcasieu, the Tunica-Biloxis in Avoyelles and Rapides Parishes, Chitimachas in St. Mary, St. Martin, and St. Landry Parishes, and several Choctaw communities in the parishes of St. Tammany, East Baton Rouge, Rapides, La Salle, and Sabine.
Bayougoula, Mougoulacha, Chitimacha, Oumas, Tangipahoa, Colapissa, and Quinipissalive) lived in the area we now know as the Lake Pontchartrain Basin centuries before others arrived.
The Choctaw Tribe named what we now call Lake Pontchartrain, "Okwa-ta" meaning 'Wide Water". Some time between March 26th and March 30th, 1699, French explorer Pierre LeMoyne Sieur d'Iberville entered what his men had named the d'Iberville River (later renamed Bayou Manchac) and proceeded to what d'Iberville named 'Lake Maurapas' eventually entering the huge lake which d'Iberville named 'Lake Pontchartrain' after the then current French Minister of Marine.
Bayou St. John was named Bayouk Choupic (for the "mud fish" which dwelled along its shores) by Native Americans of the Houma (who viewed the crawfish as a sign of bravery), Bayougoula, and Tangipahoa (also known as "Corn Gatherers" or "Corn Cob People") tribes who preceded all other cultures for centuries. The bayou was used for transportation and trade. They discovered that by using this tributary and a natural high ground path (now Bayou Road), they could travel to the Mississippi River.
When the French arrived, they sought a shorter route to the Mississippi River from the Gulf of Mexico. It was the Biloxi tribe who showed them the route the bayou. Travelling from Biloxi, Mississippi on the gulf they proceeded to Lake Borgne, then Lake Catherine, the Rigolets Pass, Lake Pontchartrain, Bayou St. John, down the road, and to the Mississippi River.
The French built a fort (Fort St. Jean) on the bayou and renamed the waterway Bayou St. Jean. They settled their town (New Orleans) on the crescent of the river at what is now the French Quarter. New Orleans became an important port city due to the benevolence of Native Americans who shared their knowledge. It is arguable that New Orleans' very existence is the result of the same.
It was not long before enslaved Africans arrived. In 1763, the Spanish government took control of the New Orleans area and built their fort on the bayou, calling it Fort St. John (later known as "Spanish Fort").

What follows is a pictorial history of Lake Pontchartrain from 1759 to 2005.