---

Victor Schiro's Mayoral Inauguration
May 7, 1962

Mayor Victor H. Schiro and his wife "Sunny" on the day of the 1962 Mayoral Inauguration.
Photo from the New Orleans Public Library
Note the missile replicas adorning the the new City Hall behind the mayor and his wife in the background of this photograph. They also adorned the light posts on Canal Street in conjunction with the innauguration which focused on the space age and New Orleans' contribution to it. A 27-foot model of John Glenn's Mercury capsule (the one in which he first orbited the earth) was on display at City Hall, along with models of a Polaris and Pershing missile. The inaugural parade included inflatable missiles. On a related note, Jim Garrison was also sworn in that day for his first term as D.A.
Michoud had been selected by NASA to produce and assemble the Saturn moon rocket project -- which was announced by Schiro on September 7, 1961. The Michoud plant was being reactivated at this time, with plans to expand and improve it. At that time the facility included a 5500-foot runway, a two-story administration building, and two-story engineering building (100,000 square feet), and a one-story fabrication building 1.86 millioin square-feet in area witha 40 foot ceiling.
The Michoud plant was constructed in 1913. In 1944 it was used by the Higgins Corporation to manufacture World War II cargo planes. Comprised of 1075 acres, it was sold in 1947 as surplus property. In 1951 the army leased the property to build Korean Conflict ordinance plane engines.
---

You Can Support this Site by Clicking on & Shopping from this Amazon Link -- and it won't cost you a penny more: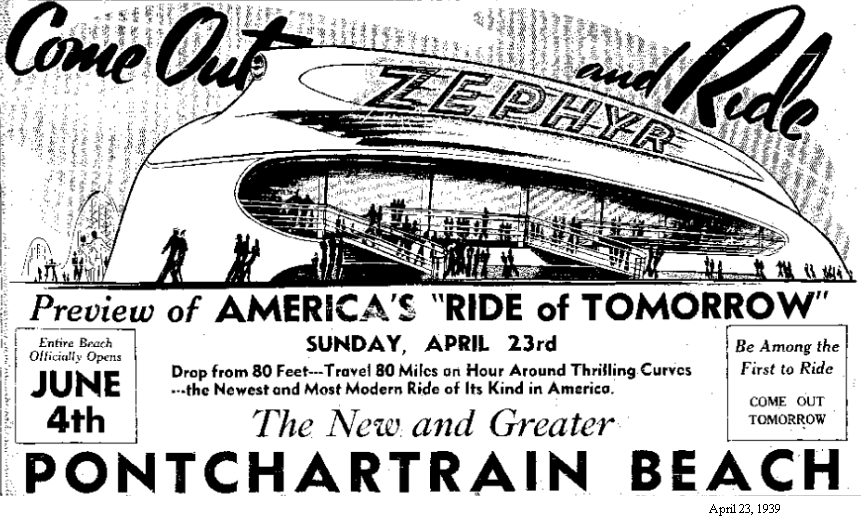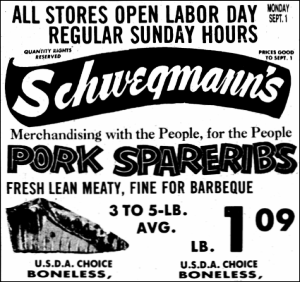 Jazz and Blues singer Louise "Blue Lu" Dupont Barker, famous for "Don't You Feel My Leg" and "Look What Baby's Got For You" was born in New Orleans on November 13, 1913. She often sang and performed with her husband Danny Barker. Her recording of "A Little Bird Told Me" was released by Capitol Records and reached the Billboard chart on December 18, 1948 and remained on the chart for 14, peaking at #4. Blue Lu was inducted into the Louisiana Blues Hall of Fame in 1997, one year before she died in her home town on May 7, 1998 at the age of 84.
On Sunday, May 7, 1978, Bob Marley and the Wailers performed at 8 P.M.at A Warehouse, 1820 Tchoupitoulas Street. $3.00 advance tickets were available at The Mushroom, Peaches, New Attitude, and Clothes Closet.
Photo of the groundbreaking ceremony for the Simon Bolivar monument on Basin at Canal streets, May 7, 1957.
Actor Marco St. John was born Marco John Figueroa, Jr. on May 7, 1939 in New Orleans. He is best known for his role as the perverted truck driver in the 1991 hit film Thelma & Louise and is also known in the horror fan community for playing Sheriff Tucker in the 1985 horror film Friday the 13th: A New Beginning. He starred on television's Search for Tomorrow in 1975 as Joey Kimball, as Paul Stewart in 1969-1970 on As the World Turns, and in All My Children. St. John has also appeared on the television shows the Naked City, Route 66, Bonanza, Gunsmoke, and Walker, Texas Ranger.
Born in New Orleans on September 25, 1895, beloved police leader George "Red" Reyer was educated at St. Henry's Parochial School but learned the ways of the streets early on, hanging out with the notorious "Terminal Gang" whose members gathered at the Southern Railroad Station on Canal Street, posing as livery drivers and chauffeurs while engaging in a wide variety of criminal activitiess. Early in his career as chief of police he eliminated their threat -- mostly effectivley by requiring professional licenses for their alleged occupations. No licence and they were carted off to jail for vagrancy. After a stint as a streetcar conductor, Reyer was employed as patrolman on September 20, 1918. He was promoted to detective on April 1, 1921 and appointed captain of detectives on July 9, 1925. He was named Supervisor of Policeon December 19, 1928, appointed Chief of Police on May 7, 1930, and became the Superintendant of Police on December 24, 1931. When he resigned from the police department as superintendant in 1946, "Red" Reyer had imprisoned 4,000 criminals and left only one unsolved crime. He was a member of the Policemen and Firemen Holy Name Society, president of the International Association of Chiefs of Police (1938), and president of the Louisiana Peace Officers Association. Reyer died in New Orleans on March 22, 1979. He is interred in Metairie Cemetery. Source: http://lahistory.org/site.php?pageID=35
The corner stone for Notre Dame Seminary on Carrollton Avenue was laid on May 7, 1922.
Paul Ninas, artist, instructor. Born, Leeton, Mo., May 7, 1903. Education: local schools; attended Robert College, Istanbul, Turkey; Akademie de Bildenden Kunste, Vienna, Austria; Ecole Nationale Supérieure des Beaux Arts, Paris, France, 1921-1925. Travelled and painted in Europe, northern Africa and West Indies where he owned a coconut farm. Expert draftsman, sculptor; worked in oils, ceramics, metals and enamels. First one-man show arranged in Paris by dancer, Isadora Duncan, 1926. Married, 1942, Grace Chavanne. One child: Paula (b. 1945). World War II service: U. S. Air Force, aerial photographer, 1942-1944. Art instructor: director Arts and Crafts School, New Orleans, 1932-1942. Instructor: painting, design, Sul Ross State Teacher's College, Alpine, Tex., 1933; drawing, Tulane School of Architecture, 1946-1947; guest professor, University of Texas-Austin, 1949-1951. Board of directors, New Orleans Art Association. Mural commissions: carnival scenes, Delta Line ships: Del Norte, Del Sud, Del Mar; Louisiana cypress swamp scenes, Roosevelt (Fairmont) Hotel, New Orleans; U. S. Post Office, Henderson, Texas. Exhibited national art shows: Pennsylvania Academy of Fine Arts, Municipal Art Show, New York; won honorable mention, Art Institute of Chicago; New Yorker magazine praised work shown at Contemporary Art Exhibition, 1939 New York World's Fair. Paintings in permanent collections Whitney Museum of Modern Art, New York; New Orleans Museum of Art. Died, New Orleans, January 14, 1964; cremated. B.R.O. Sources: New Orleans States-Item, obituary, January 14, 1964; New Orleans Times-Picayune, September 18, 1938; March 17, 1940; October 20, 1947; obituary, January 15, 1964; New Orleans Tribune, February 13, 1939 http://lahistory.org/site.php?pageID=31
Paul Capdevielle, the forty-second Mayor, held the office from May 7, 1900-December 5, 1904. Mayor Capdevielle's administration was noted for two events, both inseparably connected with the beginning of New Orleans' industrial development; the installation of the modern sewerage system and the organization of the Public Belt Railroad. The Board of Port Commissioners also began to function actively during this period. City Park stands as a monument to his energy and civic spirit. The upbuilding of the park was his constant care, and he served continuously as President of the City Park Improvement Association for more than two decades, holding the office at the time of his death. The new administration went into office May 9, 1900, at the beginning of the twentieth century when a wave of prosperity passed over the country and was felt in New Orleans. Mayor Capdevielle in his inaugural address spoke of the drainage system about to be constructed and stated if the city desired to have its own electric light plant it could do so without great additional cost by using the power house of the drainage system. The contract to erect a modern jail, to be called the House of Detention, was awarded for $112,800 and the site of the old Marine Hospital, on Tulane Avenue and Broad Street, was selected. The Clay statue, being in the way of safe operations of the street cars, was removed from Canal Street to the Lafayette Square on January 12, 1901. The consolidation of various street railways into one corporation under the name of the New Orleans Railways Company was an important factor of the years 1901-1902. (NOPL)

On April 28, 1867, William Nichols, a black man, was arrested for entering a streetcar designated as for whites only (in accordance with the "star car system" which identified seperated cars for white and for black citizens. By May 4, an estimated 500 black men and boys protested along Rampart Street near Congo Square (now Armstrong Park) calling for desegrigation of the city's streetcars. The following day, two black women staged a sit-in on a "white car". On May 6, Police Chief Thomas E. Adams announced that he would order the arrest of any whites who resisted a passenger's choice of cars. Consequently, on
May 7, 1867
, black New Orleanians were free to ride any streetcar of their choice. Source:
Plessy v. Ferguson (Landmarks of the American Mosaic)
by Thomas J. Davis Ph.D., Greenwood, 2012.
Operations at the New Orleans Mint began on March 8, 1838, with the deposit of the first Mexican gold bullion. The first coins, 30 dimes, were struck on May 7.
On May 7, 1816 a crevasses occurred six miles above New Orleans and the land between the City and the Faubourg St. Marie was overflowed as far as Chartres Street, giving the appearance of a lake. A considerable portion of the downtown section of the city was overflown. (NOPL)