---

Four Locals Plunge from the Causeway into the Lake
May 24, 1964
ur
Today in New Orleans History member
group member
Carol Burgard Crosby
(formerly Carolyn L. Burgard) shared with me "On May 24, 1964 I will celebrate a miraculous bit in my personal history that made local news 50 years ago. I was told that we were the first to crash through the Causeway railing and plunge in the lake and survived!". This occurred the day after former Mayor Chep Morrision and his seven year-old son perished in a planecrash into a Mexican mountainside. News of both events appeared on the front page of the May 25, 1964 edition of the Times-Picayune (shown here).
The station wagon was travelling north 14 miles from the south end of the bridge when the 24 year-old driver, Wilfred E. Zitzmann, passed a slow-moving vehicle, swerved upon re-entering the traffic lane, went out of control, rode along the west railing (which was destroyed) for 50 feet, then plunged 20 feet from the bridge into Lake Pontchartrain. The Causeway span was comprised of only two lanes moving in opposite directions at this time -- the second two-lane span did not open until 1969.
State Police Sergeant Frank A. Petit rushed to the scene after receiving a radio call, from the north draw bridge tender, reporting the accident. When he arrived he found that the women, Rose Zitzmann (wife of the driver) and Carolyn L. Burgard, had been pulled by ropes back up onto the bridge by passing motorists. Petit rescued the men, Zitzmann and Barry J. Boudreaux, via a rope ladder thrown over the side of the bridge. The four passengers escaped the car before it sunk into the 20 foot-deep water. They were taken to Ochsner Foundation Hospital, having suffered lacerations and bruises, and were held there for observation.
Two other major accidents occurred on the Causeway during the summer of 1964. On June 16, a 264 gap was created when a tugboat pushing two barges crashed into the bridge, knocking out four sections. A Continental Trailways bus plunged into the lake. Six passengers were killed. Just weeks later, on July 25, a tug pushed two barges into the Causeway, knocking out two one-hundred-foot sections. The tugboat pilot was asleep and, fortunately no lives were lost. This marked the sixth time in the bridge's eight-year history that it was struck by a boat or barge.
Other noted Causeway collisions include a January 17, 1960 crash by an empty barge which knocked down two 52-foot sections and damged a third. On July 3, 1967, one span was damaged. Several barges hit the bridge on August 1, 1964 resulting in several vehicles plunging into Lake Pontchartrain.
---

You Can Support this Site by Clicking on & Shopping from this Amazon Link -- and it won't cost you a penny more: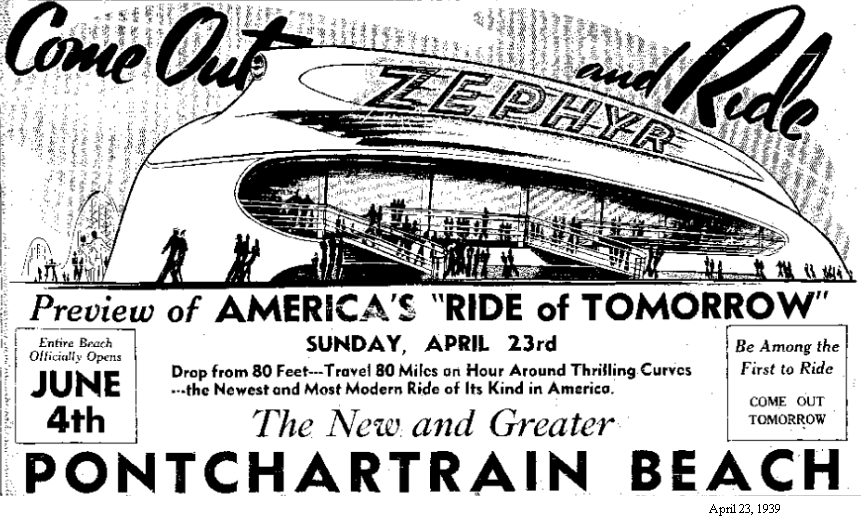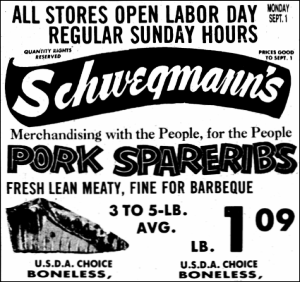 May 24, 1950

This page from the May 24, 1950 Times-Picayune includes ads for Godchaux's Canal Street department store, Hausmann's jeweler (also on Canal), Berlitz School of Languages (which was located in the original International Trade Mart building). and five Singer Sewing Centers. Singer offered sewing classes for girls (boys apparently could not sew) -- eight two-hour classes could be had for a mere $8.00. While the girls were learning to sew, boys were attending the new Ridgewood Preparatory School at its original location at 221 North Line Street in Old Metairie.
Polio was a dreaded disease during the 1960s, and on this day polio units from the National Foundation for Infantile Paralysis were planning to meet at the Jung Hotel to plan for possible polio outbreaks. An effort was underway to transfer the polio center from Charity Hospital to the Miltenberger Convalescent Home, which would be able to handle double the case load.
One hundred homes had been sold in Kenner's Pope Park subdivision since December and Miss Betty Pope reported that 40 had been occupied. Miss Pope predicted that 1100 homes would be built by her father C. W. Pope.
While new subdivisions were being planned and built, Charles Hartnett was in the business of building in-ground pools. A 20 x 40-foot Duro-Seal coated pool with terrace, diving board, and ladders could be had for under $2000.
At Harlem Avenue (now Causeway Boulevard) and Airline Highway, local actors Edward, John, and Sidney Dillon were riotously entertaining theater goers in their 60 x 40 foot tent, as they had done nightly for over seven months. "The Drunkard" was an audience participation performance complete with singing waiters, vaudeville performances, and pretzels and beer . But it had run its course and the Dillons were literally pulling up stakes and moving the show to Texas. The tent, chairs, tables, and more were offered for sale on this day in 1950.

---
On May 24, 2013, City Putt, a 36-hole mini golf complex with two courses opened in City Park. The Louisiana Course highlights cultural themes and cities from around the state. The New Orleans Course showcases streets and iconic themes from around the city, with signs detailing the city's historic sites at each hole.(WIKI)
On May 24, 2012, Times-Picayune newspaper owner, Advance Publications, announced that the print edition of the Times-Picayune would be published three days a week (Wednesday, Friday, and Sunday) beginning that fall. A new company, NOLA Media Group, was created to oversee both the paper and its website, NOLA.com. Along with the change in its printing schedule, Advance also announced that significant cuts would be coming to the newsroom and staff of the Picayune. (WIKI)
TACA Flight 110 was an international scheduled airline flight operated by TACA Airlines, traveling from Belize to New Orleans. On May 24, 1988, the flight lost power in both engines but its pilots made a successful deadstick landing on the levee at NASA's Michoud facility in New Orleans East, with no one aboard sustaining more than minor injuries. The captain of the flight, Carlos Dardano of El Salvador, had only one eye due to crossfire on a small flight to El Salvador, which was undergoing a civil war at the time. (WIKI)

Born in Gretna on June 29, 1927, Stanley Joseph Ott, S.T.D. was educated at St. Joseph's school in Gretna and following his graduation from St. Aloysius in 1944, he studied for the priesthood instead of entering the military service. He St. Joseph Seminary College in Covington before entering Notre Dame Seminary in New Orleans. He continued his studies in Rome at the Pontifical North American College and the Pontifical Gregorian University. On May 24, 1976, he was appointed auxiliary bishop of the Archdiocese of New Orleans and titular bishop of Nicives by Pope Paul VI. Following the death of Bishop Sullivan, Ott was named the third Bishop of Baton Rouge by Pope John Paul II on January 13, 1983, a position he held until his death at the age of 65 on November 28, 1992.
On May 24, 1968, the Ambassador of Japan visited New Orleans.
Margaret Davis Bowen (May 24, 1894 – April 1976) was a religious leader, civil rights activist and educator who led the Gilbert Academy, a top private black college in New Orleans, during the late 1930s. She received her M. Ed. from the University of Cincinnati in 1935. From 1936 to 1939 she served as international president of Alpha Kappa Alpha sorority, which has a Margaret Davis Bowen Outstanding Alumni Award for the Southeast Region. In 1948 she resigned from Gilbert and moved to Atlanta where she was active in the Methodist church.
Thomas B. Robertson, the third Governor Governor of Louisiana, served from 1820 until his resignation in 1824. During his term, factional discord between established Creole citizens and newly arriving American settlers created a political crisis. Robertson was seen as weak for not acting to resolve the ethnic differences, and when he proposed moving the capital from New Orleans to Baton Rouge, riots broke out in the Crescent City and he was forced to resign. He saved face by accepting a federal judgeship, and on May 24, 1824, he was appointed by President James Monroe to a seat jointly held on the Eastern and Western Districts of Louisiana, both seats having been vacated by John Dick. Robertson was confirmed by the United States Senate on May 26, 1824, receiving his commission the same day, and serving thereafter until his death.(WIKI)
On May 24, 1796, the Cabildo met in extraordinary session to deliberate on the possibility of obtaining a quantity of flour which came in from Northern Ports, and which the merchants are not buying for their personal speculation. The Governor Carondelet advised that he had ordered the flour held and had advised the Intendant that he thought it should be bought for the account of His Majesty to be distributed later to the bakeries. It was resolved that the Cabildo make the purchase through a loan from the Royal Treasury, and the flour deposited in the Royal Warehouses. (NOPL)