---

First Coffee Break
March 17, 1930

According to Buddy Stall, on
March 17, 1930
, the first "coffee break" in the United States occured when the "managers of the Delta Steamship Company, then the Mississippi Steamship Company, summoned their 80 employees in the Hibernia Bank building and initiated a daily 3:30 p.m. coffee recess. Company scouts had found the custom to be very well-received in Brazil and adopted the idea for its New Orleans office. The tradition started by the shipping company spread like wildfire, and in a short time completely saturated the entire metropolitan area, which only goes to prove good news travels fast". Source: Buddy Stall at
http://clarionherald.org/20020828/stall.htm.
---

You Can Support this Site by Clicking on & Shopping from this Amazon Link -- and it won't cost you a penny more: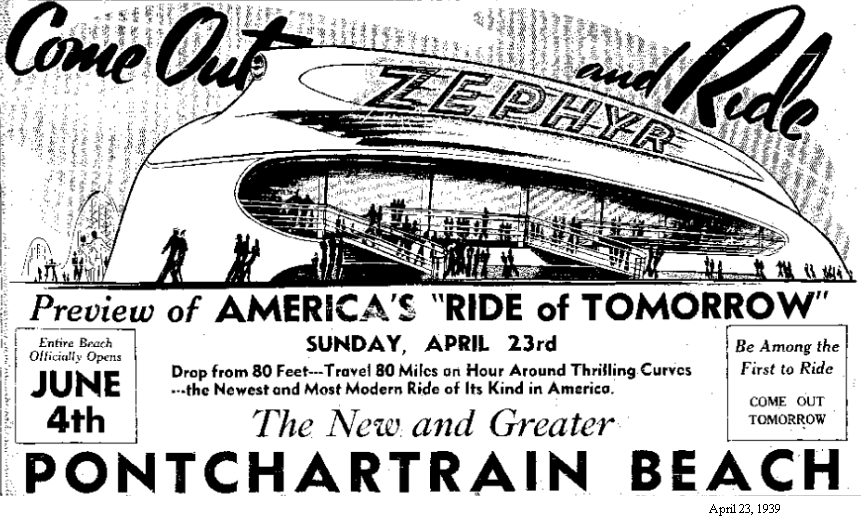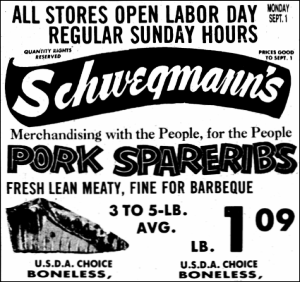 Bobby Mitchell was born in Algiers on August 16, 1935 . He was a popular recording artist in the 1950s and early 1960s, making records for Imperial Records, Show Biz Records and Rip Records. He first recorded in his teens with the do-wop group "The Toppers", which disbanded as most of the members were drafted. Mitchell's single "Try Rock 'n Roll," hit the top 20 R&B charts 1956. Many of his sessions were arranged by Dave Bartholomew. His single I'm Gonna Be a Wheel Someday was a hit, predating the even more famous cover of the tune by Fats Domino and earned Mitchell a spot on American Bandstand. In the early 1980s Mitchell had a radio shows at WWOZ. He died on March 17, 1989.
Businessman and philanthropist, Edward Bernard Benjamin was born into wealth in Little Rock, Arkansas on November 18, 1897, the son of Emanuel V. Benjamin and Rachael Goldsmith. He gradauated from Isidore Newman School with honors, Harvard University magna cum laude, 1918, and the University of Rochester with a Ph. D., 1960. He served in the army during World War I. Benjamin served on the organizing committee of the New Orleans Community Chest. was national director of Morality in Media, director and vice president of the New Orleans Opera Association, president of the Olympic Sailing Association of the Southern Yacht Club, and was the first president of the Cultural Attractions Fund Greater New Orleans, 1960-1961. He was a founder of the Newcomb Nursery School, Metairie Park Country Day School and the Louisiana Land and Royalty Owners Association. He commissioned for compositions through the New Orleans Symphony, was the author of The Larger Liberalism (1918) and The Restful in Music (1970);, was a contributor to articles on religion, sociology, economics, music, yachting, horse breeding. Benjamin owned Starmount Stable and was the breeder of Kentucky Derby and Preakness winner, Cannero II. He was a member of the Round Table, Southern Yacht, New Orleans Country, Metairie Country, and carnival organizations. He died in New Orleans on March 17, 1980 From http://lahistory.org/site19.php
Born in New Orleans on 27 November 27, 1894, Christopher " Black Happy" Goldston, son of a Methodist preacher, whose mother played piano and sang in the choir. He was an early musical associate of Louis Armstrong. He was given the name "Happy" because of his cheerful disposition. He played with Henry Allen, Bill Matthews, Papa Celestin, Henry "Kid" Rena, and Octave Crosby in the Crescent Orchestra, Golden Leaf Band, Eureka, Onward, Tulane, Tuxedo Brass Bands. He died on March 17, 1968 in New Orleans.

Sidney John Barthelemy (born March 17, 1942) is a former American political figure. The second African American to hold the New Orleans Mayoral chair, he was a member of the Louisiana State Senate from 1974 to 1978 and a member at-large of the New Orleans City Council from 1978 to 1986. He served as Democratic mayor of New Orleans from 1986 to 1994.
---
Alcide Patrick Nunez was born on March 17, 1884 in St. Bernard Parish. His parents, Victor Nunez and Elisa Nunez Chalaire were of Isleño and Louisiana French descent respectively. The family moved to New Orleans when he was a child. He grew up amid the Marigny and the Bywater. For a time, Nunez lived at 1340 Arts Street, in the St. Roch neighborhood.

He initially played guitar, then switched to clarinet about 1902. He soon became one of the top hot clarinetists in the city. By 1905 he was a regular in Papa Jack Laine's band, in addition to playing with Tom Brown and sometimes leading bands of his own. Nunez could play several instruments, but mainly played the clarinet. In addition, he was able to improvise variations on the songs he heard. Before he was able to make music a full-time profession, Nunez worked for a while driving a mule-drawn wagon with fellow musician "Chink" Martin Abraham.

In early 1916 he went north to Chicago with Stein's Dixie Jass Band, which was to become famous as the Original Dixieland Jass Band, but Nunez left the band shortly before they made their first recordings. In 1917 the Dixieland Jass Band achieved great success with their recording of the instrumental "Livery Stable Blues" under the direction of Nick LaRocca; however, Nunez and Ray Lopez filed copyright for a sheet music version of the tune before LaRocca. Nick LaRocca and the band sued Nunez for $10,000. In the end the lawsuit was thrown out without decision; the judge denied that any "musicians" who could not read written music could be said to have written anything.

After some time playing with Tom Brown's band in Chicago, he went to New York City with Bert Kelly's band. Pee Wee Russell announced in Chicago and New York that Nunez was the greatest jazz clarinetist of the world. Nunez became Bert Kelly's band leader. After playing with Kelly through 1918, at the start of 1919 Nunez helped form the band the Louisiana Five, led by drummer Anton Lada. They quickly became one of the most popular bands in New York at the time and recorded for several record labels. In early 1920 Nunez worked with the New York dance band of Harry Yerkes, but in the same year returned temporarily to the Louisiana Five, touring the United States.

In 1922, after Bert Kelly replaced him with Johnny Dodds, he returned to Chicago to lead the house band at Kelly's Stables, one of the city's top nightclubs and played with the band of Willard Robison. Soon thereafter Nuñez began to lose his teeth, impairing his ability to play clarinet professionally. He returned to his family in New Orleans, but after getting dentures found he was still able to play. He obtained a job with the police department, also playing with the police band, and remained in New Orleans until his death on September 2, 1934, of a heart attack. (WIKI)
---
In 1892, Homer Plessy challenged a two-year-old street car law that separated passengers traveling on trains in Louisiana. His action made him a plaintiff and defendant in the landmark U.S. Supreme Court Case of Plessy vs. Ferguson in 1896.
Born on March 17, 1863, Plessy was the second child of Adolphe Plessy and Rosa Debergue Plessy. His father died when Plessy was five, and his mother Rosa remarried shortly thereafter. Plessy was apprenticed as a shoemaker, the profession of his stepfather and maternal relatives. In 1887, Plessy married Louise Bordenave at St. Augustine Church.
In 1890, then state legislator Murphy Foster, (grandfather of Louisiana Governor Mike Foster), wrote the Separate Car law which called for the segregation of passenger trains traveling within the state of Louisiana. In 1892, the Citizens' Committee, a group of influential African American civic and business leaders, chose Homer Plessy to board the white car of the East Louisiana Railway leaving from New Orleans and traveling to Covington. The Citizens' Committee's strategy was to purposely break the Separate Car law in order for a case to go before the state supreme court. The case eventually made its way to the United States Supreme Court and ruled against Plessy. The supreme court upheld the statute of "Separate but Equal" and unfortunately this landmark decision eventually was used to justify segregation in education, public accommodations, and transportation.
After the case Plessy drifted into anonymity, later becoming a life insurance collector with People's Life Insurance Co.
Plessy died on March 1, 1925 and is buried in his mother's family tomb in St. Louis Cemetery No. 1. (NOPL)
---
Norbert Rillieux, a free man of color and inventor from New Orleans, is credited with creating a refined method of granulating sugar that had lasting economic and social ramifications for Louisiana. His multi-effect vacuum pan evaporator made sugar production in the state economically viable, thus perpetuating the need for slave labor in South Louisiana's sugar-producing regions.
Rillieux was born into privilege on March 17, 1806, as the first child of Vincent Rillieux—a plantation owner, engineer, and inventor with familial ties to French painter Edgar Degas—and Constance Vivant, who hailed from one of Louisiana's wealthiest Creole families.
Vincent, who had invented a steam cotton-baling process, sent his son to École Centrale in Paris, France, to study mechanics, physics, and engineering. While in Europe Rillieux turned his attention to the emerging steam technology of the mid-nineteenth century.
Rillieux published a series of acclaimed papers on steam engine technology in 1830. His theory of multiple-effect evaporation caught the attention of scientific circles in Europe and the sugar industry in Louisiana. In 1840 Rillieux returned to the state after accepting a position as chief engineer at Edmund Forstall's sugar refinery. In 1843 and 1846, Rillieux received US patents for "certain improvements in the method of evaporating and concentrating saccharine juices and syrups in the manufacture of sugar, and which is applicable to the evaporation of other fluids."
Before Rillieux's vacuum pan evaporator, plantation owners in Louisiana and the Caribbean refined sugar according to the so-called Jamaican Train system—that is, during grinding season, slaves pressed the sugar-filled juice out of harvested sugarcane. They then boiled the liquid in large kettles over open fires. Slaves stood around these boiling vats, stirring and eventually transferring the ever-thickening syrup to new kettles until the sugars crystallized. Sugar production was hot, labor intensive, and dangerous. Slaves suffered disfiguring burn scars and unbearable working conditions. For planters, labor and fuel costs during sugar production were high. Moreover, the sugar produced by the Jamaican Train method was inferior to Rillieux's product.
Rillieux's invention offered a safer and more lucrative alternative. In 1845 the first factory-scale evaporation system went into operation. Rillieux's machine functioned as a closed system. It heated kettles with the steam produced by one cauldron. Steam energy was also used to vacuum out the air within the operating system in order to lower the boiling point of the cane juice: the higher the vacuum, the lower the temperature required to evaporate the liquid components of cane juice. Rillieux's machine effectively stabilized the heat in which the sucrose-filled liquid rendered. The result was a safer and more efficient means of refining a higher-quality sugar. Cuba, Mexico, and other sugar-producing regions quickly adopted Rillieux's revolutionary process.
In the late 1850s Rillieux returned to France, where he took up Egyptology. He worked and studied at the Bibliothèque Nationale, deciphering hieroglyphics. In 1881 Rillieux endeavored one last time in the world of sugar. He delved into the problem of extracting sugar from sugar beets with a steam system similar to his sugarcane process. The Creole inventor died in Paris on October 8, 1894.